Paint-streaked aprons are donned. Wine is poured. Laughs are had.
Inna Rohr, owner of Hues 'n' Booze — a mobile painting party company — stands in front of the group, instructing them on what they'll be working on for the evening.
Tonight is her business' one-year anniversary and she's celebrating with wine and painting at Cafe a la C'Art, downtown. The subject du jour, koi.
"Koi are good luck," Rohr says. "And they're kind."
Orlando Ortiz, a friend of Rohr, dishes out Styrofoam plates — which will serve as palettes — with globs of paint on them.
"Dinner," Rohr jokes.
Once everyone settles in with their wine and paint, it's time to get started. Rohr demonstrates how to draw the shape of the koi.
"Make sure when you get to his head, it's a squared-off head," Rohr says. "Now we're gonna get wild with the fan brush. Woohoo!"
Once the shape is drawn, it's time to add the background color — bluish green for water.
"We can't just use blue," Rohr says. "We're fancy."
As she explains how to make a gradient with different shades of blue, several participants — unsure of what they're doing — make faces. But Rohr is quick to make them feel better.
"This is the part where we get creative and you can add your own colors," Rohr says. "So far, how is it going?"
"Liberating," one woman says from across the room.
That reaction is what Rohr loves about teaching people how to paint.
"I love seeing people's eyes light up when they realize they actually can paint. Love seeing people get in the zone. It's so meditative," Rohr says. "I can just see how they let go of their daily worries, at least for a little bit. Smiles and laughter during the class, seeing people enjoy themselves and loving their results — it's priceless to me. I encourage everyone to release their creativity and just play."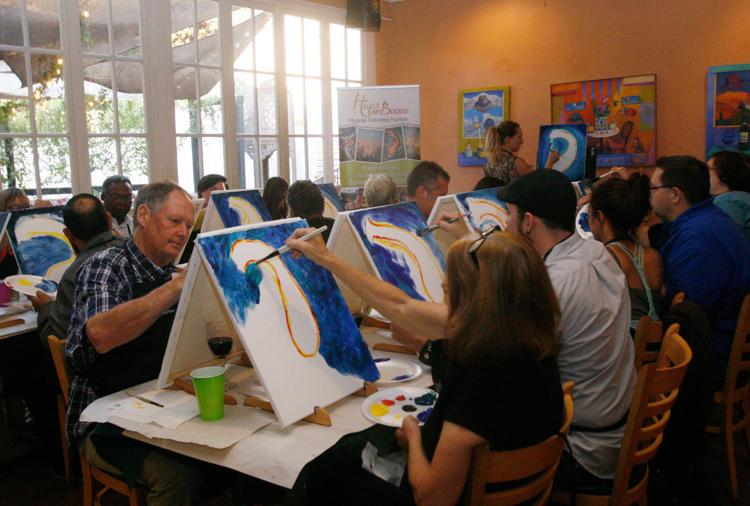 Hues 'n' Booze is one of a handful of paint and sip party options. The company will go to any location for any type of party — public events, bridal showers, birthday parties, fundraisers, family gatherings, team building events and more.
It was born of Rohr's love of art.
"I'm an artist and wanted to share my passion for painting with everyone," Rohr says. "I love people, teaching and enjoy a great party, so I thought 'why not combine those? We are all so creative, if we let ourselves, and I wanted to show people that they too can experience the joys of painting and creativity in a very relaxed and personal environment where everyone is welcome."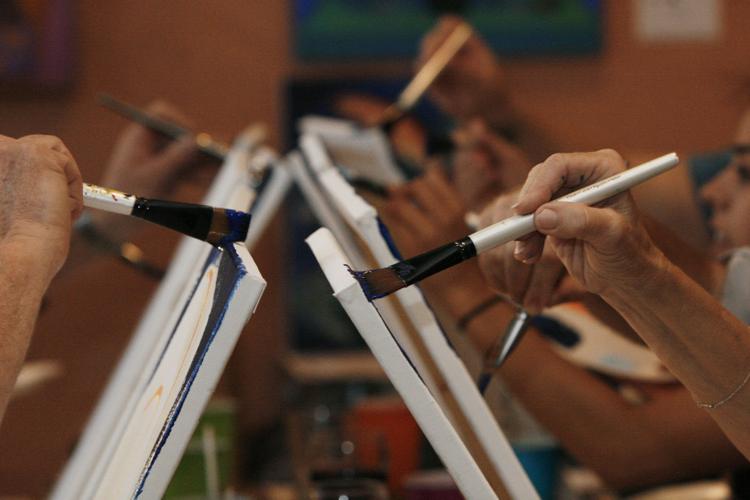 Hues 'n' Booze provides everything you need to paint — aprons, paint, brushes, canvas and instruction. Class is taught in a simple step-by-step manner, so anybody — from novice to pro — can finish a painting.
"I thought it was going to be harder," says Michael Howell, a first time participant. "But, she makes it seem easy."
As the class works on adding details to the water, laughter erupts from one side of the room.
"Oh, that's beautiful," Howell jokes with his mother, Cynthia Howell.
Pamela Biletnikoff, who recently moved to Tucson from Mississippi, says that as a teacher she used to paint a lot, but considers herself more of a "creative crafter" than artist.
It's her first time at a paint and sip party and she "loves it."
Rohr makes the rounds, asking people if they need help and providing input.
"I don't know what I'm doing," a student says.
"Well, it's working," Rohr replies.
After a few rounds and a few more times up front, demonstrating technique, the paintings are complete.
"Now, it's the most important part, your signature," Rohr says. "Sign it, put it on ebay and make some money."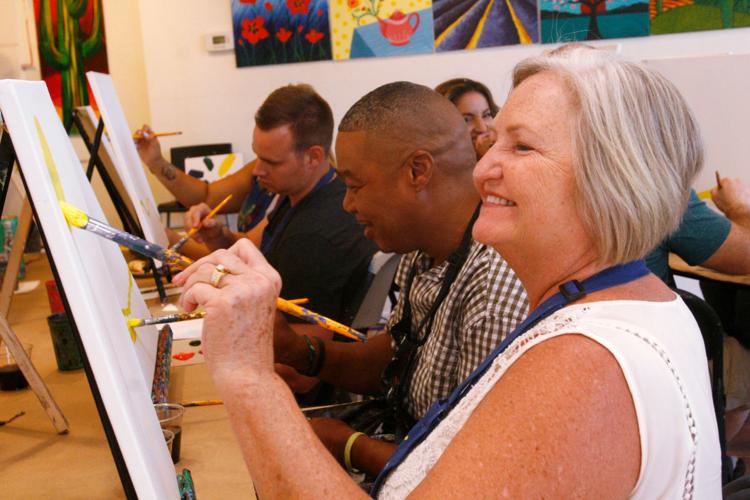 Creative Juice Art Bar
About 20 people arrive, each one grabbing their drink — wine or beer — paint and aprons, at the brightly lit studio space at Creative Juice, an eastside paint and sip studio, on a recent Thursday evening.
Tonight is a "Date Night" event, where couples — which could consist of friends, dates, family or anybody — work on a two-canvas painting together, each one taking a canvas. For singles, the painting is modified onto one canvas.
Leila Camus-Lamnaouar and Patrick Eschenfelder sneak a kiss while waiting in line for their paints. It may be date night for them, but Camus-Lamnaouar says the event is great for everybody.
"My sister and I did this as a sister date," she says. "It's fun, whether you're sisters or a double date or family. It's fun for everyone. When is wine not fun?"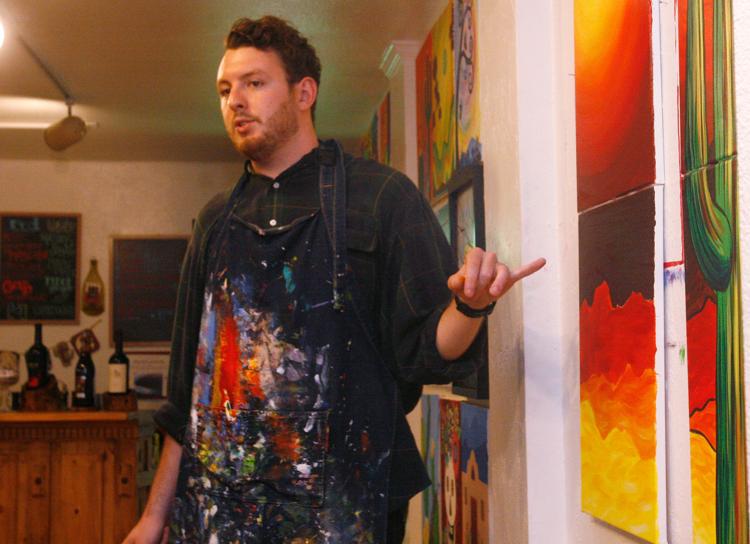 Dominic Valencia, a 22-year-old arts graduate from the University of Arizona, gives an overview of what they will be painting tonight — a large saguaro at sunset — with instructions on mixing colors.
"We're gonna add a little orange to the yellow," Valencia says. "You'll get a nice mac and cheese orange."
The class adds background color to the canvases — sunset colors for the people working on the top half and dark mountain colors for those working on the bottom.
"It looks good. You're killing it," says one woman to her date.
"You just add black to the red, right?" a student asks Valencia.
"Yes," Valencia replies. "The goal is for the darker shade on the bottom to slightly overlap the dark color on the top."
The class continues to cover the canvas with paint.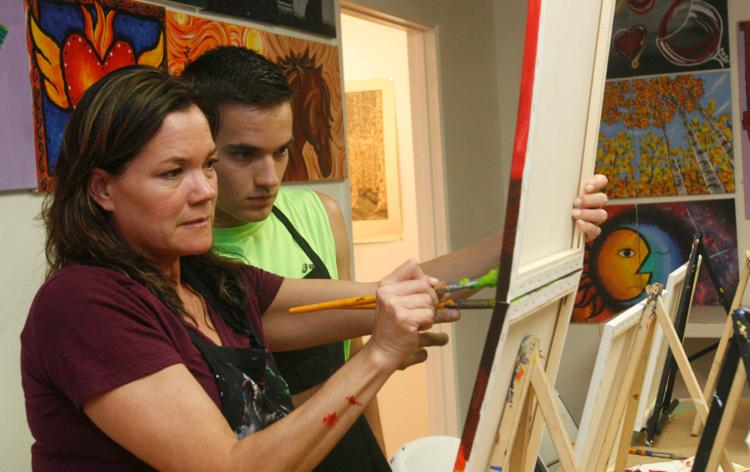 Kathy Bhatt works on her painting with her son, Kyle, 19. The two are on a "mom and son date."
"It's my second time and his first," Kathy says. "I love it. It's nice and relaxing and it's good bonding. We have a spot in our kitchen for the painting."
James and Paula Palacios, a couple who moved to Tucson a few weeks ago, came to Creative Juice after seeing a listing for it online.
"We were out shopping and saw a picture of a cactus, but we didn't buy it because it was too expensive," Paula says. "So, we thought we'd come paint our own."
When Creative Juice opened its doors four years ago, it was the first paint and sip studio, says Chellie Krajnak, co-owner.
Krajnak, a former teacher, and her friend, Kristina Valencia, an art teacher, run the business together.
"I always say she's the creative, I'm the juice," Krajnak laughs.
Paintings are mostly designed by Valencia and taught by employees, and occasionally, Krajnak, in a simple, step-by-step way.
"You break it down really simply," Krajnak says. "Paintings are broken down so people can be successful. We use simple shapes, simple lines. We want people to have a good time and not be nervous about techniques and blending."
With so many options on the paint and sip scene, Krajnak says they have to always try new things.
The studio has recently started "Cosmic Night," in which they darken the room, turn on black lights and paint with neon paints to music spun by a DJ.
It also does family classes, summer camps, team building events, fundraisers and birthday parties.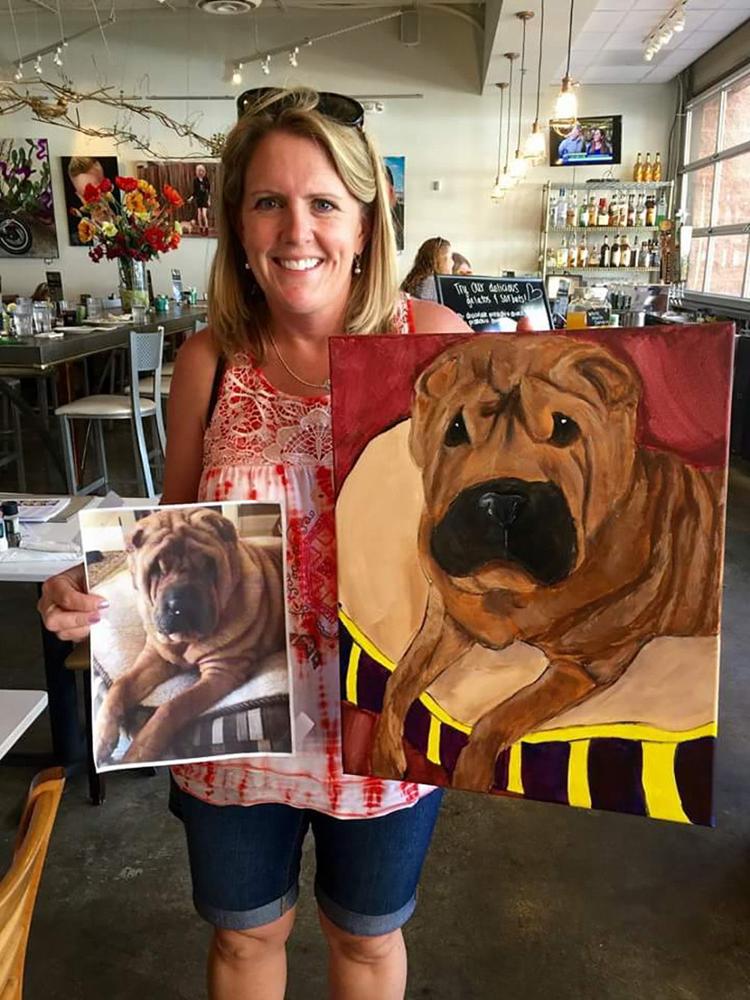 Tipsy Picassos
Most of Tipsy Picassos' paint and events — pet portraits, glass painting, canvas paintings — are fundraisers for animal rescues and charities.
Jennifer Johnson, who owns the company, says the "Paint Your Pet Pawtrait" — you send her a photo of your pet so she can draw it, then you paint it at the party — is her most popular. It happens twice a month, but since classes have been selling out, she's thinking about making it weekly.
Tipsy Picassos, which has been in business for six months, is a mobile painting party which holds events at different venues including Sullivan's, Borderlands Brewery and Gentle Ben's.
Johnson says her company is growing rapidly.
"We offer painting on glassware, painting on terra cotta pots and classes where people bring their dogs and use their paws as stamps," Johnson says.
No experience? No worries.
"The first thing I tell people is that this is more for the fun and the experience and to not worry too much about results," Johnson says. "When people don't get too nervous, they actually turn out better."
You can also book Tipsy Picassos for private parties, where you bring your own beer or wine, at the location of your choice.
Brush and Bottle
After attending a painting party in Texas with a friend, Olivia Ramirez was in love.
So, when it was time for the University of Arizona graduate to move back to Tucson after living in Texas for five years, she decided she would open her own paint and sip studio.
Brush and Bottle, a BYOB painting party studio, opened in September 2013.
Once guests sign up, they are able to bring food, beer or wine to have at the studio while they paint.
"We have a liquor license. We apply for it every year and we're very good at it," Ramirez says. "We card. Guests are able to bring wine or beer. No hard liquor...People bring in crockpots of food, pizza. People go all out. I love it."
Public classes are held Wednesday, Thursday and Saturday nights each week. The calendar is posted on the 15th of each month online, with pictures of the planned painting for each night.
Couples paintings are a popular activity at Brush and Bottle.
"It's really cute to see because a lot of times the men will come in and be like 'I don't know about this. She set up date night.' But, when they're leaving, they're saying 'I want to do this again.' "
Painting parties are not restricted to the studio. Brush and Bottle will go on location to host parties, as well.
Fun events include Cat Crawl and Survival Week at the University of Arizona.
It also hosts a quarterly event called "Paint Your Pet," in which guests send a photo of their pet to Arte Bella for an artist to pre-sketch in advance. At the event, each guest will paint the sketched picture of their pet.
The paint and sip party industry is growing, Ramirez says. And, she thinks that's pretty cool, especially for the artists she employs.
"For some of them this is their job," Ramirez says. "They create paintings and they sell them and have their own studios. For others, they got their degree in art and do something else and work part time here, so they're still able to use their talent and get paid for it."
arte bella painting
Jen Christiansen has always been an artist, dabbling in paint, clay and everything in between.
So it made sense that when she needed to make more money to support herself and her three children, she would start a business involving art.
In November 2011, Arte Bella Painting — a mobile painting party — was born.
It was a way for the stay-at-home mom to do a few parties a month and still raise her children, instead of having to be away all the time.
When she first started, Arte Bella was the only mobile painting party in town, which made it hard since nobody had heard about it, Christiansen says.
Now, it's a different story.
"When I first started it was so hard. I only got like one party a month because people had no idea," Christiansen says. "Now, there are so many. It's wonderful because people can know about it. I think it's great.
Arte Bella Painting offers both public painting events at local bars and restaurants, where anybody can buy a ticket, and private parties at the location of her customers' choice.
Private parties are BYOB, so you have to bring your own alcohol and snacks. But, at public events, you can purchase drinks at the restaurant or bar.
Christiansen walks participants through the painting process one step at a time.
"It takes about an hour and a half before they see anything," she says. "I tell them it's supposed to look like crap and make you want to throw it in a fire the first hour and a half. Then the last part, you're like 'oh my gosh. This is the best painting ever.'"
That's what Christiansen loves about her business.
"It's fun for me to bring out people's realization that they can do this," Christiansen says. "Seventy-three year olds come to me at a painting party saying 'I didn't know I could do this.' It's just the coolest thing to help people realize they do have these talents. That it's not just a select few that have these talents."