This story was produced by #ThisIsTucson for Chispa Arizona in support of the Land and Water Conservation Fund. Thank you for supporting the organizations that support us!
---
Maybe we're not quite there yet, but we all know we're just on the cusp of Tucson's most glorious season. Autumn. 
And with autumn comes that undeniable desire to get outside, see the world and trade the AC for open windows. 
We're right there with you. 
Lucky for us, Tucson has an abundance of wide open spaces to satisfy your craving for the country. And we're not just thinking about giant national parks. Our smaller local parks can give you the same experience without spending an entire day getting there and back.
In the (wishful) spirit of the season, here are a few places to bask in some natural beauty. 
But remember: It's still HOT. Take water, go early, be smart. 
1. Kennedy Park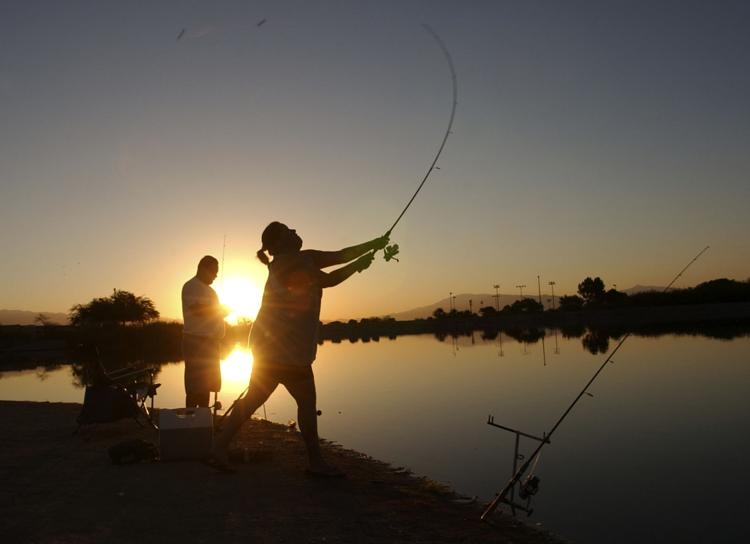 This 10-acre lake at 3600 S. La Cholla Blvd. is stocked with fish. Plus you can take non-motorized boats out onto the lake. But no swimming. The park also has ramadas, a playground, sports fields and desert walking paths. Keep an eye out for the festivals and events that are held here in the fall.
2. Sabino Canyon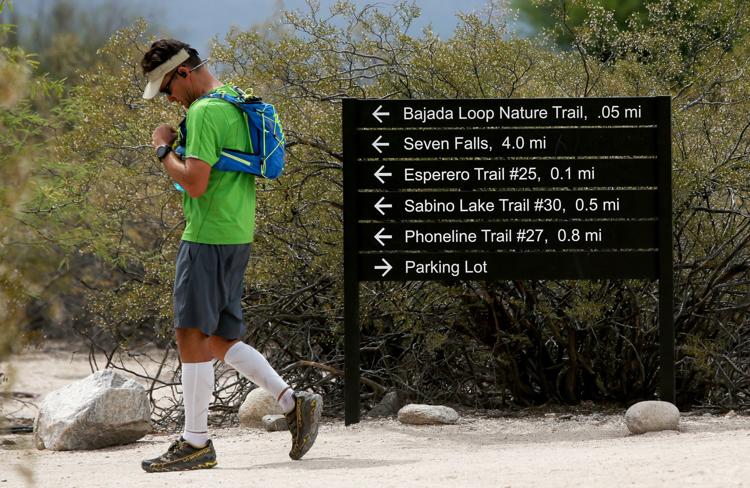 Nestled at the base of the Santa Catalina Mountains, Sabino will always be one of our top picks for a day outdoors. There are so many options. You can spend an afternoon at the dam, splashing in the water and munching on snacks or opt to tackle the 8-mile hike from the Sabino Canyon visitor center to Seven Falls on Bear Canyon Trail. The trees that line the creek make for a shady stroll — enjoyable for both grown-ups and kids. $5 per vehicle. 
3. Tucson Mountain Park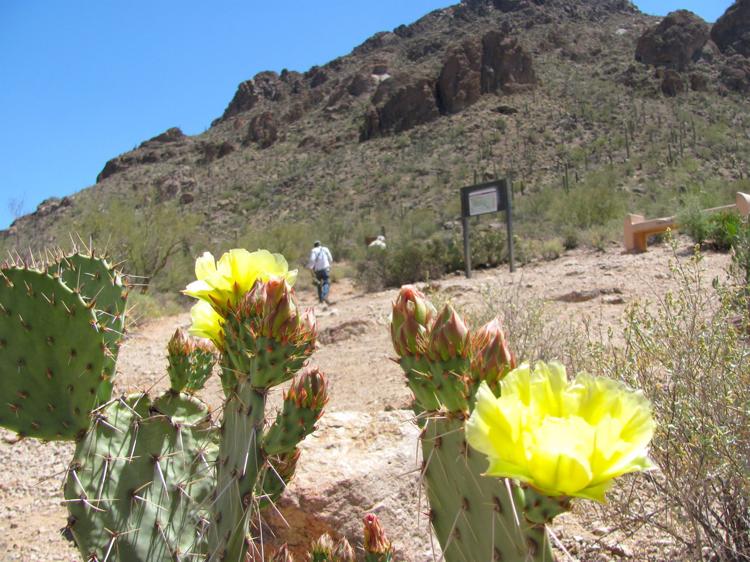 West of the city, Tucson Mountain Park has wildlife, cactus forests and amazing hiking, mountain biking and camping. You can reach the park and find trailheads from several points including Starr Pass Boulevard, 36th Street or by driving out through Gates Pass (basically get on Speedway and head west forever) to enjoy the splendor of the desert and a fantastic sunset photo. This one is free to drive, hike and explore. 
4. Oury Recreation Center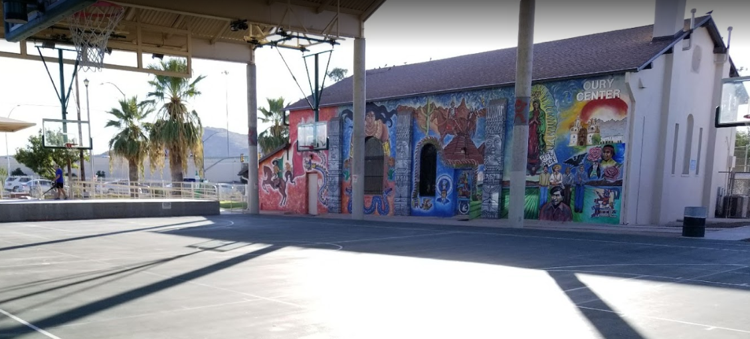 This park — which dates back to the 1930s — and rec center in the Barrio Anita neighborhood near St. Mary's and I-10 has a ton of amenities and outdoor space. The rec center hosts youth and teen programs. Outside, in addition to the colorful public art and murals, you'll find a lighted and covered basketball court, playground, horseshoe pit, softball fields and more.  
5. Catalina State Park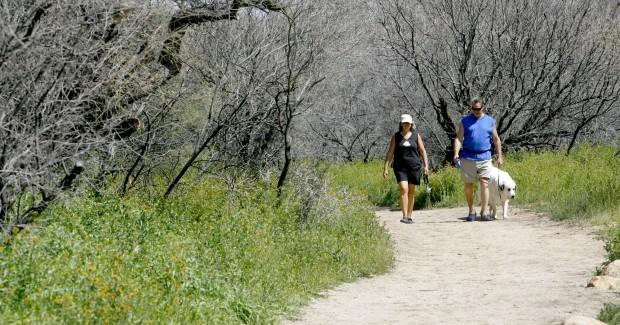 Head north on Oracle Road and instead of turning left into the Oro Valley Marketplace, crowded with big box stores, turn right and begin the journey into the 5,500-acre park. There's plenty of hiking, equestrian and biking trails here for explorers of all levels. The saguaro-studded landscape makes a dramatic backdrop for your adventures. $7 per vehicle. 
6. Reid Park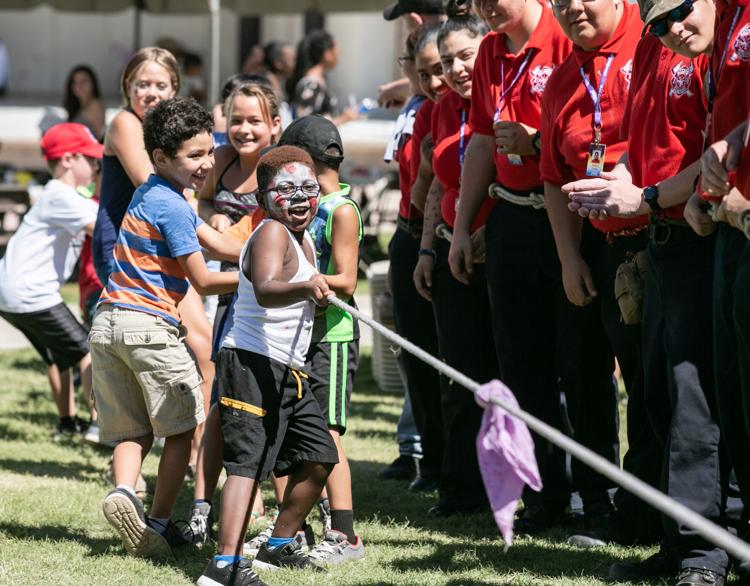 Reid Park is the biggest park in Tucson and offers something to do for everyone. There are two ponds, where you'll spot turtles, fish and ducks, a waterfall, playgrounds, grills, baseball fields and more. Local events are held here almost every weekend — outdoor movies, runs, family festivals, craft fairs and more. There's also a beautiful rose garden that contains 800 individual plants. It's the perfect spot to, ahem, stop and smell the roses. There is also a lighted and patrolled 4-mile paved multi-use path that circles Reid Park and Randolph Golf Course, if you're looking for places to run, skate or bike. The park is located at 900 S. Randolph Way.
---
Help Chispa Arizona make access to open space a reality for all families
The Land and Water Conservation Fund is a federal program critical for the development of state and local parks and enhancing access to the outdoors for working families and diverse communities — but it's set to expire Sept. 30, 2018. The fund has helped to make many of these special outdoor sites around Southern Arizona possible. Click here to show your support for this 50-year-old program that has provided $10 million for park projects throughout Pima County.