There are so many hiking trails to explore in and around Tucson.
We're surrounded by mountain ranges, national parks and beautiful desert, all beckoning us to get outside for some adventure.
But having so many options also makes it kinda hard to decide where to go, especially for the casual weekend hiker.
That's where I come in. (Hi!)
I'm going to hike some of these trails and tell you what they're really like, from the perspective of a fit-ish mom who loves to get outdoors.
I'll let you know how hard a trail is, if it's kid-friendly, too creepy to do alone, where to park and if there are bathrooms and water.
---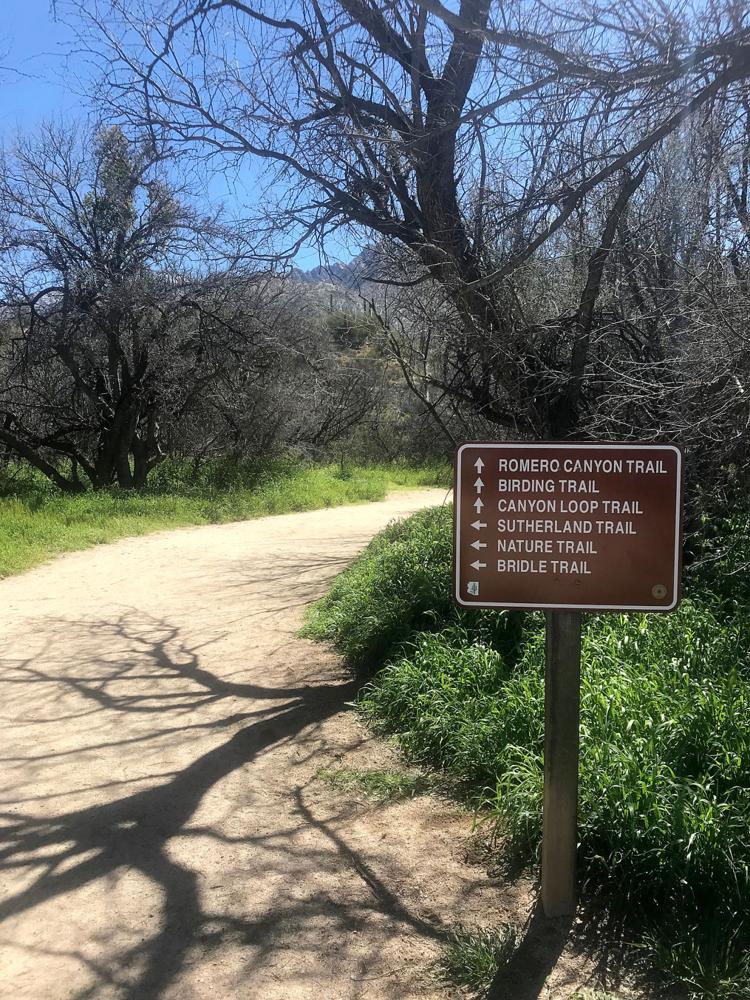 I knew I wanted to hike a trail in Catalina State Park when I heard about the wildflowers and the water — two of my favorite things. 
I had been to this park, which is nestled on the west side of the Catalina Mountains, northwest of Tucson, but had never hiked there.
The trouble was picking a trail since there are several to choose from. I thought about hiking to Romero Pools, which looks amazing and is super popular, but thought it would be nice to hike an easier trail this time around, so I could really take in the sights.
That's how we (my husband, Clint, and I) landed on the Canyon Loop Trail.
The route
The Canyon Loop Trail is a 2.3-mile loop through the foothills that begins and ends at the trailhead parking lot.
There are two spots you can start the hike, one closest to the parking lot, and the other is left of that where the road loops. We took the one on the right, which goes counterclockwise around. There's a beautiful mosaic wall and sunscreen stations at the entrance.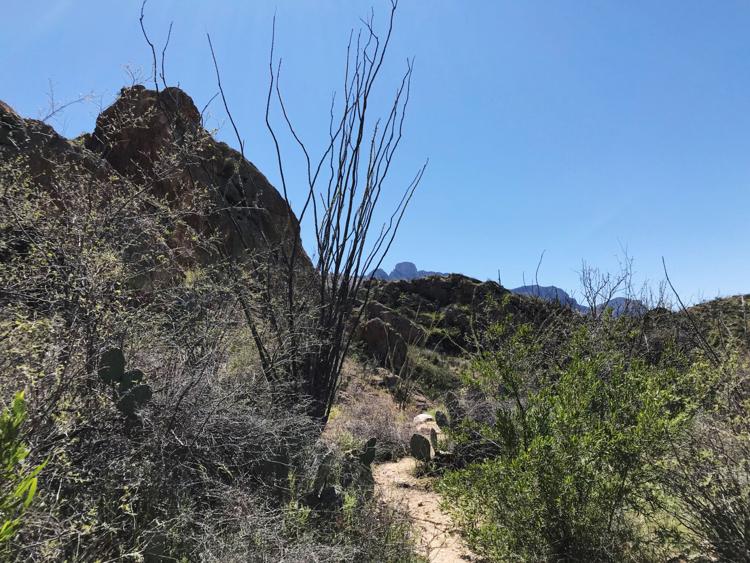 There are lots of trails connecting to this one, making it easy to explore. Some are marked as unofficial trails, but are clearly used. We took a couple of these for different views and were not disappointed. 
When all was said and done we hiked about 3.5 miles. 
The trail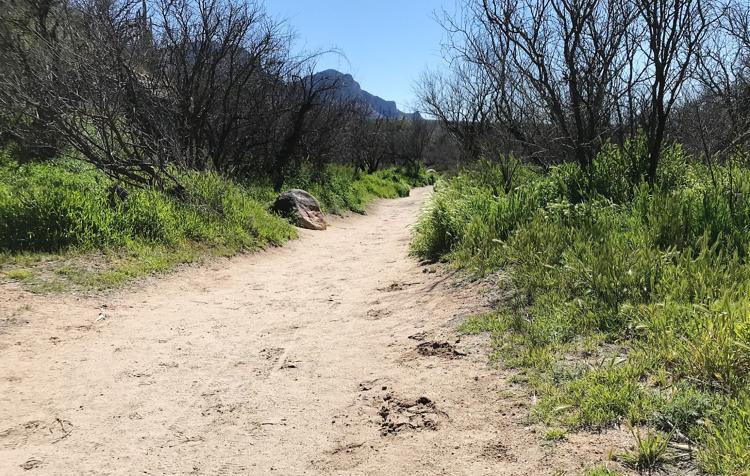 Canyon Loop is pretty flat, with the exception of a hill at the beginning and some stairs about halfway through. 
The trail is well marked, easy to follow and wide. It's also easy to walk on since it's not rocky. 
That being said, you do have to cross the creek at least four times. There was lots of water from recent winter storms when we went on Thursday.
Families were there hanging out by the water, throwing Frisbees and running around. Kids would squeal when they first put their feet in the cold water. It was so lovely.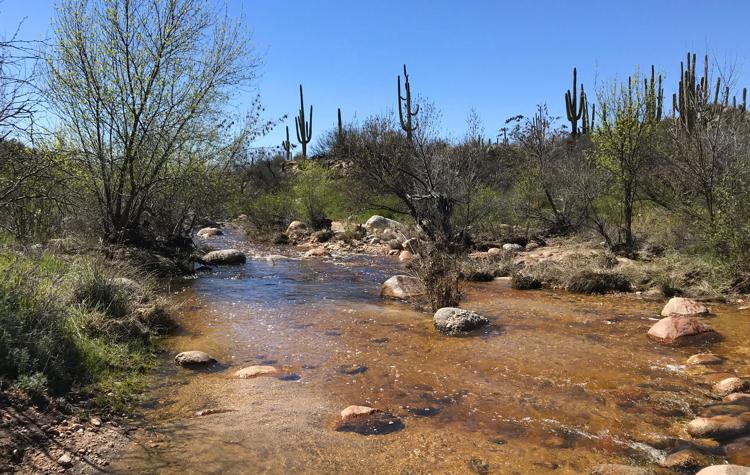 It's pretty shallow at most parts, but you will get your feet wet (this isn't always a thing, since there's not always water flowing). 
We took our shoes off to cross and walked barefoot in the sand afterward. It felt like walking toward the beach with tall green grass on either side of the trail.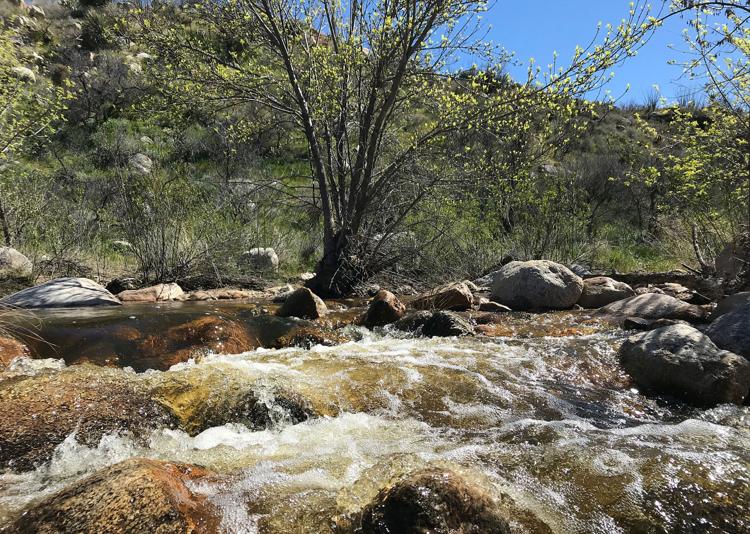 Make sure to look around. The landscape is so beautiful here. There are saguaros mixed in with rocky hills and grassy slopes. 
Oh, and wildflowers! You'll spot little patches of them throughout the hike, but the jackpot is toward the end of the loop along a small unmarked trail. Don't worry about missing it. You'll see the grassy field painted with orange and purple flowers before you see the trail.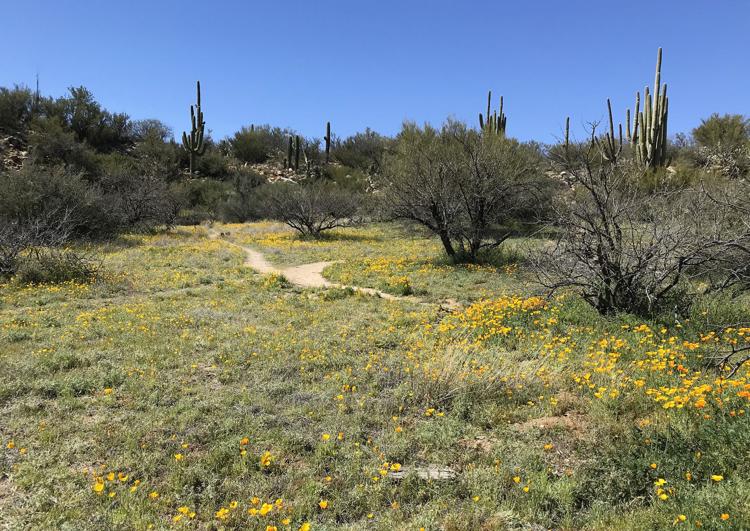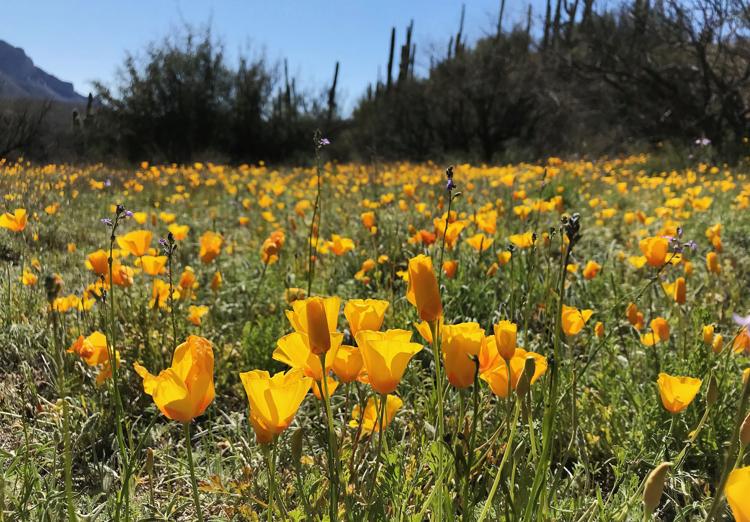 Difficulty
This is an easy trail. The hardest part was the hill at the beginning. There are some stairs about halfway through, but there's an alternate route at that point designed for horses you could probably take if you can't do stairs.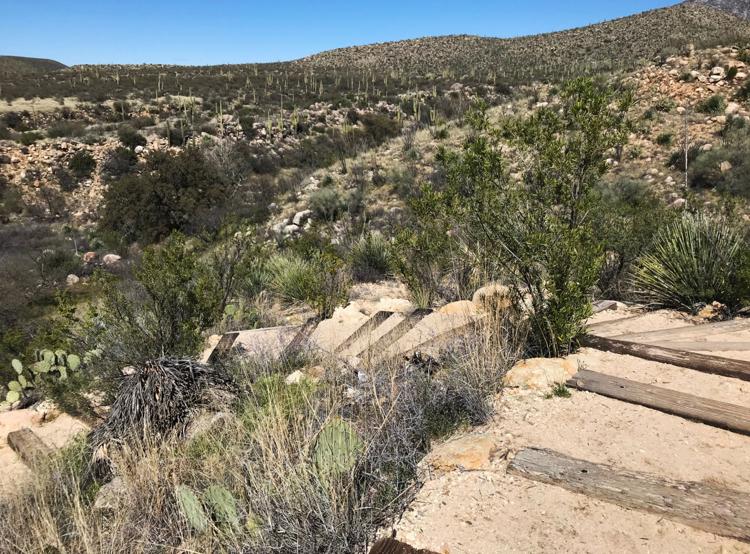 It was a nice gentle workout.
Favorite part
I love being near water. So hiking a trail where I could not only hear a flowing creek, but also walk in it was glorious. The water was super cold, but it was so much fun.
I am also a sucker for wildflowers, so those splashes of color in the grassy fields and along the sides of the trails were a visual treat. 
Family call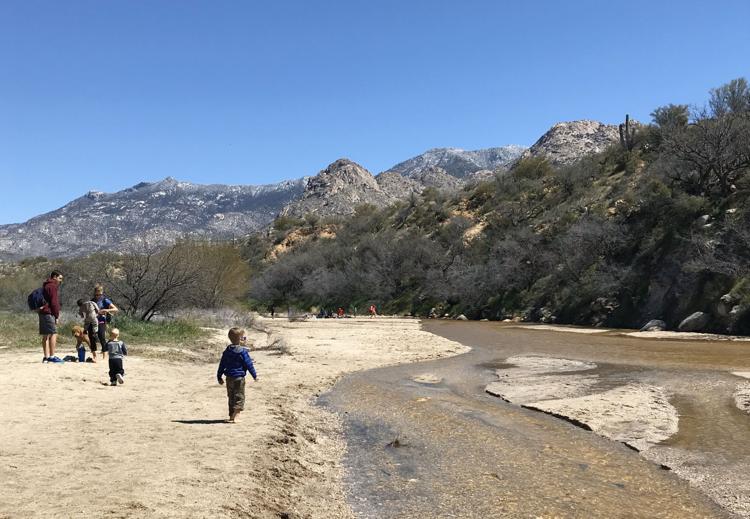 Take your kids on this hike!
Even if you don't want to walk 2.3 miles with them, you can walk partway and play near the water. It's easy enough for kids of all ages and for older people who might not be able to tackle some of the more rugged trails. 
You can also take your dogs on this trail and others in this park. You just can't take them into the Desert Bighorn Sheep Management Areas — where Bighorn Sheep have been reintroduced into the Catalina Mountains. 
Does it feel safe to go alone?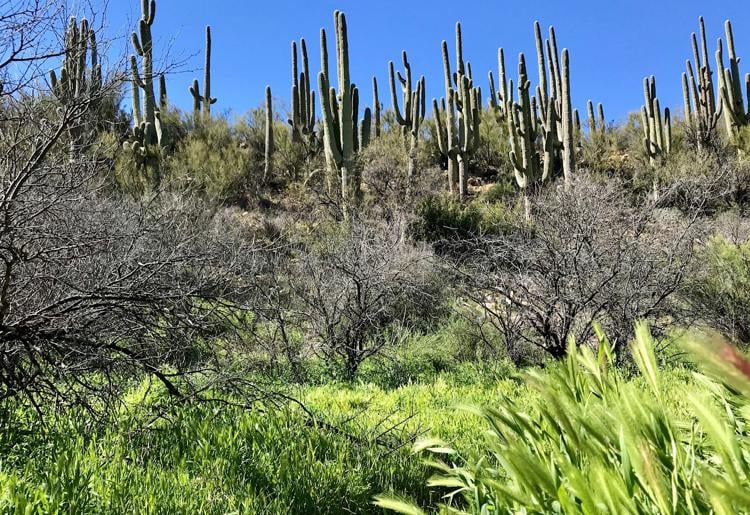 This park is pretty populated, so even if you went solo, you wouldn't really be alone. I felt completely safe here and would even if I ventured out by myself.
Facilities
This is one of the nicest parks I've been to. 
There are clean, non-smelly, outhouse style bathrooms and a little store at the trail head parking lot. Make sure and go here because there aren't any restrooms along the trail.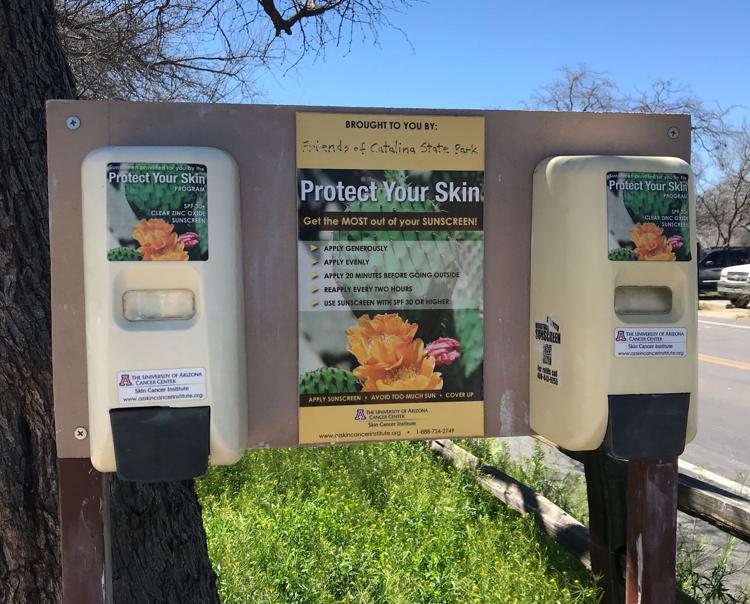 I loved that there's a shop by the trail head. You can get water, sunscreen, snacks or souvenirs. 
AND, there are sunscreen stations! I was thankful for this because I forgot to pack mine. 
There's also a lovely rest area with picnic tables. 
Parking, fees, etc.
It costs $7 to enter the park. When you first get there, you'll drive up to a little ranger station to pay and get a map. They're super helpful, too. If you have any questions make sure to ask. :)
Location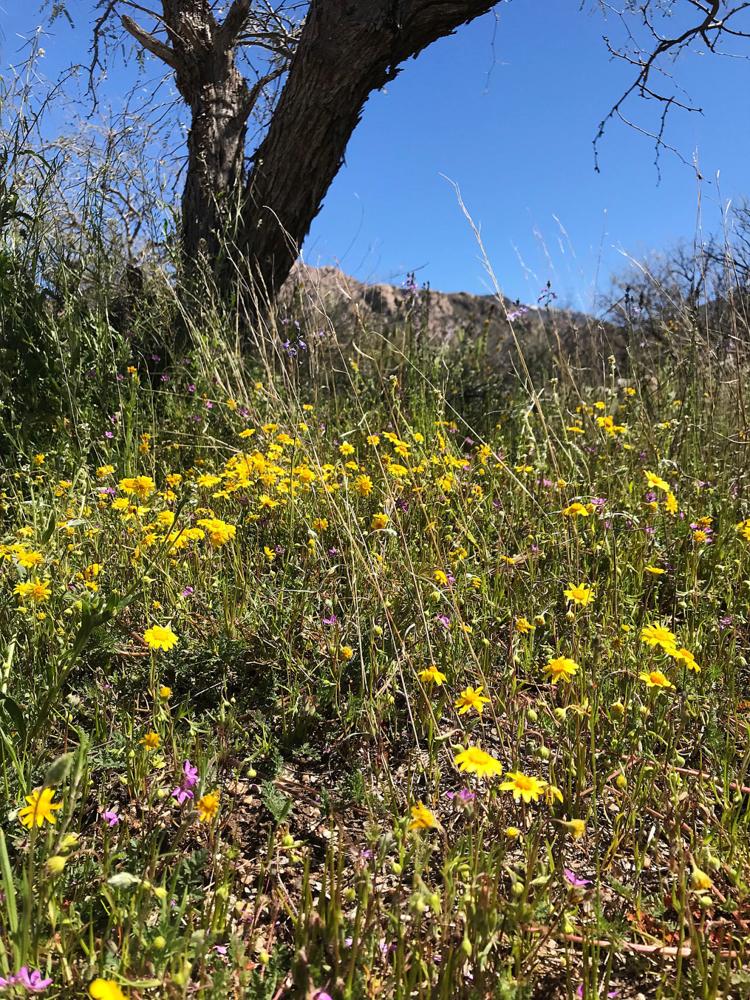 Overall impression
I would highly recommend this hike. It's gorgeous, easy to navigate and populated.
There isn't much shade along the trail though, so make sure to slather on the sunscreen and wear a hat. I didn't see a place to fill up a water bottle, though I could have missed it. Bring plenty of water.