Alexis Barber has always loved STEM, especially the math part. 
So when the opportunity came to apply to go to Space Camp as part of the Honeywell Leadership Challenge Academy, the 16-year-old Mountain View sophomore jumped on it. 
"I knew that it was a once in a lifetime opportunity given to me by Honeywell, so I knew that I had to try, and because I would regret it if I did not," Alexis said. "My dad always wanted to go to Space Camp, so when I found out that I had a possibility to go, I applied, hoping that if I got accepted I could share my experience with him so he could know what it's like to be at Space Camp."
Alexis was among 292 students from 41 countries to attend Space Camp in Atlanta as part of the leadership academy, a scholarship program that aims to inspire students to pursue careers in science, technology, engineering and math (STEM). 
The week-long program took place Feb. 23 through March 8 at the U.S. Space & Rocket Center in Huntsville, Alabama and was open to all students ages 16-18 of full time Honeywell employees around the world. 
Entry to the program is granted after a rigorous application and review process based on academic achievement and community involvement. 
At first, Alexis didn't think she got in because she hadn't heard anything before Thanksgiving, when notifications were supposed to be sent out.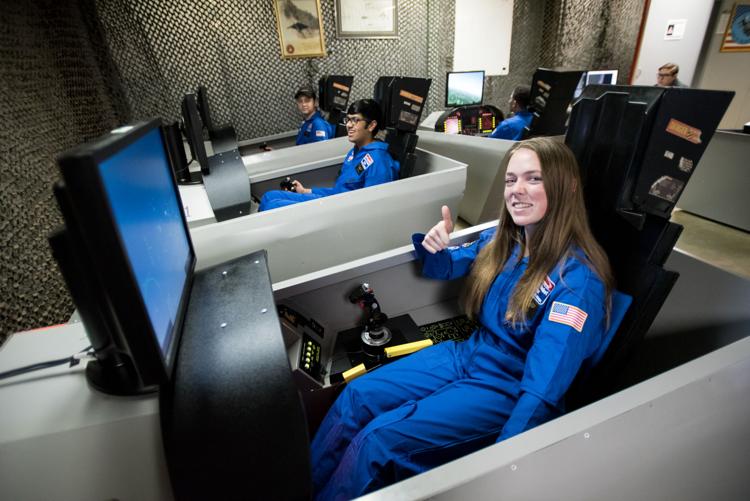 "When I applied, I was like, why not? If I get it then great, but if I don't, that's okay; but, when I thought I was denied, I was disappointed," Alexis recalled. "It was not until a few days later when my dad texted me and it was a picture of an email that said, congratulations, you have been accepted to HLCA 2019. I was super excited and that was when I knew that this experience was going to be great."
We did a little Q&A with Alexis to find out what it was like:
What were you hoping to get out of it?
I hoped that the whole trip would aid in my career choice eventually.
What was it like when you first got there? Your first impression?
When I arrived, it just looked incredible. There's this huge rocket standing there, and then I saw the Hab (habitat/the campers' housing) and I was like, I get to stay in that? This is so amazing.
What was your favorite part?
My favorite part of the whole week was our high ropes activity. My group, Team Courage, did the pamper pole, which was what it was called there. It was a pole that I had to climb, and for the first 10 feet or so of the 30, it was a ladder, and after the ladder, all there was were very large staples in the pole that I could grab onto and step on to climb higher. But the best part of it was when you reached the top of the pole; you had to maneuver yourself to stand on top of the pole and then let out a cheer, showing that you could do it. After I reached the top, I just had to jump off the top, and let the ropes and safety precautions keep me safe. During all of it, I was wearing a waist harness and a chest harness, while also having a support rope that a worker held to for safety precautions, making it a safe and thrilling activity.
What's something you learned that you'll take with you?
The most influential thing I learned during my time at Space Camp was that as long as you have really great people by your side, you can accomplish anything. My group was made up of so many people from all over the world, Belgium, Dubai, and even Bulgaria, but I went in not knowing anyone, and I came back to Arizona with 14 new best friends.
What do you want to be when you grow up?
I want to become an engineer or a pharmacist, but being an astronaut would be pretty cool too.