For 22-year-old musician, artist and Tucson native Wednesday Aparisi, the sense of belonging and community she felt at Cienega High School's 200 hallway was unforgettable.
The 200 hallway housed all of the high school's art and performative classes and was the space where all of the artsy kids hung out, felt seen and created a sense of community with each other. 
As one of those artsy kids herself, the hallway was a place of comfort.
That feeling she felt years ago during her time in high school was the catalyst behind her newest venture — opening a community-oriented music, theater and art studio for local kids and adults.
"I wanted to sort of just make a space where everybody can have that sort of community feeling," Aparisi said. "And also (have) supportive instructors (and go) beyond just places that you could go and hang out with your friends and make art, but we're also going to teach you how to increase those skills and become an even better artist or actor or whatever that is at the same time."
After five years of toying with the idea of opening her own studio, her vision came to fruition this month when she officially opened Aparisi Visual and Performing Arts on Saturday, Feb. 12.
The studio, located at 7231 E. Speedway, is home to five instructors, including Aparisi, who specialize in various forms of visual or performing arts. The inclusive space offers both group classes and two packages for private music lessons.
Courses start at $25 and private music lessons range from $25 to $30 per half-hour lesson. The studio plans to host between 8 and 10 different classes per week. 
Beginning in April, the studio will start offering eight-week courses for $230 that include a grand showcase at the end.
Some of the courses AVPA offers include paint-alongs, puppetry, acting and improv basics, crafting like making plushies or jewelry, and an abundance of music classes including guitar, cello, violin and drums. The complete list of courses is available on their website.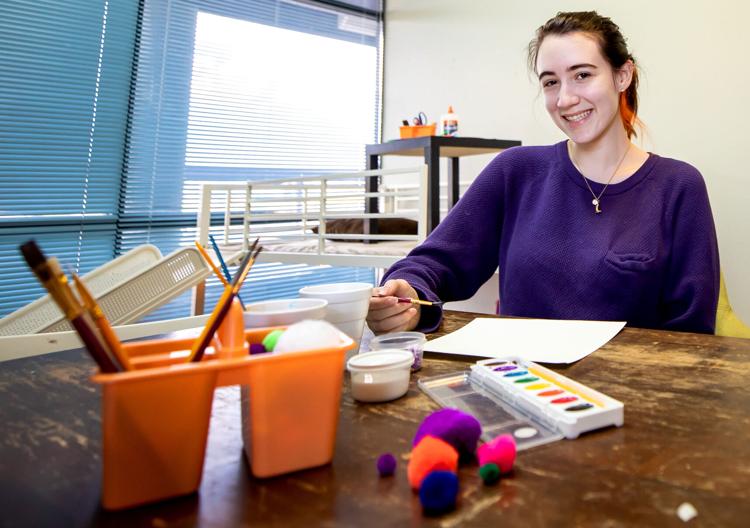 But Aparisi is always open to adding new classes that the participants may be interested in. In addition, the courses aren't just available for kids and teenagers; Aparisi encourages parents and siblings to tag along and find a class for themselves so the whole family can have fun and learn something new all while being in the same place.
Within the studio, Aparisi hopes to connect the bridges among music, art and theater, which is why she decided to include all three visual and performing art elements under one roof.
"I want everybody who's interested in art, music or theater to find what they're looking for in the studio," she said. "Whether you've done it for a long time and you want the space to continue, or you're brand new."
'There's a little bit of art everywhere for everyone.'
The instructors were carefully selected by Aparisi and her boyfriend, AVPA music instructor Oliver Dewey, as a way to bring upbeat and passionate teachers to the community-oriented space.
For Dewey, music has always been a major part of his life as he grew up in a musical family that included his grandfather, Tim O'Connor, a prominent Tucson fiddler. A lifelong drummer and guitarist, Dewey began giving music lessons in 2019 when he met Aparisi at a music school she was managing and where she was offering private music lessons.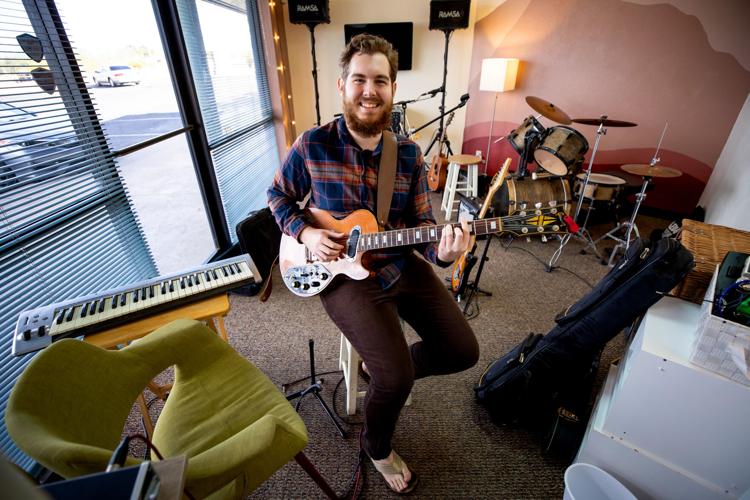 Since then, Dewey, a native Tucsonan, said he's played a supportive role in helping Aparisi get the studio up and running.
"I took a couple months off, you know, because we were getting all the administrative stuff rolling with the studio," he said. "But now that we're here, I'm excited to finally get to like, teach again, because I've missed it a lot."
AVPA's theater and improv instructor, Matt Denney, moved to Tucson only seven months ago to work in student affairs and higher education at the University of Arizona. The Las Vegas native has a background in youth theater and was a high school theater teacher in Reno, Nevada. 
Denney, who also comes from a musical family, said he got his start in theater in the third grade when he played a tree in the school production of "The Jungle Book." His passion for theater only increased from that moment and he was even in the final callback for a role in Disney Channel's TV show "Shake It Up," starring Zendaya. (Yes, that Zendaya.)
Although he enjoyed acting and directing, he said, his passion stayed with teaching. So when he saw an Instagram ad seeking an instructor for a new studio here, he thought it was the perfect opportunity.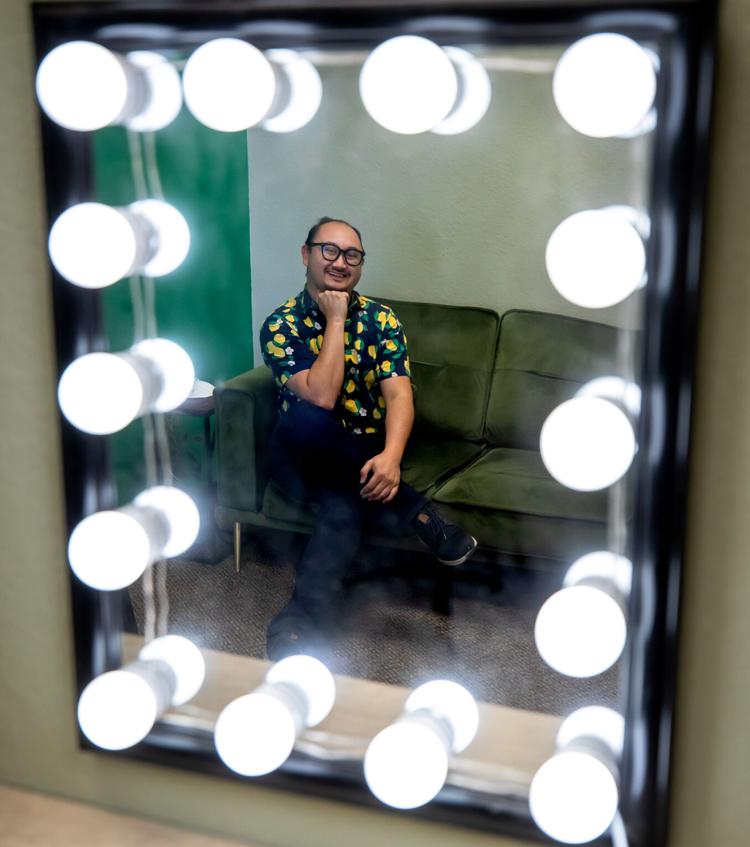 "When I got on the Zoom call with Oliver and Wednesday, it was just phenomenal," Denney said. "And it just seemed like the right fit. And that's the greatest thing with this studio is all of the instructors that we have are so passionate and they do like 50,000 million things."
Denney said working in a collaborative space with music, art and theater in one house isn't something that he's really seen before.
"I was just really excited about the journey of collaboration in the studio, where it really is an all-inclusive art space," he said. "Like, there's a little bit of art everywhere for everyone, which is something I was really excited about."
Straight from the mind, heart and wallet
Opening a new business when you've never run one before is a scary experience, but that didn't stop Aparisi from pursuing her dreams and funding the studio herself.
"It's all just from me," she said. "I didn't get a grant or a loan or investors, it's all my plan and my capital and my funding. So there's big stakes."
Not only is space self-funded, but the former real estate office was also redesigned and transformed by Aparisi, too. (With the help of Dewey's manual labor, of course.)
After getting the lease to the building in January, the AVPA crew and their family members spent the next few weeks completing 10-plus-hour days ripping up carpet, repainting the walls and moving in furniture to get the studio ready for their February opening.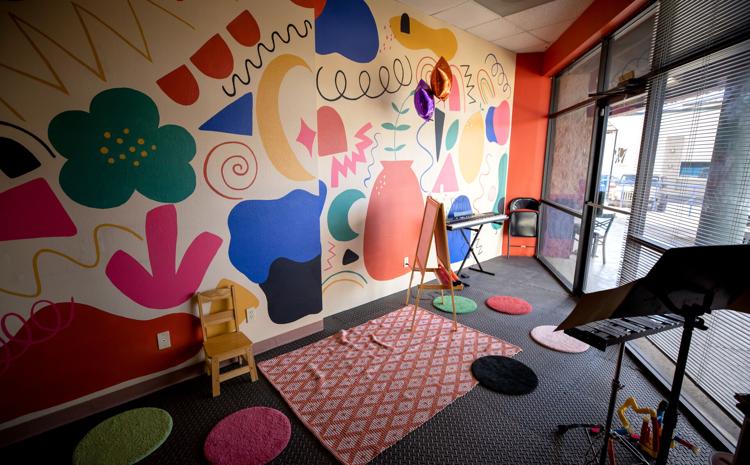 "We didn't just hire a contractor. We pretty much did all of it ourselves," Dewey said. "But it was worth it. Because I mean now it's incredible. And in some ways, I think it's almost better that we did it ourselves because there's a lot of pride to take in it when you look around. And you remember like, here's what it used to look like. And now through our effort and through the things that we've done, here's what it looks like now and like, 'Whoa, that's cool. We did that.'"
With dining tables, flexible seating and a couch, the studio rooms were designed to feel more like home and less like school, according to Aparisi. 
"We wanted it to be comfortable and feel safe. Because when you're in that sort of state, that's when you're actually able to, like, be creative and learn and progress," Aparisi said. "If you're in that state of like, 'Oh my God, what if I mess up and I don't know what to do? And this place feels uncomfortable,' you're not going to be able to fully do your best and create and learn as well as you could if you were calm and regulated and safe."
Creating a safe and connection-based experience for AVPA's participants is and will continue to be a priority for the studio. Ultimately, Aparisi aspires to open more locations, compose a guide for others to construct their own community-oriented studios outside of Tucson and start a scholarship and foster youth program to help even more individuals express themselves artistically. 
"You could use what you learn in our space to go and become a professional musician or professional actor. But if you don't, that's OK too, right? We're not trying to mold you into, like, the perfect artist," Aparisi said. "We're like, 'Come in and have fun and make friends and make some art and hopefully you'll learn something.' And hopefully, it'll be a good experience and you'll want to keep doing it."