Tucson is a creative town filled with murals plastered across otherwise empty walls, shops dedicated to showcasing the talent of local makers, and art galleries that host exhibits, programs and workshops headed by Tucsonans. 
We're always excited to highlight our incredible makers through stories, photos and Instagram Reels. On Saturday Feb. 18, we're taking our love for makers to another level. We're hosting an artisan market!
Head downtown from 11 a.m. to 4 p.m. to shop from more than five dozen vendors selling handcrafted items: macramé plant hangers, desert-inspired stained glass, handmade earrings, whimsical bath bombs, crystal crafts, chamoy-coated candies, recycled bike art, mini cakes and the list goes on. The market, sponsored by Dirty T Tamarindo and Hotel McCoy, takes place outdoors at 55 N. Fifth Ave., across from Hotel Congress.
There will also be a donation drive for local nonprofit Youth On Their Own. We encourage you to bring a donation of cereal, tissue, ramen or menstrual products to go toward the organization's Mini Mall, in which students can "shop" for free. You can find the full list of needed items here. 
And if you get there early enough, you might even find a free book hidden by the book-loving group Tucson Tome Gnome. The books, "Ain't That a Mother: Postpartum, Palsy, and Everything in Between" and "Black Love Matters: Real Talk on Romance, Being Seen and Happily Ever Afters," are written or edited by local authors Adiba Nelson and Jessica P. Pryde.
But now the thing you've all been waiting for: who will you find at the market?
3QuarterMoon Creative
Shawn is the artist and creator behind 3QuarterMoon Creative, selling ocean sculptures and original art like framed sci-fi and fantasy prints.
"I like to think that when I moved from California to Tucson in 2009, I brought the ocean with me!" Shawn says. "I love the ocean, especially the animal life like octopus, deep sea creatures and more. My interests and subject matters also include sci-fi and fantasy topics like fairies, dragonflies, monsters and made-up critters!"
Learn more about 3QuarterMoon Creative here.
Aall Forms of Life
Nathalie Aall is a scientific illustrator and a wildlife biologist. Her illustrations highlight the beauty of all forms of life and biological concepts through accurate and clear visuals. Her artwork — prints, stickers and more — include beautiful imagery of javelinas, quails, bobcats and other Sonoran Desert fauna and flora.
Learn more about Aall Forms of Life here.
Adela Artisan
"I like to say that I am a person of use!" says Adela Artisan's Alexa, who sells leather purses. "I love to help and support those in my community. I started my business with the dream of sharing my culture and empowering Mexican artisans. I also work in the community as a business coach to help small businesses access capital and resources to grow."
Learn more about Adela Artisan here.
Angela Hitt Designs
Angela Hitt offers art workshops for all ages, including mobile birthday parties centered on jewelry-making or painting. She also has custom jewelry, ranging from ear threads to sterling silver necklaces.
Learn more about Angela Hitt here.
Ārya Tārā
Merve is a candlemaker who has a masters degree in perfumery and cosmetics. "I enjoy creating extraordinary scents and sharing them with enthusiasts," she says.
Find scented candles and candle gift sets, ranging from Arizona scents like saguaro blossoms and monsoon, to signature auras like vanilla and lilac.
Learn more about Ārya Tārā here.
AZ Baking Company
This vendor might make you hungry with its premium mesquite chocolate chip cookie mixes. 
"AZ Baking Company is dedicated to creating premium baking mixes for anybody who wants a deliciously different, easy-to-finish baking mix that comes together in minutes while knowing that every bite gives back to the community and strengthens our local economy," AZ Baking Company says. "Our popular and unique mesquite chocolate chip cookie mix will not disappoint. Fun for the whole family and a great gift for travelers in the Southwest."
Learn more about AZ Baking Company here.
Bolita Bakery
Wait, this vendor might make you hungry, too! Jesús Orduño makes traditional panadería staples like cochitos and conchas, plus scones, blondies and cookies with Mexican flavors. Lechera scones, anyone?
"I am a first-generation Mexican-American born and raised in Tucson. I have been working in education for the past nine years and am a self-taught baker. This small business has allowed me to take a passion and share it with the community I love," Jesús says.
Learn more about Bolita Bakery here.
Ben's Bells
Most Tucsonans likely already know this vendor, a local nonprofit with the mission to inspire intentional kindness. You'll be able to find kindness-themed ceramic wind chimes and goods created in the Ben's Bells community art studios. The sales help fund kindness education and studio programming.
Learn more about Ben's Bells here.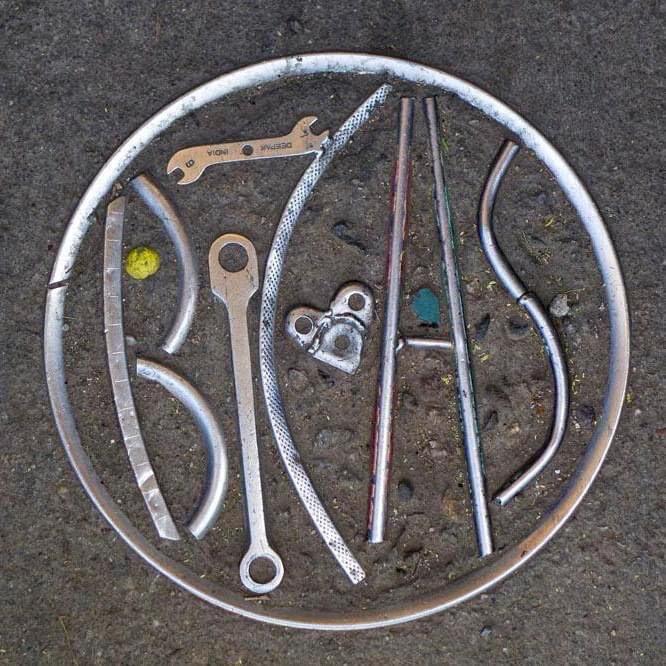 BICAS
BICAS, Bicycle Inter-Community Art & Salvage, is a local nonprofit that provides a range of programs where you can learn how to fix your bike or create unique art from recycled materials. They'll have recycled bike art for sale at the market!
"We believe in bicycles and other human-powered machines as essential vehicles for transportation justice, and we are always striving to make them more accessible to our community," BICAS says. 
Learn more about BICAS here.
Bloom Where You Are Planted
Embroidered desert scenes ... on vintage postcards?!
"I am a desert dweller who loves Tucson and loves to reflect on my sense of place by making art. I find upcycle vintage postcards to inspire my canvas," maker Jenn says.
Learn more about Bloom Where You Are Planted here.
Catherine Eyde
"I create every single day because I am alive. Today it's painting, yesterday it was digital arts, tomorrow it may be ceramics, collage, or product design," Catherine says.
Find tea towels, greeting cards, journals, tote bags, enamel cups, pins and a selection of original art on paper.
Learn more about Catherine Eyde here.
Chez Peachy
Our food writer once said Chez Peachy makes sunshine you can eat. Find colorful and vibrant bento cakes from baker Christa Lebron.
"I am someone who loves all things vibrant and colorful, especially when it's incorporated within fashion, desserts and art!" Christa says.
Learn more about Chez Peachy here.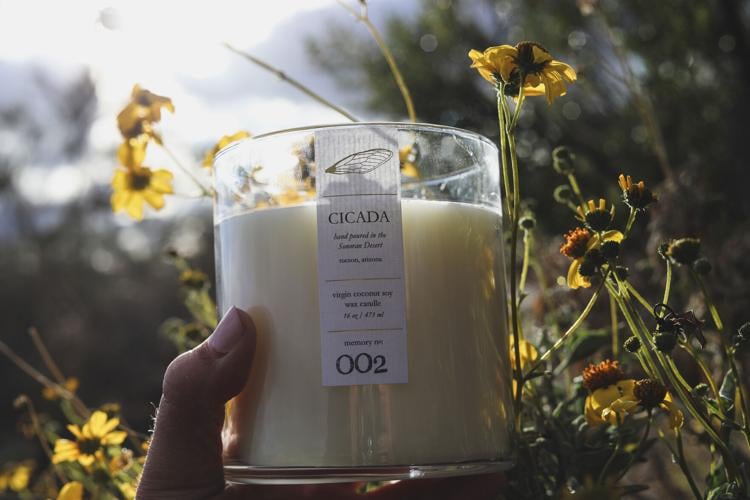 CICADA
Spiced prickly pear, cafe con leche, Sonoran wedding cake — all are scents of candles made by CICADA.
"CICADA was born out of a love for the scents of the Sonoran Desert. We hand-pour clean-burning candles in beautiful minimal vessels. Each memory scent candle has a story of a moment in time in this incredible desert."
Learn more about CICADA here.
Coy Creative
Earring lovers, this one's for you. Megan Coy makes polymer clay earrings, plus some with acrylic, gemstones and beads.
Megan is a native Tucsonan but has traveled through most of the country, and internationally, as a professional theater stage manager. She was away for six years and decided to move back to Tucson in 2019, where she lives with her husband, daughter, son, two dogs and cat.
"My pieces are inspired by the desert, vintage styles and I never say no to a little glitter," Megan says.
Learn more about Coy Creative here.
Crafts by Dani Nicole
Dani felt inspired by her daughter to start a business.
"I wanted to do something I would be proud of, as well as be someone she can always look up to and inspire her to go after her dreams," she says.
Find hair bows and other hair accessories, plus keychains, wristlet lanyards, custom sunglasses, purses and hair bow holders.
Learn more about Crafts by Dani Nicole here.
Crafty Carmencita
Carmen enjoys fiber crafts, mostly crochet, but also macramé and sewing. You'll find unique and colorful accessories, decor and apparel. 
"Originally from Houston, I've lived in Tucson for 14 years. I enjoy many fiber crafts, and am always trying to learn new ones, but crochet has really clicked best with me," she says. "With the right yarn and hook, I feel like I can make anything!"
Learn more about Crafty Carmencita here.
Creative Kind
Not only can you find Creative Kind at our market, but they also have a brick-and-mortar location in La Encantada. 
"We are a local, women-owned gift shop and workshop space!" Creative Kind says. "We carry goods from small businesses and independent makers, many of whom are local. We also occasionally host craft workshops and maker pop-ups."
Learn more about Creative Kind here.
Crystal Moon Creative
This artist paints mushrooms, plus you'll likely find wood slice magnets, original art stickers and crystals. 
"I am an eclectic and colorful artist, and I often focus on desert landscape in my work. I also curate ethical crystals and crystal products to create an overall upbeat experience at my booth."
Learn more about Crystal Moon Creative here.
Cuteish Club
The name will not lead you astray, the items here are cute! Find fan art, tote bags, stickers, custom compact mirrors, keychains, pop sockets and plushies.
"We are a small collective of Tucson-based artists who enjoy sharing our art with the community," Cuteish Club says. "We specialize in digital and physical art, with a witty and whimsical twist."
Learn more about Cuteish Club here.
Desert Dots Art Studio
Take a look at their artwork and you'll understand the name — it's hand-painted dot mandala art on flower pots, mugs, wine glasses, magnets and assorted home decor. 
"I focus on functional and usable art to bring a little bit of beauty, color and zen to your everyday life," Desert Dots Art Studio says.
Learn more about Desert Dots Art Studio here.
Desert Dreams XO
Ashley Campbell is a stay-at-home mom who found a passion in designing and making cups, keychains and more crafts.
At her booth, you'll find glass tumblers with designs, plus coasters, keychains and hats.
Learn more about Desert Dreams XO here.
Di Luna Candles
María José is the owner of Di Luna Candles, a business she started in 2020. She creates 100% soy wax candles decorated beautifully with flower and dried fruit toppings. 
"I love creating a product that is clean for the environment but also makes your space smell amazing," she says.
Learn more about Di Luna Candles here.
Dirty T Tamarindo
Dirty T Tamarindo is bringing the spice to the market with their chamoy-coated candies and other goodies like rim dip and party platters.
"I am a LGBTQ+ Latina entrepreneur born and raised in Tucson, Arizona, dedicated to bringing the Sonoran spice into every bite!" owner Alana says. "Our recipe dates back to the 1980s from the ranches of Hermosillo, Sonora."
Learn more about Dirty T Tamarindo here.
Ducky's Pineapple Banana Bread
This isn't your grandma's banana bread, they'll tell you. Ducky's serves up air-fried pineapple banana breads with vegan and gluten-free options also available.
"Ours are much more moist than anything you'd find in stores," Ducky's says.
Learn more about Ducky's Pineapple Banana Bread here.
Earth Based Body
Find natural skin-care products including body creams, hand creams and vegan lippies, all with Sonoran Desert ingredients. Earth Based Body says the products will "reveal your inner radiance." ✨
Learn more about Earth Based Body here.
Earthsbones
"Creating art with the earth's bones" is what maker Olivia is known for. Head over to the Earthsbones table to see handcrafted jewelry with gold or silver metals and wire-wrapped gemstones.
Learn more about Earthsbones here.
Feliz & Funky Designs
Christina Feliz sells hand-painted terracotta pots for your plants. She's lived here for about five years and has fallen in love with Tucson.
"I love the culture, the restaurants, the landscape and have found the community to be so supportive of artists and makers. It just lights me up," she says.
Learn more about Feliz & Funky Designs here.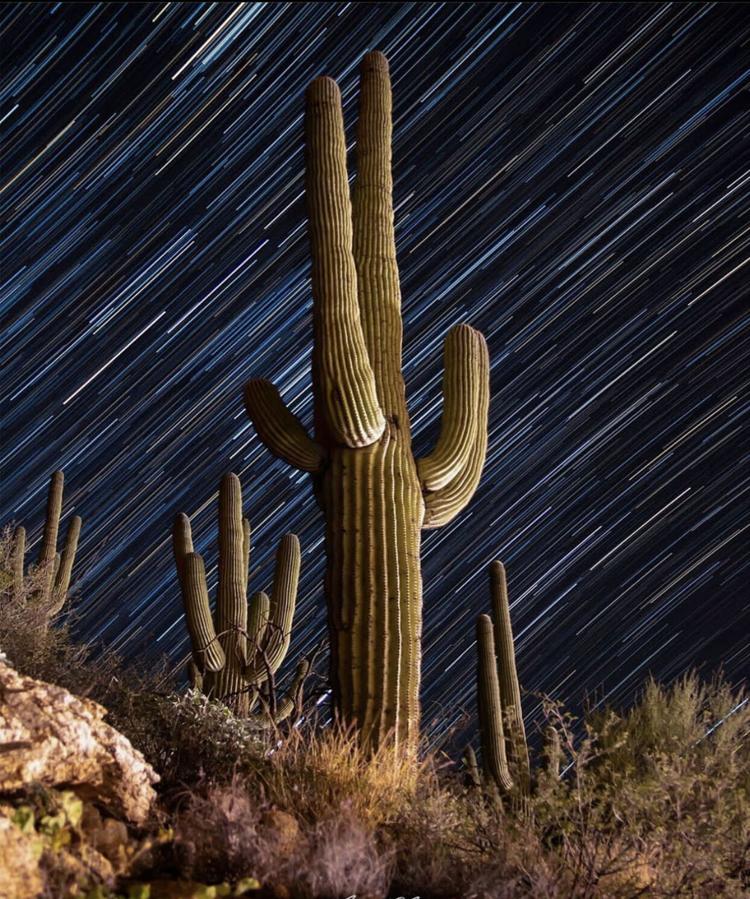 Fork Tailed Media
Biologists, nature lovers and photographers make up Fork Tailed Media. They'll be at the Tucson Together market to sell some of their favorite prints.
"From landscape to wildlife and astrophotography, people can bring the beauty of the Sonoran Desert into their homes in a variety of sizes and materials like matte prints or aluminum floating frames."
Learn more about Fork Tailed Media here.
The Glass Desert
Alexandra Berger Clamons translates her love of her desert surroundings into a line of modern stained glass cacti and other desert-inspired home decor. 
"My work is inspired by my day-to-day environment as I strive to pay homage to Tucson's amazing Sonoran Desert," she says.
Learn more about The Glass Desert here.
Handcrafted by Care
Caroline Eimer is a local artist and art educator focused on creating sustainable, one-of-a-kind pieces. Her products include hand-painted upcycled fashion like second-hand purses, wallets, hats and clothing, plus upcycled home goods.
"My work is focused on treating our planet and each other with kindness," she says.
Learn more about Handcrafted by Care here.
Happily Becoming
Some of what you'll find from Happily Becoming are functional pieces and pottery — some is simply inspirational art.
"I'm a potter because it helps me center and offers beautiful wares to inspire others," maker Lisa says. "I love to blend colors and carve scenes inspired by Tucson's desert beauty, my garden and my cats on my pieces."
Learn more about Happily Becoming here.
Harper & Honey
Harper & Honey is known for their permanent jewelry and you might even stumble upon a custom hat bar, too. 
"I recently started my permanent jewelry business and have been blown away by how amazing the community of Tucson is!" maker Briana says. "I am so enjoying meeting other vendors and the nicest customers!"
Learn more about Harper & Honey here.
Haul Leather
Maker Dani has been making leather bags and accessories for nearly two decades. Beyond that, Dani's a gardener, a hiker and a lover of all things desert — "even the heat to a certain degree!"
Learn more about Haul Leather here. 
Heidi Grande
Scroll through Heidi's Instagram and you'll find jewelry made with kumquat slices, flowers and blood oranges. The resin jewelry is made with local plants and citrus!
Learn more about Heidi Grande here.
Herbs & Love Co.
Stop by the Herbs & Love Co. table to find this local business selling loose-leaf herbal tea blends in names like "Feeling Yucky" and "Flawless Bad B*tch."
Learn more about Herbs & Love Co. here.
Hola Chingona
You may have stumbled upon this shop off of Fourth Avenue, with its red carpet-style stanchion posts and pink velvet ropes. Shop owner Maria Iturralde will be at our market selling mugs, glass can cups, cutting boards and jewelry with themes of Chicano, pop, desert culture and lots of American and Mexican humor.
"I enjoy creating without limitations, making a multitude of different art/products mostly inspired by my Mexican culture and growing up in a predominantly Spanish-speaking household in Tucson during the '80s, '90s and '00s," Maria says.
Learn more about Hola Chingona here.
Jameela Hill
Meela is an artist, a yoga teacher, a doula and a full-time mom. She's currently pursuing a degree in IT support, all while completing her 300-hour yoga training. She's also the founder of Jijivisha Holistic, "a health-care company combining her yoga and doula knowledge to empower Black women in finding their purpose and cultivating healthy, affirming relationships."
At the Tucson Together market, you'll find acrylic and mixed media art on stretched canvas, cardboard or wood.
Learn more about Jameela Hill here.
Jazmyn Roze Art
Find stickers, prints, sculptures and original paintings from Jazmyn Roze Art, all of overly exaggerated faces and bodies — sometimes on things that don't have faces.
"I'm a small artist who just wants to share their weird art style with the world in hopes that it may inspire other weird artists, like many other weird artists have done for me," Jazmyn says.
Learn more about Jazmyn Roze Art here.
Jesse J. Media
Jesse is a local photographer capturing the "majestic beauty of our scenic surroundings so that I can share it with others who appreciate the desert just as much."
Pick up prints, cards, magnets and stickers of the desert photography.
Learn more about Jesse J. Media here.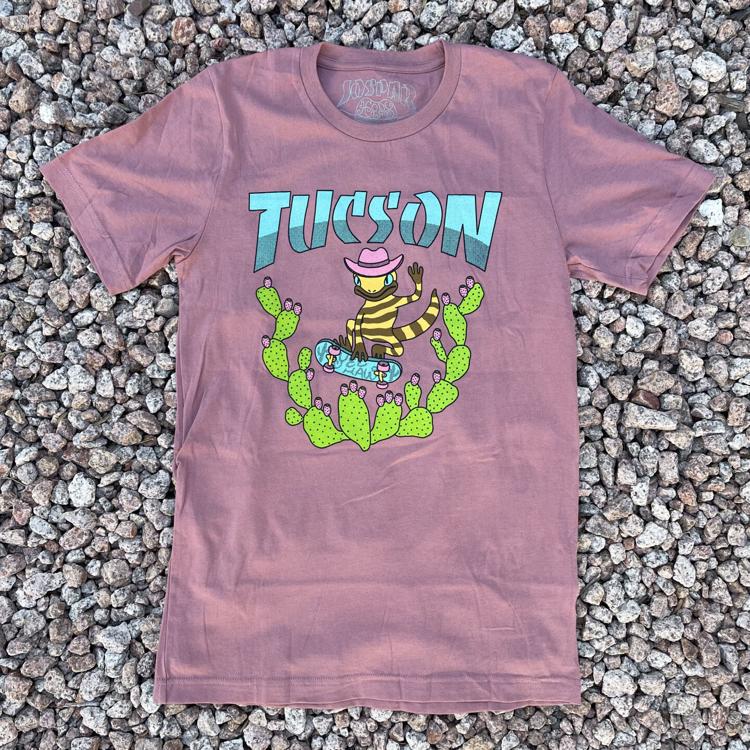 Jos Par
A local artist and screen printer, Jos Par's work features desert iconography and themes of sustainability, existentialism and anxiety, all with a whimsical twist. 
The art decorates shirts, hats, stickers and prints.
Learn more about Jos Par here.
Juvelarto Designs
Margaret, the maker behind Juvelarto Designs, grew up in Tucson, pursued ceramic sculpture and metal-smithing in college and designed and produced work for jewelry companies large and small carried by stores like Nordstrom and Anthropologie. 
"The styles coming from Juvelarto Designs are pieces that reflect my profound love for metal and appreciation for the Sonoran Desert. Each piece is designed and handmade by me," Margaret says.
Learn more about Juvelarto Designs here.
Katherine Joyce Illustration
Katherine Joyce enjoys both storytelling and exploring vibrant colors. "Some illustrations are explorations into the feeling of calm, a moment in adventure or connection, and have inspiration from myth, literature and nature," she says.
Her illustrations are printed on fine art paper, or sometimes on wood to make earrings and ornaments. Also find stickers, patches, pins, magnets and keychains! Many have Sonoran Desert critters on them.
Learn more about Katherine Joyce Illustration here.
La Luna Coyote
Say hi to La Luna Coyote, a multimedia artist inspired by the Sonoran Desert. Check out the handmade concrete home decor including vases shaped as daisies, tea light holders and vases in a funky U-shape.
Learn more about La Luna Coyote here.
La Vida. Taprūt.
Emily White handcrafts functional pieces out of wood. Bestsellers are the bench scrapers, hand-formed mesquite vases and cheeseboards. 
"La Vida. Taprūt. is your desert-inspired lifestyle shop where you will find my handcrafted wooden goods with a sprinkle of vintage housewares for your home," Emily says. "By combining both my specialties, I hope to help you fill your home with unique pieces that excite you to cook, host gatherings and surround yourself with special moments to inspire joy within daily routines."
Learn more about La Vida. Taprūt. here.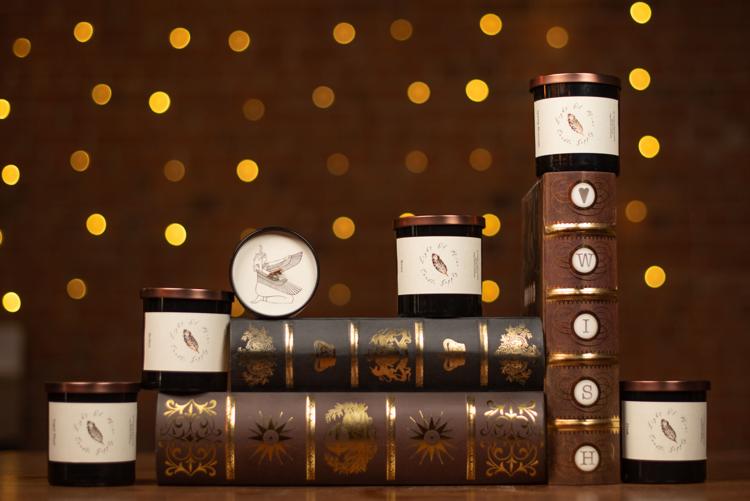 Light of Mine Candle Supply
Light of Mine Candle Supply is a Black-owned and female-owned candle shop in Tucson, making artisanal, luxury candles sourced from sustainable and organic coconut wax.
"They are hand-poured with love and our fragrances are free from carcinogens, mutagens, reproductive toxins, organ toxins and acute toxins," Light of Mine Candle Supply says.
Learn more about Light of Mine Candle Supply here.
Luna & Saya
Find handmade earrings, necklaces and hair accessories from Luna & Saya's booth at the Tucson Together market.
"We are a fun accessories brand on a mission to spread love and positivity through our work," Luna & Saya says. "We believe that the right accessory can transform your mindset and mood leading you to live your best life!"
Learn more about Luna & Saya here.
Luna Scrubs
Find a CBD skin, body and pet product line from Luna Scrubs, which is focused on using natural ingredients in its massage oil, bubble bath, bath bombs and lotions.
Luna Scrubs also donates 20% of every purchase to animals in need, through shelters and sanctuaries.
Learn more about Luna Scrubs here.
MagJo Designs
Maker Antonia Sloan has been creating jewelry for more than two decades, traveling and exploring the world for inspiration in her whimsical designs.
"MagJo Designs was born out of a hope to provide the dreamer and explorer in all of us with a wearable reminder of the beauty in the small moments," Antonia says.
Learn more about MagJo Designs here.
Marie Welding 
Marie's love for photography began at age 13 when moving to Tucson. "After retiring from education in 2016, I picked up my camera again which reignited my love for photography," she says, calling her style "Southwest photo art with a fresh view."
Learn more about Marie Welding here.
Melrose Macramé & Art
Find a full tent of macramé wall hangings, plant hangers and accessories using recycled cotton, saguaro ribs, cholla wood and other materials found in Tucson. Melrose Macramé & Art is headed by an artist, macramé maker and high school art teacher.
Learn more about Melrose Macramé & Art here.
Mi Casita Press
Mi Casita Press is a femme-led alternative publishing press selling zines, prints, screen-printed apparel, totes and stickers. 
"Mi Casita Press aims to empower QTBIPOC through printmaking, print and community entrepreneurship," Mi Casita Press says. "MCP was created in the efforts to make art accessible to communities of color, encourage healing through the arts, promote the work of QTPOC, and amplify the voices of the underrepresented through the practice of self publishing."
Learn more about Mi Casita Press here.
The Neon Door
You might recognize The Neon Door as your neighborhood friendly aesthetics bar on Fourth Avenue. The business offers tooth gems and permanent jewelry, plus if you go into the brick and mortar, you'll find hand-poked tattoos, permanent makeup, body contouring, scar and stretch mark camouflage, scalp micro-pigmentation, teeth whitening, hair cuts and color, lash extensions, hair extensions, facials, body waxing and spray tans.
Learn more about The Neon Door here.
Nomad Chainmaille
Find handmade chainmaille jewelry created by a native Tucsonan who specializes in edgy and bold accessories.
Learn more about Nomad Chainmaille here.
Old Pueblo Offerings
Old Pueblo Offerings is known for its silver, brass and copper jewelry. Vanessa is the metalsmith behind the business, creating jewelry inspired by "stories, culture and land of the Sonoran Desert."
Learn more about Old Pueblo Offerings here.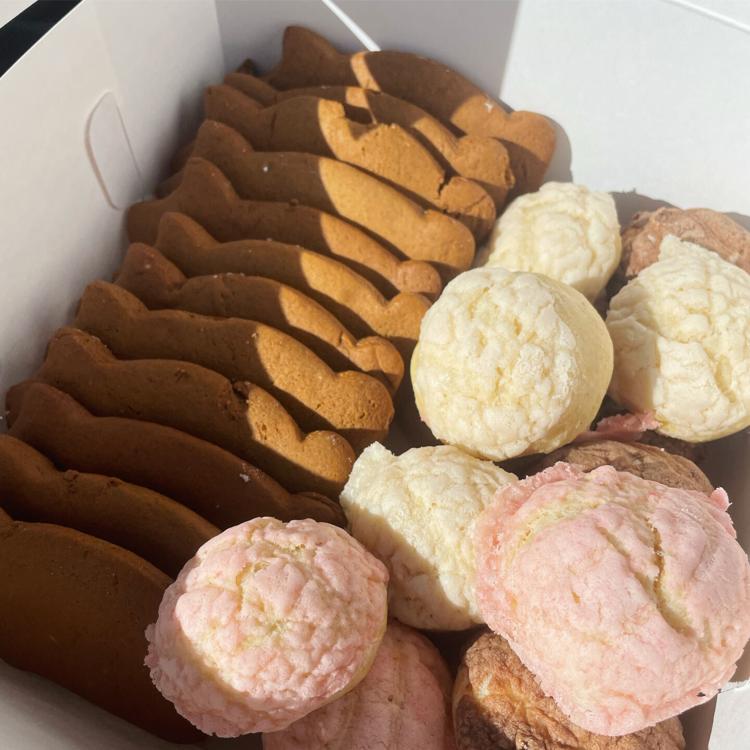 Pau's Pan Dulce
Pau's Pan Dulce specializes in custom cakes and pastries for any occasion. You'll find pan dulce, puff pastries, cake jars and more. "We make art you eat!" says owner Paulina Delgado.
"I'm a 24-year old-baker and entrepreneur," she says. "I have a passion for bringing affordable, authentic and delicious baked goods to the community. I am born and raised in this Old Pueblo and I'm so proud to see and be apart of this growing community! Apart from work, I am also a junior at U of A!"
Learn more about Paus Pan Dulce here.
Pima County Justice For All
Pima County Justice For All is an initiative for the 2024 November ballot that gives Pima County residents who are facing deportation access to a public defender.
Learn more about Justice For All here.
Plantney
You might know of Plantney from their brick and mortar in the downtown area, where you'll find a life-size Britney Spears cutout, collages of pop icons hanging on the wall and a Lady Gaga-inspired mural. 
"Plantney curates the hottest, most exotic, illustrious and magical houseplants, pottery, art, with an emphasis in all things pop culture," Plantney says. "All hail Queen Britney."
Learn more about Plantney here.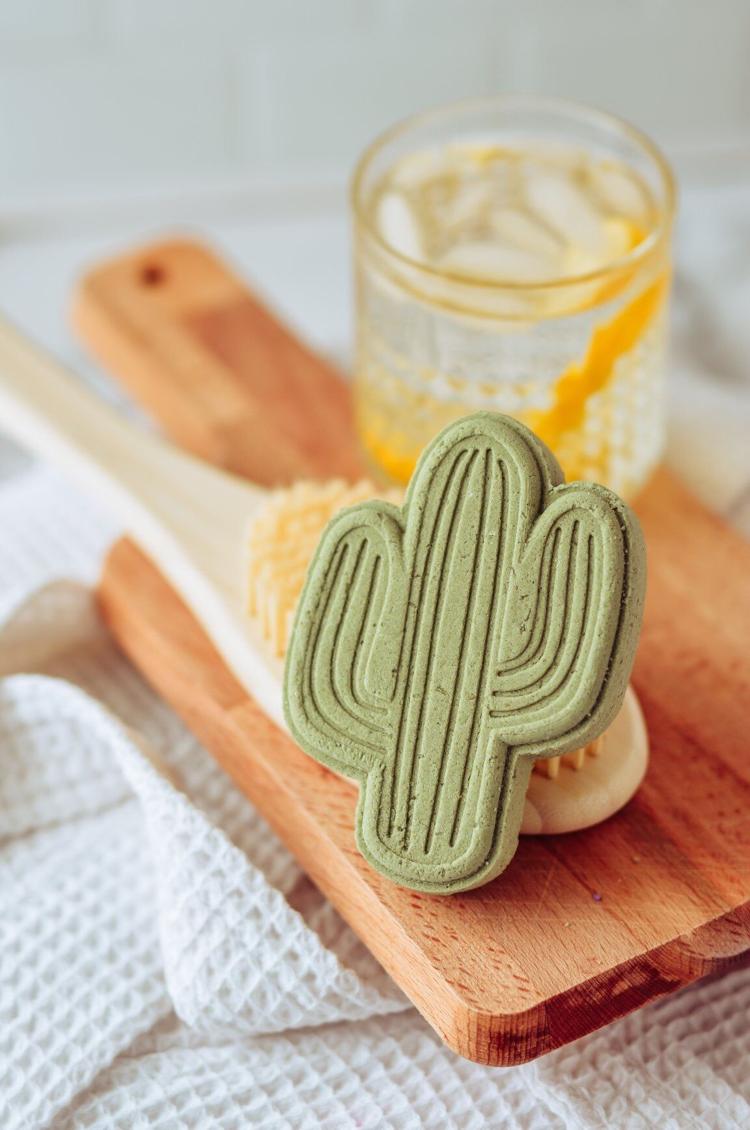 Pure Poetry Cosmetics
Pure Poetry Cosmetics came to be in 2012, when owner Cecy began "concocting vegan and eco-friendly bath-time treats to join her existing line of non-toxic nail polish, body care and home fragrances."
Cecy makes whimsical vegan bath and body products inspired by pop culture, literature and her own "glitter-filled daydreams." 
Learn more about Pure Poetry Cosmetics here.
Roby Riker
Aerospace engineer by day, artist by night! Maker Elishka Jepson is a graphic designer specializing in fabric design, sewing accessories and handcrafting artwork and jewelry. You might find headbands, scarves and bags, plus prints, wall signs, stickers, jewelry and pins. 
Lots of the art is STEM-themed, though Tucson and the Southwest are also featured.
Learn more about Roby Riker here.
Smells Like Dessert Candles
This mother-daughter team creates candles, wax melts, room sprays and hand soaps that will remind you of your favorite treats — both in the scents and the appearance! Scents include blueberry cheesecake, cake batter and caramel brownie sundae. 
Learn more about Smells Like Dessert Candles here.
Sonoran Rain Soaps & Skincare
The owner of Feliz & Funky Designs, Christina Feliz, also owns a second business, Sonoran Rain Soaps & Skincare! The soaps are made from scratch and often adorned with citrus fruits or include citrus zest harvested by Iskashitaa Refugee Network. 
"I volunteer with this organization and last year, with less than three months of selling my soaps, was able to donate over $500 to them," Christina says. "Giving back is an important part of my business practice."
Learn more about Sonoran Rain Soaps & Skincare here.
Spring + Vine
Ashley is the creative hands and heart behind Spring + Vine. She's a local artist and teacher who creates natural soap and handmade pottery. She also offers workshops from her backyard studio and throughout the community!
Learn more about Spring + Vine here.
Superior Water Treatment
The goal of Superior Water Treatment is to help Tucson and surrounding areas get "great tasting, healthy, soft water." Superior Water Treatment has more than eight years of experience. 
Learn more about Superior Water Treatment here.
#ThisIsTucson
It's us!! Hello. Our mission is to foster a community that knows and loves Tucson. We founded #ThisIsTucson to help you discover what to do, taste and talk about in our favorite desert city. 
Stop by our table to spin a prize wheel, pick up a free sticker or purchase a tote bag and pet bandana!
Learn more about #ThisIsTucson here.
Tipsy Picassos
You might know of Tipsy Picassos through their art workshops typically held at breweries across town. At our market, you'll be able to find Tipsy Picassos acrylic paintings, resin art, resin jewelry and hand-painted hats.
"I make stuff all the time and have started actually selling it at markets instead of having it pile up in my house," Tipsy Picassos says.
Learn more about Tipsy Picassos here.
Tucson Zine Fest
Tucson Zine Fest is held annually to bring together, and showcase, the local zine and small press community in Tucson. Tucson Zine Fest happens this year from 10 a.m. to 4 p.m. on Saturday, April 15 at the Steinfeld Warehouse.
At their table, you'll be able to find self-published zines, comics and books.
Learn more about Tucson Zine Fest here.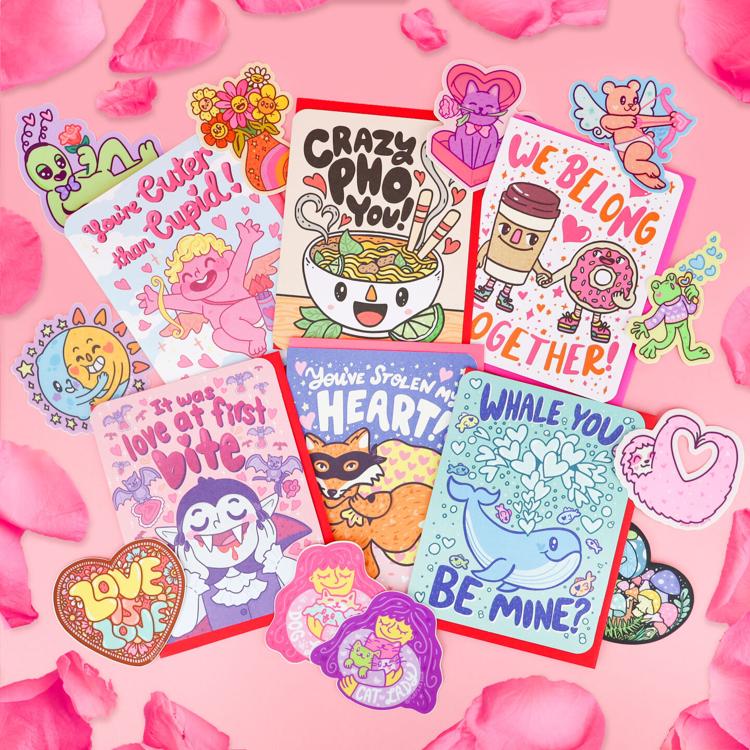 Turtle's Soup
You might recognize Turtle's Soup from their artwork wrapped around the streetcar advertising Brooklyn Pizza Company. Turtle's Soup is a whimsical stationery company making fun vinyl stickers and greeting cards.
"We strive to make people smile one sticker at a time," Turtle's Soup says.
Learn more about Turtle's Soup here.
United Way of Tucson and Southern Arizona
Stop by to learn more about local nonprofit United Way.
"United Way of Tucson and Southern Arizona is working towards a community where every child receives a high-quality education from birth to career, every adult has the opportunity to thrive financially and every older person can retire and age with dignity and independence," United Way says.
Learn more about United Way of Tucson and Southern Arizona here.
Why and Wiser
Why and Wiser creates "artful games and gifts for clever kiddos and their grownups." One of them is the Prickly Pairs Card Game — think Go Fish, but desert-style. 
Learn more about Why and Wiser here.
Within Skin
Within Skin began as a desire to create natural skin-care products for maker Karissa's daughters. The products highlight the power of plants and herbs.
When Karissa isn't working, she enjoys painting, woodworking, sound healing and tending to her farm animals.
Learn more about Within Skin here.
Yōlia Botánica
Visit Yōlia Botánica's tent to find hand-wrapped herbs and flowers used for smoke cleansing, creosote bath salts and oils, plus unique crystal crafts like mini mushroom gardens. 
"I am a young Latina mom, wife, entrepreneur, DREAMER and new legal resident of the USA striving to connect my community to sacred Indigenous spiritual practices and share knowledge of plants, Mexican folk healing and the magic of our Sonoran Desert plants like creosote," Yōlia Botánica says.
Learn more about Yōlia Botánica here.
Youth On Their Own
Don't forget to bring a donation to the market! Local nonprofit Youth On Their Own will be at the Tucson Together market with a donation drive for its Mini Mall. The nonprofit supports the high school graduation and continued success of youth experiencing homelessness. At the Mini Mall, students can "shop" food, supplies and household and hygiene items for free. 
Learn more about Youth On Their Own here, and see what items they need most here.