Update: This story was originally published on Jan. 21, 2022. Climbing in Color recently provided #ThisIsTucson with a spring update: they are hosting their first-ever annual fundraiser from April 25 to May 28. The nonprofit organization hopes to raise $8,000 to "to subsidize indoor and outdoor climbing for People of Color (POC), fund scholarships for POC climbers and continue supporting our community events," co-founder Ravi Singh said in an email. At the end of the fundraiser on May 28, Climbing in Color will also offer prizes to the top three donors, including "rope, gift cards, resole coupons, backpacks and more," according to their fundraiser website.
For more information or to donate to their cause, visit their fundraiser website. Now back to the original story...
---
When Ravi Singh moved to Tucson from the South a few years ago, he unexpectedly stumbled upon an epicenter of rock climbing in Southern Arizona.
Although the Southern native grew up near peak climbing areas throughout Alabama and Mississippi, he didn't give climbing a second thought until college when he visited a climbing gym in the South with his roommate.
He instantly fell in love, he recalled.
He carried that passion for climbing with him to Tucson — a place that he'd never heard of but ended up being "amazing," he said. 
"I love Tucson and I'm really happy that I randomly stumbled across it... When I moved to Tucson, I just wanted to make friends. And one of the first few people I stumbled upon was a climber, so that got me climbing in the gym (in Tucson)," he said.
But as he continued to delve deeper into the climbing world, he noticed there wasn't much representation of people of color in climbing media or on professional athlete rosters.
So, he decided to make a change in the climbing community, starting right here in Tucson.
In 2017, he created an Instagram account named "Climbing in Color," which featured photos of fellow climbers of color. The account had a small, steady following within the climbing community, but the trajectory of the account skyrocketed when Singh met Amber Wong, an East Coast native who moved to Tucson the following year. Together, the duo decided to take the Climbing in Color Instagram to the next level by co-founding a climbing organization based in Tucson.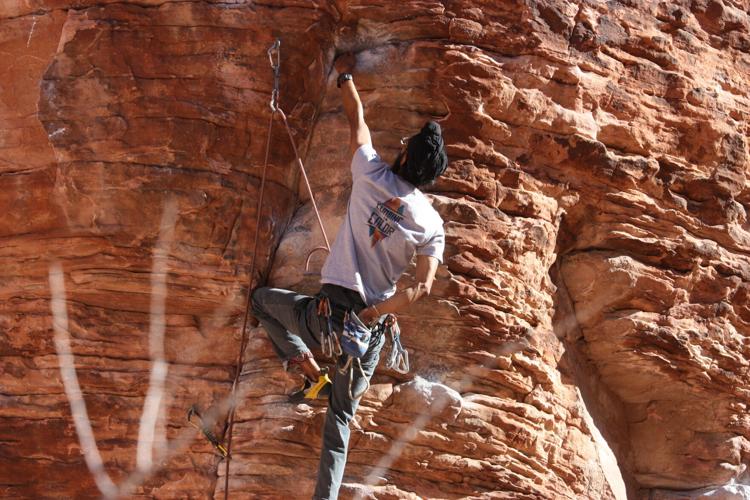 Throughout 2018, the co-founders got to work by filling up numerous small notebooks with ideas, hopes and goals for the group. The duo was essentially "shooting for the stars on paper," Wong said.
Eventually, they settled on the organization's purpose: "elevate the voices of climbers of color and build a community of camaraderie and support," according to their website.
By spring 2019, the organization held its first group meetup at the Rocks and Ropes rock climbing gym in Tucson, located at 330 S. Toole Ave. 
"It was so hard for me to find community here and to meet people, so I was like let's facilitate that for other people and so that's what drew me into climbing," Wong said. "In addition to loving the sport, I also was drawn to how much stoke other people had (for climbing). Like, when you meet a climber who loves climbing, it is contagious. And you're like, 'I want to be part of this too.'"
As more and more individuals joined Climbing in Color, Singh and Wong began hearing stories that shared the same sentiment as their own journeys into climbing — there weren't enough people that looked like them in the climbing world.
"It's been really awesome to see the community accept us and I'm always surprised by how excited people are. Like, I just I wouldn't have expected that. But people get really excited," Singh said. "And organizations will reach out and help donate things, donate time, donate their effort. It's absolutely wonderful to see how much people have accepted this group and have, you know, helped promote it."
Now, the organization has around 170 members on its mailing list, with about 70 to 80 of those people regularly interacting with the organization and between 15 to 20 climbers who routinely participate in one of Climbing in Color's monthly climbing events.
At the events, many climbers expressed interest in "bridging the gap between gym and crag (an outdoor climbing area)," according to Wong.
However, in order to take more climbers outdoors, the organization needs certified climbing guides with insurance who can instruct others how to climb outdoors safely, she said, which requires funding.
"We would want a person of color to be that person, ideally. But I don't want to ask them to provide their time for free," Wong said. "And so as a group, we decided that we want to pay them. We want to get grants to fulfill the needs of our climbers of color community and to pay guides who are making their living doing climbing."
That realization led Singh, Wong and the rest of the leadership team to go down the nonprofit route, so they could secure grants and other funding to keep elevating the voices of climbers of color and help them achieve their climbing goals.
After a year of delays due to COVID-19, the organization finally gained its nonprofit status in December 2021.
Becoming a nonprofit is a huge milestone for the organization, which was just a simple Instagram account a few years ago. Despite its new status, the leadership team still runs the organization on a volunteer basis.
"It's just community for climbers of color. It's that simple. It's why we both started it and it's why we continue to do it, even though we're volunteering and we have full-time jobs," Wong said. "But the reason that we are volunteering our time to create this nonprofit is because we wanted to find community for people that look like us and do the same things as we do."
Since last August, Wong, who works as a natural resource specialist for the Coronado National Forest, has taken over as the leadership team's leader role as Singh moved to Los Angeles to work on his doctorate in neuroscience from the University of Southern California.
Despite the move, that hasn't stopped the co-founders from keeping the mission of Climbing in Color alive here in Arizona. Currently, the group is planning for more monthly events and even started another Climbing in Color group in Flagstaff.
Down the road, they would like to bring a climbing festival, like Color the Crag, to the Southwest, but that's "very far in the future," Singh said.
For now, you can find group members climbing at Rocks and Ropes, the Bloc, Rock Solid Climbing + Fitness or a crag on Mount Lemmon. The co-founders encourage those interested in finding a climbing community, including POC allies, to check out Climbing in Color.
"People can be involved with Climbing in Color, whether they identify as a person of color or not. Ally support is so important because our group of people are not the majority in the sport. Ally support is also just as important as people showing up to our meetups," Wong said. "And whether that means helping spread the word, whether that means donating, whether that means not being a bystander when something happens that might be, like, racially charged or just backing up people of color. Like, that is just as important as being a person of color and showing up and being a role model for someone."
Whether you're in Tucson or beyond, there are plenty of ways to get involved. But most importantly, Climbing in Color hopes that you will find a sense of community within the organization, so you are able to be your true self while doing what you love: climbing.
"We created this because this is what we needed. And it turns out, we're not the only ones that needed this community. That's why it's grown so quickly," Wong said. "And so, we're going to continue doing it to the best of our ability. And yeah, just get used to us being here."