Editor's note: This story was last updated on June 9. 
Food brings people together ... And when the going gets tough, Tucson organizations and businesses are getting creative to make sure that everyone in our community has access to food.
This list is an evolving resource guide, where you can find free food assistance, learn about restaurants offering discounted meals, purchase food without contact and find special accommodations for senior citizens at grocery stores. If you're wondering how you can help serve those in need we're also gathering that info, too.
If you have something to add to one of these categories please send us a note, so we can include your information. 
Food assistance and resources for everyone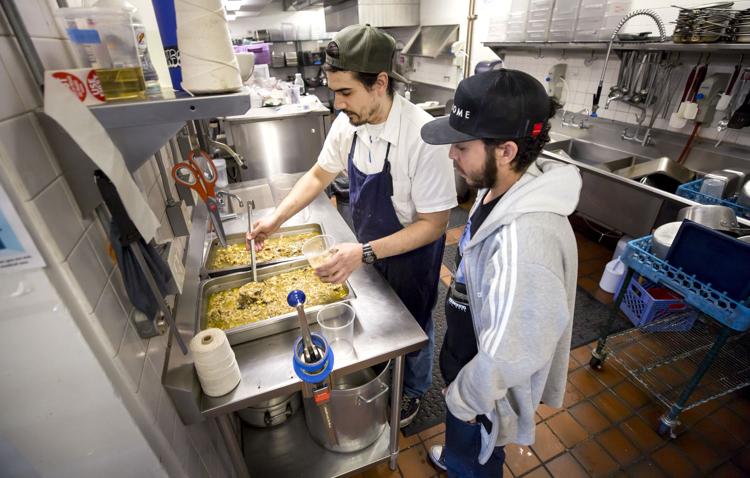 • The Community Food Bank of Southern Arizona will now be distributing emergency food bags at Kino Stadium, 2500 E. Ajo Way, Tuesdays and Thursdays from 7-10 a.m. Be sure to bring your photo ID to pick up a bag. 
• The Community Food Bank of Southern Arizona has a Food Finder resource tool online where qualifying individuals, families and seniors can find daily community meal service sites, information about emergency food boxes, senior food boxes, food pantries and help with enrollment in SNAP benefits. Find the tool here, or call 520-622-0525 for help over the phone. 
• Interfaith Community Services operates two food banks, one on the northwest side and one on the east side, and distributes emergency food to low-income seniors, individuals and families in need. Go here for more information. 
• The Arizona Food Bank Network has a statewide database with information about where to find emergency food boxes, pantries, shelters, soup kitchens, and other food options. Be sure to check with each location in advance as there may be changes to their hours or operations. Go here to search the options. 
• Food Not Bombs has started a grocery distribution program called Tucson Food Share that gives out free groceries twice a week to anyone who needs it. The distributions happen from 6-8 p.m. on Mondays and Thursdays at 600 N. Fourth Ave. You can also request a delivery through their website.
• Sammy's Mexican Grill is offering free meals to anyone in the Tucson area who has lost their job as a result of the coronavirus.
• Downtown's La Cocina is serving free meals to restaurant workers displaced by the crisis. Stop by Monday, Wednesday and Friday from 2 to 4 p.m. at 201 N. Court Ave. Vegetarian and vegan options are available. A recent meal (during Monday, April 13) was calabacitas, green salad, beans, rice chips and salsa. Call 520-444-5155 for more information. 
• Caring Ministries distributes food boxes at multiple locations throughout Tucson. Find the list of locations, dates and times here. 
Food assistance and resources for kids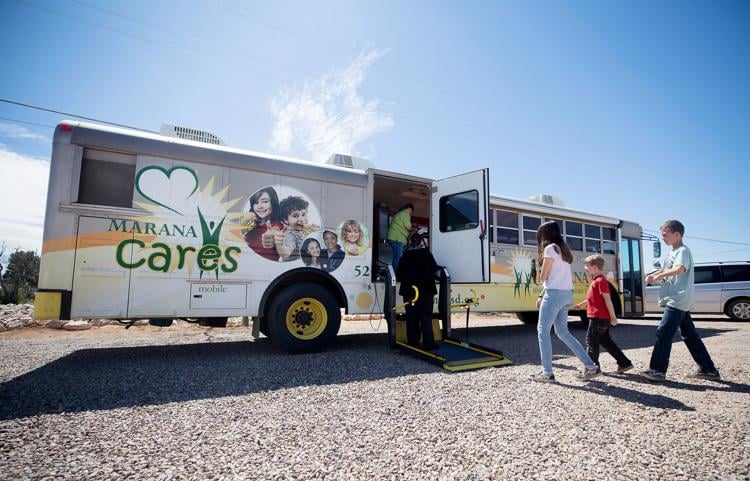 • Many area school districts and schools are distributing free meals for children under 18 during weekdays throughout the summer. There are no income requirements and students do not have to be enrolled in the school or district they are picking up meals from, but do need to be present at pick up. Find a huge list here.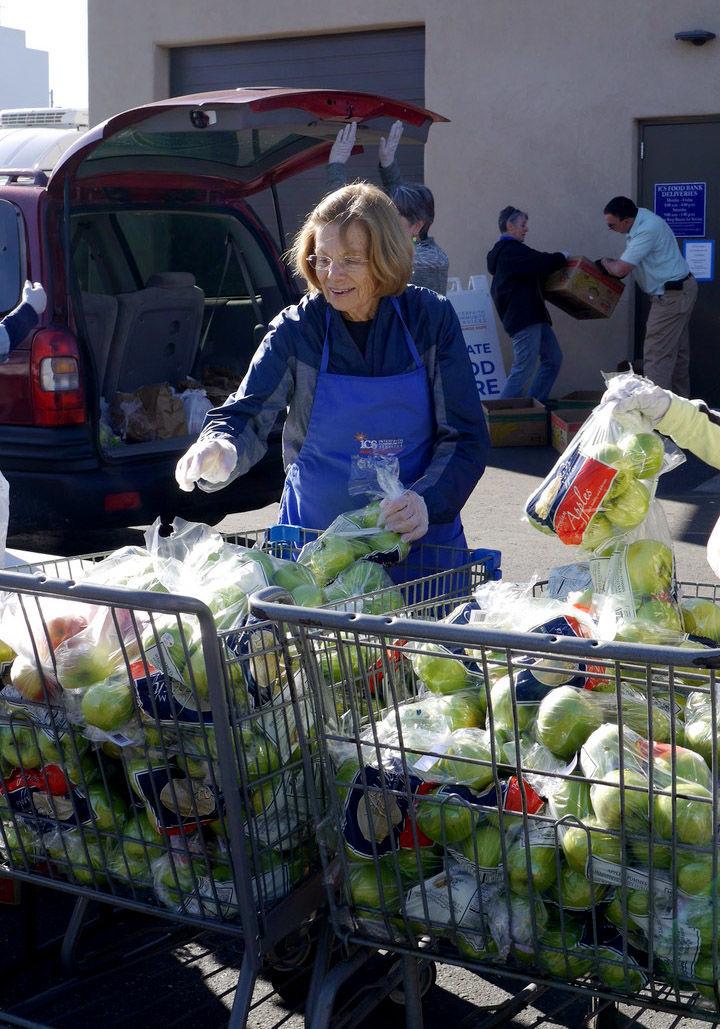 Grocery and retail stores across Tucson are having special shopping hours for seniors only. Here's a schedule: 
A.J's Fine Foods - Wednesdays from 5-6 a.m. for anyone age 65 and up. Shoppers will be required to show a valid I.D. at the door, one caretaker is welcome if needed, but will not be allowed to shop for themselves. 
Albertson's - Tuesdays and Thursdays from store open until 9 a.m. For a list of locations and hours go here. 
Basha's - Wednesdays from 5-6 a.m. for anyone age 65 and up. Shoppers will be required to show a valid I.D. at the door, one caretaker is welcome if needed, but will not be allowed to shop for themselves. 
Cardenas Market - Every day from 7-8 a.m. for seniors ages 65 and up and first responders. 
Costco - Tuesdays and Thursdays from 8-9 a.m. for anyone age 60 and up. The Pharmacy will be open during this time, but the food court will keep it's normal schedule. 
Dollar General - Daily for the first hour stores are open. Find a list of locations and store hours here. 
Food City - Wednesdays from 5-6 a.m for anyone ages 65 and up. Shoppers will be required to show a valid I.D. at the door, one caretaker is welcome if needed, but will not be allowed to shop for themselves. 
Fry's Food - Monday-Thursday from 6-7 a.m. for ages 60 and up. 
Safeway - Tuesdays and Thursdays from store open until 9 a.m. For a list of locations and hours go here. 
Target - Wednesdays during the first hour stores are open for ages 65 and up, pregnant women or those defined by the Centers for Disease Control and Prevention (CDC) as vulnerable or at-risk. Go here to find store locations and hours.
Walmart - Tuesdays from 6-7 a.m. for anyone ages 60 and up. Pharmacies will be open at this time and vision centers will be open for emergency and essential services. 
Whole Foods - Daily one hour before store opening for any ages 60 and up. Go here for store locations and hours. 
• Mobile Meals of Southern Arizona delivers meals to seniors and people who have disabilities who cannot leave their homes, especially those who need special diet meals. The cost for meals is on a sliding fee scale based on gross monthly income and food stamps and Mercy Care are also accepted. Go here to learn more. 
• Interfaith Community Services has a mobile meals delivery program for elderly, disabled or convalescing adults who are in the northwest Tucson area and who cannot cook for themselves. Go here or call 520-622-1600 to learn more. 
• The Arizona Department of Economic Security has a resource page for seniors including statewide agencies that work with seniors and connect them to a variety of community resources and information about the Arizona Commodity Senior Food Program, a federally-funded program that distributes food once a month to people ages 60 and up. 
Food discounts for first responders and health care workers
• The Parish restaurant announced that it's doing half-off takeout meals for healthcare workers, fire department employees, police, EMT's, grocery store workers and musicians with canceled gigs and music venue employees. Call them at 520-797-1233 to see if you apply. View a menu here. 
• Street Taco and Beer Co. announced on Facebook that it's offering 50 percent off takeout and pickup orders for police, military, firefighters, court employees and teachers. 
• LemonShark Poke, is offering a 15 percent discount on food orders for all healthcare professionals, first responders, police officers, and firefighters and a 30 percent discount to anyone who works in a hospital. 
• The Drunken Chicken at 429 N. Fourth Ave. announced it's introducing a pay-it-forward campaign for healthcare professionals. Purchase a meal and make a donation for a yet-to-be-determined healthcare organization. They also promised to donate 10 percent of their sales from that program to the Community Food Bank. 
Places to get food and avoid the grocery store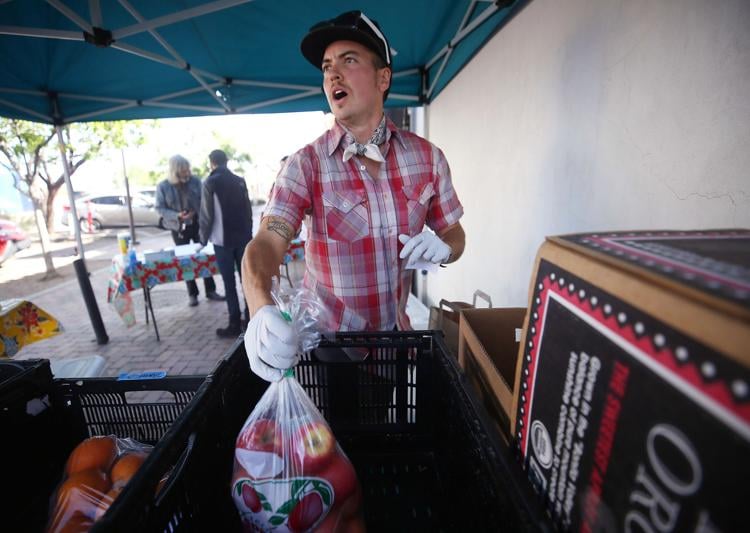 • The 3000 Club distributes prepacked boxes filled with up to 60 pounds of produce for a $10 donation every Saturday at its Market on the Move. The event is from 8-10 a.m. at the 3000 Club warehouse, 4515 E. 22nd St. Cash is the only form of payment currently accepted. A list of the produce that will be available is posted on the 3000 Club Facebook page late Friday afternoon. 
• Borderlands Produce Rescue distributes up to 70 pounds of produce at different locations weekly through its Produce on Wheels-With Out Waste program for $12. The locations rotate every week and the schedule can be found here. 
• 5 Points Market & Restaurant, 756 S Stone Ave., is doing curbside pickup and limited delivery on produce, pantry essentials and grocery items including milk, eggs, baking items and household goods. View the full list here. 
• Merit Foods Arizona, a locally-owned food distribution company, is doing curb-side pick up for foods like meat, produce, beans and canned goods at its warehouse, 1471 W. Commerce Court. You can place your order by phone by calling 884-8232 or show up in person to place your order and have it brought out to your car. The business says phone lines have been very busy, so it's better to go in person than to leave a voicemail. Orders can only be picked up Monday-Friday from 8 a.m. to 3 p.m. A catalog of items can be found here and prices vary. Keep up with changes and more info on the company's Facebook page. 
• Merchant's Garden has organized a drive up produce stand where you can pick up freshly-harvested hydroponic greens including butter, green leaf and red leaf lettuces, bok choy, green leaf and red leaf salanova for $8 per bag (includes three heads of lettuce). The produce stand is open Thursday-Friday from 9 a.m. to 6 p.m. and Saturday from 9 a.m. to 1 p.m. and is located at 555 S. Tucson Blvd. Only debit or credit cards are accepted. A 25 percent discount is available for military, health professionals, students at TUSD, University of Arizona and Pima Community College and individuals who use food stamps.  Go here for more information. 
• The popular Santa Cruz River Farmer's Market is now operating as a drive up market. The market is on Thursdays from 8-10 a.m. in the empty lot across the street from Mercado San Agustin, 100 S. Avenida del Convento. To get to the market from Congress Street, head south on Linda Avenue and west on Calle de los Higos. Drive up and food bank staff will assist you. Cash, debit, credit, SNAP benefits/food stamps will all be accepted. The double-up food bucks match for SNAP/food stamps will also still be available at this market. Go here to see what items will be available for the week and more information.
• Local butcher Forbes Meat Company will deliver boxes of locally-raised sustainable meat directly to your door. You can pick up a large meat box and store it in your freezer. Check their Facebook for more information, and then text your order and questions to 520-474-2714. 
• LemonShark Poke has several food staples and household items for sale including flour, sugar, white rice, spaghetti noodles and sauce, fajita chicken, shredded cheese and bleach. Items can be picked up at the restaurant at 2501 E. Grant Road, or they can be delivered to your home. You can also pre-pay for items over the phone so they can be set aside for you by calling 520-771-6681. The restaurant is also offering a free roll of toilet paper to anyone over 60 years old with no purchase necessary, and a free roll of toilet paper with every poke bowl purchase upon request.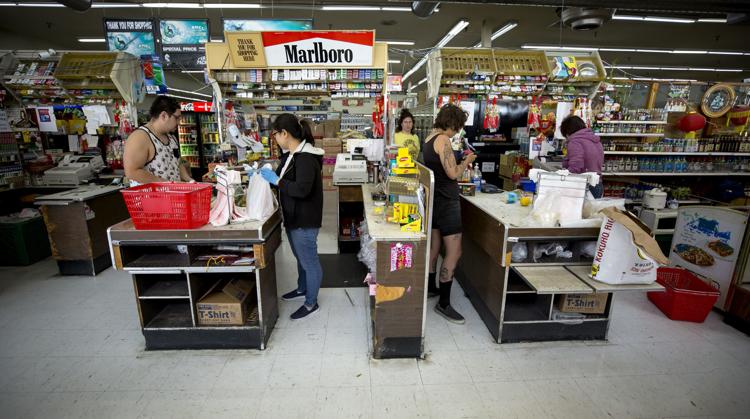 • Many locally-owned markets have kept their doors open, and have been drawing less of a crowd than your typical supermarket. It's important to support local businesses and food producers during this time, so here are some options: 
— Food Conspiracy Co-op, 412 N. Fourth Ave., is open daily 9 a.m. to 7 p.m.. Customers are instructed not to bring in personal items like bags, containers, coffee cups, etc. The hot bar is closed for now, but they're doing still their full grab-and-go menu, as well as bakery items. 
— Grantstone Supermarket, 8 W. Grant Road, is open Monday through Saturday 9 a.m. to 9 p.m. and Sunday 9 a.m. to 7 p.m. with fresh produce and an array of Asian products.
— Tucson has a wealth of Mexican markets like Anita's Street Market in Barrio Anita and carnicerias like Los Amigos Meat Market, Carniceria Los Vaqueros and Sonora Market. Here's an article with information about all three.  
- Johnny Gibson's Downtown Market, 11 S. Sixth Ave., is open every day from 8 a.m. to 11 p.m. The market has dairy, meat, eggs, lots of pantry staples and participates in the SNAP program.  
Your options for takeout or delivery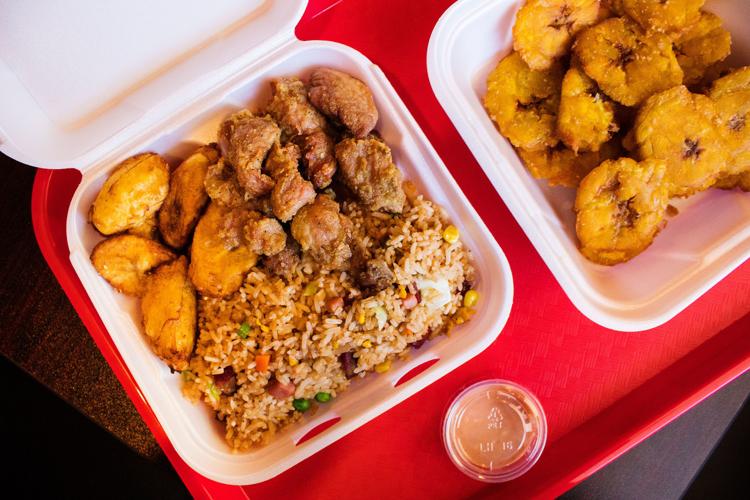 • Even though dining rooms are now open, tons of Tucson restaurants are continuing to serve up delicious meals for takeout or delivery. This Is Tucson has put together a guide for ordering food and a list of some of your options. Find the guide here. 
• Local breweries and tap rooms are also offering your favorite brews and wines to-go or for delivery, and some are also offering food. See the list of offerings here. 
• Two of Arizona's biggest restaurant groups, Fox Restaurant Concepts and Upward Projects (owners of the newly-opened Postino on Grant Road) have teamed up on a fundraiser to help Arizona's restaurant workers. #TakeOutforTeams has a goal of raising $500,000 for out-of-work restaurant employees. To participate, local restaurants can add a "donations" line on their carry-out orders and set up a GoFundMe account and give the donations directly to their laid-off employees. For more info, email community@upwardprojects.com.
If you're looking for ways to help with food resources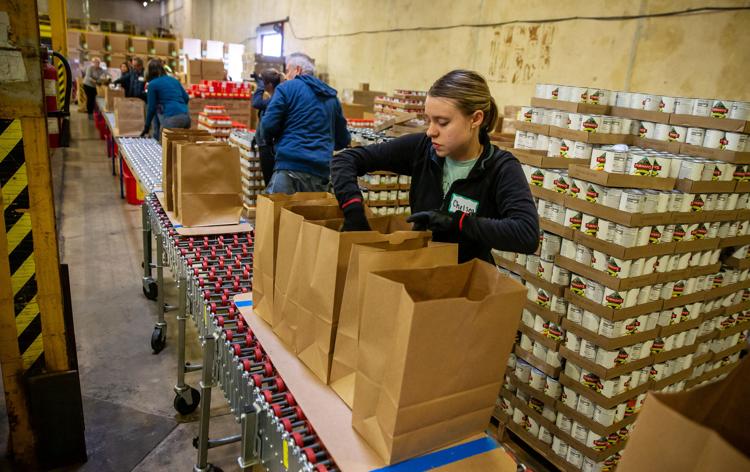 • The Community Food Bank of Southern Arizona has an ongoing need for volunteers as well as monetary help. Find an FAQ about volunteering at the food bank here. You can email volunteer@communityfoodbank.org to learn more and sign up.  If you can donate monetarily, every $1 contributed to the food bank helps provide four meals. You can make a donation here. The food bank is not accepting any food donations at this time. 
• Mobile Meals of Southern Arizona delivers food to homebound clients who can't shop for themselves and need assistance. These meals can accommodate medically necessary diets, and clients can also get pet food. There is an urgent need for volunteer drivers to continue this meal delivery service. There is also an opportunity for some paid work. To sign up to volunteer or learn more, go here. If you would like to make a cash donation to help support the organization and services you can donate here. 
• Interfaith Community Services is looking for donations of non-perishable food items and volunteers to help distribute and pack food. Donations can be dropped off at  one of the ICS food banks, 2820 W. Ina Road Monday through Friday, 9 a.m. to 4 p.m. or 8701 E. Old Spanish Trail Road Monday, Tuesday and Thursday, 10 a.m. to 1 p.m.  For more information about volunteering or donating food or money, visit icstucson.org.
• Food Not Bombs announced it's looking for volunteers to assist with its free grocery delivery service Tucson Food Share. "We need donations to keep this going! If you'd like to donate money, food, your time, or to request a delivery for you/your loved ones, visit our website, tucsonfoodshare.org," reads an Instagram post. Call 520-222-9242 or email tucsonfoodshare@gmail.com for more information.