For three hours on the second Sunday of every month, The Century Room in downtown Tucson is a little more fabulous than usual.
While the inside of the upscale jazz lounge remains the same at a glance with its patinaed decor, jazzy sounds and sophisticated cocktails, the room becomes a second home to Tucson's LGBTQ+ community as it transforms into Fruit Cocktail Lounge — a social cocktail hour for LGBTQ+ individuals and allies.
The organizers behind Fruit Cocktail Lounge aim to provide a central place for Tucson's LGBTQ+ community to gather and enjoy good drinks, catchy tunes and each other's company.
"You come in feeling good, you leave feeling even better," said David Hoffman, co-producer of Fruit Cocktail Lounge. "And it's been fun watching a range of folks from gay men to lesbian women to our trans brothers and sisters — everybody knows they're welcome there. And there's not many spaces in Tucson that puts it right out there and follows through." 
"I mean, we're like the 'Cheers' of Tucson," joked co-producer Jim Yager.
"The queer 'Cheers' of Tucson, where everybody knows your name," Hoffman added.
For Hoffman and Yager, Fruit Cocktail Lounge was created out of equal parts necessity and passion.
Hoffman, a native Tucsonan, is also the creator of Retro Game Show Night — an event held at Hotel Congress that pays homage to old TV game shows with a funky twist — but wanted another way to bring Tucson's LGBTQ+ community together.
Yager, a filmmaker and recent transplant from San Francisco, found himself looking for a project that would get him away from a computer screen and more involved in his new home's LGBTQ+ community.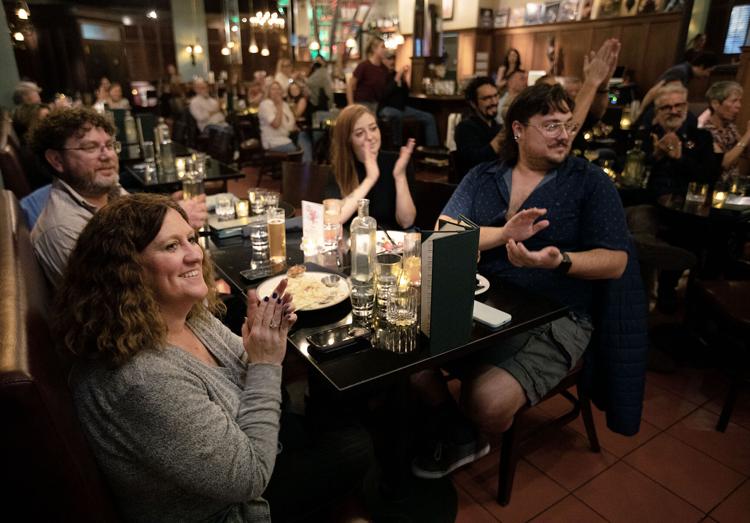 "Part of its origins comes from the fact that the gay community as we're becoming more and more kind of assimilated and accepted, our spaces are shrinking and the need for gay bars and gay and queer spaces in general, they're going away and, you know, maybe not forever, but there is still a need as a community to get together," Hoffman said. "And I keep thinking maybe this is, at least in a city the size of Tucson that only has three queer bars, that maybe this is the new model — you create these monthly or bimonthly events where people get a chance to get together."
"I feel like for me coming here from California, I felt it was really important to create my own sense of security within my community, especially during this kind of turbulent political time," Yager said. "It was important for me to find a way to connect to my community here in Tucson so that I could feel safe and secure as well."
The idea of hosting a cocktail lounge came up a couple years ago after Yager returned to Tucson from a trip to Palm Springs, California. 
In Palm Springs, there's a cocktail bar called Oscar's that hosts a Sunday "tea dance" which has been a popular tradition among the LGBTQ+ community since the 1950s. Yager thought a similar concept could be a good fit for Tucson.
"I came back to Hoff(man) and said, 'Well, what if we talk about more like a Sunday afternoon team social building (event) or something like that?" he said. "We didn't think a dance would necessarily go over well and so we thought 'Let's start with this idea of a Sunday afternoon gathering.' And what we found out is people liked the idea of getting together on a Sunday afternoon because generally speaking, nothing else is going on, and so a lot of people come because it really is a nice, relaxing way to spend a couple of hours."
The first Fruit Cocktail Lounge was held in fall 2021 at Club Congress and eventually moved to The Century Room inside Hotel Congress, 311 E. Congress St., last summer.
Despite the move a few steps away, Hotel Congress was bound to be the home of the monthly social cocktail lounge.
"Hotel Congress is a kind of a cultural hub of downtown and Tucson in general," Hoffman said. "It's always been super accepting of LGBTQIA (individuals and) allies since way back and it's always been a home for me. I've been going there since I was a freshman in college, so I have a long history with it. And it's been interesting to see it grow and become what it is. And it just felt like a perfect fit."
'Fruity, friendly and fabulous' ✨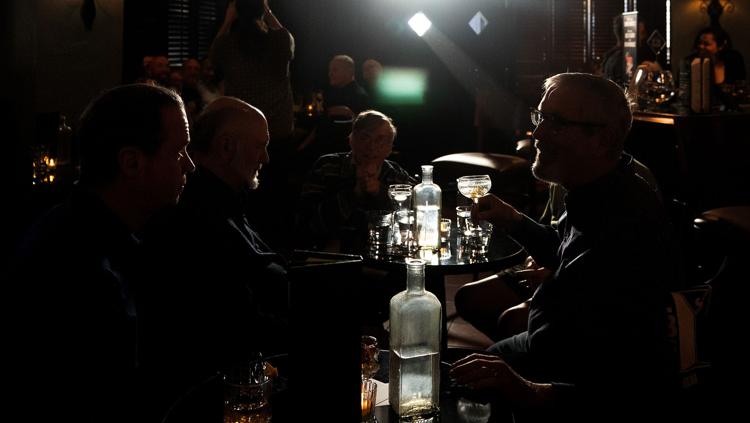 As you walk into The Century Room, you're immediately transported to another, well, century. The warm, welcoming room makes you feel as if you've somehow teleported to the Jazz Age of the 1920s.
After finding a seat in the lounge, one of The Century Room's staff members will bring over a bar menu — emerald green with gold foil details — and give you a few drink recommendations based on your tastes.
Soon after, charismatic host Paul Bowman kicks off the show with a couple fun stories to welcome the audience to Fruit Cocktail Lounge.
Following his introduction, the evening's musicians begin filling the room with catchy, soft jazz tunes. Past musicians include Khris Dodge, the music director of the Tucson Pops Orchestra, Sarah Tolar, Dylan Dominguez and Greg Stickroth.
The next Fruit Cocktail Lounge, set for 4-7 p.m. Sunday, May 14, features local guitarist Mike Gellar and singer Sheryl Ann McKinley. (There is a $6 cover fee to enter!)
Since Fruit Cocktail Lounge is only held 12 times a year, the co-producers make sure every show counts.
"It's a performance. It's a social (event), it's a time to get together with friends," Yager said. "It's not just getting together and drinking. There is an actual program. And I think it's about creating a sense of family and community, which I think is often one of the most gratifying parts of it."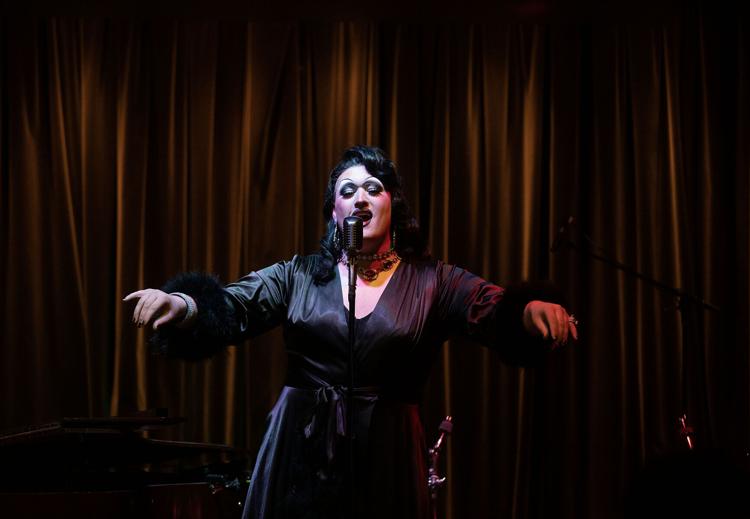 When coming up with the name for Fruit Cocktail Lounge, Yager and Hoffman knew they wanted to take a term that could be considered derogatory, such as fruity or queer, and give it a new meaning.
"We're taking anything that might have been used as a slur and taking it back and giving it power and love and everything," Hoffman said. "Just like the word queer. I mean, to a certain generation, that word was a really awful, awful slur. And now it's like people identify as such. And so that was kind of us having fun with the name fruit cocktail. … We're having some fun with it and people have embraced it."
Hoffman and Yager already have some ideas in mind to keep Fruit Cocktail Lounge going in the future: "Fruit Cocktail Lounge Island," Hoffman jokes.
On a more serious note, Hoffman and Yager would like to expand their roster of performers and get involved with local nonprofits so the event can become even more connected with the community.
"I think I would like to just see us grow, you know, and growing in this kind of positive way," Hoffman said. "We talked about having a place where everyone kind of could come together and hang out and connect and not in a networking kind of way, but it's just kind of like 'Hey, get to know your neighbors.' And Tucson's gay community is rather decentralized. We don't have gay neighborhoods. We don't have gay shopping districts and whatnot. And so even though we're all out there, we're just gonna bump into each other at Target."
"Excuse me, Williams-Sonoma," Yager added.
Whether it's a Fruit Cocktail island or a monthly social cocktail in the heart of downtown Tucson, the duo wants to continue creating a "fruity, friendly and fabulous" space for Tucson's diverse LGBTQ+ community for years to come.
"I think any community needs to feel safe and secure and represented," Yager said. "And I think, as Hoffman said earlier, having queer spaces, even though we're not defined in the way we maybe were defined 30 to 40 years ago, we still need to depend on one another, to create connections with one another. We still need to support each other, especially as we live in turbulent times, to be able to have a space where we feel comfortable to be ourselves and to connect with one another is still very important."
For more information about Fruit Cocktail Lounge, check out their Facebook page.