For most, Sundays are spent recuperating from the long, busy work week, running last-minute errands or enjoying time with friends and family.
But one group of Tucsonans volunteers a good chunk of their Sundays walking through the downtown area in the unforgivable summer heat distributing ice-cold water bottles, Gatorade, Eegee's, snacks, first-aid supplies and other essentials to those experiencing homelessness or those in need. And all the items are free.
For those on the streets in Tucson, Sundays — like every other day — are a battle to stay cool, hydrated and fed while facing record-breaking scorching temperatures.
Gator-Aid — a mutual-aid group that's part of local grassroots organizations Community Care Tucson and Community On Wheels — is a community-centered response to one of Tucson's current public health crises: homelessness.
"(We're) centering the people who are out here living on the street, listening to what they need and what they want and showing them that they deserve basic human rights and dignity and humanity," said Liz Casey, a Gator-Aid member and local social worker. "Really seeing them as people, not like charity. And, we're out here, specifically in this area, to bring awareness to this and show that this is a (public-health) crisis."
Gator-Aid can be found walking along Congress Street and Fourth Avenue from noon to 4 p.m. every Sunday. But chances are, you'll hear Gator-Aid before you see them.
You'll hear the rumbling of their three wagons carrying coolers filled with water bottles and Gatorade as they roll over the sidewalks, or the occasional crashing sound as one of their coolers tips over after getting stuck on the Sun Link Streetcar tracks, spilling a case of water bottles across the asphalt.
Most likely, you'll hear the sound of upbeat music blaring from a Bluetooth speaker attached to one of the volunteers' belt loops. Or you'll hear Gator-Aid member Xavier Martinez shouting "Free water! Free Gatorade!" as the group of six walks through downtown.
The shouts are met with three typical responses: a sigh of relief, a smile and a heartfelt "thank-you" to the volunteers.
"Most people out here will sit and chat with us," Casey said. "Everyone is really, really appreciative and it's really sad the amount of people who have tried to give us $1 because they can't believe that we're giving away stuff for free."
During a Sunday outing last month, Gator-Aid trekked through 109-degree heat from Fourth Avenue and Seventh Street to the Ronstadt Transit Center, distributing water, Gatorade and lemon- and mixed berry-flavored Eegee's to those seeking refuge from the sun or waiting for the bus.
As they entered the center shouting, "Free water! Free Gatorade! Free supplies!" the center's occupants whipped their heads in the direction of the group and began forming a line to receive the items.
Gator-Aid was greeted by a landscaper waiting to catch a bus to pick up a food box at a local church, a mother looking for her missing adult daughter, a general laborer on his way to visit a friend and a mother and daughter who just finished a day of shopping and were on their way home.
"I've never seen people come out through here like this," said Sonny Valdez, a Gator-Aid recipient waiting for a bus. "It's a good thing and a lot of people came in thanking (them). It's good. Lots of smiles on their faces."
Dahlia Baca and her young daughter Arianna were two of the individuals with smiles on their faces as they ate their Eegee's on a bench awaiting the next bus.
"It feels good, it's satisfying (in this heat)," Baca said, while her daughter nodded in agreement.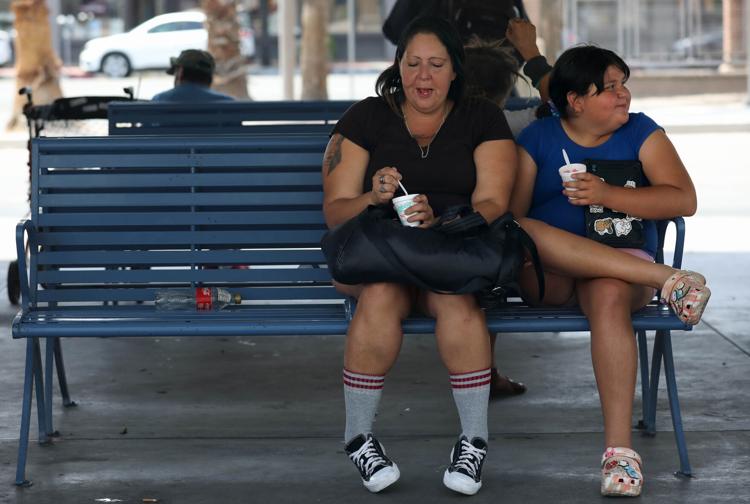 By 1:30 p.m., the group had finished distributing their first round of items — around 30 minutes ahead of the group's second shift when two more volunteers would join them.
After replenishing their coolers at their storage space — which is also the Historic Fourth Avenue Coalition's brick-and-mortar — the group headed back to the streets with more water, Gatorade, another party pack of Eegee's, bananas, cold packs and other first-aid necessities.
As they made their way through Fourth Avenue, back to the Ronstadt Transit Center, they walked to those sidelined from the heat in shaded areas, providing them with cold water.
But some individuals recognized the group by their coolers and wagons and approached them before Gator-Aid had the chance to walk to them first. One man saw the group from across Fourth Avenue and ran across the street to receive some essentials — plus an Eegee, of course.
By the end of Gator-Aid's four-hour shift, they distributed around 125 water bottles, 10 reusable bottles, 32 Gatorades, two Eegee's party packs and numerous first-aid supplies.
The supplies come from donations that community members and local businesses drop off at Pop Cycle, 422 N. Fourth Ave. Some Gator-Aid members contribute items with money from their own pockets.
On average, the Sunday Gator-Aid outings help around 50 people per week, according to Martinez.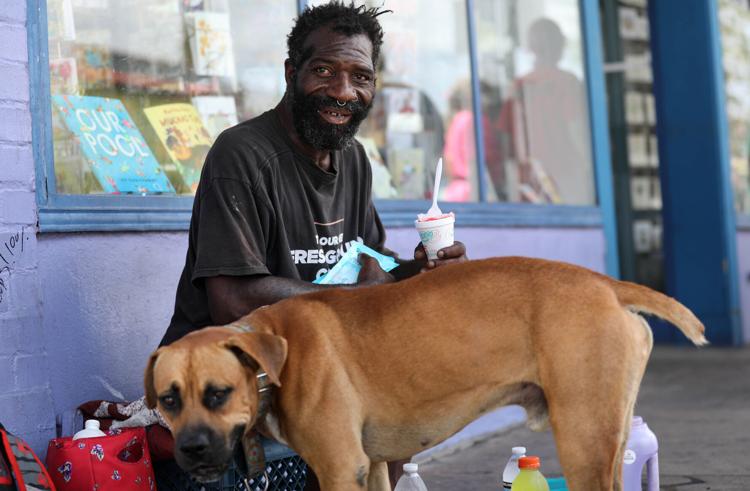 "Our unhoused members have been grateful for what we're doing," Martinez said. "I'm also noticing that there are folks who may be housed but are struggling in one way or another. We've had folks come up to us asking for assistance in things that they are struggling to do because they don't have the assistance they need. We've helped someone try to find shelter, while another get on to the waitlist for Section 8. We've tried to help find missing folks or help some find leads for employment. The need of our people is so expansive and I wish more of our elected officials would see the high volume of needs we see."
A refresher on the local homelessness crisis
Homelessness in Arizona, including in Tucson, has grown significantly over the last couple of years.
"As of January 2022, the number of people experiencing homelessness in Arizona was 13,553 — an increase of nearly 25% since 2020," according to the Arizona Department of Economic Security's annual "Homelessness in Arizona" report released in 2022.
On a local level, at the beginning of 2023, 2,209 people were experiencing homelessness in Pima County — a 60% increase between 2018 and 2023, but a 1% decrease since 2022, according to a report released by the Tucson Pima Collaboration to End Homelessness.
Contributing factors to an overall increase of homelessness in Pima County recently include "rising rental costs, a shortage of available affordable housing, overall reductions in shelter bed capacity compared to pre-pandemic years and systemic inequities," according to the Tucson Pima Collaboration to End Homelessness's 2023 report.
What needs to change to make a difference in the homelessness crisis that Tucson is currently facing? A lot — including a change in city and county budgeting, more community-based care and investing in housing, schools and overdose prevention sites, says Casey, who has been a social worker for eight years.
"This is a public-health crisis that we need to be doing more to address," she said. "It's not like, 'Oh, we're gonna go out and do a good deed or whatever, or this is, like, a fun volunteer opportunity.' It's a public-health crisis, where we're seeing people really suffering and people are dying. And until the city and county really really drastically change the way the budgets are set up — we know that there's been lots of developments lately and lots of housing opening and low-barrier shelters — but until there's significantly more and a drastic change, we only see this situation getting worse."
Casey believes that funding for more housing is the key to alleviating the local homelessness crisis, instead of possibly funding places like a new jail, which feeds the poverty-to-prison pipeline.
However, even with a shift in budgeting, building more affordable housing in Tucson isn't a simple task due to the city's current zoning and building code regulations that prevent the construction of affordable housing options like tiny homes and micro-shelters.
Tucson City Council Ward 6 member Steve Kozachik says that changing "our codes so that they're more compatible with keeping housing affordable" is "100% on our radar."
The Tucson City Council hosted a study session on Aug. 8 regarding the zoning and building code regulations for tiny homes and micro-shelters after previously discussing the matter at a session on July 18.
"While (tiny homes, tiny homes on wheels, micro-shelters and manufactured housing) may be developed today in a variety of situations, the micro-shelter housing type is the most challenging to develop in Tucson. Because they are considered a shelter care use, the zoning regulations for this housing type is complex, vary greatly by location and are restrictive in most zones. Revisions to simplify zoning regulations for shelter care use could help to address the limitations on their development and facilitate this transitional housing type," according to the Aug. 8 Tucson City Council's agenda.
Currently, the City of Tucson follows a "Housing First" approach when addressing the local homelessness crisis.
"Housing First is an evidence-based approach to ending homelessness that centers on quickly moving people experiencing homelessness into independent and permanent housing and then providing additional supports and services as needed," according to the city's website.
Additional support services provided by the Housing First policy include "behavioral health services, substance abuse treatment, legal services, case management, goal setting and independent living skills," the city's website states.
"My position is that that's a good policy as far as it goes. But it doesn't go far enough," Kozachik said. "And I've been advocating for literally three years that we do three other things in addition to the Housing First (approach)."
Kozachik is advocating for more Safe Park areas, creating a large no-barrier men's shelter, and setting up a series of small, controlled camps throughout the community where people who are unsheltered are allowed to camp instead of living in alleys, washes and under bridges.
"Those are three approaches that I've been advocating for and believe the city needs to up our game (in)," he said. "And simply by following our Housing First model, we're providing housing for a few 100 people, whereas we have a few 1,000 who are out on the street who need these other services."
As for what Kozachik's office is doing to help alleviate the stresses of those experiencing homelessness in Tucson, he says that his office has been collecting donations for several years and does regular deliveries to Casa Alitas and local homeless shelters.
"This is not new to me and it's not new to my ward office," he said. "We've been doing it. So, welcome to the chorus, to this group, the Gator-Aid group. I appreciate their help."
A short-term response to a continuing crisis
Despite making an impact on around 50 people every week, Gator-Aid is a fairly recent endeavor by Community Care Tucson and Community On Wheels. 
They kicked off the initiative in early June with a couple wagons and some water bottles as temperatures in Tucson began to climb — eventually reaching recording-breaking heat in July.
"We just saw, especially during the afternoons and on the weekends, how many people were actually downtown and were just struggling to find shade," Casey said. "So we decided since this is a central location where a lot of people come during the day, that we would just come down here with at least hydration stuff for the summer since it's getting so deadly."
Many of Gator-Aid's volunteers come from a behavioral health or community outreach background. Some of the volunteers include behavioral health specialists and technicians, case workers, harm-reduction advocates, and research technicians and staff from the University of Arizona.
Casey became involved with local mutual-aid groups after seeing that her own clients weren't getting the type of care and supplies that they truly needed.
"I got involved in these groups that were giving life-sustaining things to people," she said. "And also showing them humanity and that people care and see them and see what's going on, while also trying to advocate for significantly more services and houses."
Martinez became aware of mutual aid through public service work.
"I firmly believed how vital it was that wherever you decide on occupying space, that there has to be collective community involvement for a region to thrive," Martinez said. "And, we all have something to contribute for that to happen, if we want equity and justice for all. In Tucson, even prior to the pandemic, it was evident that there was an imbalance of humanitarian aid, of services, (and) of any advocacy for people living on the margins, on the day-to-day, especially for BIPOC folks, those who are low-income and who are unhoused."
At the moment, Gator-Aid isn't sure what will happen to the mutual-aid group when summer ends. The movement was more of a short-term response rather than a long-term solution. 
But their work with their umbrella organizations, Community Care Tucson and Community On Wheels, will continue.
"We shouldn't be out here. We shouldn't exist," Casey said. "This is a response to a crisis. This is not solving a crisis, we're just trying to keep people hydrated and alive for a Sunday. … Hopefully, this crisis is going to be solved. Or (at least) improved. But in the meantime, I think things that are mobile (like this) are really huge."
For more information about Gator-Aid or to get involved, check out their Instagram page.