Wine lovers in Tucson no longer have to take a road trip to visit a vineyard and enjoy locally made wine from local grapes. 
The newly opened Old Pueblo Cellars on Tucson's northwest side offers private wine tastings of six varieties of wine grown in a boutique vineyard just steps outside the tasting room's door. 
Owner Roger Pelton says it's the only tasting room and vineyard open to the public in Tucson. 
It is also quite possibly the only vineyard in the world with a towering saguaro growing in the middle of it or where lush grape vines are neighbors with jumping cholla. 
The accidental vintner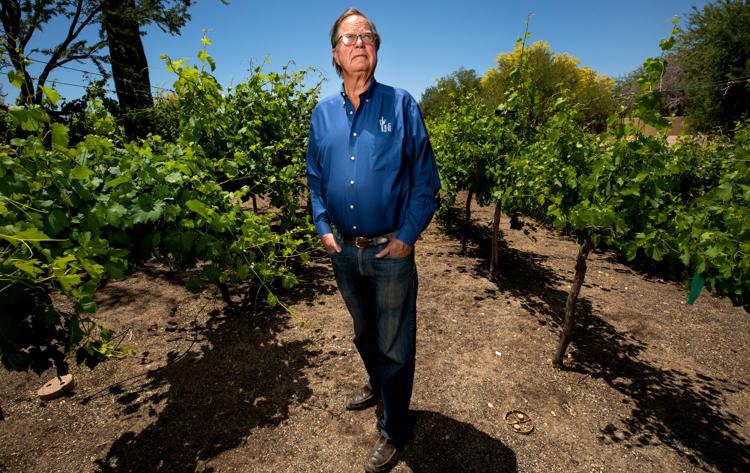 A surprising discovery by Pelton's young sons in the mid-70s while they were living in central California was the genesis of the family's winemaking journey.
In 1974, the family purchased the Mockingbird Ranch, a sprawling 2,200-acre property along the road that leads to Yosemite National Park. The land was in the foothills and was mostly vertical grassy terrain with large oak trees, Pelton says.
"There was a lot of land you never saw because it just wasn't available to you unless you walked or rode an animal," Pelton says.
During their first summer on the ranch, Pelton's sons, Lance and Joel, who were 5 and 6 years old at the time, were running around the hills and came back with bunches of grapes.
They asked their mom Arlene if they could eat them and she asked the boys to show her where they came from. They led her to a hidden and neglected vineyard that Pelton says was likely planted sometime in the late 1800s.
"There were about 300 plants there originally and most of them were dead because they hadn't been cared for in a long time," Pelton says. "But there were about 30 that were doing fine, so we nursed those back to health and then we started making wine kind of accidentally."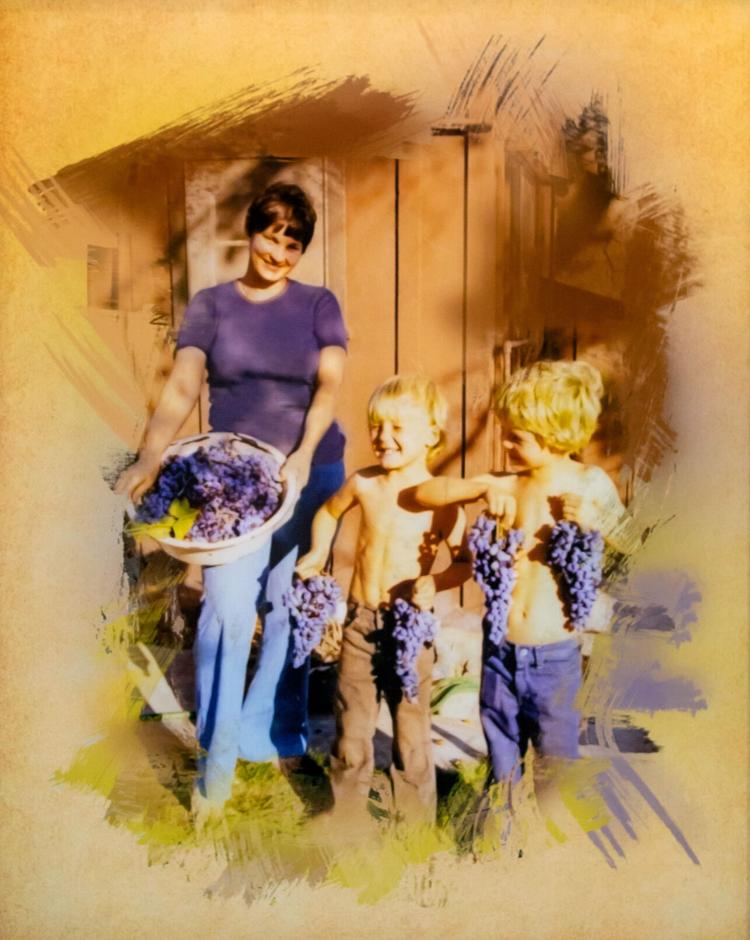 The couple had no experience making wine and learned the process through a lot of trial and error.
"We made some really bad wine in the beginning, there wasn't YouTube and there wasn't Internet in the 70s so you had to read a book if you didn't know how to do something," he says.
They made wine in small batches and through experimentation they quickly figured out how to make great tasting wine with techniques Pelton still uses at Old Pueblo Cellars.
Those include not filtering the wine, using a cold fermentation process, using organic pesticides, herbicides and fertilizers and not adding sulfites — all things that make a better-tasting wine, Pelton says.
"I can't drink normal wine because it's got (added) sulfites in it, it makes me sick. I get terrible headaches from sulfites so I just don't drink it, but I can drink it if I make it myself," he says. "So that was the method to our madness."
The Peltons made wine on their California ranch for personal consumption and to share with family and friends until the 90s when they sold the property and moved to Texas.
"In Texas where we lived, the soil was so heavy, you can't plant grapes there," Pelton says. "Then we moved here in 2008 and we bought this place and I thought 'wow, this soil looks like maybe I could plant some grapes here,' it's kind of rocky and sandy and we had a good well."
Happy heat-loving grapes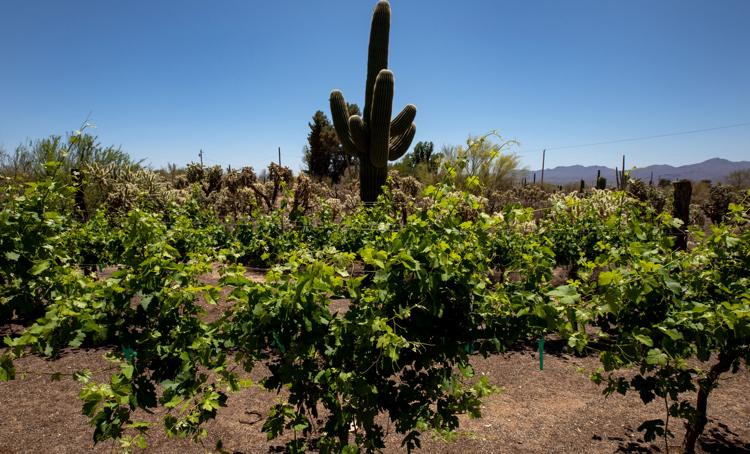 Pelton's property sits on 8-acres of land in unincorporated Pima County on Tucson's northwest-side — wedged between Oro Valley and Marana.
The property also houses the vineyard, wine cellar and tasting room for Old Pueblo Cellars, an unexpected and incredibly beautiful place that lives up to the name of the street you turn off to get there —  Oasis Road.
The first planting in the boutique vineyard, which is just under an acre, happened in 2013. Pelton grows six "heat-loving" grape varieties: viognier, malvasia, sangiovese, malbec, petite sirah and tempranillo.
"We picked our grapes based on the University of Arizona, they had a vineyard on Campbell Road for a long time and they experimented with different varieties of grapes and they picked 12 varieties for me that I could plant that would survive in our heat and I picked six of those 12," Pelton says.
Pelton's grapes come from other growers in the area including from Willcox and from Vigneto de Nannini another boutique vineyard started by Steve Nannini in his home in northwest Tucson.
The tidy rows of vines in Pelton's vineyard just started to bud about three weeks ago, he says. The vines are already decently lush and leafy with a few clusters of baby grapes already starting to form.
"You can see they're very happy, if you walk down there they're reaching out to get you, they've taken over and they just started coming out in the last few weeks, they go crazy here," he says.
Once they really take off, the vines will grow up to a couple inches a day and the grapes will be ripe for harvesting in July, Pelton says.
After the harvest, the juice is processed and stored in stainless steel or oak barrels and kept at a constant 58 degrees in the wine cellar built where the pool used to be on Pelton's property. The wine will be kept there for three to four years until its ready to be bottled and sold.
Pelton's sons and grandchildren come to Tucson from Texas each summer to help with bottling.
Making it all worthwhile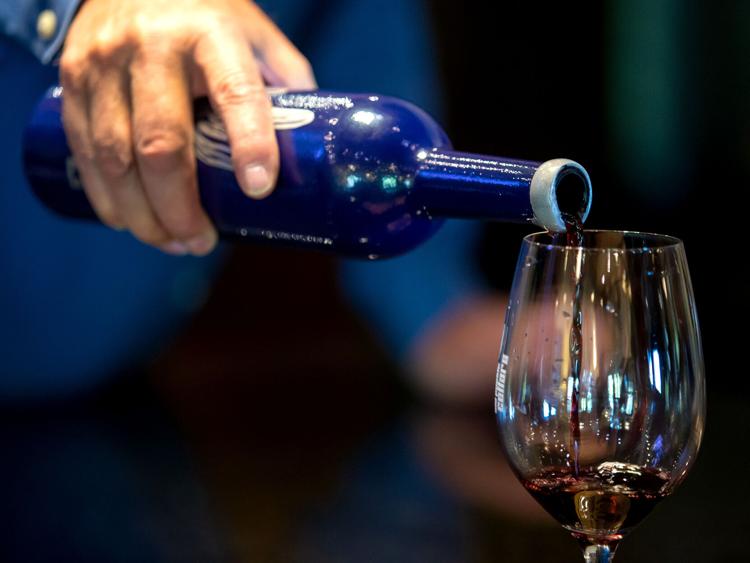 Wine bottled in 2016 and 2017 is just now being served and sold in the tasting room Pelton built and opened about a month ago. Private tastings are by appointment only, can be booked from noon to 5 p.m. daily and are kept intentionally small. 
"That gives the time so I can actually talk to people about wine and I can talk to them about my philosophy and what makes our wine different from other wines … I can talk about anything and we make friends with them and we have a good time, that's what it should be," Pelton says.
On a recent afternoon Pelton greeted Greg and Marie Galanek at the tasting room door then took his spot behind the bar to make his way down the wine list pouring samples of all six wines, while sharing the history of the vineyard and what sets his wine making process apart from others. 
He talks about the cold fermentation process, the all-organic products he uses to fertilize the soil and keep the insects and weeds at bay, why he doesn't add sulfites and why he prefers to keep his wine unfiltered. 
"Everybody filters their wine and what you do when you filter is you take out some of the goodness, you take out some of the flavor, some of the aroma," Pelton says.
That's why his white wines have a golden hue instead of being crystal clear. It's also why all the wines smell and taste exactly as they are described, you can immediately identify the mango notes in the malvasia and the hint of tobacco in the tempranillo.
The Galaneks, who were visiting Tucson from Massachusetts travel frequently all over the world always making sure to enjoy good food and try different wines from the places they visit — France, Germany, Spain, Sonoma, you name it. Five-star Google reviews led the couple to Old Pueblo Cellars and it did not disappoint.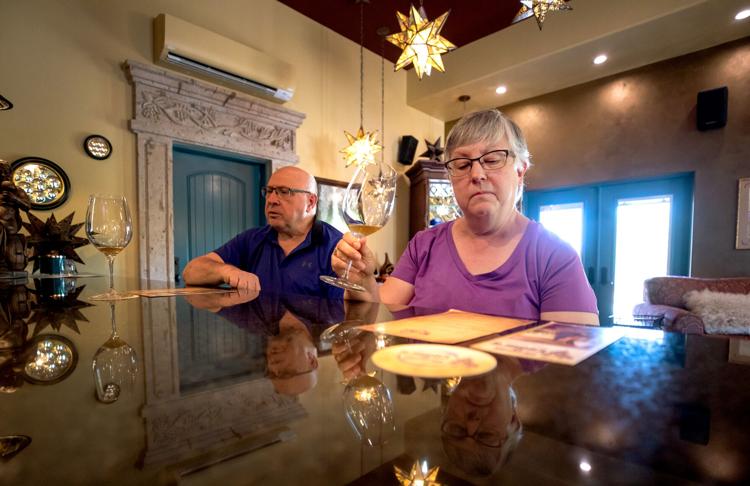 "I very seldom go to a winery where I like all of them, but here there's not a single one that I would say I would not drink again," Greg Galanek says. "We've been to a lot of wineries … we've had a chateau owner uncork a bottle of wine that was 40 years old from his personal collection to share with our small group, so we've had a lot of different wines and I liked everything here."
For Pelton, that's what all the time, effort and energy poured into winemaking and having the chance to literally share the fruits of his labor and his expertise with others is all about.
"Because of the way the wine's made, they just love it. 'I just love your wine' is what they all say and that makes you feel good," he says.
He's had customers buy a bottle of all six wines, and people who have come repeatedly because they enjoy his wine so much.
"That makes it worthwhile to me," he says. 
If you go
When: Private tastings are by appointment only and can be booked daily from noon to 5 p.m. by calling 520-551-1011.
Cost: Tastings are $10 per person and include a souvenir glass