A new facility for makers — artists and producers of creative goods ranging from paintings to custom jewelry — is now scouting artists for its Oro Valley location.
Dubbed Artists & Makers Studios, the building will house gallery space and 12 individual work areas that will be available for rent to local artisans to use as they see fit.
The facility joins several spaces throughout the Tucson area that help foster the city's reputation as a haven for creative minds.
This will be the second Artists & Makers Studios in the country with the flagship in Rockville, Maryland.
"It just seemed like a natural fit with the artsy town that Tucson is," Artists & Makers Studios founder Judith HeartSong said.
HeartSong worked with the self-storage company 1784 Capital Holdings to get the idea off the ground. HeartSong says the company builds storage facilities around the nation, constructing extra buildings in the same space to house community-driven businesses.
After working with HeartSong in Maryland, the company suggested bringing the studios to Oro Valley, where they were slated to build another storage facility.
"Having visited Tucson, I fell in love with the town," HeartSong said. "Tucson is this gathering of artists. You meet a lot of artists, you meet gallery owners, you meet people involved in fine art and crafts in all sorts of ways. It's just a mecca for artists."
The Oro Valley location, which is nearing completion, can be found on North Oracle Road, just north of the town's historic Steam Pump Ranch.
"The goal is to help these artists that are with us gain more exposure — to teach them how to do that and get their work out there so they can really start to make a living through their art," HeartSong said.
Eventually, HeartSong hopes to offer events, workshops and a meeting space for the community. "I think for the community, it lets people come in and, at their own pace, they can walk through and see work being made and be inspired by that, but they can also meet those artists and talk to them about their process," HeartSong said. "Or be inspired to take a class or workshop they might not have otherwise thought of taking."
HeartSong, who is an artist herself, started Artists & Makers Studios with two silent business partners in 2014 after she settled into a solo art studio.
"I really missed the camaraderie and being able to bounce ideas off other artists," she said.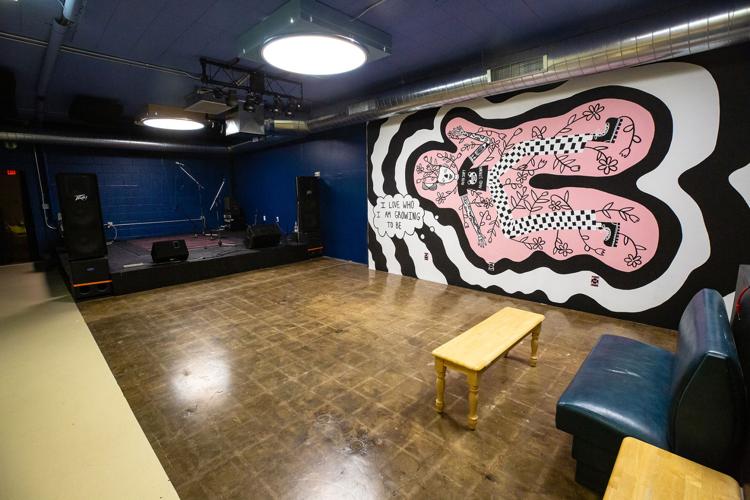 Catering to creative youth
From the Xerocraft Hackerspace to the Warehouse Arts Management Organization, Tucson is home to many spaces fit for creatives.
Among some of the newest facilities is Groundworks, a space aimed to promote the local youth-driven music and arts community. Groundworks held their virtual grand opening last week.
"For us, having a youth space felt like it was definitely something missing from Tucson," executive director Logan Greene said.
Originally, Groundworks planned to host large events from concerts to gallery openings, in addition to classes. Then the pandemic hit. Plans to open in April were halted and Groundworks had to shift their concept.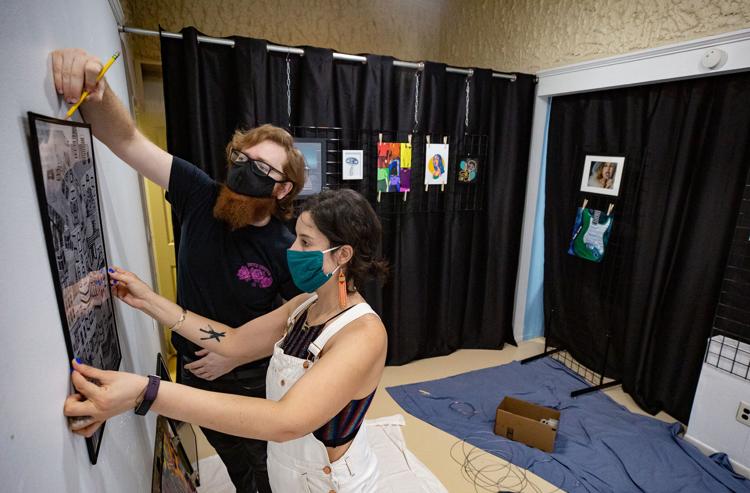 Some ideas on the horizon for the facility include a loaner library with instruments and art supplies, and access to audio-video equipment that musicians can use to promote themselves.
And musicians have already started renting the space for band practice.
Hopefully post-pandemic, Greene says, Groundworks will become the space is was meant to be.
"Classes were a big part of our plan — ukulele, watercolor painting, dance. I really envision it as a community flexible place for people to use," Greene said. "Most of us on the team are musicians so that's definitely where a lot of our heart is — a big chunk of our space is dedicated to that.
"I think some of the artists come in thinking this is one thing and as I'm talking to them, they get more and more ideas and the wheels start turning and they're like, 'What if I do this?' And it's something they totally couldn't do in another art gallery."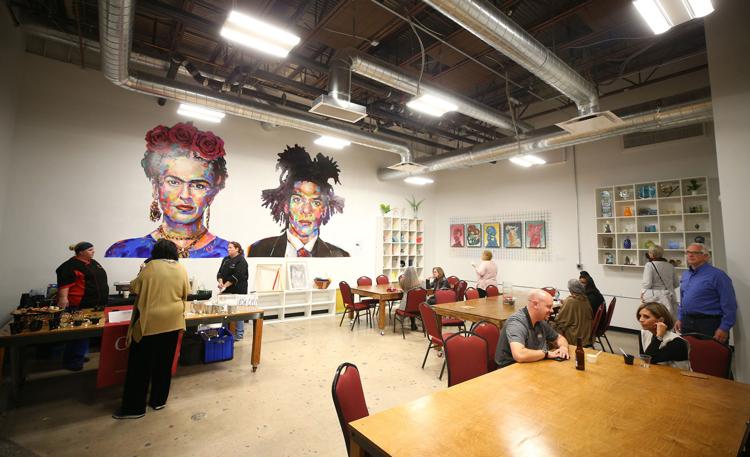 Different disciplines under one roof
Last December, the Southern Arizona Arts & Cultural Alliance opened a maker space at Tucson Mall.
The Catalyst Arts & Maker Space offers everything from a kitchen to a music production studio.
"We really hoped to redefine the idea of what a maker space was," said executive director Kate Marquez. "We had traveled around and seen so many different maker spaces and none of them had really included the different disciplines of art all under one roof."
Marquez says the space shows a "diverse cross-section of the community." Marquez was inspired by people in Southern Arizona who wouldn't necessarily call themselves artists, but were creatives nonetheless.
"That is what ultimately got us to this idea — we knew creativity was alive and well," she said.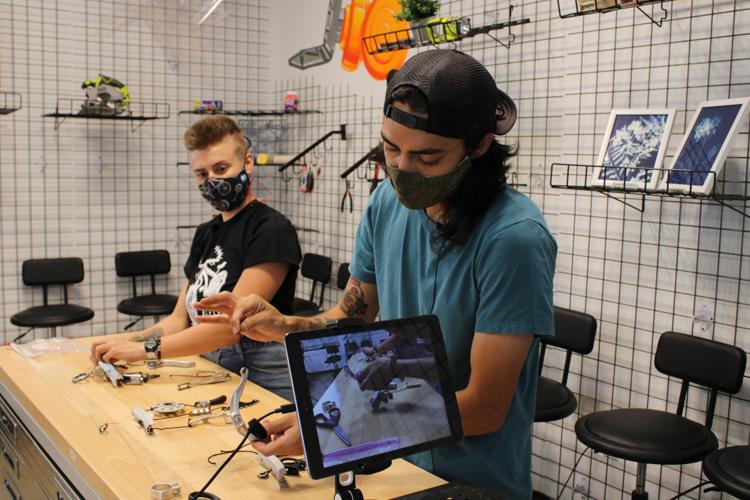 Catalyst was open for three months before closing due to the pandemic. The space is currently only open for partners and private projects.
In the three months Catalyst was open, SAACA hosted more than 150 events including cooking classes, lectures, puppet shows and about 20 concerts.
Nurturing the local maker scene
Yurika Isoe thinks Tucson is well on its way to becoming a maker city.
"I think that's been the conversation lately," said Isoe, who is an artist and board member of the Arts Foundation for Tucson and Southern Arizona, which supports and provides grant opportunities for area artists.
"I think right now, we have a unique situation where it's not super expensive to live in Tucson, so it's viable to live and have an artist studio space," she said.
And in Tucson, it's also been about connecting with other artists and sharing resources, she said.
"I've been researching a lot about mutual aid to build a community and I think more and more artists in Tucson are sharing their skill sets with other artists," she said.
Isoe also thinks community members contribute to the city's potential to be a maker town.
"I think, as a whole, we've started thinking about buying local and I think extending that to buying local art and decorating your homes with local art is the next step," she said. "I think people who are familiar with the arts scene in Tucson have done an amazing job of showing up."
"I think there are a lot of people in Tucson willing to support artists — people who want to support the arts that aren't the artists themselves," Greene said, also giving a nod to Tucson's resources for creatives.
Marquez said if Tucson can be defined as a maker city, it would be because the Old Pueblo is a place where people can come to create — and feel comfortable doing so.
"For Southern Arizona, I think what defines us is the diversity of our sector," Marquez said. "Our culinary sector is one of our most creative and committed. If you're running a small mom and pop restaurant — a taco shop or New American — you absolutely are committing to the creative sector. Whether you're someone who's painting in your backyard or building things with your hands, a woodworker or someone working in textiles, or creating music — even the success of the Festival of Books shows the amazing talent that exists here."
Marquez added that there's a lot of collaboration in Tucson's arts community, using SAACA's chalk art festival as an example. When the festival started years ago, she says it was difficult to find artists who worked with large-scale chalk murals.
"Today, there are hundreds of muralists," she said. "Much of that is because they've been taught by other artists."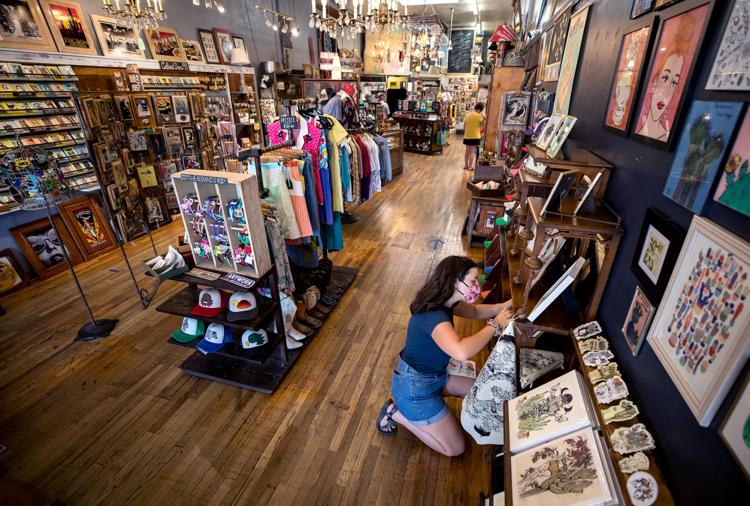 Room for growth remains
The pandemic has been hard for artists — especially those who rely on markets.
"I 100% believe Tucson is who it is because of those creatives in our community," said DeeDee Koenen, co-owner of the shop Pop Cycle, which sells products from a number of local artists. "And if we don't figure out a way to support them during the pandemic, we have kind of done our community a disservice. If that person has to quit what they do to survive, I think we start losing what Tucson is."
Public funding in Arizona is also a problem, Marquez said.
Though communities will allocate small portions in their budgets for the arts, "nothing really helps build foundational infrastructure for the future," she said.
"That puts us at a disadvantage. It doesn't really allow the arts and culture community to look to the future because they're looking at a one-year scale."
But everyone agrees — the arts community is vital to Tucson's identity.
"It helps define who we are," Koenen said. "If we didn't have those creatives, Tucson would seem like anywhere in the USA."
"I think — if you take culture out of a community, what do you have?" Marquez said. "We always like to say when you wake up each day, how many times do you engage with a creative pursuit? It's the home you live in, the art on your walls, the food you prepare, music in your car, watching film. It's absolutely immersed in everything that we do and if you can imagine taking that out of our lives, what would you share?"