Right in time for Mother's Day, Reid Park Zoo has exciting news to share — Semba, the matriarch of the zoo's African elephant herd, is pregnant! 
Semba most recently gave birth to her youngest calf, three-year-old Penzi, in 2020. She's also the momma to Nandi, who was the first elephant born at Reid Park Zoo — and in all of Arizona — in 2014.
Mabu, who left Reid Park Zoo in 2022, is the father to all three calves. "In the wild, male elephants commonly move between herds for social and breeding purposes. Mimicking this natural behavior, Reid Park Zoo's bull elephant Mabu has a new home at Fresno Chaffee Zoo," Reid Park Zoo said last year.
Semba is currently a little over halfway through her pregnancy and is expected to give birth next spring. Semba has been at Reid Park Zoo since 2012, when she came from the San Diego Zoo's Safari Park.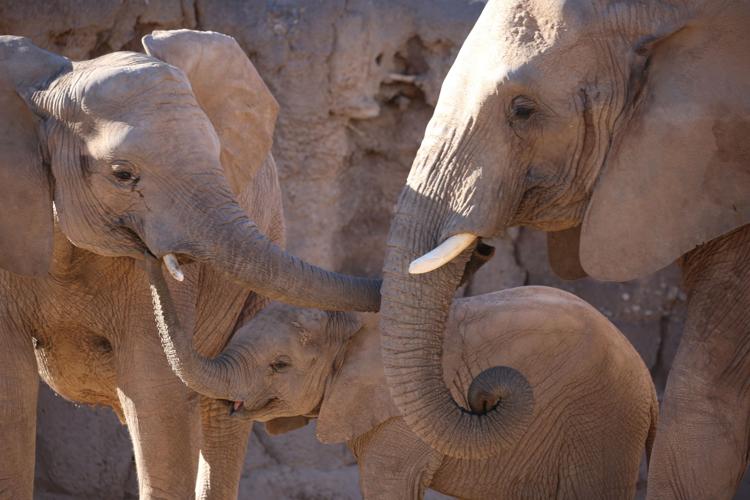 "I'm looking forward to seeing how Penzi responds to her new role as a big sister," elephant care supervisor Cassie Dodds said in a press release. "Nandi immediately took on a nurturing role when Penzi was born and this new arrival will give Penzi an opportunity to grow her skills caring for a younger calf." 
"Not only will this birth have a big impact on elephant conservation and strengthening the elephant species survival plan for the next generation, but it also strengthens Reid Park Zoo's family herd structure — every member of the herd will have a role in raising this new baby," Dodds said.
Reid Park Zoo is located at 3400 E. Zoo Court, open daily 9 a.m. to 4 p.m. through May, and then 8 a.m. to 2 p.m. June through September.