Fittingly enough, the future of the saguaro begins in the Old Pueblo.
Researchers from the U.S. and Mexico gathered in Tucson earlier this month to launch the largest and most wide-ranging effort yet to study the iconic cactus inside and out everywhere it is found.
Scientists plan to use drones, satellites and artificial intelligence to assess the species as a whole and forecast its response to the mounting chaos wrought by human-caused climate change.
Meanwhile, in labs and experimental gardens, the cactus will be probed down to the molecular level to expand the map of its genetic code and diagram the systems it uses to make flowers and move and store water.
Everything the researchers learn will be archived in a central repository that could one day contain all of the saguaro data collected over the past century and whatever discoveries the future might hold.
The ambitious new plans grew from a first-of-its-kind research symposium and workshop aptly called "The Future of the Saguaro." The two-day event at the University of Arizona featured about 35 saguaro scientists, who shared their research and discussed areas needing further study.
The gathering wrapped up on April 14 with a workshop at the UA-run Desert Laboratory on Tumamoc Hill, where participants sketched out their priorities for future research and collaboration.
Event organizer Peter Breslin, a staff researcher at the Desert Laboratory, called it "the beginning of a whole new chapter" in saguaro science.
"It's by far the most studied cactus, and yet we found out at the workshop that there are still some major gaps that need to be filled in," Breslin said. "And there's a sense of urgency, because there are dramatic (climate) changes that we're observing," including prolonged droughts, more powerful storms and extreme temperatures, both hot and cold.
Biologist Don Swann has worked at Saguaro National Park for more than 30 years, but he still learned some new things about the park's namesake plant during the symposium, at which he was a presenter.
Swann said it was exciting to see everyone come together to discuss new technologies and avenues of research because of what that could mean for the overall conservation of the species. "Just having all of us in a room talking about what we need made us realize there is a huge benefit to collaboration," he said.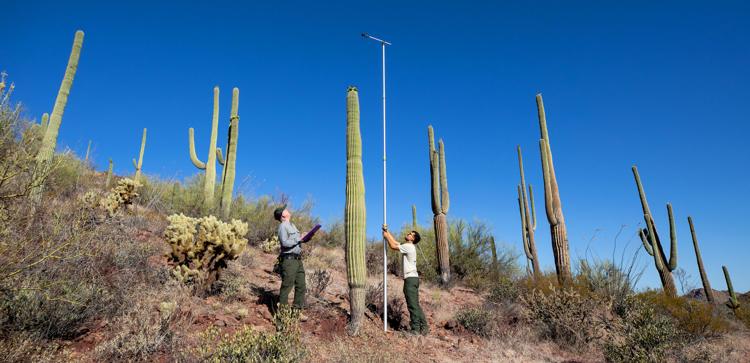 Cactus tech
The symposium highlighted the increasing role technology plays in the field.
Research scientist Shannon Albeke from the University of Wyoming described how he is using drones to measure saguaros, basically creating virtual 3-D models that can be used to determine not just the height and width of a cactus but its volume and photosynthetic surface area.
That information is being used by a team of scientists to determine, among other things, how much of the Sonoran Desert's precious water is being stored above ground inside the stems of its signature plant.
"We love field work, but if we can use the drone to do 100 cactuses in the time it used to take to do 10, why not do that?" he said.
Now Albeke and company are trying to see if they can literally scale up their drone use, using higher-elevation flights to quickly survey saguaros across larger patches of desert.
Cutting-edge technology will also play a part in arguably the biggest task researchers plan to take on: determining how the saguaro is doing across its entire range, which stretches from the southern reaches of Sonora, Mexico, almost to Interstate 40 in northwestern Arizona.
"A species-wide assessment is not available because it hasn't been done," Breslin said.
To survey so many cactuses over such a wide area, researchers plan to teach advanced computers to pick out the shadows of saguaros in aerial and satellite imagery. The angle of the sun and the length of the shadows also can be used to determine the "size classes" of the cactuses, Breslin said. "You can cover a huge geographical range that way."
Complex computer models and data collected at ground level by scientists on both sides of the border will then be used to fill in additional detail.
Breslin said a range-wide assessment could take five years to complete and result in the sort of research paper with 40 authors on it. "It's a huge project," he said.
So is the creation of a single, publicly available database for all saguaro science.
Breslin said the group plans to seek funding from the National Science Foundation to help collect and collate all of the research they can find, including what he called "legacy data" from previous generations of scientists.
"Some of it actually goes back more than a century," he said.
The repository should also provide expanded access to saguaro studies conducted in Mexico in recent decades that haven't received as much attention north of the border for whatever reason.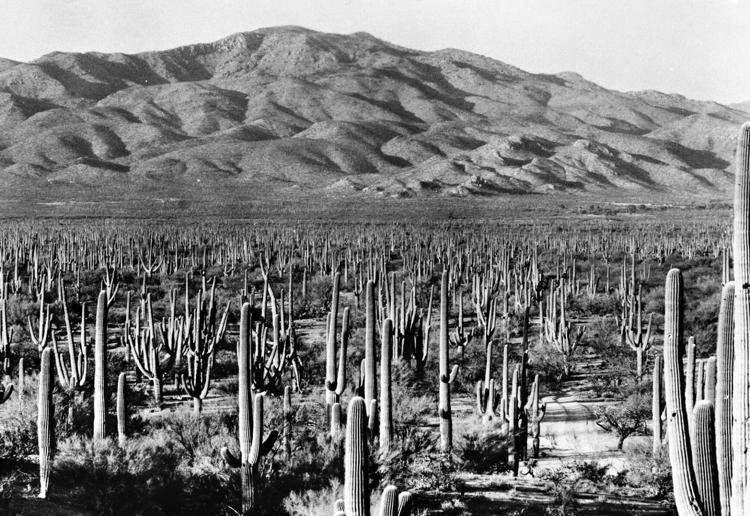 "There are a lot of people working individually on a lot of different research questions," Breslin said.
The goal is to make the database easy to find and use, so scientists can better contextualize their work, share what they have learned and discover new questions to ask and people to collaborate with.
Test of time
A central clearinghouse for saguaro data is also important for the sort of multi-generational continuity required when studying something that grows so slowly and lives so long.
"It takes generations of scientists to really get insight into this plant, because it lives longer than we do," Swann said.
"All saguaro research is long-term research," Breslin added. "It transcends the people who are currently alive."
In the coming years, the new research cooperative also hopes to develop a saguaro test garden where experiments can be done that would be difficult or impossible to do in the field.
The garden or gardens would include saguaros grown from seeds collected throughout the cactus' range, allowing scientists to study how genetic differences might impact such factors as growth rate, flowering behavior, and resistance to extreme heat and freezing temperatures.
It could also serve as a place to tinker with various traits in hopes of one day supplying desert restoration projects with saguaros tailored to the environments in which they will be planted.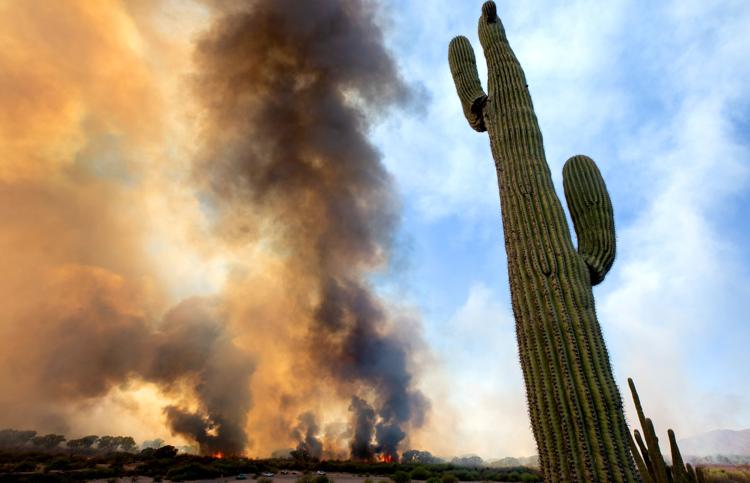 Other research priorities identified during the workshop include:
The continued mapping of the saguaro's genetic code, part of which was first sequenced in 2015;
The ongoing study of the impacts of climate change on saguaros and the Sonoran Desert as a whole;
And greater engagement with Indigenous people, whose ancestral history includes centuries spent living among — and in some cases subsisting on — saguaros.
Breslin considers it "a major drawback" that there was no tribal representation at the workshop, and he hopes to see that change at future events.
"I think it will be eye-opening if we get more of that perspective," he said. "There is a lot of knowledge that we're not learning from."
According to Breslin, the idea for the saguaro symposium came from former Desert Laboratory director Ben Wilder, who applied for grant funding from the National Park Service to launch the research collaboration.
Breslin took over the project when Wilder left the laboratory last year.
"It's not just about the saguaro. It's about all Sonoran Desert ecology," Breslin explained. "The saguaro is a keystone species, and when you study a species like that, you're going to get a lot of signals about its environment."