Saguaro blooms are back. 😎
Peak saguaro bloom season is happening across Tucson and Southern Arizona right now and that means you can find many cacti topped with blooms resembling soft white flower crowns.
Despite reports of saguaro blooms popping up over the last couple of weeks, the blooms typically begin in May and taper off through June, according to Theresa Crimmins, a plant ecologist and professor at the University of Arizona and director of the USA National Phenology Network.
"In looking at the data that's been coming in so far this year, we are a smidge early," she said. "We do seem to have more individuals with open flowers on them this year than in most previous years when we've had a nice tight peak of a good solid bloom."
Most saguaros will have some blooms on them by May 10, which has been the peak timeframe over the last several years, according to Crimmins.
Because cacti store water extremely well, they don't rely on rainfall as much as other plants do for a prosperous blooming season.
But rainfall can impact when we start to see blooms in Tucson.
"We documented a positive relationship, which means that in the dataset we analyzed, wetter Decembers seemed to lead to later flowering," Crimmins said in a follow-up email.
When saguaro blooms finally make their arrival, they aren't here for long. Their lifespan typically lasts one day — so it's best to enjoy them (and their melon scents) while you can!
"The flowers will typically bloom at dusk or later and exist until the following day when they wither away. During a saguaro's bloom, the flower could be pollinated by many Sonoran Desert creatures including bats, doves and bees," #ThisIsTucson wrote last year.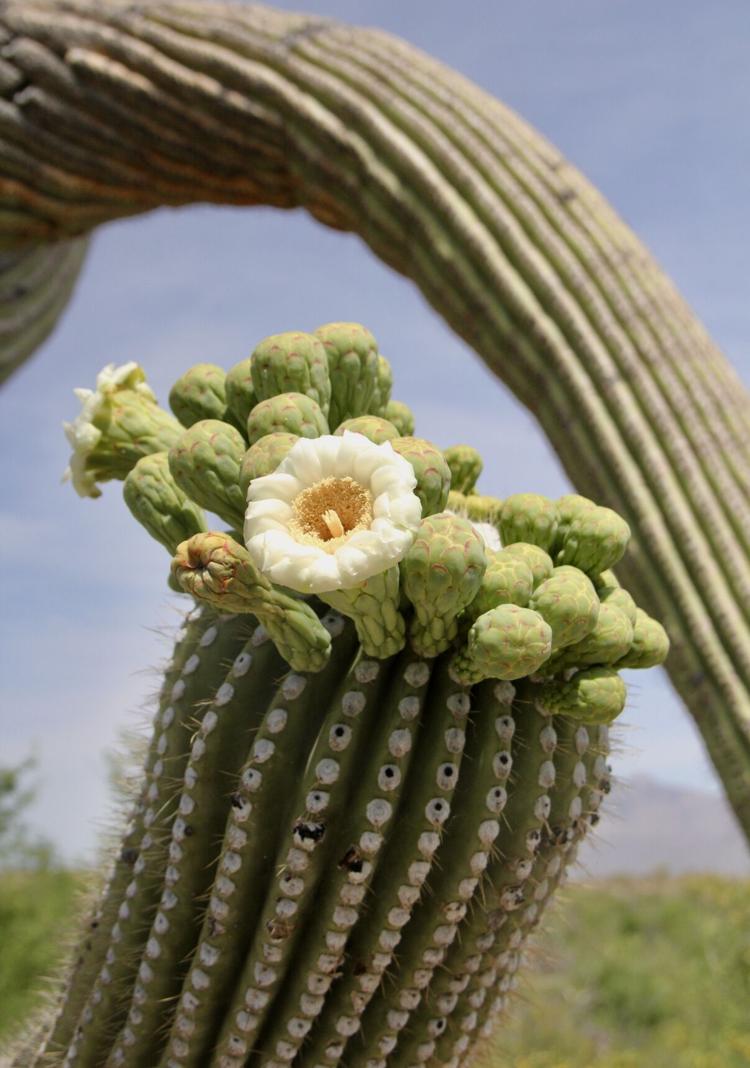 Saguaros are a "keystone species" in our ecosystem, according to Crimmins, who says that many desert creatures rely on the tall cacti for homes and food.
"Once a saguaro flower has been pollinated, it matures into fruit that splits open when ripened — revealing bright red pulp," #ThisIsTucson wrote in 2020. According to the Arizona-Sonora Desert Museum, each piece of fruit contains about 2,000 small black seeds.
This season, you can find blooms pretty much anywhere there are saguaros, according to Crimmins, who recommended places like Saguaro National Park, Tucson Mountain Park, along State Route 77 and even in people's yards. (You may or may not catch #ThisIsTucson's editor, Gloria Knott, standing on a step ladder next to a saguaro to get that perfect shot of the blooms at Saguaro National Park.)
"Saguaros are so iconic in the Sonoran Desert," Crimmins said. "And that's the only place you can find them and they're utilized for food and habitat for so many other species in the region too, as well as humans. … And so it is really special."