Once upon a time… Tucsonans Crispin and Lizzy Jeffrey-Franco dreamed of opening a community book bar where locals could read, sip and enjoy each other's company.
Their dream finally came true this weekend with the grand opening of their 2,300-square-foot shop, Stacks Book Club. The store opened Saturday, July 8 at 1880 E. Tangerine Road Suite 140 in the Oro Valley Marketplace.
Stacks offers more than 2,000 books including fiction, non-fiction, romance and children's books, a full-service coffee bar featuring Yellow Brick Coffee, and fresh baked goods from Bubbe's Bagels, Cal's Bakeshop and on weekends, Prep & Pastry. You'll also find a selection of local brews and wines, plus grab-and-go food from Flora's Market Run.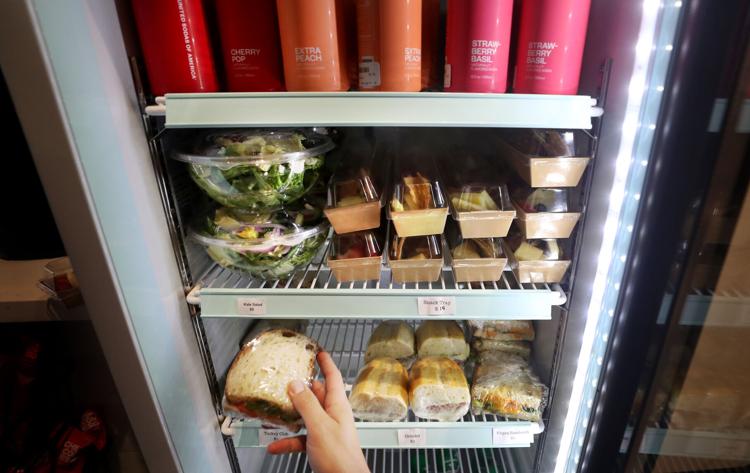 "We want this to be a place where whether you're an avid reader or not, there's something for you to find here," said Crispin. "Whether it's exploring the shelves or it's exploring the pastry case or the coffee menu, there's something for everybody here. And we really want it to be a place where the community gathers. So, if that's book discussions, great, if that's PTA meetings, awesome, if that's high school reunions, meetings or get-togethers, great.
"We really just want it to be a place where we can start to connect with each other again, spend time dialoguing and discussing and understanding each other."
The shop's mid-century and industrial design is community-oriented with all of its furniture centered around tables, making it easy to interact with each other for a quick book-and-coffee break or during one of Stacks' book club discussions. 
So far, Stacks has two book clubs — one to discuss some of the latest reads hitting the shelves and a multi-generational reading and discussion group aimed for kids ages 9-12. But there are a few more book clubs in the works, according to Crispin, including possible clubs for romance books and manga.
But even if Stacks doesn't currently have a book club that piques your interest, the Jeffrey-Francos are open to ideas.
Stacks also has a kid's corner where they plan to host frequent storytelling events (including events that are bilingual) in partnership with Make Way For Books. The kid's corner carries a selection of children's books in English and Spanish, which was important to Crispin, who is Mexican-American.
"I hope people come in here and they're excited to read," Crispin said. "If you read one book or you read 100 books a year, either way, you're a reader, right? But we hope people that maybe don't consider themselves readers come in here and it's, like, inspiring and they leave with a sense of excitement to find something great on one of the shelves. We hope that coffee lovers come in and have the best cup of coffee they've had and that's the same every time they come in.
"Really, we just want people to come in here thinking, 'I want to come back' or people leaving thinking, 'When am I going to come back again?' And we hope that they come back, they come back, they come back and they come back."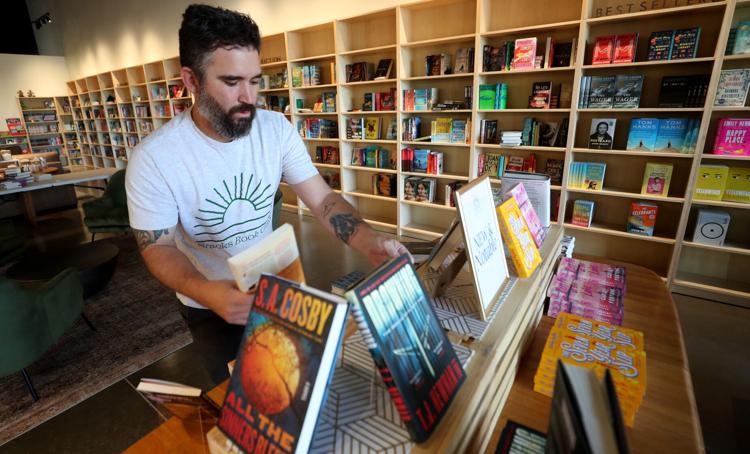 Chapter two: A moment years in the making
Before Stacks Book Club became a brick-and-mortar, it was indeed just a club — founded in the winter of 2016.
"I sent an email to about a dozen friends, saying, 'Hey, I'm thinking about starting a book club, would anybody want to join?' I expected to get maybe one or two people to say yes. And instead, we ended up having our first discussion in February of 2017 with about 20 people there," Crispin said. 
During the club's first meeting, they discussed the science-fiction novel "Ready Player One" by Ernest Cline. In the dystopian novel, the main character Wade Watts lives in a village called the Stacks — which became the inspiration behind the club's name.
After moving away from Tucson, the Jeffrey-Francos returned in 2019 and kept the club — and its name — going.
Taking advice from a Startup Tucson coach, Stacks then started doing pop-up events at local restaurants and businesses as a way to start small but work their way up.
"'That's a way to bridge the gap so you don't go from nothing to everything and to see if you like it and see if people are excited,'" Crispin recalled their coach telling them. "So that's where the idea came from and it ended up being the best decision that we could have made."
Over nearly 11 months of hosting pop-ups, the Jeffrey-Francos learned the basics of operating an independent bookstore, but more importantly, they learned the community's desire for a bookstore like the one they had in mind.
"We learned that there was a real desperation, or a craving, for a space like this, especially on the northwest side, especially in Oro Valley," Crispin said. "So all the stuff that we learned in that time was invaluable to us. Turns out that to get a Small Business Association loan, you need to have done everything that your store will do, in order to qualify. And so if we hadn't done that pop-up experience, we actually wouldn't have qualified for an SBA-guaranteed loan. And we didn't know that going into it. We didn't do the pop-ups to get that experience. We did the pop-ups to start to meet people and talk about it — (it) ended up being like a really crucial part of this actually happening."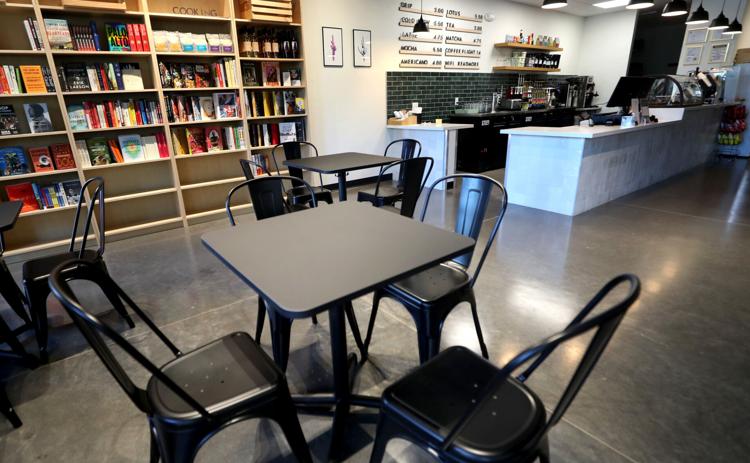 Opening a community bookstore and coffee bar was always the plan — even if it took a little longer than expected.
Last fall, Stacks announced its plans to open a brick-and-mortar in spring 2023. However, that date was pushed back more than once due to construction setbacks, waiting for equipment to arrive and putting the final touches on the shop. 
When #ThisIsTucson chatted with Crispin a couple weeks ago, he said he was feeling "stress, excitement, hope, concern" and just about everything in between before the shop's opening.
"The amount of excitement that we feel through social media, the amount of phone calls and emails we're receiving on a daily basis asking if we're open, when we're going to be open and how excited they are, leaves us feeling really excited and thankful at the end of every day for what this place will be," he said.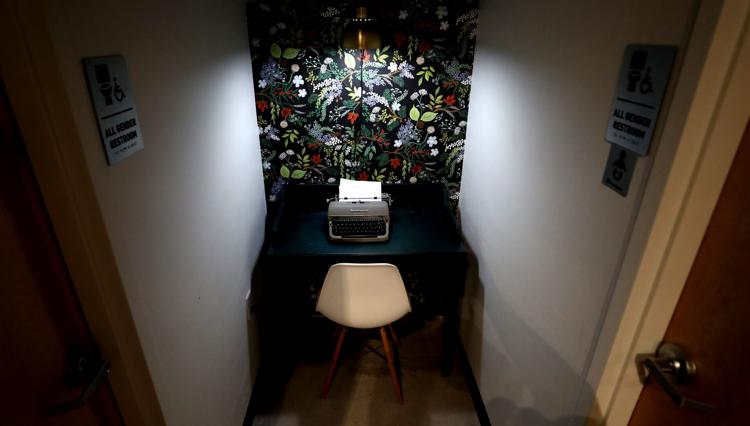 Chapter three: By Tucsonans for Tucsonans
Almost everything inside Stacks has a touch of Tucson magic. 
From the handcrafted baked goods in the pastry case to the merchandise that is designed and sourced right here in the Old Pueblo, you can find a little bit of Tucson everywhere you look.
Their gift table and shelves have a variety of cards, candles, games, T-shirts and other locally-sourced or desert-inspired items.
"We are as invested in Tucson as we can be," Crispin said. "Almost our entire beverage program is being sourced from Tucson. (We have) Southern Arizona wine, Tucson beers, Tucson food, Tucson coffee, Tucson tea. We are investing in the local business ecosystem.
"So, when you come here, yes, you're supporting an independent bookstore, but you're also supporting this network of small businesses and independently-owned businesses that are in our own community. …  As many things we can do in Tucson, that is our priority and our preference. Because we really do believe that Tucson is a special place. There's a lot of really talented people that are operating and growing businesses here and we think this is the perfect place for those businesses to have an opportunity to just continue to grow and flourish."
In addition to a selection of gifts, Stacks also offers a yearly store membership.
With the First Edition membership, Stacks members receive benefits including 10% off every purchase (excluding gift cards), 15% off pre-orders, early access to ticketed events and exclusive member-only events. The membership costs $49 per year. (Membership is not required to shop or eat at Stacks.)
"We liked the idea of not being (just) a bookstore (because) a store, to me, feels very transactional, like you come and you go. And a club is more of a place you come and belong," Crispin said. "And so while it can be a little bit confusing at times when people are like, 'Do I have to join to, you know, (eat or shop)?' No, you don't. We have really liked the idea of being a place where you come in, you exist and you belong."
Despite just opening their brick-and-mortar location this month, this isn't "The End" of the story for Stacks. The Jeffrey-Francos already have bigger dreams — including a larger shop in a more central or eastern location that will serve another part of Tucson's community.
But, that's a dream — and a story — for another day.
"Everyone is welcome here," Crispin said. "If you're the biggest book reader, not a book reader, coffee drinker, not a coffee drinker, to us, it doesn't matter. You walk through the doors, this is a place for you."
Stacks will be open 7 a.m. to 8 p.m. daily. For more information about Stacks Book Club, visit their website or Instagram page.