This story was created by La Estrella de Tucsón with the support of the Solutions Journalism Network, a network that trains and connects journalists to cover how people respond to problems. This story is one of several exploring how COVID-19 is impacting the Tucson Latinx community, and what solutions are emerging to help. Read this story in Spanish here.
When Marcia Zepeda's family all tested positive for COVID-19 this summer, it meant her husband  — the family's sole breadwinner — was out of work for a whole month while he recovered.
But the bills kept coming.  
Luckily, she was able to find help to cover a month's rent and electricity through the Sunnyside Foundation which raises funds for the Sunnyside Unified School District where two of her three children attend school. 
"If it would not have been for their help, we would have been behind," Zepeda says. "They weren't going to come and turn off our electricity but it was a lot of stress, debt can be very stressful and we are super grateful that they helped us."
In a normal school year, the non-profit Sunnyside Foundation raises funds to help enhance the educational experience for the students in the Sunnyside district — new music instruments, books, field trips, college entrance test fees and literacy programs are just a few things the foundation helps support.
But, of course, these are not normal times. Earlier this spring, as homes became school and COVID-19 upended the lives of families who lost their jobs or couldn't work because they became ill, the pandemic created a new and more urgent area of focus for the foundation: helping struggling families of district students remain in their homes, avoid eviction and keep up with the bills.
 "We were hearing stories about what was going on with some of the families and some of the difficulties they were encountering," says Michael Barton the foundation's vice president. "We also figured out we didn't want to wait for someone else, there wasn't time for anyone else to solve these problems. We were it."
In April, the board set out to establish a brand-new emergency relief fund. Its goal: to help families as quickly as possible with utility bills, mortgages, rent and other basic needs.
Kerri-Lopez Howell, the foundation's executive director says one of the most unique things about the foundation is also its greatest strength. All of the board members have deep ties to the community they serve so they are deeply attuned to the needs of the community. They are current and former employees; graduates of the district; and advocates on the south side. 
With school closures and the transition to remote learning, the foundation realized it had to shift its focus from not only supporting students in the classroom but helping families take care of basic needs to create some stability within their home so they could continue learning, says Lopez-Howell.
"At the same time, we all knew stimulus checks were going around, we knew unemployment was going around and we knew a majority of our students weren't going to (benefit from) those funds," Lopez-Howell says. "There was this shared experience as board members knowing that we were all relying on these funds to come in and our own community was not going to get these funds, so it was a shared stress and the only thing to do was to figure out a way to alleviate some of it."
Many families in the district likely were not going to be able to access federal resources like the stimulus and paycheck protection program or unemployment for many reasons including immigration status and the types of jobs they had. And, many social service agencies are tied to one database and only allow families help once a year. So, if a family already received help this year they couldn't go back and ask for more.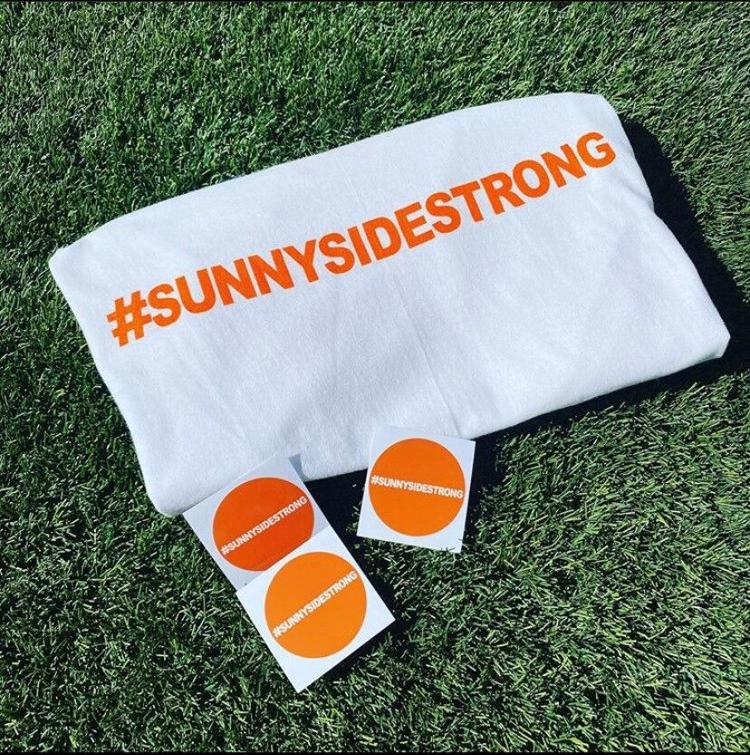 The Sunnyside relief fund is made up of unrestricted dollars raised from grants and individual donors so anyone in the community can access it. The only eligibility requirement is that families must have at least one child in the home enrolled in an SUSD school.
Seed money came from the Rincon Optimist Club which made a cash donation and covered the cost to purchase white t-shirts with bright orange lettering bearing a hashtag the foundation started to bolster spirits: #SunnysideStrong.
The shirts were sold for $15 each with all the money going directly to support the families. Teachers, students, district staff and community members scooped them up. They sold out twice.  
"We're proud of who we are," says Barton, who grew up in the district, attended SUSD schools and is a longtime volunteer in the community. "The community is stepping up and doing what they can… to be part of this because they know it's the right thing to do."
More than 200 t-shirts were sold. The foundation raised awareness of the fund solely on social media and any time a person who purchased a shirt posted a photo of themselves in it, the foundation saw donations trickle in — $5 here, $10 there.
Bigger donations came in too, including a grant from United Way of Tucson and Southern Arizona. The Apollo Middle School Student Council voted to donate $1,000 to the fund because they recognized many families in their community were struggling, and they believed in the importance of supporting each other through difficult times.
"Raising money, selling t-shirts, getting people to put a t-shirt on and take a picture or promote it, it was easy because it just exists in the fabric of the community to be that generous and supportive of each other," Lopez-Howell says.
Great need pre-dated the pandemic in Sunnyside
The Sunnyside school district covers a large part of Tucson's south side and is the second largest district in the city with 21 schools serving more than 16,000 students, the majority of whom are Hispanic. In the district, 83% of students qualify for free or reduced lunch. Every school in the district is part of the federal Title I program which distributes funding to schools with high percentages of students from low-income families.
"Basically four out of five of our kids are below poverty level," says Andrea Foster the district's Title I coordinator and interim director of federal programs.
Great need already existed in the Sunnyside community well before March. The pandemic and the resulting unemployment exacerbated it.
"A lot of families have jobs where they don't accrue sick time or PTO or they're not eligible for unemployment benefits," Foster says. "So things that other people could maybe rely on, other resources or options, they don't have any at all."
In their roles, Foster and colleague Araceli Mendoza, the district's foster care and homeless liaison work tirelessly to help students and families in crisis and they are part of a team that helps families access the relief fund.  
"We wear different hats and our goal is to meet the needs of our students and to keep them in school," says Mendoza. "So whatever services or programs we can offer to meet that goal is what we're all about here."
Families who need assistance are referred to the relief fund primarily through their school counselors. They are asked to fill out a Google form to apply for funding which Mendoza and another colleague manage and review. They make follow up calls if needed to get additional information.
"We require the invoices or eviction notices or just documentation confirming and verifying the amount requested so that payment, once it's approved, can be paid directly to the company or payee," Foster says. "No cash ever goes to the families it just goes directly to the payee just to ensure payment is made."
Mendoza says when families are applying for assistance it's typically not just with one bill.
"It is months of backlogged bills, unfortunately, two to three months back," she says. The most common requests have been for help paying utilities and internet with single bills as low as $90 and as high as $900.
Having this fund has given Foster and Mendoza options to help that didn't exist before.
"The foundation doing this has been a godsend because a lot of our families don't meet some of the requirements from some agencies in town and so that's where the red tape comes in, they might not have the information that a lot of these agencies require for them to provide services," says Mendoza who said that the funding has made it easier and less cumbersome.
"The donations that folks are providing are making a difference in our kids' lives. It's keeping the lights on for the kids, it's keeping them on their laptop, it's providing a roof over their head and it's providing some relief to parents," Mendoza says. "It doesn't provide complete relief but it buys them some time. And that's amazing because we weren't able to do that before, we did a lot of advocating for families and now we're so happy to say 'yes, we will help you, no problem, let's start the process.'"
By July 31 the fund had grown to $31,000 and so far around $22,000 has been distributed to help 27 families made up of 44 adults and 88 children.
Sunnyside parent Ashley Bravo, a single mom to two elementary school students, reached out directly to Mendoza in June when she saw a post about the fund on the foundation's Facebook page.
Bravo lost her job as a clerk at a gas station in March and had been trying to make ends meet using her stimulus money to cover the rent and making and selling face masks to buy gas and food.
"But that still became pretty slim because of all of the other bills I had. And at that time, having to stay home with the kids regardless because of how they were still trying to do remote learning — and then having them home all the time, the food, just to continue caring for the kids and making it seem like nothing changed just so they wouldn't see the hardship I was going through," Bravo says. "I just kept trying to make things as comfortable as possible for them."
After losing her job, Bravo tried getting assistance from various organizations offering rental and utility assistance for people who had lost their jobs due to the pandemic. She kept getting referred to different organizations and was given phone number after phone number but no actual help.
"I was kind of getting the runaround and I wasn't able to get help with any of the programs," Bravo says.
With one call to Mendoza and a few messages back and forth, Bravo was able to have a month of rent and her electricity bill covered by the foundation's relief fund.
"It was very emotional because being that a year ago, I was homeless pretty much and I worked multiple jobs to get into the apartment that me and my kids are in now," she says. "… It was very relieving because I kind of grew up in a very unstable living environment, so it was important to me to provide stability for my kids."
Internet bills are a growing crisis for families
With school now in session, internet bills have become the highest priority because without it kids can't participate in remote learning.
"Right now because of the internet crisis, we're trying to offset as many bills as possible. And that's because the internet issue is so huge," Lopez-Howell says.
And although internet providers are offering low-cost plans, families can't sign up for those if they have an outstanding balance. Families are also incurring additional charges by going over their data plans with multiple children in a home having to connect online for most of the day, Foster says.
"It's been nice having this foundation, this emergency relief fund to help address that balance, if not cover it all or cover a portion of it, because that's what's keeping these families from being able to get connected," Foster says.
The foundation also received funding from another grant to purchase hotspots for every student at Summit View Elementary School as part of a separate initiative.
Lopez-Howell says while the relief fund has been so critical in helping families these last few months, she's concerned about what lies ahead.
"We're now in August and people have backlogged bills from March, unemployment has remained the same for much of our community, much of our community still hasn't received stimulus support so what started in June as feeling really good like 'oh we're gonna pay an electricity bill,' now we're getting $1,200, $1,500 bills for water or a utility and we're blown away," she says. "And as we look into the next year, I don't know where the relief is coming… the moratorium (on evictions) won't be lifted until December but now I'm going 'OK, come December are we going to be paying months of bills from March?' The backlog is just overwhelming."
Generosity and strength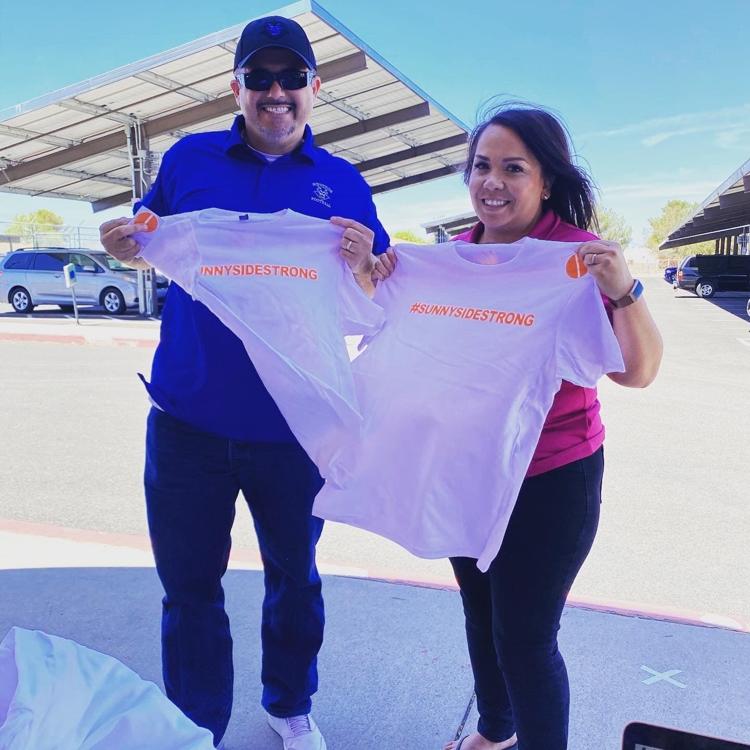 On Sept. 22, instead of its annual luncheon fundraiser, the foundation is hosting Sunnyside Gives Day online — collecting donations with a goal to raise $50,000 to use for its relief fund and other initiatives.
To save money and prepare to give, students have pledged to spend less on Eegee's and haircuts, a principal is donating all her Poshmark closet earnings, another principal is matching $25 for every $100 donated by his friends and board members are saving money they would have otherwise spent on gas and coffee. And district superintendent Steve Holmes has promised to dye his hair bleach blonde just like Guy Fieri if the foundation hits its $50,000 goal.
Lopez-Howell says despite the challenges the community is facing, she's also been able to witness first-hand the generosity and strength that exists too.
"There's still so much strength … and as hard as it is to see these are the bills that are coming in and this is what's happening, we also get to see the joy, the resiliency, the determination, the community is super strong regardless" she says. "Everybody is just pulling together in a way I'll never forget … We'll all never forget the pandemic, and the crisis and the bills and unemployment, but I'll never forget what I've seen and been witness to of people pulling together."
For Bravo, the help she received from the fund was a reminder of that good that exists.
"Growing up, my whole childhood as far as I can remember … we didn't have stable living and not wanting that for my children, it was very emotional for me to know there's good out there in the world and there's people that will help you," she says.
Editor's note:  In mid-August Mayor Regina Romero and Tucson City Councilmember Lane Santa Cruz announced a $1.2 million fund to help provide cash assistance for immigrants who are not eligible for federal benefits like stimulus checks. The initial funding for the We Are One/Somos Uno Immigrant Relief Fund is made of donations from the Open Society Foundations and an anonymous donor and individual donations are also being accepted. The Sunnyside Foundation was chosen to administer the application and distribution process for the fund, but this is a separate initiative from the foundation's Emergency Relief Fund for families with children in the Sunnyside Unified School District. For more information about the Somos Uno Immigrant Relief Fund go here.