"You can't go wrong," says Danielle Cantrell, the owner of Old Pueblo Soapery. "You can grab a bottle of wine, a bath bomb, a book and an ice cream on the way home." 
Cantrell's shop, previously called Fizzy Fairy Gifts, was located at the Tucson Premium Outlets in Marana for about a year. But Cantrell wanted to rebrand and relocate to Tucson's core. She moved out of the outlet mall in December.
Previously, Bright Properties had an administrative office and space they sublet to Saywells Design Company in the space, says Fred Ronstadt, the executive director of the North Fourth Avenue Merchants Association.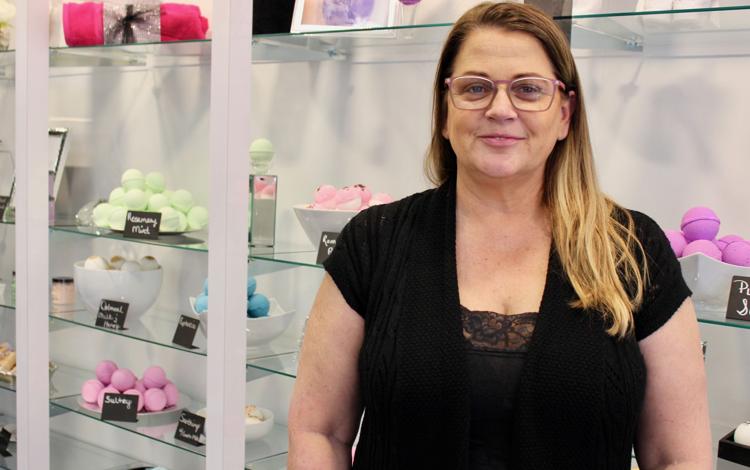 Cantrell makes just about everything in the shop, from her fragrance-free facial line to bath bombs for every mood. A lot of what she makes has oils (essential and otherwise) and butters (shea, cocoa and mango), making for some truly fragrant (and moisturizing) products. She says the bath bombs may cost anywhere from $2.50 to $7 or $8, with other products averaging around $15. 
"My store is interactive," Cantrell says. "It's an experience. Everything in here you can try. You can try a hand scrub, a body scrub, a lotion. You can touch the salts. You can touch the soaps  It's very interactive. And I wanted to be where my vibe fit more."
And now, with more space, Cantrell will be able to make her lip balms, lotions, scrubs and soaps on site, instead of transporting everything from her home. 
She also envisions using a room in the back for make-and-take get-togethers for kid birthdays, bachelorette parties and other celebrations.
"Basically, the charm of the building goes with my concept," Cantrell says. "It's this idea of going back to more simple ingredients." 
If you go
What: Old Pueblo Soapery, previously Fizzy Fairy Gifts, opens on Fourth Avenue this weekend. The shop sells handcrafted bath bombs, soaps, lotions, scrubs and more. 
When: The shop opens Saturday, Feb. 8 and will be open 10 a.m. to 6 p.m. 
Where: 218 N. Fourth Ave.