The Ritz-Carlton Dove Mountain has hired one of its most loyal and laid back employees yet.
He is also super cuddly, extra lovable and can't keep his nose out of the garbage. 
Ranger Ainsley, a 2-year-old yellow Labrador retriever, joins the tortoise, snakes and tarantulas that are part of the hotel's kid-friendly ranger programs. 
The lucky pup came to the Ritz in September, after being released from Canine Companions for Independence, or CCI, an organization that trains service dogs for people with different disabilities. 
CCI has a pretty rigorous training program, and many of the dogs who are part of the program are unable to complete it, says the resort's general manager Steven Szenasi. 
"They have to be absolutely perfect in order for them to graduate, which means there's absolutely no issue whatsoever and that includes medical issues and following commands," he says. 
Ainsley was released from the program for two reasons. 
"One of them is he gets sensitive to really, really loud noises. For example when a door shuts, he immediately gets alerted, and when you're a service dog, obviously you can't," Szenasi says. "There are so many things happening in your environment."
He loves a food just a little too much. (We can definitely relate, buddy). 
"He loves snacking off the table," Szenasi says. "Last night he ate the cat food at home, which is on a high elevation, but he just manages to go around that." 
Naturally, the dining areas and kitchens of the resort are off limits. 
However, he can frequently be seen greeting guests in the lobby, or working his almost daily two-hour shift at the Ranger Station, the resort's center for kid-friendly programming where his main duties are to be available for photos, hugs and reading with kids.
If he's not out walking the resort's grounds, or putting smiles on the faces of travel-weary guests, he's probably taking a snooze under Szenasi's office chair.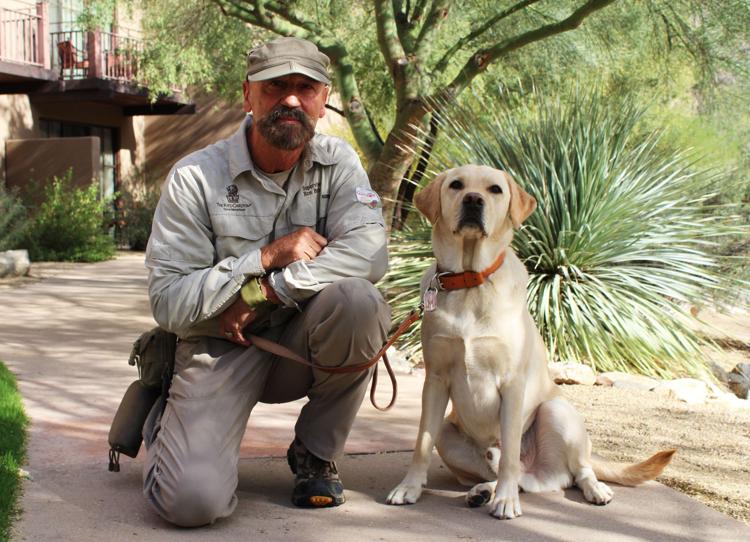 His exploits are well documented on his very own instagram page @RangerAinsley. Guests of the resort can make their own stuffed Ranger Ainsley and will soon be able to purchase Ainsley-approved dog bowls, treats and leashes at the gift shop.
And although one of the perks of Ainsley's gig is to taste-test the resort's canine menu, the garbage cans in the resort's offices rank high among his top places on the expansive property. 
"I think the garbage cans are his favorite areas to hang out and look for some food," Szenasi says. "Every single office he's in, he likes to run to the garbage can just to sniff."
At the end of the day Ainsley goes home with either Szenasi or the resort's director of engineering who also has a black Labrador.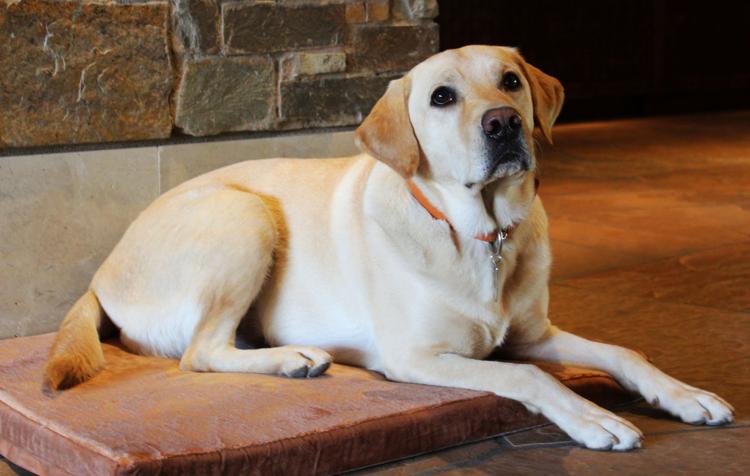 For its upcoming tree lighting celebration, where Ainsley will be on duty, the resort will give all net proceeds back to CCI.
The hotel plans to continue to include Ainsley in much of its community service and fund-raising activities. He recently helped raise money for Tucson Medical Center by being the featured participant in a doggy hugs and kisses booth the resort set up in its lobby (seriously, go check out that Instagram page). 
"He loves attention," Szenasi says. "I want his life. He's just being petted all day, non-stop being loved and being kissed. What a bad life to have, right?" 
What: Holiday Tree Lighting Celebration featuring photos with Santa, cookies, hot chocolate, live music, and the opportunity to meet Ranger Ainsley.
When: Sunday, Dec. 8, 5-7 p.m.
Cost: $5. Net proceeds will be donated to the Arizona chapter of Canine Companions for Independence.