Shelby Brawley loves all creatures great and small. 
At HoofsnHorns Farm Sanctuary in Picture Rocks, goats, sheep, cows, chickens, ducks, pigs and horses once abandoned or abused find a home. Two dogs — Great Pyreneese — roam the property, protecting the herd. 
As Brawley wanders with them, she can tell you everyone's stories. 
There's Big Henry, a potbellied pig who was given up after growing up in one family's backyard. As work got busier and a grown-up child moved out, the family thought Big Henry might be better off at a sanctuary. But Brawley says Big Henry doesn't even know he's a pig, so he sleeps inside a mobile-home-turned-barn because he has always slept inside. 
Then there's Buttercup, a dairy cow who came to the farm as a 3-year-old and spent the rest of her life there, dying recently at the age of 18. Brawley calls her "the sweetest creature you'd ever meet."
And of course, there's Annabel, a precocious young goat who follows Brawley around the farm. She came to the sanctuary after giving birth and then refusing to nurse. Her previous owner, unable to devote the time to help mom and baby bond, let Brawley take her. Earlier in October, Annabel debuted at Call of the Faeries as a unicorn, adorned with a sparkly horn, pink wings and a purple tutu.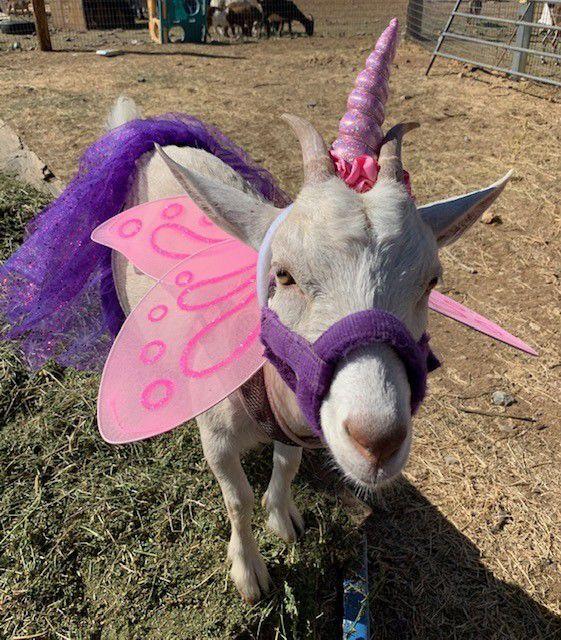 Some of Brawley's herd come to the farm to spend the remaining years or months of their lives. Others have special needs that require a life of care. HoofsnHorns, a nonprofit organization, may adopt out animals that are young, friendly and healthy, but more often than not, these creatures find a permanent home at the farm. 
"I say it's a genetic issue," Brawley, 55, says of her love for unwanted animals. "I got it from my mother, because I have been that way since I was a kid. My mother would bring in the strays and fix up animals that had been hit by a car or something." 
Brawley and her mother Sidney Smith, 83, started HoofsnHorns together almost 20 years ago, opening their hearts to rejected roosters, goats that won't show and dairy cows past their prime. They care for the orphaned, abandoned and disabled residents of the (farm) animal kingdom.
"It just evolved," Smith says. "We didn't really mean for it to be as big as it is, but how can you turn away something that really needs you?" 
Over the years, Brawley, who grew up in northeast Oklahoma, says she has always owned horses, a pet pig and maybe a few dogs. When she moved to her mother's Picture Rocks property in 2000, she brought her small herd with her. And it just escalated from there. 
First she rescued five horses, and then she adopted a 6-week-old Nigerian dwarf goat named Chester who temporarily lived inside with her as she learned how to care for him. 
"I fell totally in love with how hilarious and smart and loving he was," she says. "And when I put him outside, I needed to get him a friend." 
About 20 years later, Brawley says people know her as "the goat lady."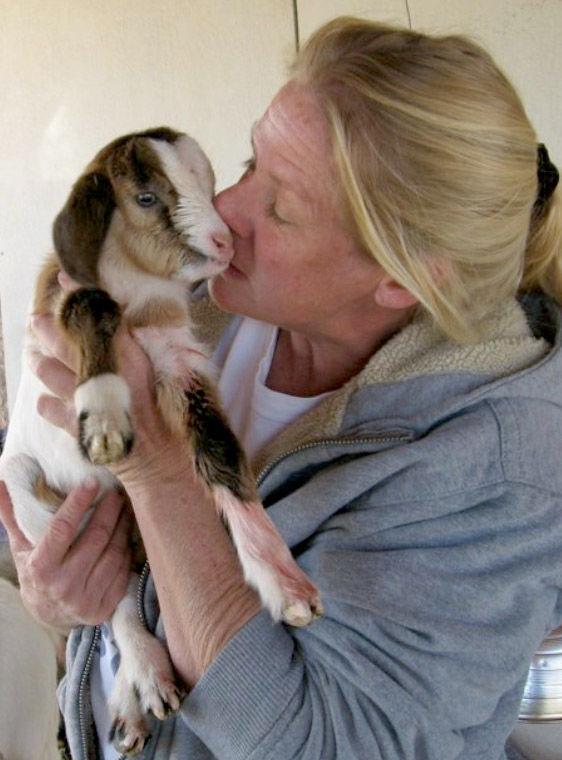 Privately, Brawley steps in to rescue and help goats and sheep (and other critters), but she also works with other local rescues and Pima Animal Care Center to provide homes for abandoned and injured livestock. 
For example, when PACC receives a random pig or a sick or injured goat ⁠— or an animal at large ⁠— HoofsnHorns often holds the animal for PACC. 
Kristen Weigand, a board member for HoofsnHorns, connected with Brawley when her own farm had to close several years ago. She says she had about nine goats, several of which were pregnant, and around 40 birds. 
"I asked her, 'Is there any chance you would allow my entire farm to move to your property?' I didn't know who else to ask or what to do ... and she was like, 'Bring them on over.'" Weigand recalls. "I go every day and take care of my own animals and help her as much as is humanly possible. She's one of those people who is like, 'We'll figure it out. Come on over.'" 
And if Brawley can't take it, she'll try to find someone who can.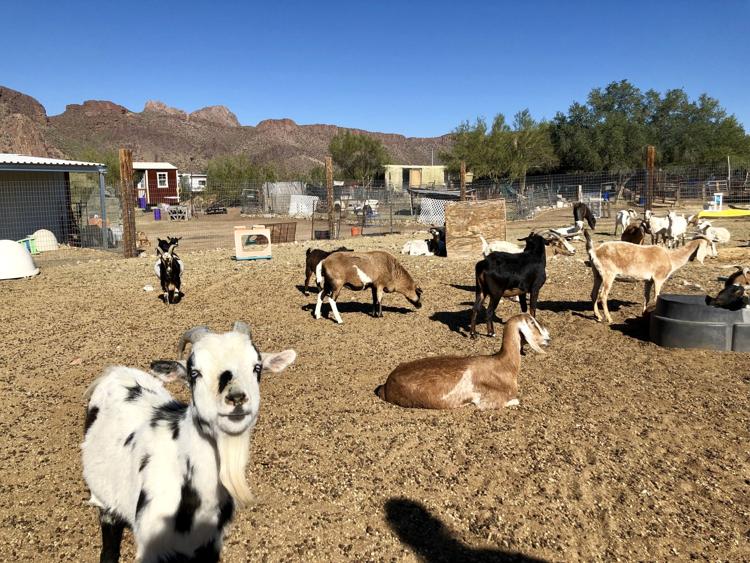 Patty Williams got in touch with Brawley when her one of her goats got sick.
"I didn't know who to talk to about it, and she was there for me every moment of every day with support," says Williams. "Then, after my goat passed, she gave me one of her adoptees so I wouldn't have a lone goat on my farm." 
Brawley's years of experience have given her knowledge to offer other animal lovers in the rural area.
"People have come with a sick goat or orphan, but they have jobs so they can't bottle feed it," Brawley says. "But (they know) Shelby will take it. Or if it's sick and needs shots every day and someone is too squeamish to do it, Shelby will do it." 
In caring for these critters, Brawley has found her calling. She laughs about how her high school classmates joked that she always had to look "put together" as a teenager. Now, she spends her days in shorts and a T-shirt, hair swept back out of her face. 
Brawley believes past careers including in retail management and as a paramedic have given her skills she's able to use on the farm. 
"I know it's what I was meant to do..." she says. "Before, I felt like I was a failure every five or 10 years because it wasn't clicking with me. (Those jobs) were not my life's mission. But now, at 55, I can look back and say, 'That was all my education for what I need now.'"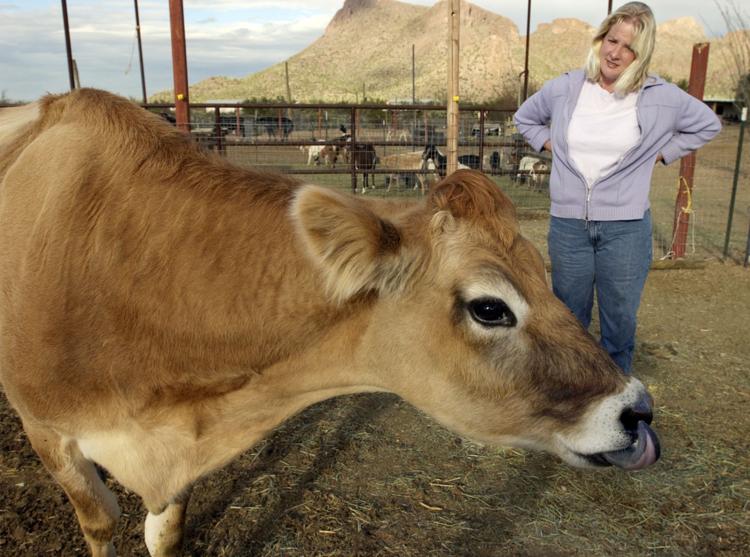 Today, Brawley and her mother depend on donations to provide veterinary care for the animals and feed the many mouths on the farm. They go through about 66 bales of hay every week or so. When Brawley, left her job as a paramedic to care for animals full time, she wondered how she could ever do this without a paycheck. She tears up now talking about that journey, because she believes God has provided for their needs along the way. 
"We've never been let down," she says. "We've never missed a meal. And to this day, it gets me, because sometimes it's down to the wire." 
In April, HoofsnHorns participated in Arizona Gives Day and earned enough money to build a small barn and replace much of the fencing on the farm. They're working to develop a volunteer program and make the farm open to the public regularly.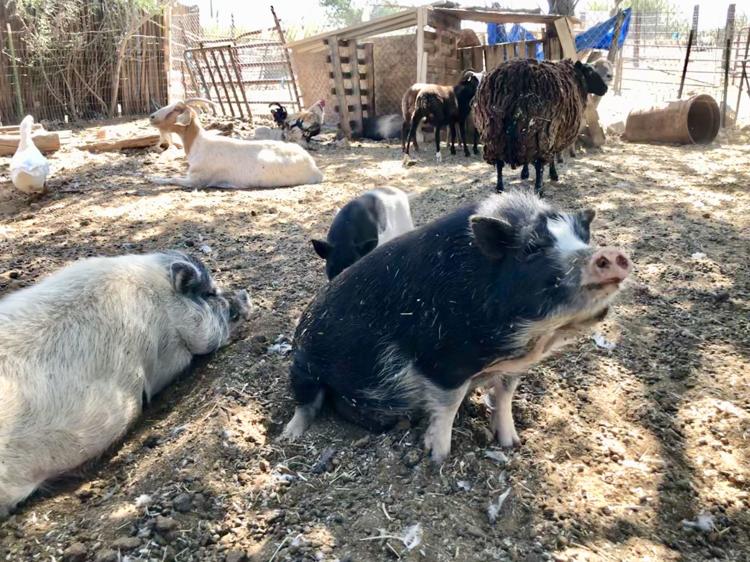 "It's a lot of work but it's really satisfying," Smith says. "I'm happy that she's happy, and this is her life's work, so if I can help her do it, I'm happy to support her the little bit that I can. I used to do more than I can now." 
Brawley points out that it was her mother who taught her how to pound fence posts and frame things. 
On Saturday, Brawley and Smith will welcome the public onto their farm for a Halloween carnival with games, a haunted hayride, a petting zoo and goat berry bingo, played with a Twister mat, Uno cards and goat poops 💩🤣. The carnival has free admission but a pay-to-play setup ⁠— tickets for activities cost $1 and will go toward supporting the farm and the creatures Brawley has given a home. 
---
If you go
What: To support the farm, check out the HoofsnHorns Halloween Carnival, which will have games, a petting zoo and a haunted hay ride. 
When: Saturday, Oct. 26, 5-9 p.m. 
Where: HoofsnHorns Farm Sanctuary, 9740 W. Lariat Drive. But after you get on Picture Rocks Road, don't listen to GPS. It wants to take you down roads that don't go through. Follow Picture Rocks through Saguaro National Park. Then turn right on Van Ark Road and the follow the directions for parking. Be aware that you will have to drive on some rocky, dirt roads and may have to park and walk. Go here for more detailed directions. 
Cost: Free admission but bring cash for tickets
More info: Go here. Also, don't bring your pets.