For more than 20 years, Dr. Marisa Werner has cared for bodies as a pediatrician. 
Last Saturday, she was appointed to care for souls, too. 
On July 22, Werner, 53, became the Rev. Marisa Werner, a priest for Saint Michael the Archangel, a local parish that is part of the Ecumenical Catholic Communion.
"I grew up with a sense of vocation," the new priest says. "I grew up in a family with lots of vocational and religious life." 
Growing up in Maryland, she served as an acolyte in the Roman Catholic Church, aware of the tension between the church's prohibition of female priests and her own growing interest in religious service.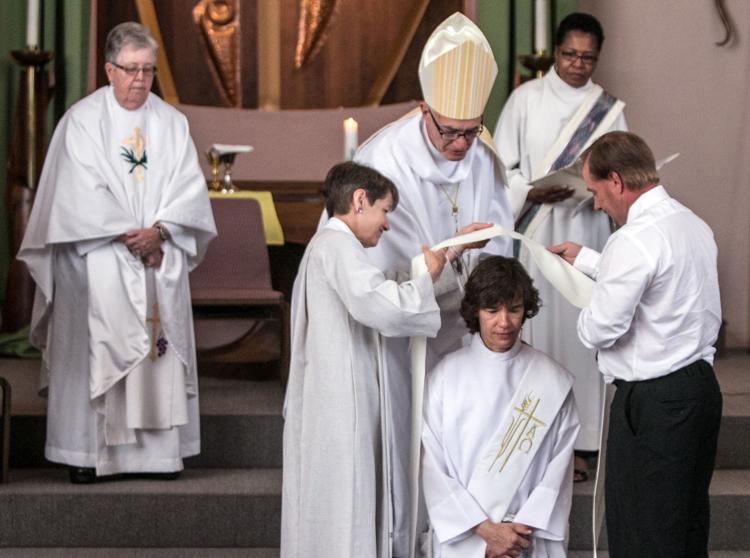 As a young girl, she wrote the bishop of her diocese to ask that girls be allowed to serve as acolytes. She remembers five girls, including herself, in the acolyte class. 
Still, she was not allowed to serve as an acolyte for her uncle's deacon ordination because she was a girl. That did not sway her from service, and she began volunteering as a lector at the age of 13 when she aged out of the acolyte role. 
Because of her awareness of the conflict between calling and convention, it wasn't until around 2009 that she decided to heed the call. 
"I became a pediatrician, but this sense of vocation has stayed with me, and I decided at some point to say yes to it instead of continuing to struggle with the incongruence of it," she says. 
Bishop Francis Krebs, presiding bishop of the Ecumenical Catholic Communion, says the communion is part of a strain of Catholicism that broke off from Rome. While the liturgy may be familiar to Roman Catholics, the ECC differs in other ways. It respects the pope but doesn't consider him infallible, emphasizes lay people in church governance and takes a different stance from Roman Catholicism on what Krebs calls "inclusion issues." 
"We include women, we include gays and lesbians and divorced and remarried persons," he says. "We have married priests." 
Before finding the ECC, Werner spent time in other denominations, including the Episcopal Church and the United Church of Christ. But always, she held Catholicism dear. 
Werner graduated from medical school at the University of Maryland in 1990. During her residency, she became connected with Indian Health Service, a link that would bring her to work with the San Carlos Apache Nation in Arizona in 1994. That connection with Indian Health Service eventually brought her to Tucson in 2001 to work with the Tohono O'odham Nation as a pediatrician in Sells, Arizona, now mostly in outpatient clinics. 
"The challenges there are the challenges that the people you are working with are facing," she says. "They are challenges common to rural health, things like Internet access and access to transportation." 
Dr. Stephen Metz, a pediatric hospitalist at Banner-University Medical Center Tucson has known Werner since her Baltimore days.
"I think that what people notice about her is that she's very caring," Metz says. "She's not rushed. She doesn't get angry. She listens and she really gets to know the full scope of patients, and that's really important in Indian Health Service." 
Werner says she mostly works 10-hour shifts, four days a week, allowing her to also raise her teen daughter. 
Her work as a pediatrician will continue even as she steps into the priesthood, which is a volunteer position. 
Having another priest at the church means that the Rev. Delores Kropf, the pastor at Saint Michael the Archangel, will be able to step away, leaving the congregation with continuity, especially when she retires, "hopefully down the road a long ways." 
"When anybody comes to church for the first time, she's probably one of the first ones at the door to say welcome," Kropf, 73, says. Currently, there are about 15 registered parishioners at the church that meets in the chapel of First Christian Church at 740 E. Speedway.
The ECC has about 40 communities, including a few in Poland and Belgium, Krebs says. There are also parishes in Tempe and Phoenix. 
For Werner, working with sick kids and caring for a religious community aren't so different. 
"In Christianity, we say we are the body of Christ, and so both (jobs) are taking care of the body," she says. "I work in a setting where there is an understanding of spirituality being part of wholeness."
"She's a pediatrician who works with the native population, and so that just really is something that fits right in with our understanding of our mission, to be very social-justice oriented," Krebs says. "The fact that she has taken her education and directed it toward people that many consider in the margins is inspiring."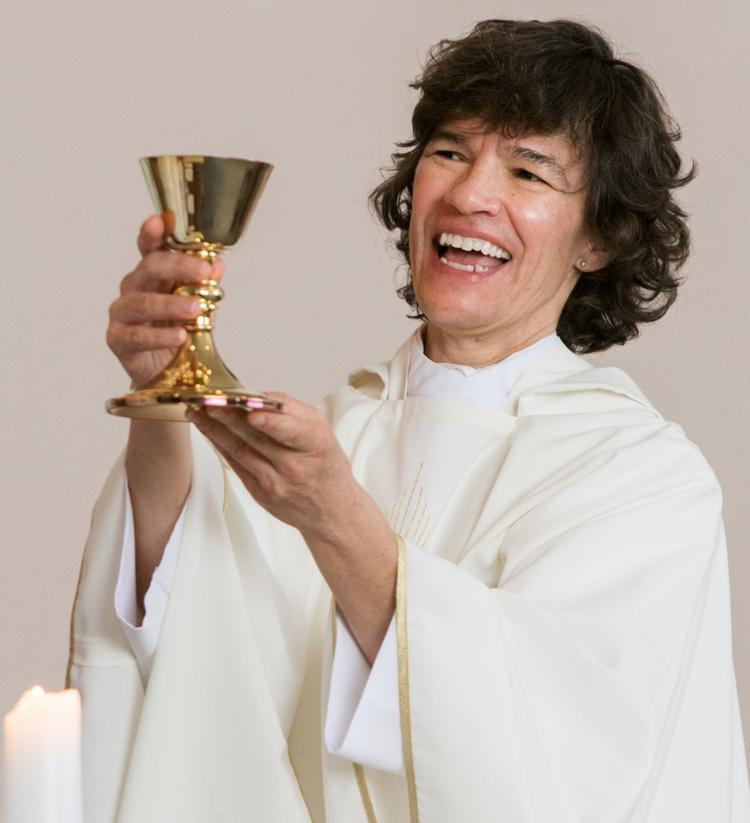 Werner has served as a deacon at the church for about two years. This year, she earned her master of divinity degree from Iliff School of Theology in Denver after starting the program in 2011. 
"It's coming home," she says of the ordination, pausing as emotion swells. "I say it's coming home to myself, but it's more like coming home to who God calls me to be."