At the age of 3, Nick Curtis saw Britney Spears in concert for the first time.
"Really, I've loved Britney Spears for all my life," he says. "It's honestly engrained in me. I blame my parents for the love."
That love for Spears led Curtis to start an Instagram page years ago, blending his love for the pop star with his love for plants.
The page, appropriately called Plantney Spears, has since blossomed into a full-blown plant shop in Tucson's downtown area — a shop that's actually a hot-pink explosion of pop culture.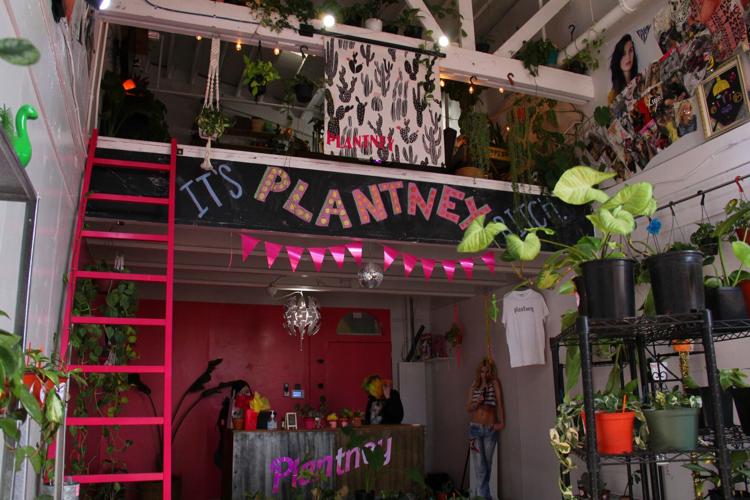 Helping plant parents thrive
Walking into Plantney transports you to another world.
Beyond the many house plants on every shelf, here's what you'll see:
There are magazine cut-outs of celebrity icons — Taylor Swift, Katy Perry, Halsey — taped into collages on the walls, plus a white wall covered in the faux autographs of Billie Eilish, Miley Cyrus, Lorde and more.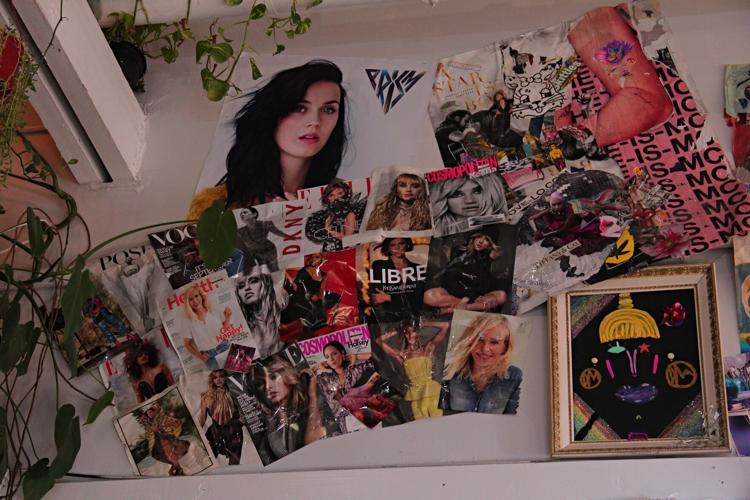 You'll instantly spot a hot pink ladder that matches a hot pink wall and the hot pink-and-black-checkered floor beneath your feet.
There's a holographic sign reading "Plantney" in a Barbie-esque font in the middle of the shop and a record player likely blaring a pop icon — on this trip it was Lady Gaga.
It would be hard not to spot the life-size cutout of Spears — which Curtis happened to spot at a local Walmart and asked the manager to take home.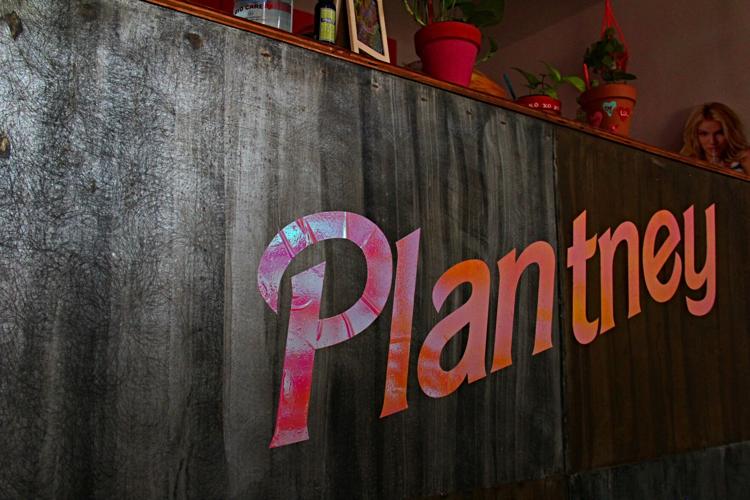 Curtis hopes the shop provides a "pocket of fun pop culture happiness" to those who walk through it.
But more than that, he wants plant parents to thrive.
"I want everyone to feel like they can take care of a plant in a way they feel competent," he says. "People say, 'It's so beautiful but I have a black thumb. I can't keep that alive,' and I don't think that's true. I want people to feel empowered as a plant parent.
"The world can get dark sometimes and I think plants can give people a bright spot. I want to provide a little slice of what I feel is my heaven. If I feel at peace, this is what I can share with the world and maybe they'll get something out of it."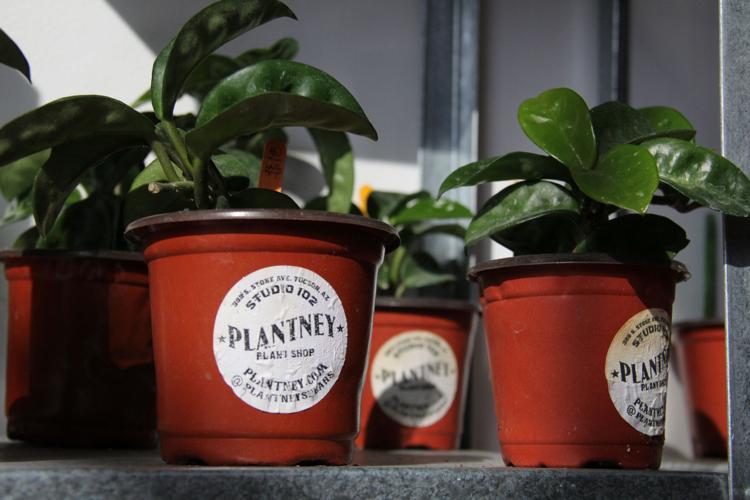 From a 'harebrained idea' to a business
Growing up, Curtis' mom always had outdoor plants, which fostered his own love for them.
"That kind of thing has always been in the family and then I took it indoors," he says.
Several years after starting his plant-centric Instagram page, Curtis and co-owner Josh Smith decided to make it a business.
"It honestly grew from a disdain for the traditional workflow," Curtis says. "I wanted to be able to do something I was really passionate about instead of trying to fight for someone else's dream."
"I had worked in a place where you had to wear the plain colors, you couldn't have a nose piercing or fun-colored hair, so I was like, 'How far in the other direction can I go?'" He says. "Here, you always have fun music, a Britney Spears cutout, Paris Hilton pillows."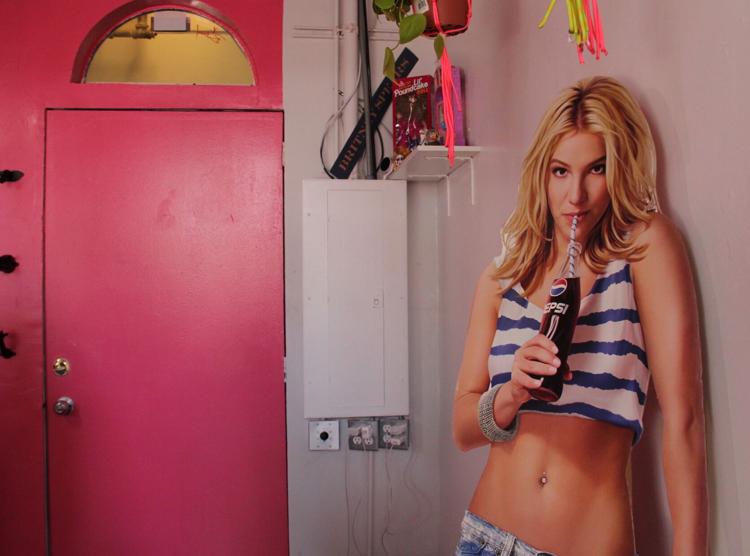 The business officially started with Curtis and Smith's own plants in August 2020 in a 10-foot-by-10-foot space in an artist studio.
"An artist studio became available because of the pandemic. It was always a harebrained idea we had to open a plant shop. It was this perfect road map that opened," Curtis says.
"It's something we both loved forever and we were able to grow a bunch of plants and share them with everyone. It was really good timing and it all just worked out really well," he says. "The universe wanted it."
Late last year, Plantney moved to its current location at 439 N. Sixth Ave., near Sixth Street. 
"It was kinda another happy accident. We needed more room. We had been looking, not deliberately, for months and this place just fell into our laps," Curtis says.
The majority of the plants at Plantney are grown by the shop's owners — the store's mezzanine is dedicated to propagating the plants.
"It's nice because since they're growing their roots and getting established in Tucson already in this super arid environment, they have a better edge than a plant that's coming from Florida," Curtis says.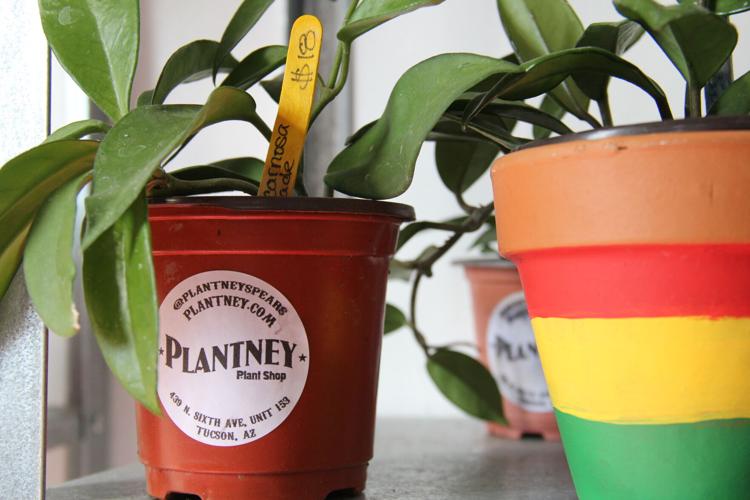 Why Britney Spears?
Plantney celebrates Spears through its name, the cutout in the store and the stickers and keychains that spell out "Plantney" in fonts inspired by Britney's albums.
There's also the annual Britmas plant sale — celebrating Spears' Dec. 2 birthday.
Plantney also sells hand-painted pots that "pay homage to pop icons," Curtis says. The designs started with Spears but have since included Madonna, Beyonce and Kesha.
As for Spears though, she's someone Curtis has always looked up to.
"Honestly, especially after everything she's gone through, she represents strength and perseverance," Curtis says. A judge recently ruled to end the conservatorship that controlled Spears' personal life and finances.
"I've always been really inspired by her work ethic and ability to execute a creative vision, especially under public scrutiny," he says.
"She's a terrifically hard worker and she's built her own box — she's never been put into a box."
---
You can find Plantney at 439 N. Sixth Ave. The main entrance is on the west side of the Firestone Warehouse on North Ferro Avenue. The main entrance has a few stairs in the entryway, but you can also enter Plantney's back entrance through the ramp to the north or through the building's east entrance.
Plantney is open noon to 6 p.m. Wednesday-Saturday and 10 a.m. to 2 p.m. Sunday. Find more information or shop online through their website.