Update: This story was originally published on Jan. 26, 2022. We've updated the story with new photos of the gnomes' February book drop and some news to share: Tucson Tome Gnome recently reached a $5,000 fundraising goal that will allow them to purchase enough books to hide every month in 2022!
A tiny, mischievous gnome with a long snow-white beard and a deep purple Phrygian cap is leaving his paper trail across Tucson by hiding free new books for teens and adults throughout the city.
Over the last few months, this impish friend has hidden nearly 100 tomes, also called books, in Tucson for strangers to find, read and hopefully redistribute back into the community.
Except this hardworking gnome isn't really a mythical creature running around Tucson.
The Tucson Tome Gnome is a collective of three local book-loving friends who are hoping to "bolster a culture and community that is united in the joy of reading by providing free books to inspire literacy, reading, happiness and kindness throughout Tucson," according to their website.
The women behind the gnome are Emily Walsh, Jody Hardy and Mary Ellen Flynn — friends who met through their love for all things book-related.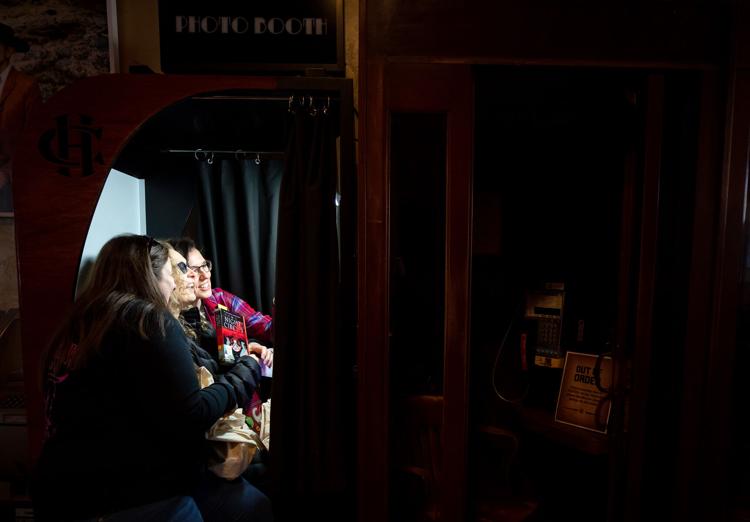 Walsh met Hardy almost 10 years ago when she moved to Tucson and wanted to make friends in the city. The two connected at a book club hosted by Mostly Books, where Hardy was working at the time and where you can still bump into her today as the store's manager.
A few years later, Walsh connected Flynn with Hardy and the trio has been inseparable since. 
Last summer, the three came together to have dinner and discuss an idea that Walsh had been tossing around since the start of the COVID-19 pandemic: doing something bookish to bring joy to the world. 
"Things feel so hard and so gross and everyone's so unhappy. I just want to do something good," Walsh recalled. "So I shared it with Jody and Mary Ellen and they were like, 'Yes, let's do it. Let's just give away books, like why not?' And so I would say these two, kind of, were the genesis of it actually becoming a real thing."
On that warm Tucson summer evening, the Tucson Tome Gnome's story was just getting started.
But the group wanted to do something different from other local programs and resources dedicated to helping young children. Since there aren't many local resources for free reading for adults and young adults, said Flynn, Tucson Tome Gnome is a way to reach the reading needs of a more diverse demographic.
Although adults and young adults are on the "gnomes'" radars, the group said that Tucson Tome Gnome isn't about who finds the books. Instead, it's about providing random acts of kindness and joy that help spread positivity throughout the Tucson community, no matter who you are.
"The hope is like, 'Oh, this maybe will put a smile on whoever's face, they found it and decided to take it home,' right? Maybe they'll read something they didn't think to pick up, maybe they'll learn something new. Maybe they'll give it to a friend. Maybe they'll pass it on," Walsh said. "So it's just kind of like, 'How do we just create random acts of kindness?' and Tucson is such a great book town that I think there's a lot of people in the city that would appreciate random books."
After their goals were established, there were only a few things left to do: create a unique and fitting name for the group and figure out some of the logistics, like creating an Instagram page and determining which books the gnome should hide. 
Not your average garden gnome
Walsh had an idea for a "bookish gnome" but couldn't quite nail the detailing on the name. So, she ran the idea by her husband, Kirk Markarian, who said, "What about a tome gnome?"
The tome gnome became a perfect fit for the group of book lovers.
"Gnomes are kind of weird. They're a little quirky and it just felt very Tucson to me," Walsh said.
After weeks of deep discussions last September, the three decided on the first tome to hide in the wild: "The House in the Cerulean Sea" by TJ Klune. They hid 30 copies of the book all around Tucson, including at the Joel D. Valdez Main Library in downtown Tucson, along Historic Fourth Avenue and in Himmel Park.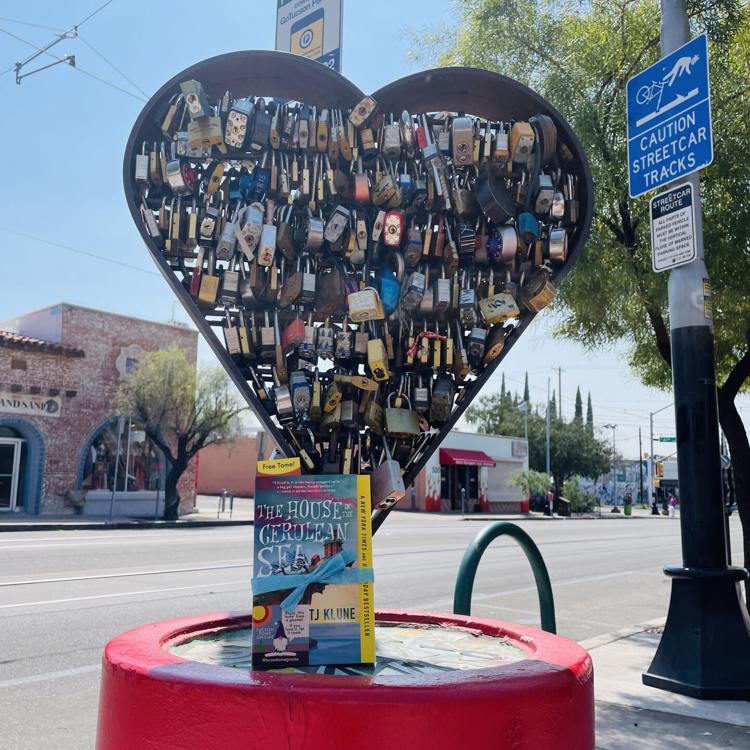 Each book featured a "Free Tome!" bookmark sticking out from the top and a sticker on the cover that said, "Enjoy this tome from a gnome! If you love it, let it roam."
Within their first three months, they hid 90 books around various areas in Tucson. 
But not just any books. All of the books chosen by the women of Tucson Tome Gnome were meticulously picked because they were inclusive stories that community members could enjoy regardless of what phase of life they were in. The hidden books include authors of color and stories about LGBTQ+ inclusivity.
"We just discuss it several times before we finalize our answer," Hardy said. "And even if we kind of talked about it one week, but by the next week, we're like, 'Oh, no, this doesn't feel right any longer,' we'd say, 'But what about these options?'"
Although the women have full-time jobs during the week, they spend their Saturday nights dining together and planning the next Tucson Tome Gnome book drops and Instagram giveaways. Usually, one Sunday a month, they spend the day driving across Tucson, carefully hiding the books for strangers to find. 
A task that was "severely underestimated," Walsh shared with a laugh. The trio initially believed that the job would take around two hours to complete, but from start to finish, it ended up taking around at least five to six hours.
Out of the distributed books, Tucson Tome Gnome typically hears from around 10 to 12 people who reach out to them to say they found one of the hidden books.
One of the group's favorite memories is from their November book drop featuring "The City We Became" by N.K. Jemisin. One of the 30 books was stashed near a planter by the Sushi Garden restaurant near Broadway and Country Club Road when a DoorDash driver picking up a takeout order from the restaurant stumbled upon the hidden tome. 
The driver snatched up the free book and sent an email to Tucson Tome Gnome expressing gratitude for the simple but meaningful gesture.
"It was a moving email because they told us that they could normally never afford to buy a new book," Walsh said. "And so finding a new book that was free, it was just put there for no reason except for someone to find one, really meant a lot to them."
'Books and kindness can change your life'
Although the joy brought to the community by the Tome Gnome is priceless, the cost of keeping the "gnome" running is not inexpensive, according to Walsh, who said that the trio pays for each of the books out of pocket. 
"We want to continue doing it as much as we can. So we're kind of looking at a few different models. Like potentially, instead of doing it every month, maybe doing every second month, potentially some months doing 15 books instead of 30. But that all kind of depends," Walsh said. "I would love to give away 30 books every month. I think that would be so fun and so great for Tucson, but with the three of us alone, we can't afford to do 30 books every month for an entire year."
One of the potential models the Tucson Tome Gnome will be looking into for the future is accepting donations from individuals who want to contribute to the cause.
While the group isn't currently going down the nonprofit route, the door of possibilities is always open if that's something the community would be interested in. But if not, the trio said they are OK with just being "the gnomes."
"We want to spark joy in reading and books. We want to inspire literacy, happiness and kindness for the community. And I think that was a very important part of what we wanted to do, which is really rooted in Tucson," Walsh said. "We're not trying to necessarily start like a national movement. We really care about, like, how do we do something that just brings some happiness to where we're at? Like, to the people who are our neighbors, our friends and people we don't know... Books and kindness can change your life and I think that's kind of what our gnome is trying to put out there."