Chauncey the mini horse drops his head into a woman's lap for an ear scratch and a kiss. 
She smiles big and obliges before he moves on, presenting his nose to the woman next to her.
When Chauncey visits assisted living facilities such as The Villas at Houghton, he wears tiny Build-A-Bear hightops, which give him indoor-outdoor flexibility. On this visit, he's spending most of his time on the patio, but on some trips, he wanders through rooms delighting bedridden residents.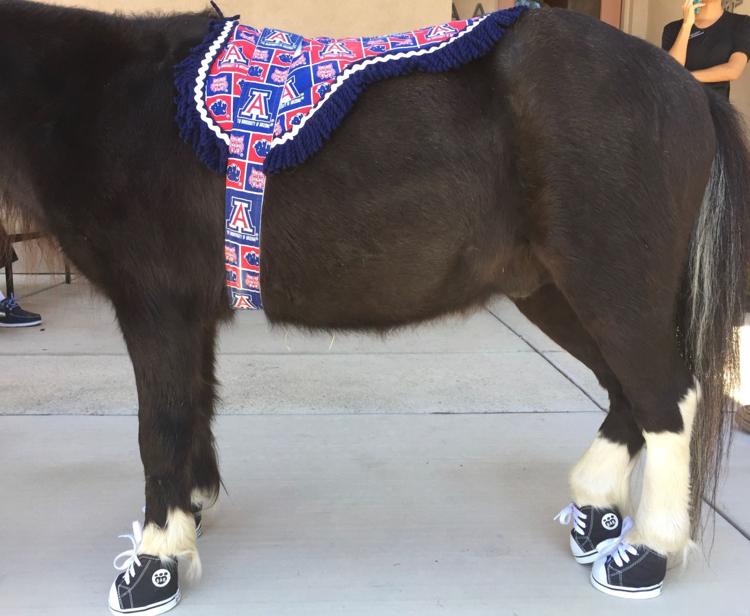 On the other side of the patio, Nancie Roahrig, the president and founder of the equine therapy nonprofit Step Up Into T.L.C., Inc., walks with Jilly, a white Percheron draft horse. Jilly, too, accepts kisses and nose pats. As Roahrig, 60, leads her around the circle of seniors, she and volunteer Kiiri Martin share facts about the horses.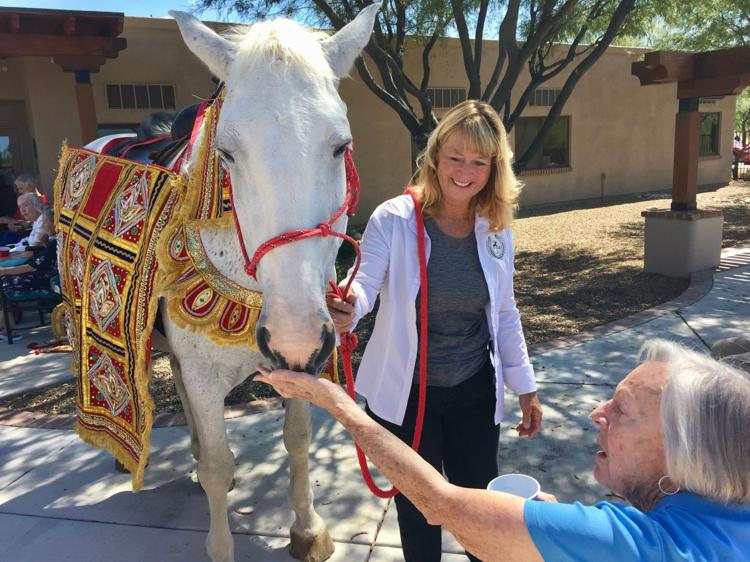 "They love Eegee's and potato chips." 
"She lays down to sleep sometimes but also sleeps while standing." 
"Their feet get trimmed like toenails." 
"Did you ever have horses?" 
Sometimes, the equestrian presence sparks old memories.
"The stories are just so abundant," Roahrig says.  
Jilly, like all of Roahrig's herd, do double duty as therapy horses and party animals. The weddings and birthday parties that Roahrig books on weekends fund the equine therapy she does throughout the week. 
At The Villas on Wednesday, Jilly shows off the costume she wears during a Baraat procession for the groom as part of traditional Indian weddings. 
 "All of his friends and family are dancing around him on the horse, and it's a 30-minute walk because we stop so many times for them to dance around the groom," Roahrig says. "Jilly loves this and she takes it all in stride."
In western weddings, it's often the bride who rides in on horseback, she adds. 
And then there are the things you just can't anticipate — like the man who proposed to his girlfriend in a full suit of armor after riding up on a black Arabian horse. 
"You never know what your horses will be part of," Roahrig says.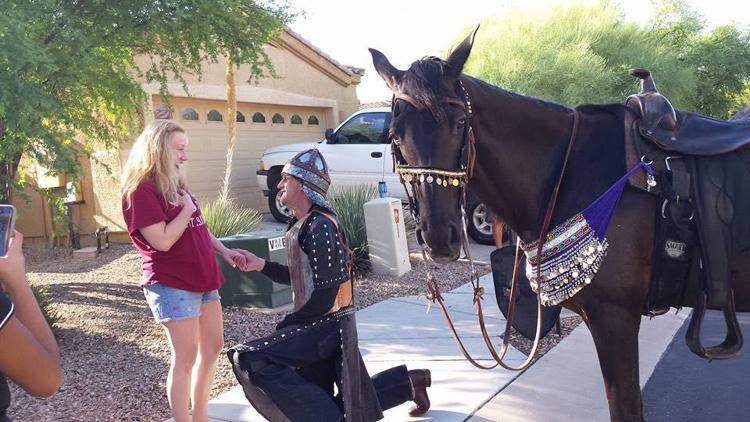 Roahrig got her start in the wedding industry. She grew up as a horse lover living in the city — Speedway and Swan Road — and rode maybe once a month. 
When she had children of her own, the family moved to Vail, and her daughter got a horse. 
Eventually, she took carriage-driving lessons and discovered she loved it. 
"So we bought a retired Clydesdale from Anheuser-Busch, and my husband built a carriage and that was around 1997," she says. "We started a carriage company and I basically took over weddings at La Mariposa."
When a friend who lost her horse-loving daughter to leukemia reflected on the joy a visit from a horse would have brought the teen in those final days, Roahrig began calling child life specialists at local hospitals.
"I told them all I had was a Clydesdale, a ladder and a saddle, and I would like to bring him to the kids," Roahrig says. 
Her therapy program started around 1999, and she began taking Lenny, the Clydesdale, to Tucson Medical Center and what is now Banner-University Medical Center Tucson. 
"Even the kids with IV units would climb up onto this huge horse to take a ride..." she says. "Just knowing that it made a difference in their lives was huge." 
She added nursing homes to the rotation — a natural fit for Roahrig, who had already worked as an in-home caregiver. Several years after she began her therapy program, she became a certified nursing assistant. 
"I tried to work at a bank, once, and that lasted about four months, because I wanted to care for the poor person who was walking with his cane across the lobby," she says. "So I think this program brings both of my passions —  the caregiving and the horses that I love so much —  together." 
For her, it's all a win. She loves hearing the stories of older generations; making weddings even more special; comforting the grieving in hospice; and bringing joy to children. Plus, the horses. 
In 2006, she transitioned her business to a nonprofit — Step Up into T.L.C., Inc.
TLC stands for "therapeutic loving caballos."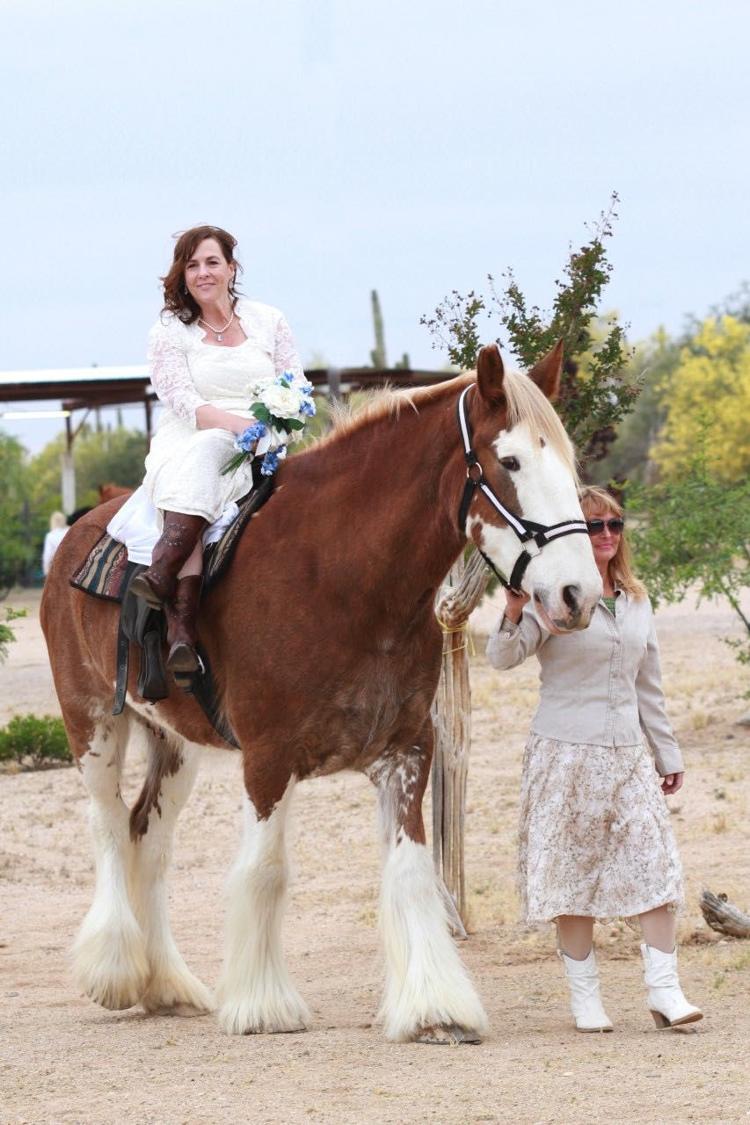 Roahrig says she has carefully created a herd of friendly but quiet horses that don't startle easily. Her ponies can endure screaming kids at a birthday party and the larger horses don't mind the hoopla of a wedding. Those events —  with birthday parties starting at $95 for one pony and weddings averaging around $290 — allow her to continue sharing her horses with children in hospitals and seniors away from their families. 
She now has about eight volunteers and 11 horses that live on two acres on a property between Red Rock and Marana. 
"They have a barn and a choice to go into the barn or not. They all live together and they're not penned up," she says. "They can run and roll and drink and sleep and do whatever they want out there. They pick their friends and buddy up together." 
She no longer does carriage rides at La Mariposa, but the therapy, parties and weddings keep her herd busy. 
"That's why I have so many horses," she says. "Because this week we went out four times, and that's four days with two visits a day. One pony would get to the point where it wouldn't matter if he was just standing there, he would get burned out." 
Kiiri Martin started volunteering with Step Up about four years ago. Roahrig, a neighbor, brought a Clydesdale to visit her sick grandfather. 
"He was ailing but he totally came to life," she says. "I saw the impact and it was really special. I wanted to be part of a therapeutic organization that is able to do that for others."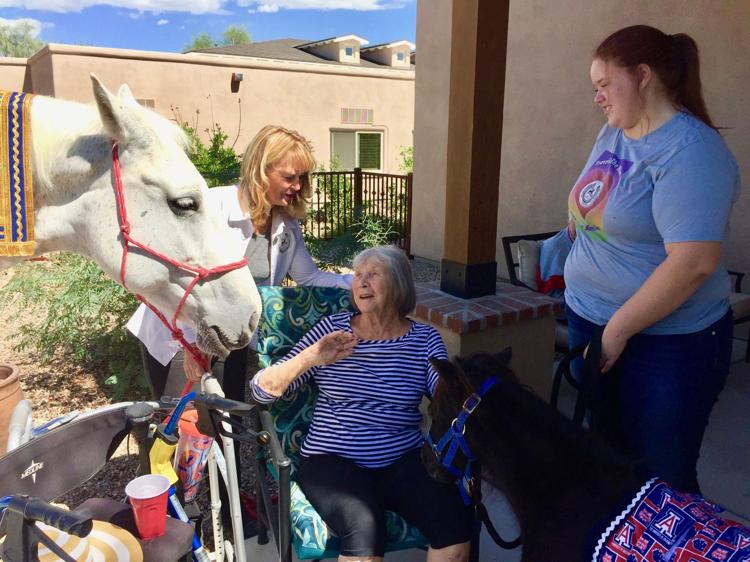 Roahrig has even shifted when her family eats holiday meals so that her Clydesdale can visit hospice patients. 
"It's more important to make those hospice patients' last holiday a little more meaningful, something better to remember," she says. "For the family, you remember so-and-so's last Christmas, but there was a Clydesdale in his room. That, to me, is what life is about, making those bright spots." 
At The Villas, which is also a memory-care facility, eyes light up as caregivers escort residents out to the patio where Jilly and Chauncey make rounds. Some reminisce about the horses they knew earlier in life. 
"It's sensory stimulation for our dementia folks, and it invokes memories, and it's a great way to meet other residents," says Michael Burton, the activities director at The Villas. "It becomes a social event as well as sensory stimulation." 
Not to mention the chance to create some new memories. 
Roahrig has visited the Villas for about five years. Every month, she tries to bring a different pair of horses. When it's too hot, a pair of miniature horses in tiny shoes delight residents inside. 
"This is about the third time I've petted and kissed them," says Joseph Hildebranski, a resident at The Villas. "It's very nice for older people. It's something to make everyone happier. It takes the worry out. You see the horse, you pet the horse, you're happy."