Updated Saturday, April 3 with new locations
For years now, Dephane Marcelle has traded plants and seeds with her friends, adding the extra seeds to the little free library that she has outside her home in Mesa.
"A lot of us already do stuff like that — it just wasn't official," Marcelle says.
But then in September, through mutual friends, the group of friends found Danica Tuxbury who actually turned the little free library concept into one for plants. Her stand sits outside her Phoenix home — made out of an old palette found in an alley, painted green with "Need a plant? Take a plant" written across the wood.
Tuxbury has seen everything from seeds, plants, cuttings, pots and gardening tools left at her stand from community members.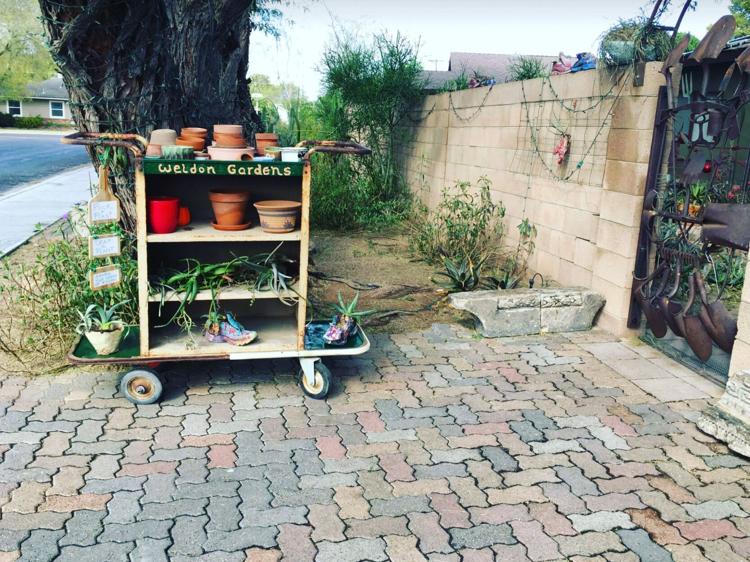 Anne Till, with the help of Marcelle, Deb Gain-Braley and Silvia Messmer, decided to make the idea official and in October created a Facebook group called Little Free Garden Stands of AZ to help organize the stands and share them with the community.
Just months later, the "little free garden stand" idea has grown across Arizona with more than 6,000 members in the group and more than 60 official plant stands — including six that have popped up in Tucson in the last few weeks. Many more are in the works.
"It's great because people in the community will get to know their neighbors," Marcelle says. "The joy of giving and seeing other people benefit from it — it's just a blessing to see that."
Arizona's first official stand
About a year ago, Tuxbury reconnected with a woman who was her boss during an internship for a city recycling department in Florida. The woman had changed jobs and now works for Keep Alachua County Beautiful, similar to the local initiative Keep Tucson Clean and Beautiful.
"She invited me to check out her Facebook page and she just happened to post this little free plant stand," Tuxbury says. "I was like, 'This is awesome. I need to bring this to Arizona.'"
Tuxbury put together a plant stand of her own, but waited for the summer heat to pass before she set it up outside her house.
"Somehow, the word spread," she says.
That's when Marcelle found her and decided to create the Facebook group, which Tuxbury now helps maintain.
"I was like, 'Wow, OK. This is exciting,'" Tuxbury says. "From there, people started telling other people about it and it just exploded."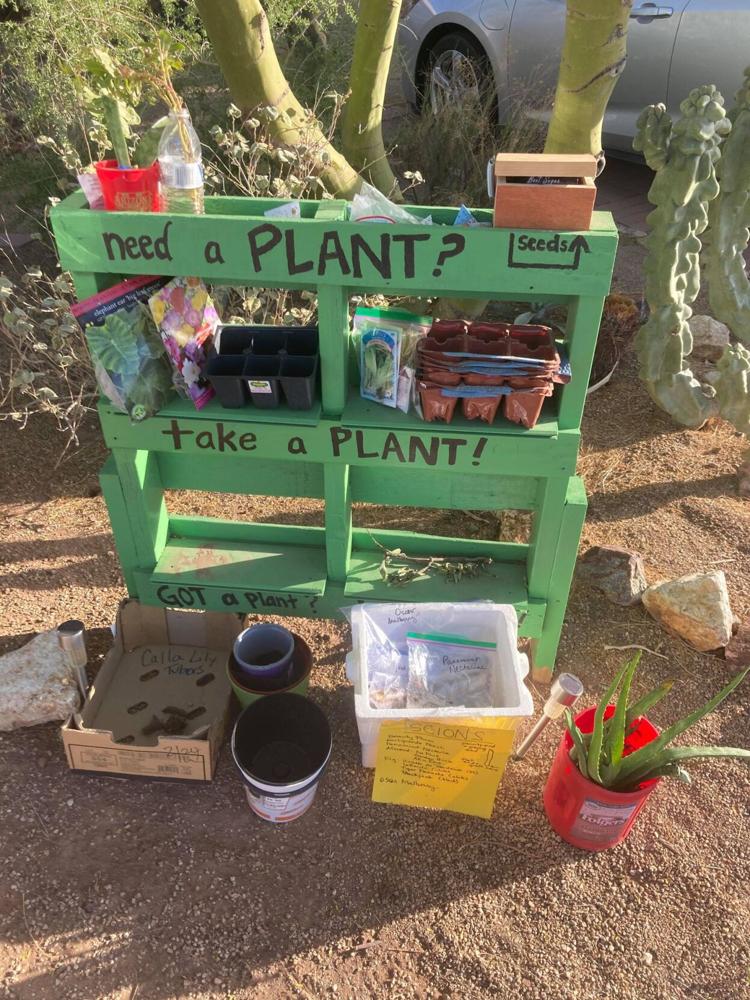 "I hope we get stands all over the state," she says. "Right now, we're only in Tucson and the Phoenix area and Casa Grande."
Tuxbury says the great thing about the free plant stands is there's no risk involved.
"When you first start learning (to garden), you're going to kill some plants. You don't mean to be murderous, but the reality is — things are going to die," she says. "It can be very expensive, so the free plant stands are such a great thing for new gardeners or people who don't have a lot of money to input."
Beyond the fact that little to no cost is involved, Tuxbury loves the accessibility of plant stands.
"I just hope we keep expanding and people keep making more of them," she says. "I'd love to be able to have more of them all over within walking distance of people's houses. I think it's really great to provide that to people in neighborhoods who don't have transportation."
Tuxbury also built a map for the group's Facebook page, which features multiple photos of each stand, including a photo taken from afar, so people in wheelchairs can see if they'll need to bring a friend to help them grab a plant.
Tucson's first stand
Tucsonan Ashley Atwood joined the Facebook group in early March.
"I found the Facebook group 'Little Plant Stands of AZ' and everyone was posting, asking if there is a Tucson stand, when there will be one, who would be the first," Atwood said in a social media message.
Only three days after joining the group, her plant stand was up and running.
"It was a fast turnaround," Atwood says. "I was so inspired."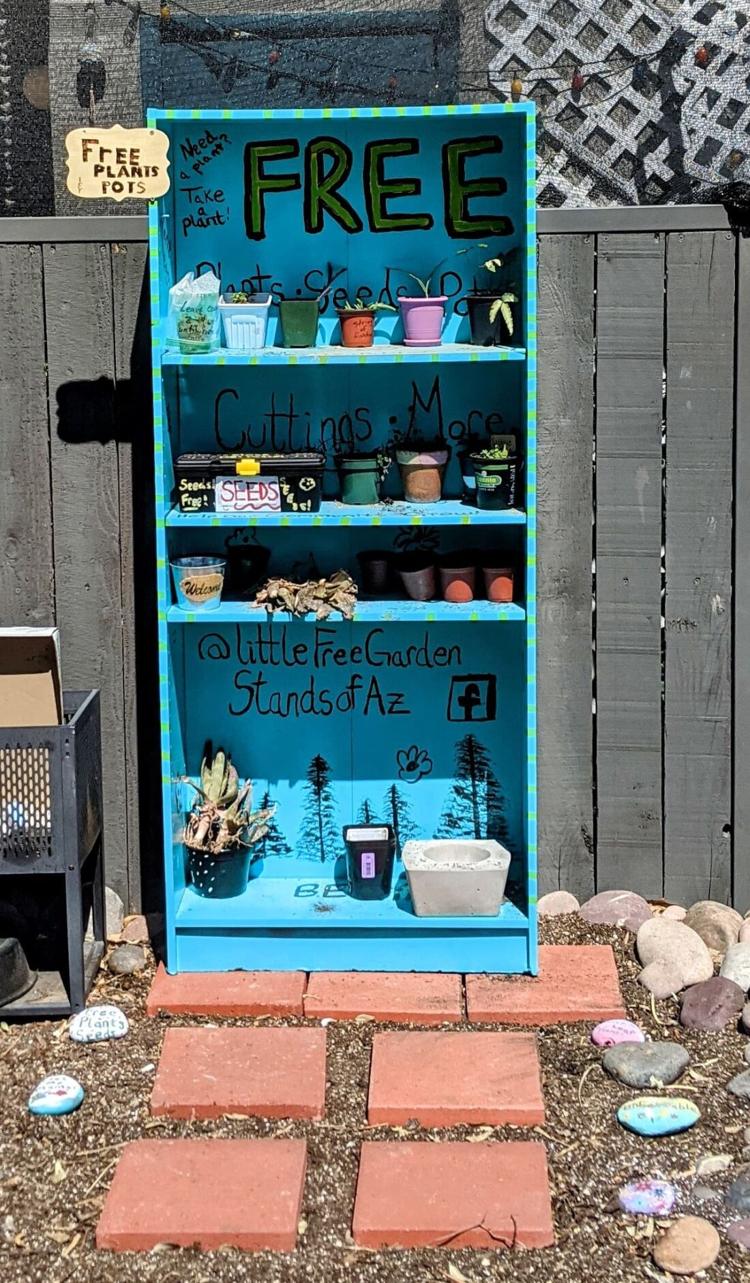 "I love plants and love helping people garden and realize that they can," she says.
And Atwood agrees with Tuxbury — the plant stands give people the "opportunity to garden without hurting their pocket."
"I think giving people anything is so rewarding, especially in a community setting where you can see your neighbors — their kids coming and taking plants and seeds and maybe even see what they end up growing," she says.
"And best of all, when they grow that plant, they will get to give back in cuttings or seeds — if they choose to — and the satisfaction from growing a plant to share that plant is so beautiful."
'Smile often, spread happiness and help those in need'
Tucsonan Jessica Cozzetti is new to gardening, picking up a monstera deliciosa from a local shop.
"After I bought that plant, I kinda became addicted to plants," she says. "A couple weeks ago, I spent quite a bit of money on plants, so I thought, 'OK, I need to not buy plants for a while.'" 
Then someone recommended she join a local plant swap group on Facebook, leading her to find the growing surge of little free plant stands in Arizona. Within a week of joining the group, her plant stand was up.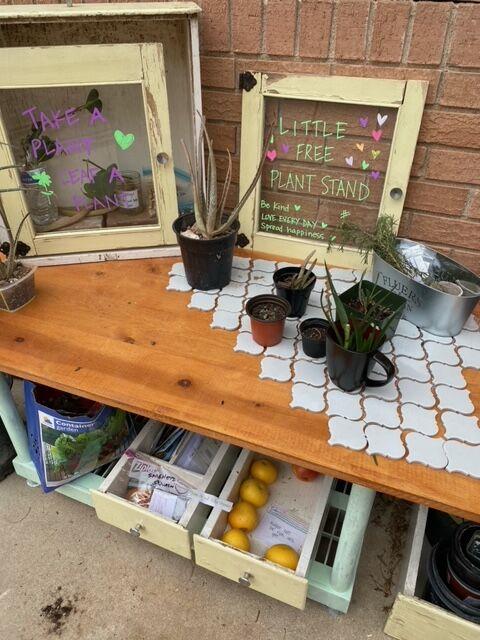 "Just the idea of sharing my recent love of plants with others while also not costing a fortune, I was just like, 'Oh yeah, let's do this,'" she says. 
"It's so exciting. I'm really happy that this kind of community has started," she says, adding that she's "blown away to see how generous people are."
Cozzetti also runs local nonprofit The Love Every Day Foundation, which is based on three tenets — smile often, spread happiness and help those in need. She thinks her little free plant stand aligns with those goals.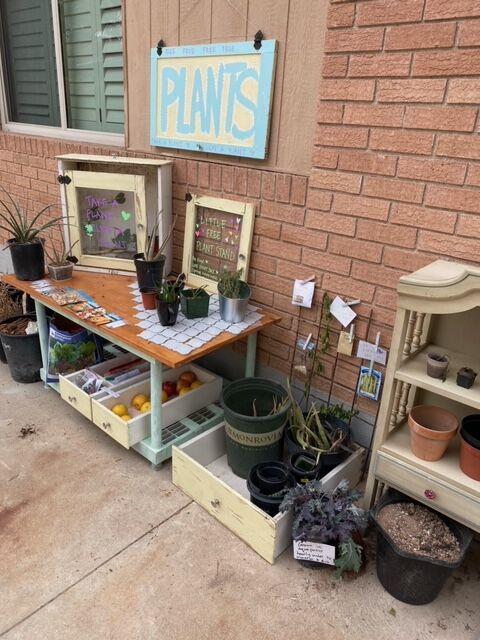 "I also think it's neat because it reduces waste as well, so if I'm trimming a plant and throwing it in the trash, versus if someone wants to take the cutting," she says. Many people, including Cozzetti, also build their plant stands out of found or recycled items. 
Now, Cozzetti is excited to use her plant stand as an opportunity to teach her kids to share with others and watch the plants grow from a tiny seed.
Find the stands
The Tucson stands can be found at:
Keep up to date with the group and any future stands by joining the Facebook group and bookmarking this map.