Times they are a changin'. People used to make tortillas here in this space, but now they make whimsical chocolates infused with mezcal and chiltepin peppers. Well, to be more accurate it's one person. You can see him through the window working on his colorful little chocolate buttons, flanked by a majestic tile mosaic. 
It's easy to hate on this concept; in fact you might be inclined to. Monsoon Chocolate sits at the beginning of the iconic South Fourth Avenue restaurant district, across the street from a Mexican soup counter. Just a couple blocks away is the spankin' new American Eat Co., and further down the road you'll see aging Mexican restaurants interspersed with lots of empty buildings. (Although Micha's is less of a building these days.)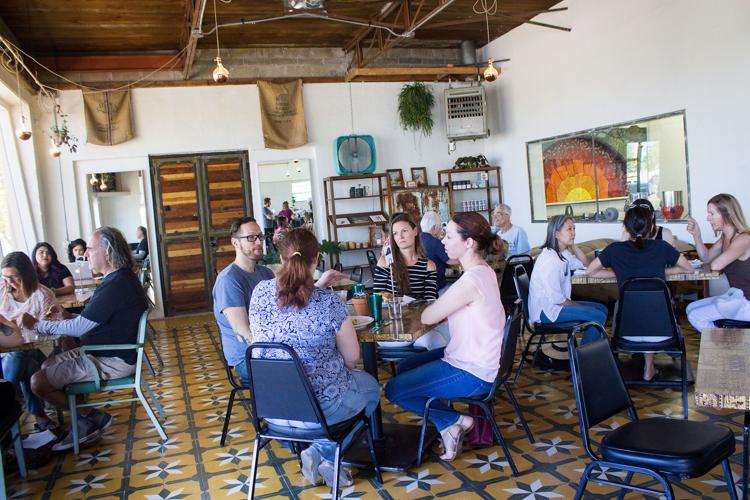 But this airy space feels precious. With its leafy plants and bohemian Spanish tile, you get the feeling someone put a whole lot of effort into this.
That would be Adam Krantz, the shop's chocolate whisperer and visionary. His artisan chocolates seem to be a hot commodity: The bars and mini "bon bons" were sold out on two separate occasions I visited. You can see why though. He makes his chocolates all the way from cacao beans, without using automated machines like you'd see at industrial chocolate makers. A lot of labor goes into his little bulbs, which look like sprockets covered in nail polish and taste like heaven. 
This ain't no touristy chocolate cafe though. In fact right now, it's easy to get out of there without trying any chocolate. (They just opened May 2, so they're still working out how to keep up with demand.) The cafe has a breakfast and lunch menu that feels heavily curated and not that approachable ... but very good. Basically it's one of those menus where you look at the long list of ingredients and still feel unsure what the dish is.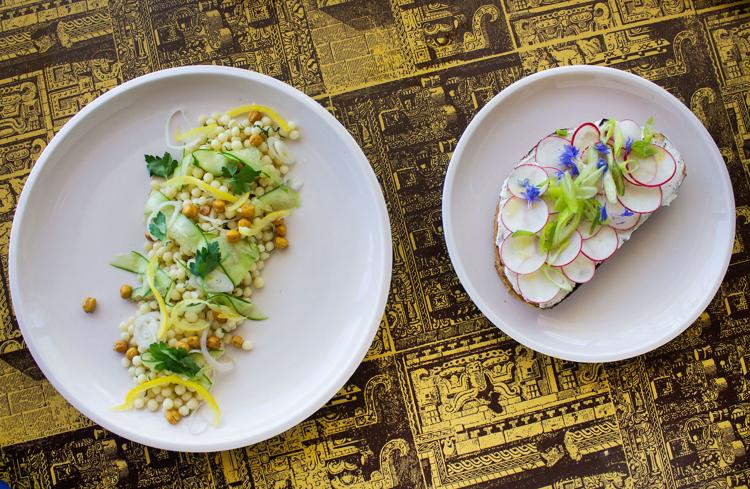 Take the maftoul salad for example, composed of "Lebanese couscous, sumac spiced garbanzos, preserved lemon, cucumber, shallot, parsley, mint, argan oil." Doesn't quite sound like a salad to me. But in fact it's rather fresh, with whispers of raw vegetables and spiky slivers of bright lemon peel on top of puffy couscous balls. The garbanzo beans tasted like Middle Eastern corn nuts; They added an addicting crunch to the mix.
The menu is a hodgepodge of trendy California cafe foods and nouveau Mediterranean, like from the vibrant pages of an Ottolenghi cookbook. There's smoked avocado toast that's littered with lots of funky pickled fennel (as if it's a challenge). And then you see Mediterranean yogurt all over the place, like in the radish toast that's studded with beautiful purple cornflowers.
Also, they make their own bread. It's choice. I ignored the "Sandos" and went for the toasts on two separate occasions, because they're prettier and you get yourself a big old slab.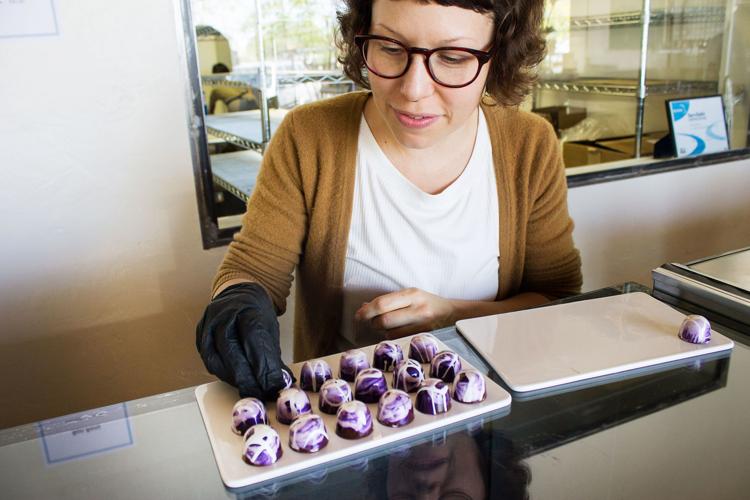 Right now most of the chocolatey treats are on the drinkable side. On one visit I tasted a bottled cacao juice, which is made from the fruit that produces the cacao bean that makes chocolate. Previously this fruit was considered a waste product, but companies like Repurposed Pod are turning it into a mellow juice that reminded me of sweet pineapple. The frozen hot chocolate is a little confusing in name, but it's actually just a chocolate shake with "nibs" and coconut cream that gave it a malted flavor. It's served in a cute little pink cup that keeps it cold, with a nondisposable straw.
All of this is to say that Monsoon Chocolate works by itself, even without the second word in the name. It's a gorgeous space with some really excellent Japanese cold brew coffee, easy parking ... and it's right at the base of an up-and-coming neighborhood. With North Fourth Avenue all topsy turvy right now, going through a culture clash of hippies/hipsters vs. high-rise apartments, it looks like more trendiness is in store on South Fourth.
Walking in and seeing the people milling about and the chefs in their fancy coats, it just feels like something is going on down here. Of course that vibe carries over to the social media world. Look no further than that big vat of melted chocolate on their Instagram posts. This place is definitely stirring things up ...
Monsoon Chocolate is at 234 E. 22nd St. Phone: 520-396-3189. Hours: 7 a.m. to 3 p.m. Wednesdays through Sundays.