They're made mostly out of steel, after all. 
The temporary exhibit Borrowed Time / Borrowed Books, created by Baltimore-based miniatures metalsmith Jill Orlov, explores the value of reading and libraries through miniature, artistic versions of libraries you may recognize from the screen — "The Breakfast Club;" "All the President's Men;" "Wings of Desire;" "Fahrenheit 451;" "The Time Machine" and "Time Enough at Last," an episode from the first season of the "The Twilight Zone."
"Her interpretations are more artistic interpretations that capture key elements from the scenes," says Lisa Hastreiter-Lamb, the executive director and curator of the museum.
About 700 mini books line the shelves of the little libraries on display.
Orlov, a former architect, contacted the museum about a year ago about developing an exhibit, says Hastreiter-Lamb. The Mini Time Machine Museum of Miniatures is the exhibit's debut. Orlov studied the libraries on screen and their real-world counterparts, eventually using metal and found objects to create the miniatures. 
Hastreiter-Lamb says this is the museum's first show where metal is the primary material used. 
Orlov "thought it was fascinating that so often in futuristic interpretations of the world, when they depict libraries, they show shelves of books," says Hastreiter-Lamb. "But today libraries are less about books on shelves and more about access to information." 
Although the miniatures aren't (in most cases) direct replicas of movie scenes, the details are fun to look for. 
In the Library of Congress imagining from "All the President's Men," Orlov uses a coiled bike chain and pieces of printing press plates inscribed with presidential quotes to form the desks. "The bicycle chain is meant to give you the idea of the press rolling and moving," Hastreiter-Lamb says.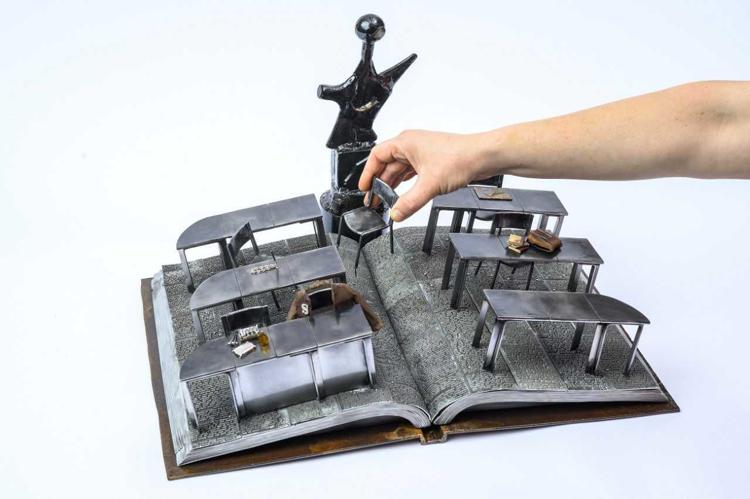 In "The Breakfast Club" library, Orlov used wire mesh to make athlete Andrew Clark's jacket and Allison Reynolds' backpack. 
And for "The Twilight Zone" episode (Back story here: The episode is about a banker who loves to read despite the ridicule of his coworkers. He uses his lunch break to read in the bank vault, but the apocalypse happens while he's in there and he realizes he has all the time in the world to read), Orlov mimics architecture from the New York Public Library in overturned arches. 
---
If you go
What: Borrowed Time / Borrowed Books
When: Through Sept. 15 (The museum will be closed from August 17-31).
Cost: $10.50 general; $7 for ages 4-17 or students with ID; free for kids 3 an younger or museum members
More information: Go here