"It's always an adventure with the Campus Pantry, it really keeps me on my toes and has really taught me to be a really creative thinker," says Davenport who graduates from the UA today. 
When nearly the entire UA campus shut down weeks ago due to the coronavirus, that just meant a new adventure to tackle for the student-run organization. It's one of the few places on campus where students and staff who need extra help or could not go home can get food for free. 
The pantry, which started in 2012 to address food insecurity among UA students, faculty and staff, can best be described as a mix between a food bank and grocery store, says Davenport. 
"Food bank in the fact that we distribute food and grocery store in the fact that folks who come to the pantry get to pick," she says. "So, we're not really handing out like food boxes or food bags. People actually get to go around and pick what they want."
Everyone who uses the pantry gets 4 points each time they visit to use toward whatever produce, shelf-stable foods and packaged meals they'd like. Items range from .25 points for a piece of produce to .5 points for a can of beans. 
During a normal semester the pantry serves more than 1,000 people each week.
"There are so many students who regularly have to go without groceries, whether because that's lack of financial access, lack of transportation access, lack of time, lack of whatever it is," Davenport says "And so those are the students who still don't have resources in the pandemic."
For the last few weeks the pantry has been open three days a week and has seen between 150-175 people coming to get food each day. The university let the pantry temporarily move into a bigger space on the lower level of the student union typically used for special events, so there's more space for distancing. Only 10 people are let in at one time. Staff and volunteers wear face masks and gloves, and frequently wipe down surfaces. 
Many students are using the pantry, particularly international students who couldn't return home when the campus closed and for those who lost their main transportation to the grocery store when the university suspended the CatTran, its free shuttle service.
The pantry has also seen an increase in the number of staff who need help with food.
"One woman the other day told us that her son and husband had just gotten laid off and so she's the only one still working so she was really glad that we were open," Davenport says. "People will tell us about their families that they have to feed or a couple of people bring their kids with them to distribution. Especially with all the things coming out about furloughs and different things like that it's hard for everyone right now."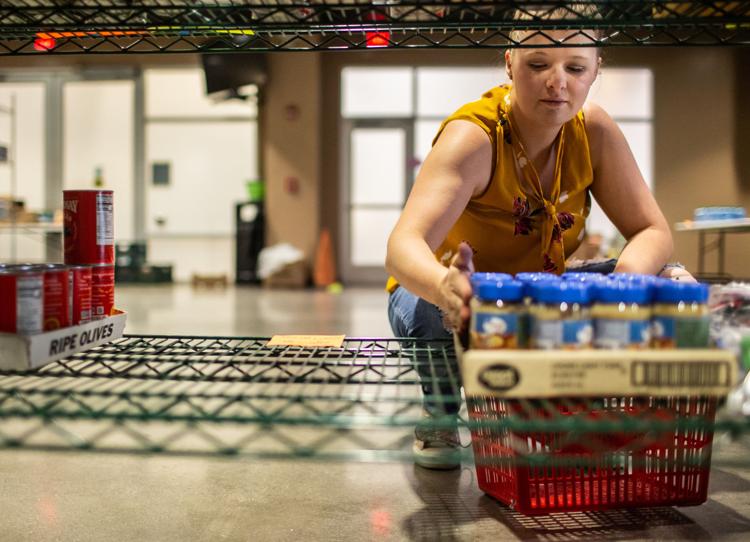 For the first time the pantry will remain open this summer, two days a week, to continue to support the campus community. The pantry planned to stay open this year even before the pandemic hit, but they only planned to offer pre-filled food bags with only non-perishable items. Since fresh produce and eggs are among the items most requested by people recently, the pantry will keep its distribution the same and allow people to come in and select what they need, pantry coordinator Bridgette Nobbe says. 
Nobbe says there are plenty of volunteers to help with distribution this summer now that students' internship plans are canceled, or they're working fewer hours or not at at all and have more time to give.
Many volunteers are those who have used the pantry themselves and are eager to give back, like Lisa Sene, a junior who has used the pantry since she was a freshman. 
"It has helped me not stress or worry where my next meal will come from because I feel secure in knowing that I can walk over to the Campus Pantry and pick up things like pasta, bread, or beans," she said via email. "I know when I was a freshman, I didn't have access to a car to go to the grocery store nor did I have a lot of money to purchase healthy and nutritious meals for myself so having a program like Campus Pantry really benefited me especially since it is on campus and all you need is a Cat Card."
The university recently launched a crowd-sourced student emergency fund to help cover expenses like rent, medication and utilities for students financially impacted by COVID-19, and to help raise money for the Campus Pantry so it can continue supplying food to the campus community.
Nobbe says that more than 60 percent of students who have applied for the fund are using the $500 payments they receive for food and rent. 
"It's so common that people think students can pick up and go home... those aren't the students that I see on a daily basis," Nobbe says. "The students I see are the international students whose parents selected one of their children to get an American education to support their families for generations to come. There's like 100 students on campus who aged out of foster care and were emancipated minors, and when they came to college were dropped off with like two bags of clothes. It's such a privilege to be able to say they can go home to families and they have another resource, but those aren't the students we're seeing."