You can find al pastor all over Tucson, but it's very rare to see it made like this: Roasted on a stick they call a trompo, which fires up the chile-glazed pork layer by layer. A mound of spinning al pastor meat is almost like a beacon, leading you to the most delicious porky tacos.
A new concept at American Eat Co. is bringing this iconic Mexican technique to South Fourth Avenue. Sonoran natives Raúl and Denise Leyva opened El Tacoson last week at the south side food hall, offering a menu of Sonoran taqueria classics.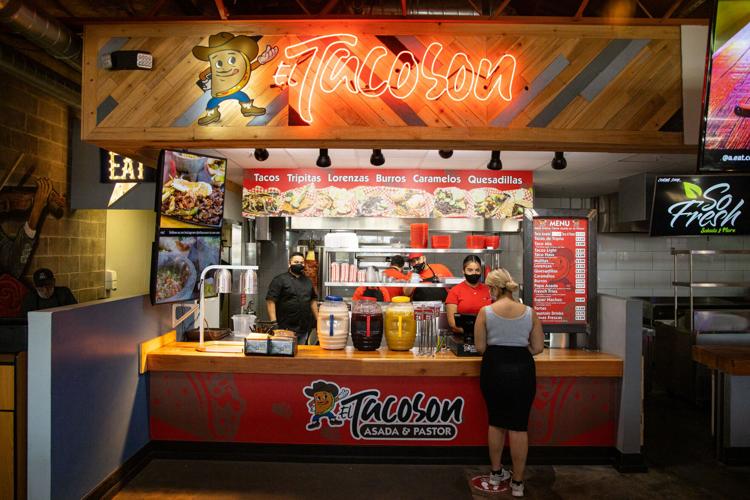 The stand specializes in al pastor and carne asada meat, doing them up in a variety of ways including burros, lorenzas, caramelos, papa asada and more. It's a natural next step from the couple's other concept at American Eat Co., Mariscos el Bochas, which does michis and gourmet Sonoran seafood towers that border on art.  
Raúl starts to make the trompo the day before, marinating slivers of pork in the classic spice mixture that includes chiles and achiote paste. It takes him an hour to layer the pork into the healthy stack you see here, topped with a pineapple that gets carved up and thrown into your tacos.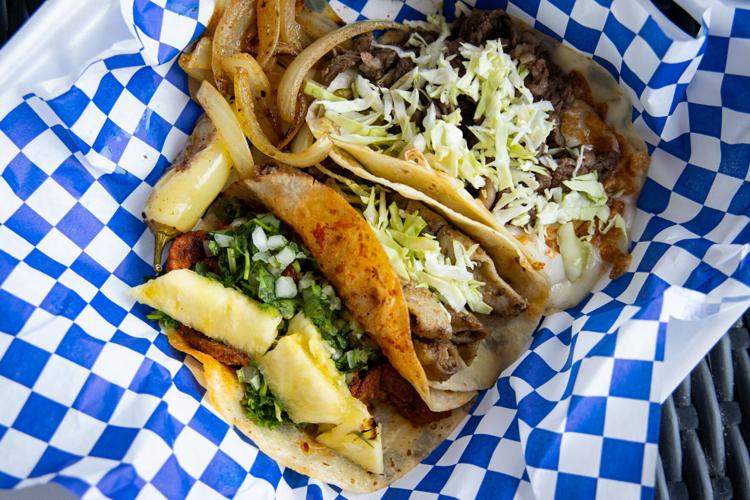 I stopped by yesterday to check it out, and I definitely recommend getting anything with the al pastor, which was tender and super flavorful. But if you like it crispy, you might want to mention that while ordering. The pork would have benefited from a little more time on the flattop. (Same with the tripas.) Make sure to throw on some of that smooth pineapple salsa they got going. It's 🔥!
Also new: GM Kitchen 86
The food hall also welcomed a new sandwich spot, which opened Sept. 10 in the spot where Arizona Rib House used to be. Chef Jorge DeLeon is a seasoned industry buff, who graduated from Le Cordon Bleu in Pasadena and has worked various roles in resort kitchens and banquets. When COVID-19 hit in March, Jorge and many of his coworkers were laid off of their jobs at the Ritz-Carlton Dove Mountain. 
Luckily he already had a catering company he called GM Kitchen 86 (which refers to the cooking term when a kitchen is out of a product, it's 86'ed). And now Jorge has his own spot, where he's created small menu of gourmet sandwiches with an international flair.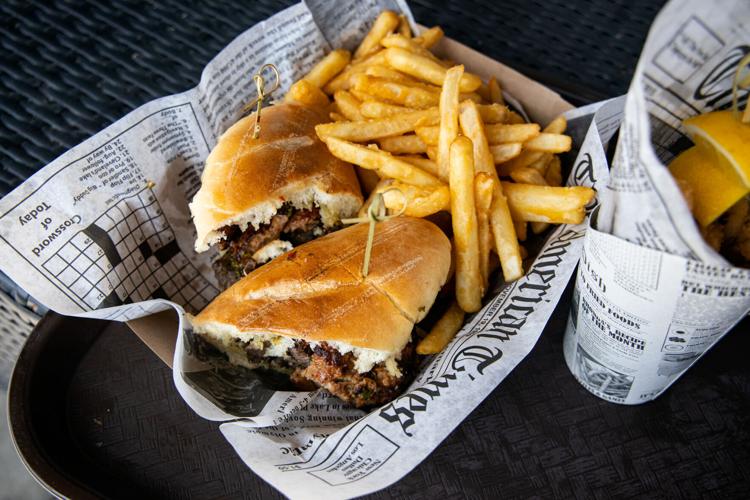 I was extremely impressed by El Guacho, his take on the traditional Argentinian choripan sandwich, with sausage and fat chunks of carne asada in a light chimichurri sauce. It felt like I could pay a lot of money for this sandwich at a fancy pool somewhere, but here it was within my reach! Jorge's also got a couple of fun appetizers presented in a European way inside a cone lined with newspaper. I tried the calamari, but next time I'm going for the fried cauliflower with truffle flavoring, capers and parmesan cheese. 
And two more on the way
• Coming up this Saturday, the owner of Pops Hot Chicken is opening a second concept that does raspados using Hawaiian shaved ice, which has a finer texture than your typical raspado. Peter "Pops" Yucupicio's new stand Hielitos is going in where the carniceria once stood. He's making everything from scratch, including fresh fruits and syrups in five different flavors: mango, strawberry, lime, watermelon and horchata.
His specialty item is the michi-agua, which is basically a nonalcoholic agua fresca with michelada flavors like chamoy and Mexican candies. He'll also do Mexican snacks like tostilocos and tosti-frutas with fresh fruit on top of the chips. (Full disclosure: Peter and I collaborate on a local food and dating podcast called Grubbers.)  
• And last but not least: Opa! Time is out, and a new salad spot called So Fresh is moving in its place around October. The concept is a collaboration between American Eat employee Tai Ung and Nene Vargas of Monster Sonoran Hot Dogs. The two plan to serve customizable salads with housemade dressings, like one that includes pureed bacon. They also intend to have meal prep options for grab-and-go.