Fall typically makes people think of changing leaves, pumpkin spice and chunky knit sweaters. But in Tucson, fall means the return of Chinese chorizo.
After last year's impressive turnout, the Tucson Chinese Chorizo Festival is back and bigger than ever, providing the community with another opportunity to ask how the sausage gets made.
"Tucson really blew my expectations of what this festival could look like and I was just so touched by the community and the response that I really wanted to bring this festival to a new level, so we expanded tremendously," said Feng-Feng Yeh, the organizer behind the festival. "We have about 35-plus partners in the festival this year and we're expanding to Phoenix."
Starting Oct. 1, the month-long festivities kick off with sweet and savory mooncakes to celebrate the Chinese Mid-Autumn Festival at the Gastronomic Union of Tucson's Fall Harvest Festival. The rest of the month's lineup includes a MOCA Tucson Chorizo Dancehall Fall Fundraiser that will feature a chorizo sausage link piñata, a talk/workshop with Feng-Feng at the Center for Creative Photography and an American Horror Story Halloween dance party.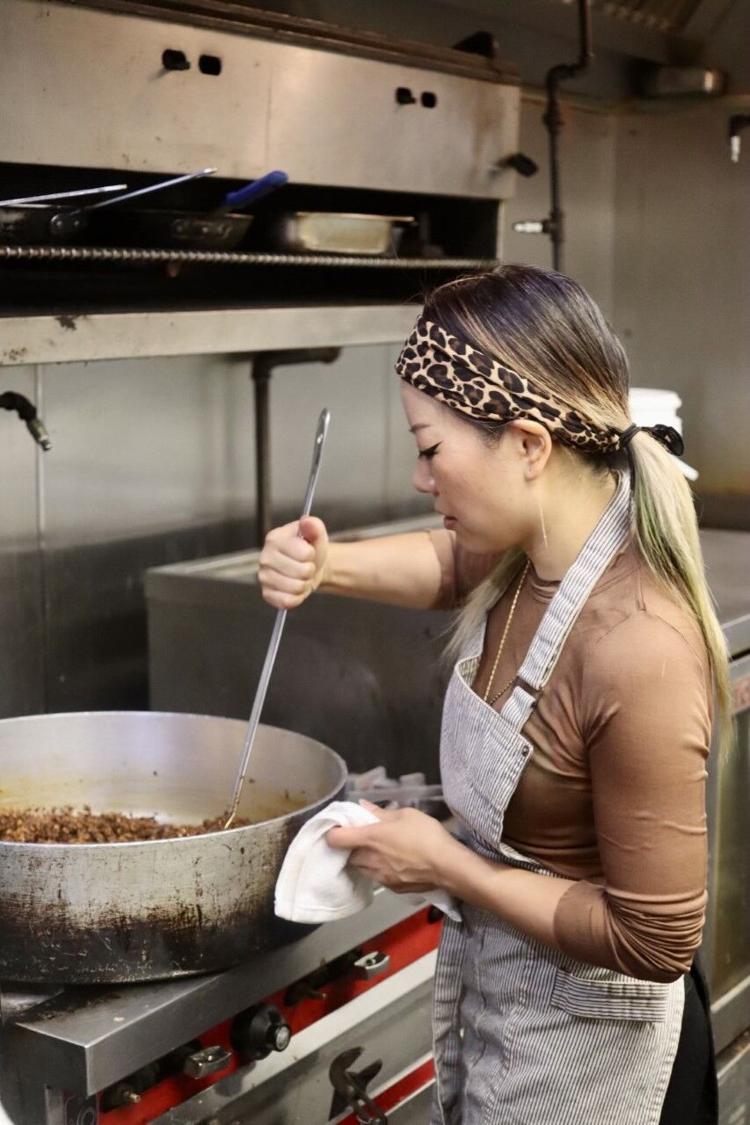 In the middle of the month, Feng-Feng will be taking Chinese chorizo to the valley, with events at different Phoenix restaurants and at the Asian Chamber of Commerce Night Market, which is the largest Asian night market in Arizona.
Aside from the events, community members will also get the chance to visit participating restaurants throughout October where Chinese chorizo will be used in everything from pizza to pasta. Last year's favorites like Ceres and Fatboy Sandos will be back, as well as new places like Barrio Bread.
"It's not just brick-and-mortar," Feng-Feng said. "It's up-and-coming people that you should be watching and places that you love, so it's going to be really fun."
The Chinese Chorizo Project along with Sito's Fresh Market will be donating 1,200 pounds of chorizo to this year's participating restaurants and vendors, double the amount from last year. Each participating restaurant and vendor will get 15 pounds of pork-based chorizo and 15 pounds of vegan mushroom-based chorizo to create their dishes.
Since Tucson is a UNESCO City of Gastronomy, it only makes since that Chinese chorizo originated here, with over 100 Chinese grocery stores in the area by 1950. At that time, there were laws working against immigrants and their existence, so these grocery stores helped the community get through hard times, Feng-Feng said.
"In those Chinese grocery stores, they used those end cuts or things that were going to waste and revived it with Mexican spices, chiles and red wine," Feng-Feng said. "It turned something that was very undesirable to something that was very sought out after. I just thought that was like a really beautiful metaphor for the immigrant experience. Because it's like, you know, you're not given a lot coming into the country and look at what they built."
With the help of Tucson chef Maria Mazon of BOCA and Tran's Fats owner Jackie Tran, Feng-Feng was able to create a modernized version of the Chinese chorizo, which is what gets donated to the participating restaurants for the festival.
"Throughout the year, people have been like, where can I buy this, because I don't have a shop or restaurant," Feng-Feng said. "I only do these exclusive pop-ups and the festival once a year, so someone said that it's kind of like pumpkin spice."
While the festival does bring tasty new dishes to Tucson, it also represents a bigger meaning: community. During last year's festival, Feng-Feng said various people who also have mixed identities came up to her or wrote to her and spoke about their own experiences. Some people even ate the original Chinese chorizo from decades ago.
"This whole project is kind of like redefining or reclaiming the idea of American food," Feng-Feng said. "American food is not just like hamburgers, hot dogs and French fries. American food is the food of its people and we are people that are a part of huge mixes and backgrounds."
While you can get Chinese chorizo at participating restaurants, the festival also has a lineup of events:
Oct. 1: Gastronomic Union of Tucson Autumn Harvest Carnival.
Oct. 4-7: Get Chinese chorizo creations from participating Tucson restaurant, Ceres.
Oct. 6: MOCA Tucson Chorizo Dancehall Fall Fundraiser.
Oct. 6-8: Get Chinese chorizo creations from participating Tucson restaurants: BOCA, Cafe a la C'Art and Falora. 5 Points will have chorizo in bulk.
Oct. 8: Tucson Museum of Art's 2nd SundAZe and Southwest Art Exhibition with Ate Kei Treats, Phatboiis BBQ and Fungirl's Fungi.
Oct. 13-15: Get Chinese chorizo creations from participating Tucson restaurants: Barrio Bread, Borderlands Brewing in Sam Hughes, Ermanos, Fatboy Sandos (Tucson location), Fresco, Noodies, Penelope Pizza, Playground and Tucson Tamale.
Oct. 14: Activism in Motion (AIM) talk and workshop with Chinese Chorizo Project founder Feng-Feng Yeh at the Center for Creative Photography.
Oct. 20-21: Asian Chamber of Commerce Night Market at the Desert Diamond Casino West Valley location in Phoenix
Oct. 20-22: Get Chinese chorizo creations from participating Phoenix restaurants.
Oct. 27-29: Get Chinese chorizo creations from participating Tucson restaurants: 5 Points, Anello, The Delta, El Chinito Gordo, Feast, Houlden's Rise Above, La Chingada, Tran's Fats and Zio Peppe.
Oct. 28: Queer AF American Horror Story Halloween dance party at Owls Club with food curated by the Chinese Chorizo Project.
Nov. 7: VIP afterparty.
For more information on the festival, visit their website.