For decades, Tucson Meet Yourself has provided the community with an opportunity to try new foods and flavors from various cultural backgrounds, and this year is no different.
Since the folklore festival is celebrating its 50th anniversary this year, it's only fitting that they are featuring over 50 food vendors that will bring their heritages to downtown Tucson. From French to Egyptian food, the festival has it all and everything in between.
The festival takes place at Jácome Plaza, 101 N. Stone Ave., from 11 a.m. to 10 p.m. Friday-Saturday, Oct. 13-14 and from 11 a.m. to 6 p.m. Sunday, Oct. 15. The weekend will be jam-packed with food, art and live performances.
With so much to choose from and only three days to try it all, we are highlighting each food vendor to help make your "Tucson Eat Yourself" experience a tasty success.
1. Acai Paradise & Antojitos De Mi Tierra
This Colombian and Brazilian food vendor features both sweet and savory goods such as arepas, empanadas, buñuelos and pasteles de yuca. If you are craving a fruitier treat, they also offer acai fruit bowls.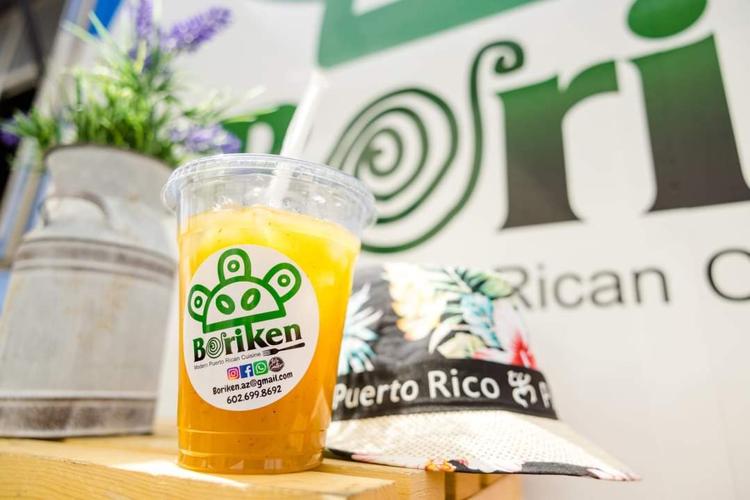 2. Boriken Modern Puerto Rican Cuisine
This Puerto Rican food truck prides themselves on using heirloom recipes that have been passed down from generation to generation. Chef Carlos Garica was born and raised in Guaynabo, Puerto Rico and has worked at various five-star resorts, eventually starting his own restaurant on wheels. The truck offers boricua nachos with plantain chips, an empanada sampler and the jefe bowl, which includes roasted pork and pigeon pea rice.
3. Café Francais
Craving something sweet? Café Francais has got you covered! Since 2019, this café has been bringing France to Tucson with authentic French pastries and bread. Former #ThisIsTucson food writer Ellice Lueders even gave them a shoutout in her best pastries list. For their third year at the festival, they will be serving French cinnamon twists, chocolate croissants, almond croissants and chocolate caramel tarts.
4. Café Santa Rosa
This family-owned restaurant serves traditional Native American food as well as Mexican food. Sylvia Gonzales, one of the owners, grew up watching her mother and father cook, which led her to learn how to make popovers, also known as frybread, and Mexican food. For the festival, Café Santa Rosa will be selling burgers, red chile tacos, red chile popovers and much more.
5. Che Café Empanadas Argentinas
Argentine empanadas are these vendor's specialty. With so many flavors to choose from, Che Café Empanadas Argentinas is sure to satisfy any craving. Throughout the weekend they will be offering beef, chicken, empizza, humita and apple pie empanadas.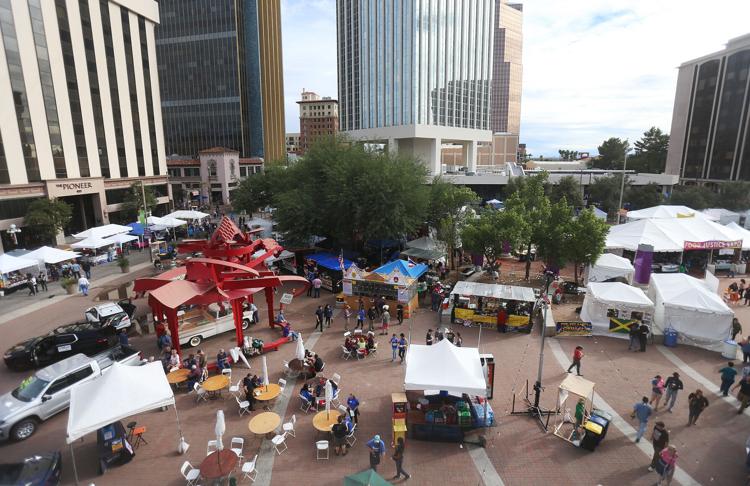 6. Chinese Student Association
New to the University of Arizona, the Chinese Student Association wants to bring Chinese diner-style goods to Tucson. Sweet breakfast treats like bubble waffles and Hong Kong-style French toast will be available as well as boba milk tea.
7. Churros El Rey
Who doesn't love a good churro? Churros El Rey combines Spain and Mexico traditions to provide customers with a flavorful churro experience. Churros El Rey will be selling original churros, filled churros, churro sundaes and a wide variety of tasty drinks like frappes and hot chocolate that pair perfectly with the sugary treat.
8. Churros Inzunza
Churros Inzunza uses a family recipe to make traditional Mexican churros. There is even an option to get a lasso-like churro that is sure to put a smile on all churro lovers' faces. Aside from churros, Churros Inzunza will also be selling choco-flan, cinnamon rolls, plátano frys, horchata and cóctel de elote.
9. Club Colombia de Tucson
Club Colombia de Tucson has been promoting Colombian culture in Tucson since 1984. The nonprofit organization, which collects funds for local and Colombian charities, will be serving empanadas, arepas, cocadas and Colombian coffee.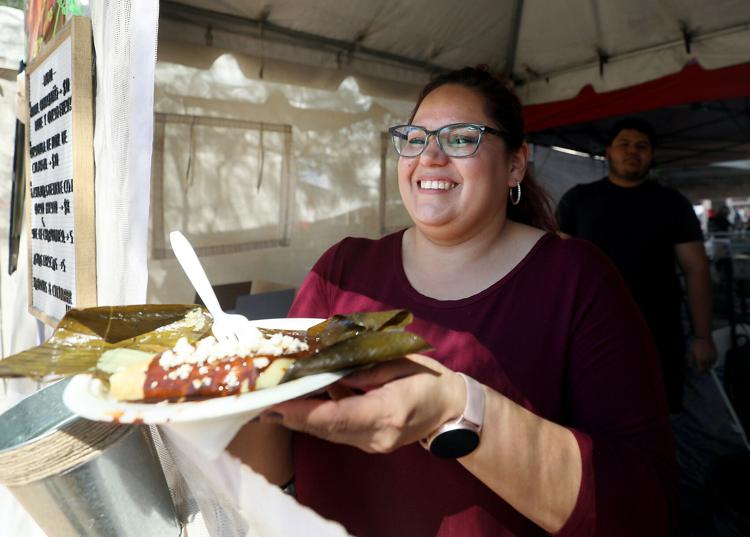 10. Cocina Oaxaqueña
Originally from El Espinal, Oaxaca, Mexico, José Toledo credits his grandmother and mother for his love of Oaxacan cuisine. Now, Tucsonans can try his family's mole sauce along with other Oaxacan dishes. Tamal oaxaqueño, quesadilla de flor de calabaza and enchiladas de queso con mole will all be available at the festival.
11. Coyote Kitchen — O'odham Frybread
Can't decide between sweet or savory? Coyote Kitchen's got you covered! They will be selling frybread with the choice of red chile, green chile, beans, honey and powdered sugar.
12. CP's Wings
You can never go wrong with some good old-fashioned wings. CP's Wings will be at Tucson Meet Yourself selling a five-piece wing meal that come with fries or veggies, a sweet bread roll and a ranch cup.
13. Eatgypt
This vegan vendor is bringing Egypt's national dish, Koshary, to downtown Tucson. Koshary is a combination of rice, pasta, lentils, crispy fried onions and chickpeas that is topped off with a tomato sauce. Aside from Koshary, Eatgypt will also be selling baklava and karkade, a drink made with hibiscus, lemon juice and sugar.
14. El Caiman (Caribbean Heritage Foods)
El Caiman uses Cuban and Caribbean flavors and family recipes to make both traditional and re-imagined Caribbean dishes for all to enjoy.
15. El Rustico
After getting its start at the Tohono O'odham Swap Meet, this midtown restaurant honors the traditions of Coahuila, Mexico, where the owner Juan Almanza learned to cook. To keep all the flavors intact, Almanza grills the meat over low-heat charcoal and lets it roast slowly. At the festival, you will be able to try El Rustico's asada, pastor, tripa and much more.
16. El Trompón Mexican Taqueria
At El Trompón, you can get al pastor or carne asada tacos. Hot dogs and aguas frescas will also be available for purchase.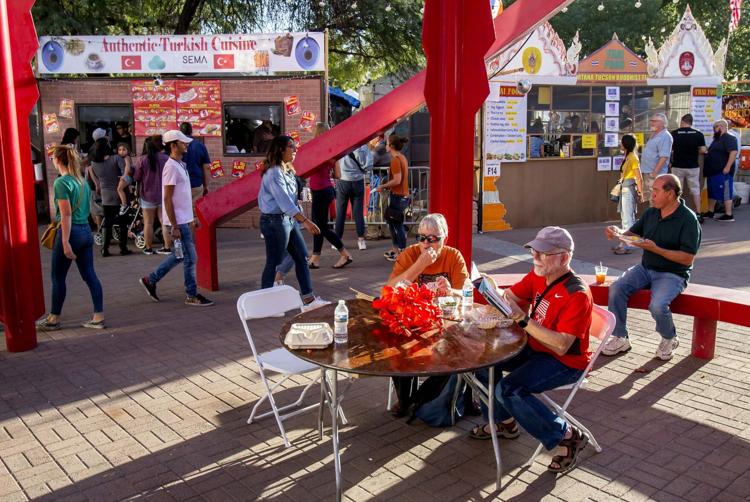 17. Empanadas El Dominicano
Former Dominican professional baseball player Wander Pérez opened Empanadas El Dominicano in 2021 in hopes of sharing his culture and pride with the Tucson community. Ground meat, chicken, chorizo and green chile empanadas will all be available at this year's festival. They will also be selling morir soñando, which is a Caribbean drink with milk, lime and ice.
18. Food 2 Door Catering
This vendor has been bringing home-cooked Persian meals to Tucson since 2021. Kashk bademjoon, a popular Persian appetizer made of sautéed eggplants, onion, garlic and dried mint, will be at the festival. They will also be serving saffron sharbat, a drink made of rose water, saffron and chia seeds, which sold out at last year's festival.
19. Friesy
Friesy takes fries to the next level, adding an Arabic twist to the classic side dish. Their festival menu includes multiple flavors including shawarma chicken, shawarma beef and a dynamite flavor with crispy fried chicken and sauce.
20. HBCU College Tour Group
Alumni from historically Black colleges and universities are coming together for Tucson Meet Yourself, bringing the three Fs: fun, food and family. Popular Southern dishes will be served such as ribs, barbecue shredded beef sandwiches, peach cobbler and sweet potato pie.
21. Hawaiian Shave Ice
Need a refreshing snack after walking around in warm weather? Hawaiian Shave Ice is the perfect pick-me-up. There are 26 flavors to chose from, including two sugar-free options.
22. Herculean Chicken
Herculean Chicken's specialty is their Taiwanese-style fried chicken. For their second year at the festival, they will be serving fried chicken breast cutlets and popcorn chicken.
23. Inca's Peruvian Cuisine
This restaurant uses ingredients imported from Peru to create their authentic Peruvian dishes. They were even featured on Guy Fieri's "Diners, Drive Ins and Dives" back in 2018. Papa rellenas, ceviche pescado and anticuchos will all be available at the festival.
24. J's Kettle Corn
You can't have a festival without kettle corn. At J's Kettle Corn, you can get your sweet and salty fix.
25. Just Churros
After opening a brick-and-mortar in June, Just Churros' famous yellow food cart will be at the festival. With a family recipe that goes back generations, it's no wonder they get rave reviews.
26. Kingdom of Kongo Women's Association
This vendor serves African food from the region of Congo. Their festival menu includes peanut butter chicken, fried plantain bananas and beignets.
27. Kingston Kitchen
Try authentic Jamaican food at Kingston Kitchen where they will be serving up jerk chicken, curry chicken and curry goat and oxtail.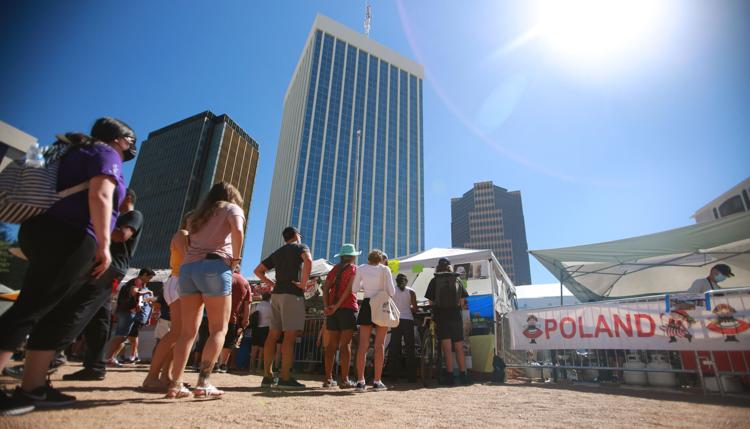 28. Lajkonik Polish Folk Ensemble
Lajkonik Polish Folk Ensenble has been serving Polish food to the Tucson community since the festival's second year. Kielbasa, which is Polish sausage, pierogi and potato pancakes are all on the menu.
29. Laos Academic Organization
Laos Academic Organization is giving the Tucson community a little taste of traditional Laos food. They will be serving veggie egg rolls, papaya salad, larb chicken and Laos sweet tea.
30. Los Chiquilines Aguas Frescas
Los Chiquilines Aguas Frescas has been at Tucson Meet Yourself since the beginning. Make sure to stop by if you are craving traditional Mexican drinks such as horchata, jamaica and tamarindo.
31. MAD Filipino Cooking
Try sweet and savory Filipino dishes at MAD Filipino Cooking's booth where they will be selling chicken skewer plates, fried adobo wings plates and white chocolate chip ube cookies.
32. Malta Joe's Baked Goods
This vendor will be serving up Maltese pastries called pastizzi, which are made with handmade phyllo dough and filed with ricotta cheese or spilt pea and curry.
33. Mangos Locos
If you love mangoes, this is the booth for you. Mangos Locos serves mangoes in every way possible. Mangoes with chamoy, mango slushies and mango cheesecake slices will all be available at the festival.
34. Maya Gracie's Kitchen
Maya Gracie's Kitchen cooks up Momo, which is Nepal's most popular dish. Momos are authentic Nepali dumplings.
35. Natalka Ukrainian Bakery
This Ukrainian bakery uses family recipes that span generations. Their festival menu features Ukrainian borscht, nalysnyky (crepes) with jam and uzvar, which is a traditional drink made from dried fruits and honey.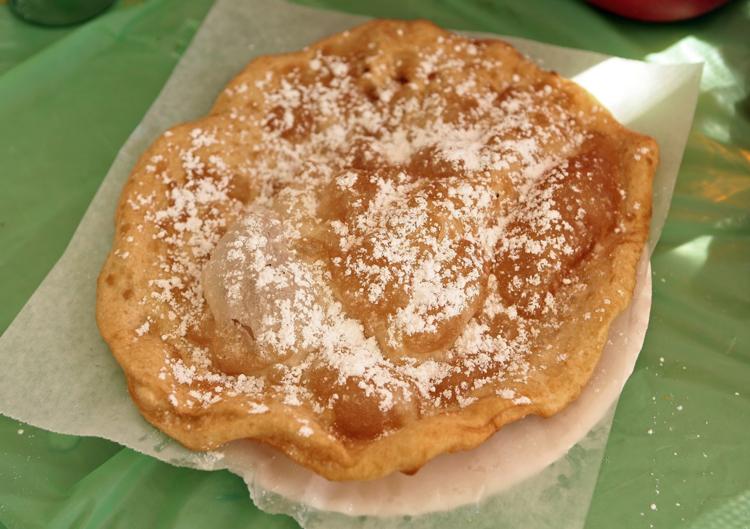 36. O'odham Ladies
At O'odham Ladies, you can get frybread with a variety of toppings to choose from. Frybread with cinnamon sugar, powdered sugar and honey as well as red chile and beans are all toppings that will be available.
37. Off the Hook Seafood
This vendor is adding Southern flare to seafood. Fried catfish, seafood mac and cheese and calamari are just a few highlights from their festival menu.
38. Order of Ahepa Greek Food
This Greek men's organization helps raise money for local charities and provides scholarships to youth in the Greek community. Their booth will be serving gyros, spanakopita, dolmades and baklava.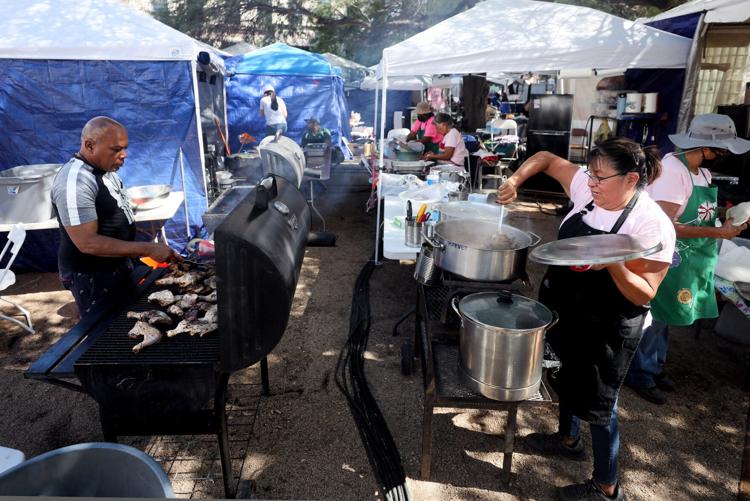 39. Pam's Kitchen
This family cooks authentic Jamaican food using their mother's passed-down recipes. They will be selling curry chicken, jerk chicken and oxtail.
40. Pupuseria Rosita's
Pupusas, a Salvadoran dish similar to an arepa, are this vendor's specialty. Pork, cheese, beans and squash are all the different kinds of flavors Pupiseria Rosita's offers.
41. Ricuras de Venezuela
Speaking of arepas, Ricuras de Venezuela makes authentic ones. Along with arepas, the booth will be selling empanadas and papelon con limón, a lemon-based drink.
42. Sabor de Mexico
You can never get enough Mexican food. At Sabor de Mexico, you can get enchiladas sonorenses and calabacitas con elote.
43. Saffron Indian Bistro
Since 2003, Saffron Indian Bistro's owner has been involved in various Indian restaurants in the community. Saffron will be serving up chicken and veggie plates, mango juice and rose water.
44. San Xavier Cooperative Farm
This Tohono O'odham booth is bringing farm-to-table food, using naturally grown and ethically harvested ingredients. Their menu includes a three sisters plate that has a green chile tamale. Green chile beef stew and yellow watermelon lemonade will also be available.
45. Santa Cruz Catholic Church/Little Mexico Restaurant
This family-owned business will be serving classic Mexican dishes such as carne asada tacos, quesadillas and nachos.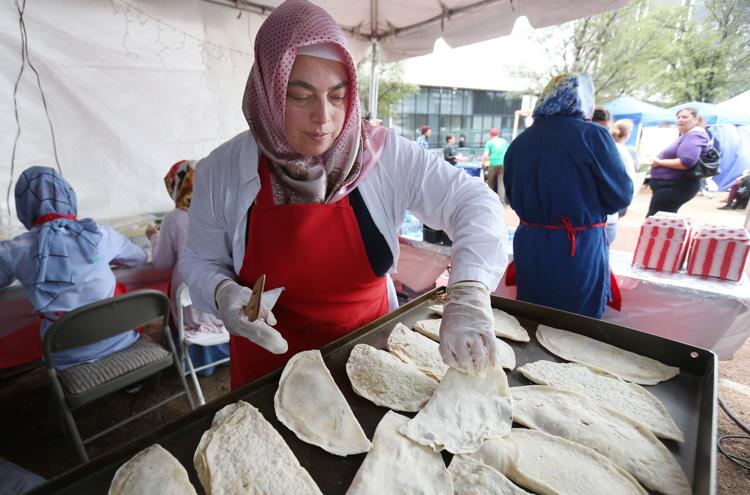 46. Sema Foundation
This nonprofit organization specializes in sharing Turkish food with the community. They will be selling chicken shawarma, hummus, baklava and gözleme, which is a flatbread stuffed with fillings like cheese or minced meat.
47. Solid Grindz Hawaiian Food
Solid Grindz Hawaiian Food aims to transport their customers to the Islands. Their festival menu features teriyaki chicken, katsu chicken, spam musubi and Hawaiian rolls.
48. Sonoran Delights
Cool off with raspados from Sonoran Delights. Some of their featured flavors include mango, strawberry and coconut. You can also add lime and chamoy for an extra kick.
49. Special Eats
Special Eats serves gourmet cheese sandwiches, nachos and quesadillas. This food truck's mission is to employ and empower individuals with special needs. They will be serving various sandwiches such as grilled peanut butter and jelly and a green chile grilled cheese.
50. Takoyaki Balls
This booth started in 2015 in hopes of sharing authentic Japanese dishes. Their main dish, Takoyaki balls, are octopus dumplings. If seafood isn't your thing, they also offer gyozas, katsu curry and Japanese curry rice.
51. The Sweet Coqui
This Puerto Rican dessert truck is known for their extravagantly decorated shakes. Their shakes that are decorated with Puerto Rican cookies and candies will be available at the festival along with tembleque, a coconut pudding, and limber, a Puerto Rican ice pop.
52. Thriaratana Tucson Buddhist Temple
For over 15 years, the Thriaratana Tucson Buddhist Temple has been participating in the festival to promote Thai food and culture. They will be serving pad thai, chicken yellow curry and fried bananas.
53. Tucson Afghan Community
The Tucson Afghan Community will be joining Tucson Meet Yourself for its second year and bringing along Afghan cuisine. Qabuli palow, which is rice with beef, carrots and raisins, and Afghan chicken curry are just some of the dishes they will be selling.
54. UA Filipino Student Association
These University of Arizona students are coming together to bring Filipino culture to Tucson Meet Yourself. Their menu features pork skewers, ube horchata and adobo fried rice.
55. Ukies Modern Ukrainian Cuisine
This local food truck specializes in authentic and modern Ukrainian dishes. They will be offering borscht and varenyky, which are Ukrainian-style dumplings.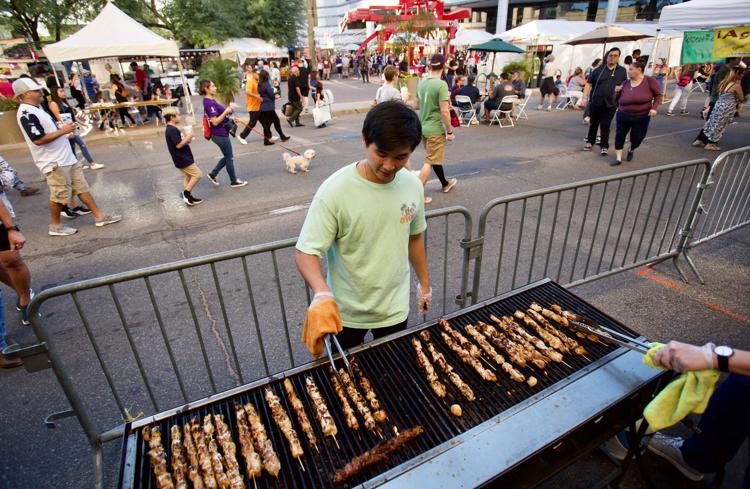 56. Vietnamese Student Association
Fresh, traditional Vietnamese food is what this student association serves to the community. This year, they will be selling pork and chicken bánh mìs, pork and veggie egg rolls and Vietnamese limeade.
57. Wat Buddhametta 
Wat Buddhametta has been serving Thai food at Tucson Meet Yourself for over 20 years. They will be serving a variety of dishes, including pad thai, chicken satay and Thai iced tea.