If you're deep in the labyrinth that is the Tucson Gem and Mineral Show and suddenly you feel like you've entered a dream, take a step back ... you may just be hungry! That's what happened to Samantha and I this week while we were making our way through the Riverpark Inn looking at crystals and levitating orbs. 
Fortunately there were several food options within a ten-minute walk. After some Nachos Grandes at Seis Kitchen, we were ready to take on the (living) world! If you're thinking of hitting up the main gem show or one of the satellite locations this weekend, here are a few food ideas along the I-10 corridor. 
We began our journey at the Mercado San Agustin because there's a lot going on here and it's easy to park. Before you hit up the African Village for colorful baskets and cow bone earrings, grab some contemporary Mexican food at Seis Kitchen or vegan burgers at Beaut Burger in the nearby MSA Annex.  
Then make your way south to the Riverpark Inn for a classic gem show experience. We spotted several food vendors in the parking lot including Mexican mariscos, Thai and Indian food. If you make it down to the 22nd Street Mineral and Fossil Show, there are more food trucks including Sonoran Mexican Cuisine with carne asada burros.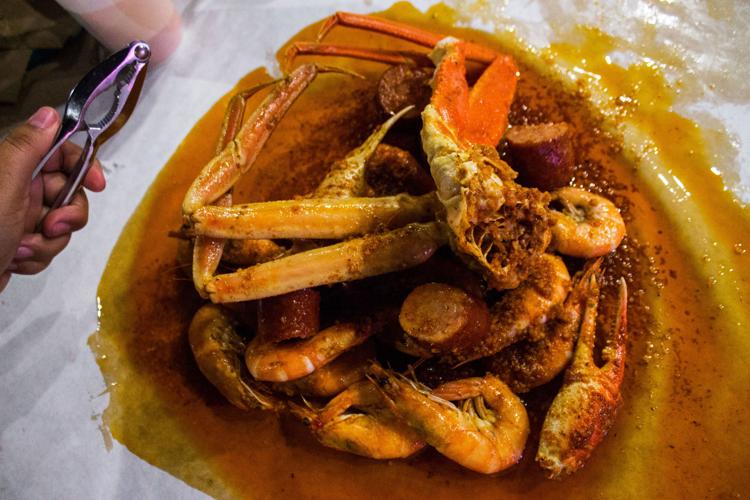 But my favorite stop is the Silk Road Gem and Jewelry Show on the other side of the freeway. That's because it's in a hotel with Angry Crab Shack, where you can order a seafood boil and eat it directly from the table. 
Later today, Samantha and I are planning to hit up the main Tucson Gem and Mineral Show at the Tucson Convention Center. And since that's gonna make us hungry, we're getting cheese crisps at El Minuto! The classic Tucson restaurant has been open since 1936, and they have excellent flour tortillas that make some of the best burros in the Old Pueblo.