Editor's note: This article was originally published Dec. 21, 2016.
Mexican cuisine has more soups than you can shake a spoon at. (Which I definitely had to do several times during the course of this comprehensive article, to make the soup photos look active.) From the spicy sting ray cahuamanta of the Sonoran coast down to the simple limey sopa of the Yucatan, every state has a different sabor. 
But how do the caldos of Tucson compare to those of, say Cozumel? The most obvious answer has to do with that four-stomached animal we call "the cow." Burrowing my way through Tucson's Mexican menus, I spotted half a dozen manifestations of its juicy carne. The most popular is of course, menudo, or cow tripe soup. 
But of course, our beloved menudo is actually found in several countries throughout Latin America, and also goes by the names guatita and mondongo. The kind we eat here, is from Jalisco ... 
Menudo at Birrieria Guadalajara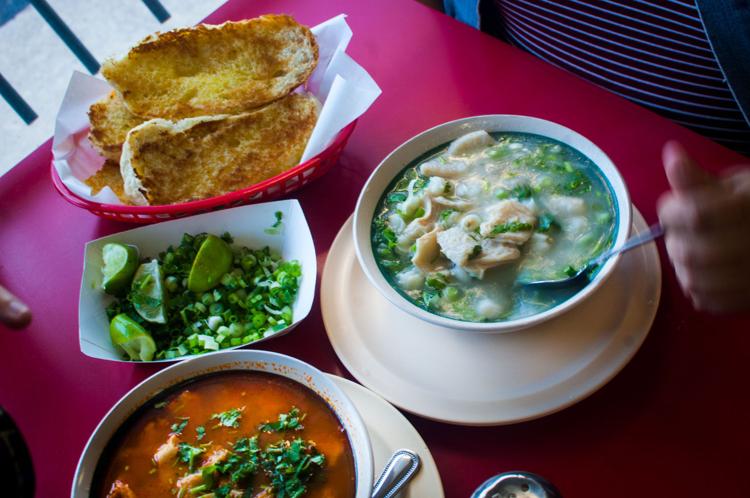 Guadalajara-native Mónica González makes six different soups at her little orange restaurant on the cusp of Tucson's southside. Birrieria Guadalajara takes its name from the earthy shredded beef birria, a specialty of Jalisco, but the joint also has what I believe to be the best red and white menudo in town. It takes employees close to an hour to clean and cut the fat from each batch of tripe, which makes the final product clear and relatively odorless. (The sign of a good menudo.) The tripe isn't gummy, but slurpy and pleasant to eat, even first thing in the morning. You can get it with tortillas, but we preferred the crispy birote bread that soaked up the vibrant chile broth. And unlike in Central Mexico, here they give you those puffy little bulbs of nixtamalized corn we call hominy. 
You can also find menudo at: 
— Tortilleria Jalisco Y Restaurante, 425 W. Irvington Road
— Teresa's Mosaic Cafe, 2456 N. Silver Mosaic Drive
— Tanias 33, 614 N. Grande Ave.
Pozole at Birrieria Guadalajara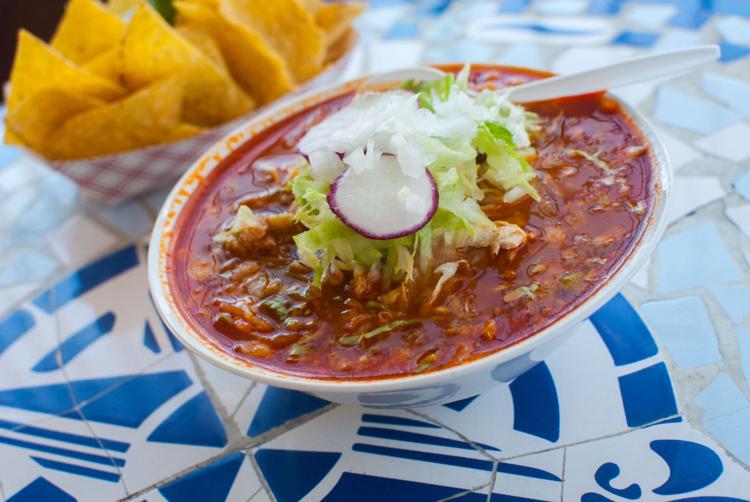 Pozole/posole is usually my first choice when I go the soup route, because there's just something about the pork that renders a perfect, succulent broth. But the Central Mexican soup is actually named after the Nahuatl word for hominy. Birrieria Guadalajara throws lots of the hearty corn in its intensely savory pozole colorado, brightened with bitter radish and a squeeze of lime. The silken red broth is typical of this region, but down in the coastal state of Guerrero you'll see green pozole that's packed with cilantro and tomatillos. 
You can also find pozole at: 
— Tanias 33, 614 N. Grande Ave.
— Calle Tepa, 6151 E. Broadway
Albóndigas at Los Nopales Restaurant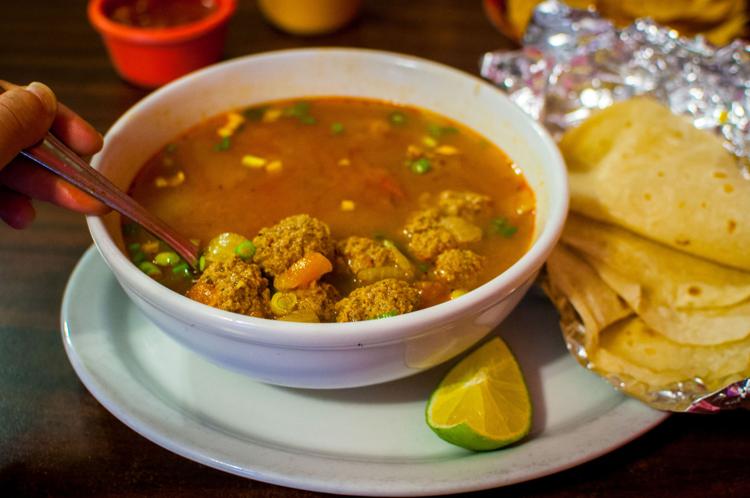 You can get this homey Mexican meatball soup all over town, but I went with a Facebook recommendation and drove way out to a tiny restaurant Los Nopales near Saguaro National Park West. (Everyone else seemed to have arrived by golf cart, judging by the parking lot.) The humble spot does a workman's albóndigas, with a mild broth made simply by boiling the beef meatballs in water and garlic. This commonplace treatment obscures the ancient origins of the soup, from sixth-century Islamic Spain. The word albondigas actually draws from the Arabic word for hazelnut, which was the relative size of the meatballs back then. At Los Nopales they're big and burly, delightful when wrapped in a flour tortilla with some of that oregano-flecked salsa. Spicier than I'd thought it would be, considering.  
You can also find albóndigas at: 
— Micha's Restaurant, 2908 S. Fourth Ave.
— Teresa's Mosaic Cafe, 2456 N. Silver Mosaic Drive
— Tanias 33, 614 N. Grande Ave.
Caldo de Queso at Toto's Tacos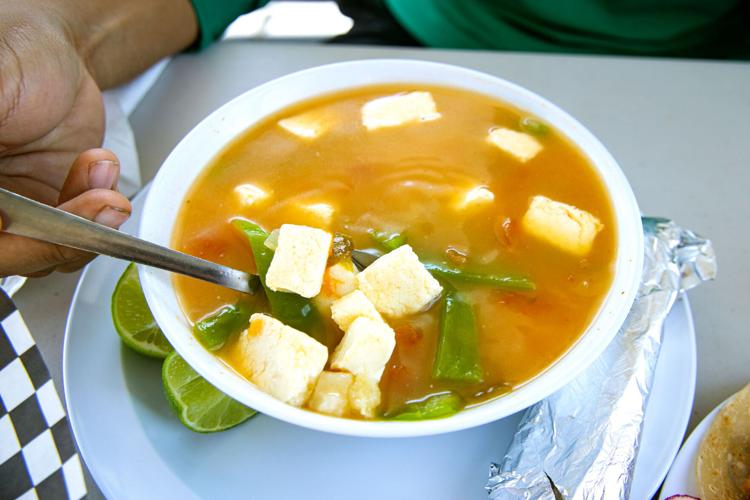 The Sonoran word for comfort might as well be caldo de queso. This cheesy potato soup is said to have been invented in Hermosillo, and is found on traditional Mexican menus throughout Tucson. Some do it brothy but the best arrive thick, with a molten layer of cheese cream obscuring some green chiles and seriously cooked potato chunks. The soup can be made with a variety of cheeses like casero or Chihuahua, but Toto's Tacos actually uses cubes of fresh mozzarella, which melt up nicely when you wrap them in a tortilla.  
You can also find caldo de queso at: 
— Micha's Restaurant, 2908 S. Fourth Ave.
— Teresa's Mosaic Cafe, 2456 N. Silver Mosaic Drive
— Tanias 33, 614 N. Grande Ave.
Cazuela at El Minuto Cafe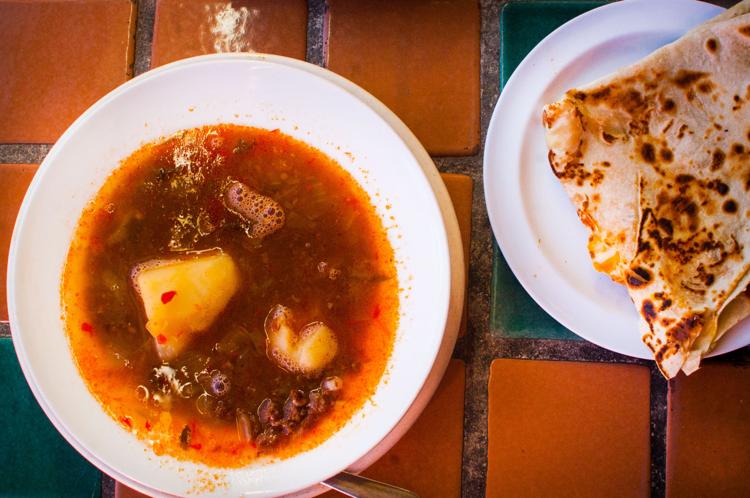 I admit I'd never heard of this Sonoran beef soup until I spotted it on the menu at downtown's El Minuto Cafe. Perhaps because it's so simple, it flies under the radar. Also called caldillo, the soup can be made with shredded beef machaca or in this case, its drier cousin, carne seca. Just some tomatoes, onions, peppers and potato, and you've got it.
You can also find cazuela at: 
— Teresa's Mosaic Cafe, 2456 N. Silver Mosaic Drive
— Tanias 33, 614 N. Grande Ave.
— Little Mexico, 698 W. Irvington Road
Carne de Chile Verde at El Torero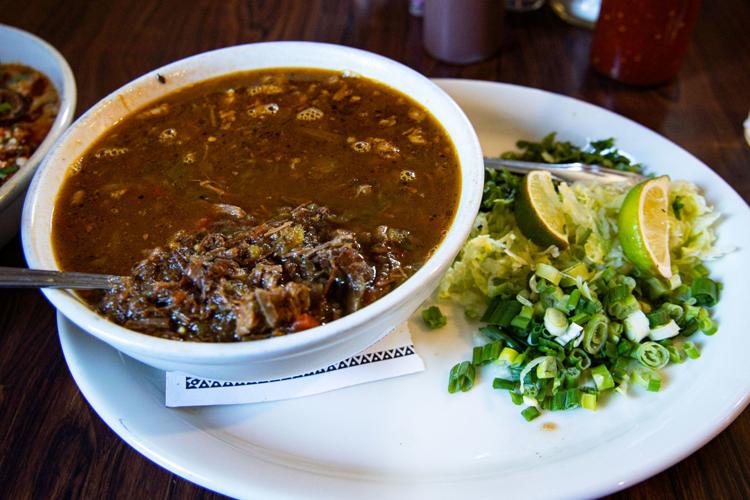 A close cousin to El Minuto's cazuela, this beef soup is spiced up with a bit of green chile. The meat is shredded finely and slightly crisp, so that it takes on a texture almost like carne seca. El Torero pairs theirs with a nice assortment of green onions, cabbage, cilantro and more. You scoop up the rich beef broth with a hot flour tortilla, and it is heaven. 
Tortilla soup at Benny's Restaurant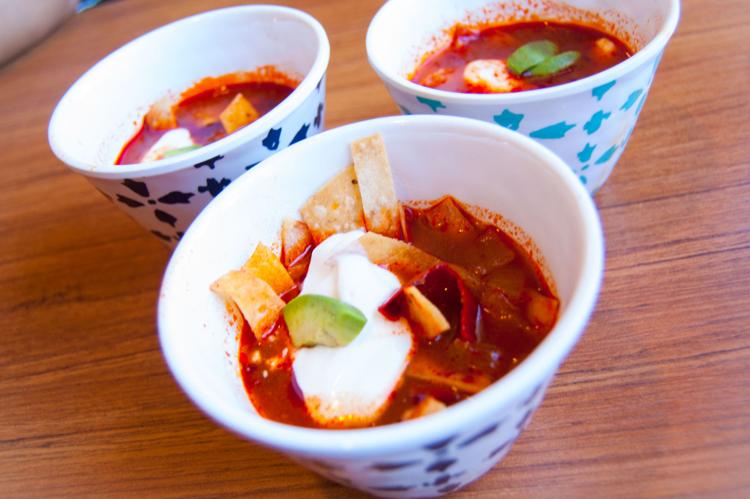 The last time I ate one of these it was at a Chili's in Chandler, Arizona. (Around age 12.) But I'm surprised to find out that the Southwestern staple actually has prehispanic origins and is eaten throughout Mexico, often speckled with leaves of fragrant epazote. Tucsonans can get the soup at Benny's Restaurant, where the fried tortilla thickens the viscous chile-laden broth. I do suggest seeking it out, and slurping it up. 
You can also find tortilla soup at: 
— Teresa's Mosaic Cafe, 2456 N. Silver Mosaic Drive
— Tanias 33, 614 N. Grande Ave.