We're going beyond the Breakfast Club here ... No offense to the Wingdinger or the Copper Queen Skillet, but for this project we're digging a little deeper and finding those under-the-radar spots that make this quirky border town even more lovable.  
For help, we enlisted Bisbee local Samantha Munsey, who just so happens to be our online producer at This is Tucson. Each restaurant on this list is Munsey-approved, from the Chicago hot dog joint to the amazing Mexican seafood truck on the edge of downtown. Remember, it's cool down here! 
High Desert Market and Café
203 Tombstone Canyon, (520) 432-6775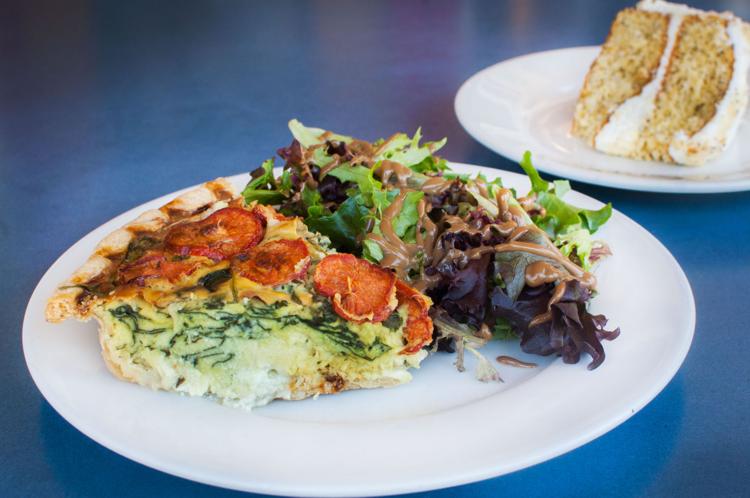 High Desert Market is Samantha's top brunch spot, with a cute little grocery store and pastries that rival anything in Tucson. "The true gem to this place ... is their food and bakery counter. Pick up a slice of fluffy buttery quiche or drool over their many dessert options," she advises. The place reminded me of Time Market, with fussy plates for dirt cheap prices in a casual setting. You even have to go to a different counter to get your coffee. (It's on the side, where the woven baskets are.) 
Mariscos Sergio 
123 Tombstone Canyon, (520) 727-1826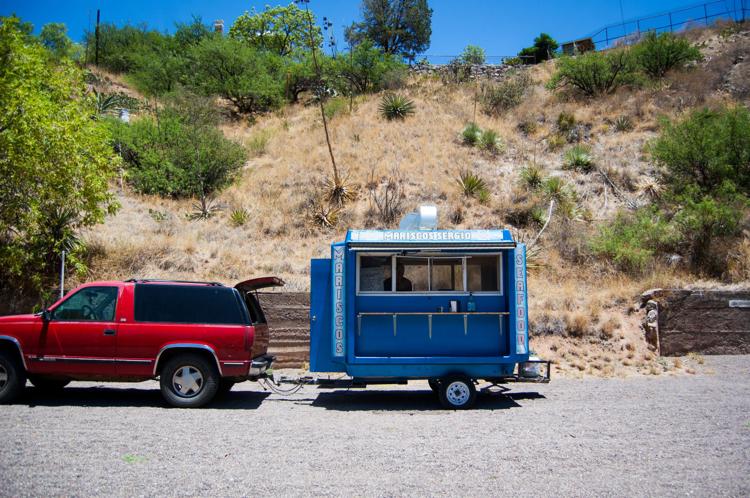 Sergio Davis has made a name for himself serving fresh fishies out of a truck, Mariscos Sergio parked in a pebbly lot near downtown. The Douglas native does his shrimp tacos "Sonoran style," fried into crispy little strips that reminded me of really good fish sticks. The shrimp cocktail is also stellar, with a balanced broth that had some cucumbery freshness to it. In the future, he plans to add Sonoran dogs to the lineup. Catch him from 11 a.m. to 3 p.m. Wednesdays through Fridays, and Tuesdays also starting in August.    
Stock Exchange Saloon
15 Brewery Ave., (520) 432-1333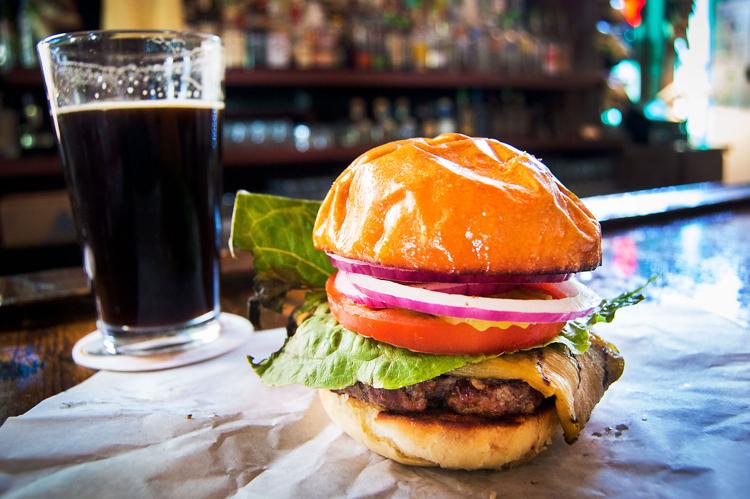 This is mostly a bar, but Stock Exchange has a killer grill that puts out some of the best burgers in the area. It's all about the char here, which is generous despite the juicy center. The 100-year-old building is gorgeous in itself, but if you ask nicely the bartender will show you the other room, with a full-length pastoral mural painted under the tutelage of Ted DeGrazia.  
Jimmy's Hot Dog Co.
938 AZ-92, (520) 432-5911
Samantha led us out of downtown and into a suburban area with a totally different crowd. (Judging by the lack of goatees around here.) But this is past the pit, where the locals hang out. And they like Chicago hot dogs apparently, and a massive Polish sausage called the Maxwell Street that's split at the ends like a little octopus from an anime movie. Jimmy's has Italian beef too, and clam strips??? 
Tacho's Tacos
1335 S. Naco Hwy., (520) 432-7811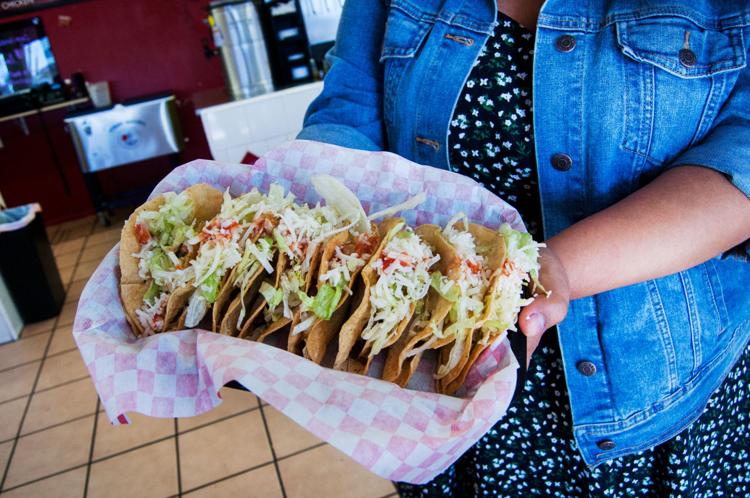 No Bisbee trip would be complete without this OG Mexican spot that Sam and countless others grew up on, Tacho's Tacos. These aren't the fancy vegan tacos with the cashew cheese over at Poco. They're of the standard crunchy beef variety, but flawlessly-executed with a nostalgia that brought on the tears. "They've been doing it since I've had consciousness, since I've known what life is," Sam said, after taking one of those bites where you tilt your head to the side and close your eyes. This is it, folks. This is Bisbee.