Why is there a palm tree in this picture? It's because of Micronesia, a loose assortment of tropical islands very very far away from here. 
Gerner Poll is from there. He came to Arizona in 1980 from the largest of these islands, Pohnpei, the melting pot of Micronesia and also one of the wettest places on earth. (Basically if you drew a triangle between Japan, Hawaii and Australia, the island would be pretty much in the middle.) 
He's not serving taro balls or breadfruit baked in basalt rock though. Those would be strange choices for the location, in the sprawling corporate shopping center across from the Tucson Mall. He's serving sushi, South-Pacific style ...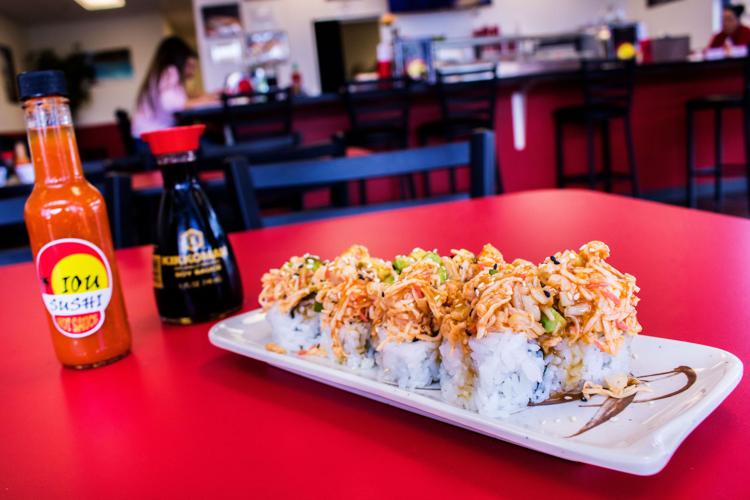 He and his wife Teri named their new restaurant IOU Sushi, which roughly translates to the word "delicious" in the Pohnpeian language. (It's actually pronounced yo.) The sprawling menu has lots of funky rolls named after places in Micronesia, like Palikir and Mokil.
The difference is in the sauce, Teri told us on a recent visit. IOU makes its own eel sauce from scratch, and it's light brown and sweet like maple syrup. (I also really enjoyed a homemade hot sauce on the table, done Guam-style with punchy vinegar and tropical pineapple flavors.) The rolls we tried on a recent visit were all big and bold and saucy like that. But perhaps that's because of the sushi chefs, who were snagged from Sushi Garden. 
The Nan Madol for example (pictured up top), is topped with a whole lotta shredded crab salad. So much, in fact, it's pretty hard to fit in your mouth. These creamy mayo creations pop up all over the menu, in regular and spicy varieties. Sometimes they obscure more delicate flavors, like sweet crystal shrimp that was faintly fried with little crunches.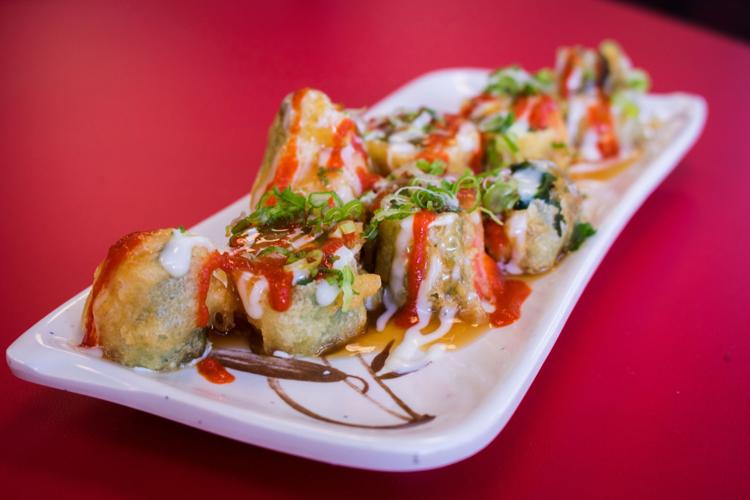 There's a lot of cool stuff on the menu, so what I am about to say just may be an inspiration to you ... IOU seems to be the only restaurant in town that offers their entire dinner menu at a standard all-you-can-eat price, $25.99 or $18.99 for kids. (All-you-can-eat for lunch is a smaller menu.) You can see where I'm going with this. Server, another round of quail egg shooters pleeease!!!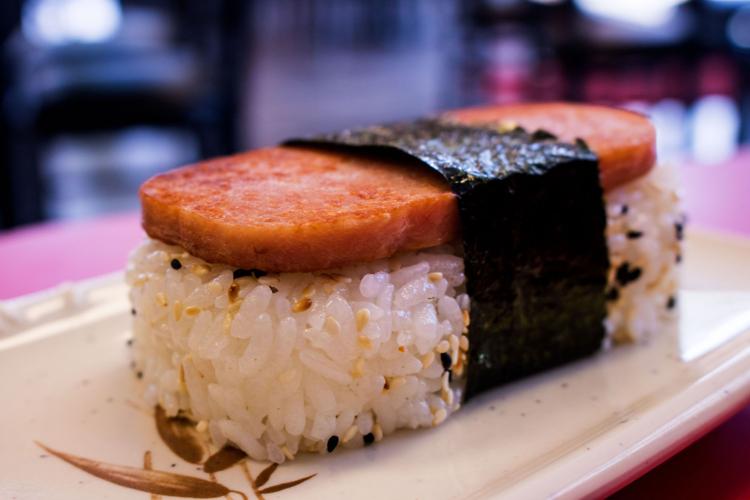 The Spam musubi here was no letdown. It was very well-executed for being Spam, a canned-pork product made into a sushi. I have to say I loved it! The pork was crunchy and the rice was sprinkled with little sesame seeds. Very nice ...     
Last thing, this is a local business but it's kind of maybe a chain. The idea came from Gerner's cousin Rocketchun Holden, who opened three of these restaurants where he lives in Boise, Idaho. (FYI, the sign on the Tucson location says III, but that's because of a mistake. It's actually #4.)
Is IOU Sushi destined for world domination? I sure hope so, because we could all use a little more Micronesia in our lives.
IOU Sushi is located at 4280 N. Oracle Road, #180. It's open 11 a.m. to 9 p.m. Mondays through Wednesdays, 11 a.m. to 10 p.m. Thursdays through Saturdays, and noon to 9 p.m. Sundays. They're hoping to hold a grand opening when they receive their liquor license, sometime in May.