Most people look at Oro Valley and see majestic mountains towering over a desert landscape, but Bud Sayso saw an opportunity. Out there in the suburbs there are a lot of Red Lobsters and Olive Gardens, but not much good local Thai food, he said. 
"My wife posted that we're opening (a second location) in the Oro Valley community page on Facebook, and we got a ton of likes and comments," Sayso said. 
Sayso has been ready to expand his popular Thai street food restaurant Tuk Tuk Thai for months now, and has been looking into locations on the southside, Catalina Foothills area and Marana. But when a landlord contacted him for a space at the Oro Valley Marketplace in November, his wife Noy persuaded him that this was the right choice. 
The two were drawn in by the shopping center's Century Theatres movie theater, as well as its 24-seat patio area with stunning views of the Catalina Mountains. They were also interested in landlord Town West Realty's plans to bring in a splash pad, eventually turning the shopping center into an entertainment district called the Oro Valley Village Center. 
Last week they signed the lease on the space at 12125 N. Oracle Road that formerly held the San Carlos Grill. Sayso is working with an architect to give the space a "Bangkok meets Tucson" vibe, with the restaurant's signature graffiti art murals by local artist Tim Pasqual.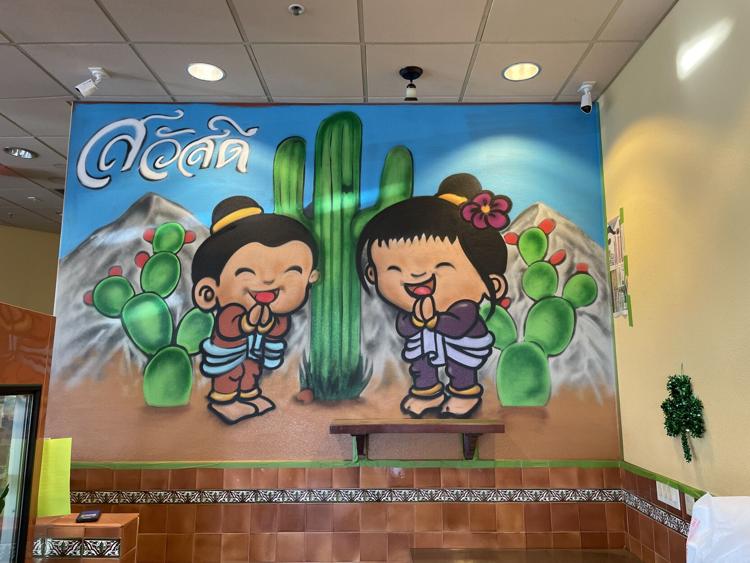 The menu at the new location will be the same as the original restaurant at 2990 N. Campbell Ave. But they are looking to add a scratch-made green curry made with jalapeño peppers onto the menu. And if you haven't tried it yet, the Khao Soi coconut curry noodles are a must.
Here's what I said about them when the original location opened back in September: " ... Seeing those curry noodles come out in a clean white bowl, the way they were meant to be eaten, was like remembering why you fell in love. Crispy egg noodles pop out from the rich bed of coconut curry, made from scratch including the curry paste. When you push them down into the sauce, they transform into springy soft noodles that you can wrap around your fork, catching the curry with perhaps a little pop of pickled veg." I also waxed poetic about the mango sticky rice and the Hoy Joh meatballs, but you'll have to read the original review for that one. 
Sayso plans to open the new space on April 19, which is a lucky day in feng shui, he said. 
"I wanna give Tucson a choice, I wanna give them a chance to try authentic, the way Thai people eat," he said. "There's a lot of unique things on our menu; We're the only ones who serve it."