The Tucson Botanical Gardens has always been one of the best places to eat and plant-watch around town. But after the departure of Café Botánica at the beginning of the pandemic, the space had been without a restaurant for months. 
Now, thanks to a partnership between the botanical gardens and Westward Look resort, the café is back! It's now called Edna's Eatery, named after Edna Johnson, the gardener and housekeeper who lived on property and tended the gardens until her death in 1973. She worked for the original residents of the historic property, the Porter family, and planted herb gardens as well the citrus trees on the west end of the property, according to a news release. 
"Anyone that's familiar with Tucson knows that the Westward Look is one of the iconic venues in town," says Marketing Director Matt Adamson. "They think the same of us, that the Botanical Gardens is an iconic jewel. In many ways it felt very natural and logical for the two entities to partner with each other."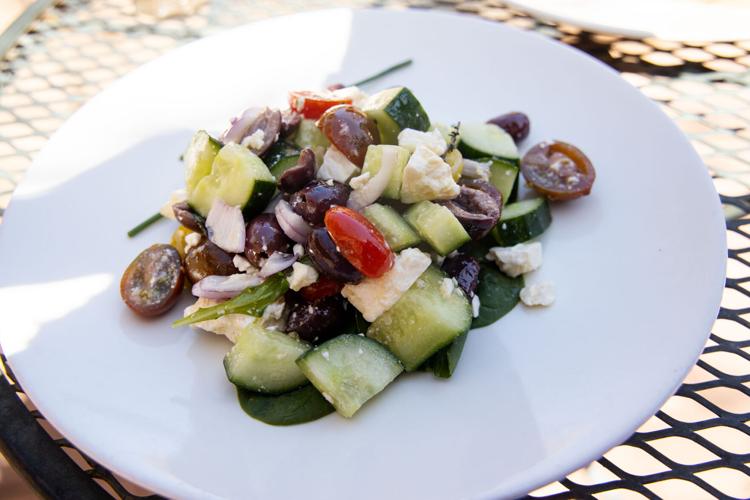 In true COVID fashion, Edna's Eatery has a casual order-at-the-counter vibe, which allows you to grab a sandwich or a drink and take it anywhere around the property. (Except for the butterfly garden, which was closed during my visit.) This is great for when the weather heats up and you're craving something like a fruit infused fizzy tea, which they offer in four different varieties. But you can also get table service around the Xeriscape Patio Garden out front, which offers a bubbling fountain and several shaded ramadas. 
The kitchen is managed by Westward Look Executive Chef Todd Sicolo, who crafted a simple menu of breakfast and lunch items like a kale Caesar, barbecue free-range chicken tostada and vegan pita pockets with spiced peas and preserved lemon. I stopped by for lunch this week and snacked on a roast turkey and Brie panini that was smeared with a sweet blackberry jam. It was a nice contrast to the tart Greek salad I ordered, which was mostly cucumbers, feta cheese and olives, with a bit of spinach underneath. 
Edna's Eatery also has a tempting array of sweets like housemade churros and three different varieties of floats like root beer, prickly pear and creamsicle. They also serve homemade cookies. I can't wait to try the white chocolate and cashew cookies, because that sounds delicious. 
Edna's Eatery is inside the Tucson Botanical Gardens at 2150 N. Alvernon Way. (Admission to the gardens is required for the restaurant.) Phone: 520-326-9686 ext. 37. Hours: 8:30 a.m. to 3 p.m. daily.