If you're looking for Tucson, you'll find it in the once-empty spaces. Here, blank walls become murals; lots become a site of community when a food truck sets up amid the sand, trash and tumbleweeds.
We are the most ourselves when we are informal: the man at the Tanque Verde Swap Meet with a truck bed piled high with oranges or the Instagram order form for the most exquisite Japanese pastries.
Fine-dining pop-ups have combined these two essential traits — creative and casual — to make a uniquely Tucson way of fine dining.
Most Tuesdays, Penelope Wood Fired Pizza is closed, and by 6 p.m. the space they share at 210 E. Broadway with Cartel Coffee is a quiet corner, a spot you pass by as you leave downtown heading east. But tonight, through the miracle of social media, followers of Penelope knew to show up early to grab a spot at their once-a-month pasta dinner.
Followers would also have known the special menu in advance. While owner Jared Schwartz spends his days grinding out pizzas, for these monthly events he collaborates with Chef Morgan Franz to come up with a never-before-seen pasta menu.
Each dinner features three pastas that you might not find elsewhere in Tucson. Their latest menu included balanzoni (a stuffed pasta, like tortellini, in the shape of a Renaissance hat), reginette (a ribbon-shaped pasta, like tagliatelle, with ridges) and cannelloni (a tube filled with goodies — in this case, ricotta, artichoke and dandelion greens).
Their desserts are also unique to each dinner. Dean Blair, who runs the cottage confectionary Okashi, is in charge of small-batch ice cream in flavors like creme fraiche and triple vanilla. The olive oil cakes that accompany the ice cream are made by a friend of Jared's whose day job is a pediatrician.
The baker isn't alone: everyone who works at the pop-up has a different day job.
"[Everyone has] their own passions and careers, and shows up here once a month to just create this night," Jared said. "It makes me smile when I'm standing there, like, watching a line of people who walk in and think, 'I'm at this restaurant or I'm at this dining experience and have no idea that, like, Ashley's a doctor and Tim owns his own, like, marketing thing.'"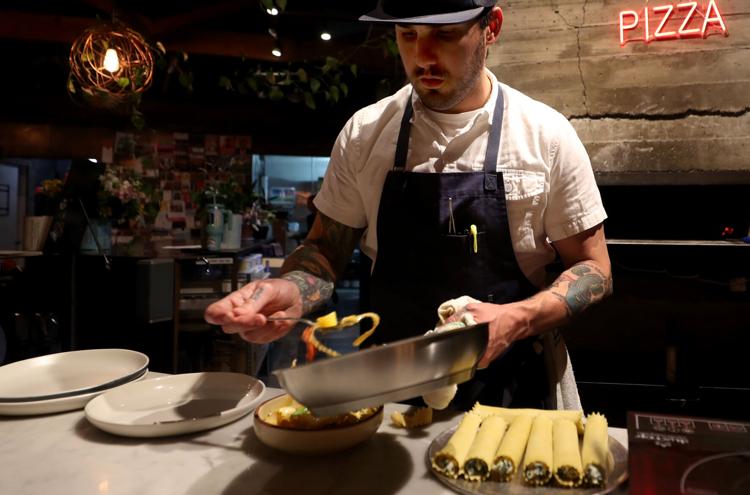 The once-a-month pasta pop-up is the product of these people's big sacrifices met with Jared's small innovations: he didn't want to be charging fine-dining prices for pasta on a paper plate, so he sourced his plates from renowned Tucson ceramicist HF Coors' seconds — gorgeous plates with minor defections — for a fraction of the cost.
Silverware, too, was creatively sourced. Jared knows from his time as a restaurant manager that busboys and servers sometimes leave cutlery in their aprons or uniforms. When the restaurant sends the linens out to be cleaned, those silverware are collected at the linen company and not usually picked up again.
"I rolled up with a duffle bag," Jared said. He told the linen company he'd give them $100, and they let him fill the bag with as much silverware as he could carry. "I could literally barely carry the thing out of the place," Jared said.
But the pop-up at Penelope only happens once a month because the weeks where they do pasta nights they have no days off: the chefs work Wednesday through Sunday, prep on Monday and execute on Tuesday. "It's a tough week," Jared said. "But we're young and we're hungry."
Penelope isn't the only business hosting pop-up fine-dining dinners in town. Good Pierogi has cooked after-hours Polish dinners at Noodies and Thunder Canyon Brewery. Their next meal is going to be a fundraising event for The Land with No Name. The menu will include, as available, foraged ingredients like cholla buds, barrel cactus fruit and sumac bobs.
Aramsay is a small-scale dinner party, hosted by Chef Kusuma Rao, that pops up informally when Kusuma is in town — to secure a spot, follow Kusuma on Instagram and keep an eye out for announcements in their Stories.
But Jared was inspired by a Chinese-Sonoran Christmas dinner, hosted at Maynards by Chefs Feng-Feng Yeh and Rusty Ramirez.
"That one was the final one that really put ... the thought of: the community's gonna come out. The you-build-it-they-will-come mentality of like, people are hungry and want experiences."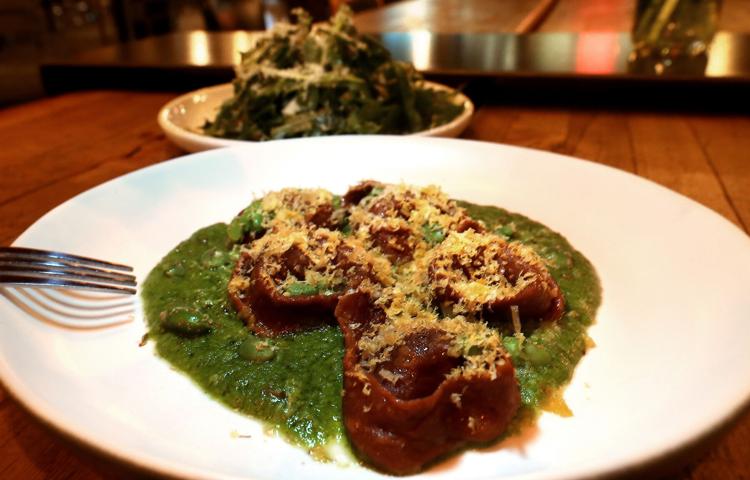 People in the restaurant industry are used to hard hours. But these pop-ups give chefs a chance to do something creative, just for themselves.
Jared and Morgan's ultimate goal for the business is for it to potentially grow into its own pasta restaurant or to have enough recipes to make a cookbook. Nearer is an all-star dinner during the slower summer months, resurrecting the recipes that people have loved most.
Before turning his pizza trailer into Penelope Wood Fired Pizza, Jared's experience was mostly in the front-of-house. For a while, he was managing a restaurant, working 70-hour weeks to keep it running while the owner would go on vacation. He wants his employees to feel a greater sense of ownership.
To Jared, cooperation and community are the antidote to the pressing feeling of scarcity.
When Jared opened Penelope, he was in conversation with Jim Owens at Thunder Canyon Brewery next door, which has a small kitchen that could be seen as competition. But Jim said, "No, you keep people coming into my place," Jared recalled. "Because his thought is, it's hard enough to get people to come one half-block from Congress to Broadway.
"Congress is bumpin'. Broadway's quiet. If somebody leaves my place for pizza, they go get a beer on Congress. They're never coming back. His mentality is how do we keep people on Broadway and keep them and get them to Broadway and then keep them on the block ... Broadway has that abundance feel," Jared said. "Don't go down the street. Come in here."
Penelope's pasta pop-ups usually happen the last Tuesday of every month. To confirm dates and to get updated menus, follow Penelope on Instagram.
---
Our Eat + Drink coverage is supported by: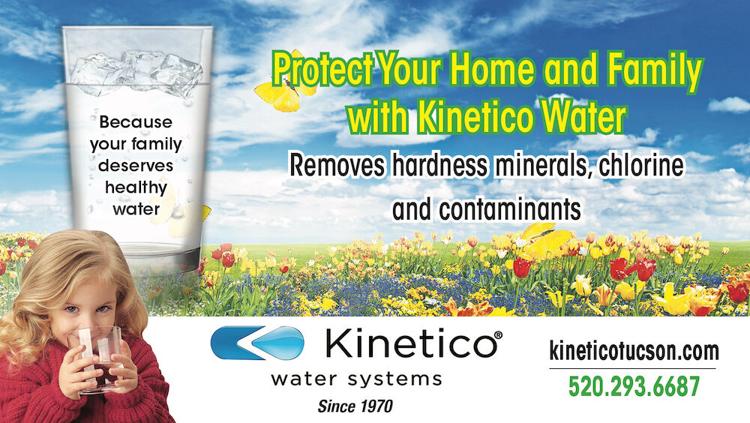 Great food and drinks start with great water
Restaurants, breweries and coffee shops know that clean, pure water is crucial. You can get that at home too with Kinetico Quality Water. Kinetico removes more contaminants than any other system. Get up to $500 off a non-electric, high efficiency patented Kinetico system (restrictions apply). Visit KineticoTucson.com.
---
What does "supported by" mean? Click here to learn more.