This was the first article I ever read on #ThisIsTucson. I read it before I even knew about the website. I was deep in an internet search for Jewish food in Tucson, desperately missing the Jewish, Eastern European and Middle Eastern food that I have loved all my life. Hasidic rugelach from Williamsburg, Brooklyn, was my first favorite dessert. Our former food writer Andi Berlin's guide was a beacon of hope in a city with limited options.
I've revamped this story and included all of the options that Andi originally recommended (that are still around), along with a few places I've come across in my relatively short tenure. 
If eating Kosher is a priority for you and your family, I came across Kosher in Tucson in my research for this article. The Facebook page is a great resource to ask questions I might be ignorant to. Chabad Tucson has this kosher resource list, and also will sometimes cater for the High Holy Days or organize kosher wine pickups. This list is intended to be an update and interpretation of Andi's original roundup, which specifies when things are kosher, but is not limited to kosher foods.
Kosher places
Al-Basha
4145 E. Grant Road, Phone: 520-849-5900
When Andi wrote her original article, Al-Basha hadn't opened up yet. This Middle Eastern grocery might not be what comes to mind when you think of a Jewish-American deli. It's more like a specialty store with imported goods and a halal and kosher certified butcher shop, the only place to get kosher-certified cuts of meat in Tucson. Their refrigerators and freezers offer a bevy of kosher-certified foods, from cold cuts to beef "facon;" puff pastries with spinach, potato or cheese; gefilte fish and teddy bear shaped chicken nuggets.
Jewish Community Center
3800 E. River Road, Phone: 520-299-3000
Tucson's Jewish Community Center has its own Kosher-certified cafe, which also caters Friday night Shabbat dinners for the local community. The breakfast menu has matzah brei, which is basically matzah crackers with scrambled eggs. They also do weekly challah bread orders for Friday pickup. More info here.
Ellice's pro tip: The JCC is soft-opening a bistro on Dec. 15, as well as hosting a slew of holiday events this month.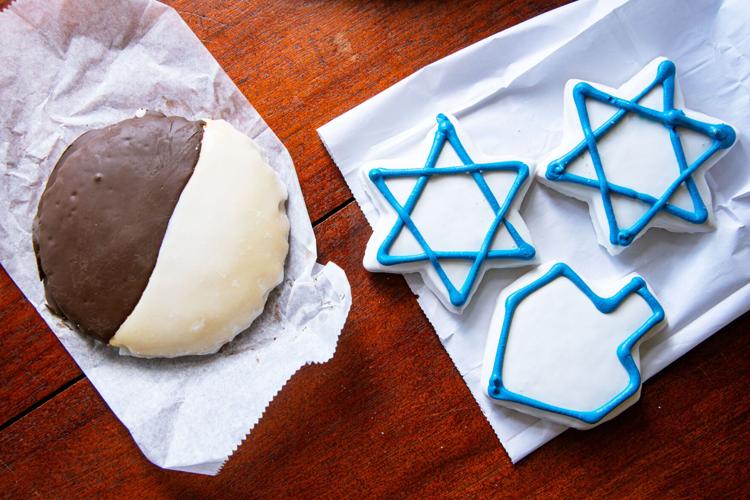 Nadines Bakery
4553 E. Broadway, Phone: 520-326-0735
Nadines happens to be one of the finest bakeries around town, but it's also the only kosher-certified bakery in the city. I was able to purchase challah bread rolls for Thanksgiving, but the shop also has a large variety of Jewish sweets like rugelach and sufganiyot jelly doughnuts traditionally eaten during Hanukkah. 
Ellice's pro tip: Nadines shines for the High Holy Days, putting out menus for Rosh Hashanah and to break your fast on Yom Kippur that feature babka, rugelach, mandel bread, and four different kinds of challah. For Hanukkah, though, kids of all ages will love to celebrate with their black and white cookies.
Non-Kosher places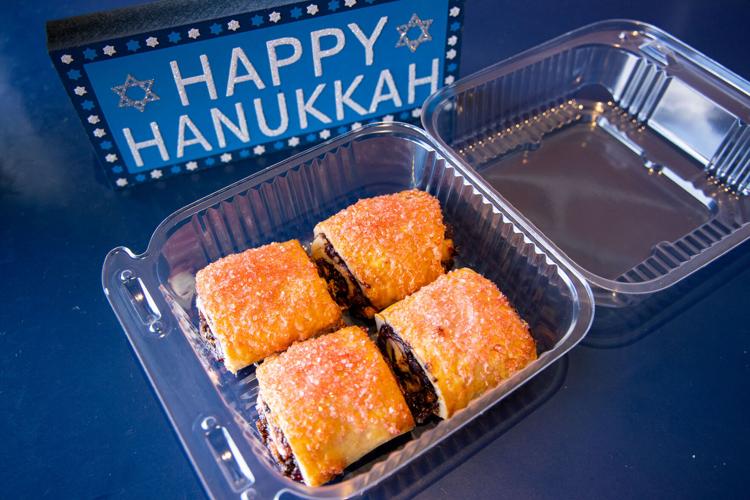 Beyond Bread
Three locations: 3026 N. Campbell Ave., 6260 E. Speedway and 421 W. Ina Road
The bakery at this popular sandwich joint does some of the best rugelach I've had in recent memory. Beyond Bread also does challah bread on Fridays.
Ellice's pro tip: While Andi rightfully is hyping their rugelach, it's important to note that at 11 a.m. on Fridays, you can pick up BABKA in addition to challah. Yes, please! Additionally, rugelach is only available around the holidays. Beyond Bread will bake only their raspberry rugelach until Christmas this year.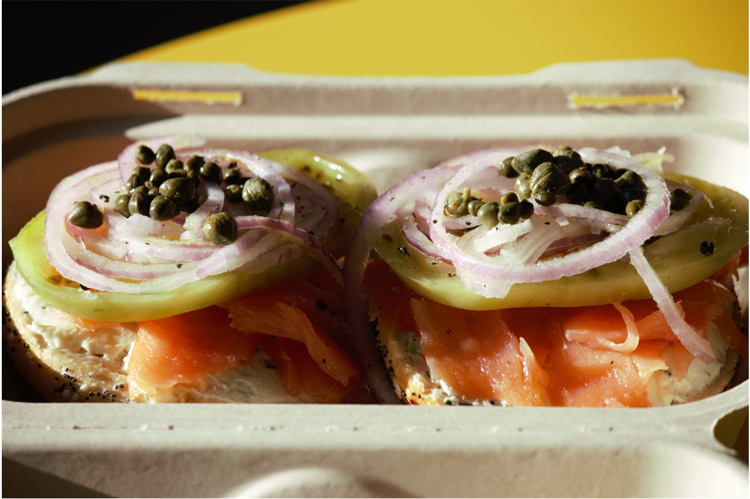 Bubbe's Fine Bagels
1101 N. Wilmot Road, Phone: 520-771-6685
1865 E. River Road, Phone: 520-849-8985
Tucson has an infamous dearth of bagels. Luckily, Bubbe's Fine Bagels has taken up the banner. Their lox bagel is transcendent. If only Andi were here to try it out!
Caravan Mideastern Foods
2817 N. Country Club Road, Phone: 520-323-6808
Baklava is my ex's favorite dessert, so I have spent ages scouring Tucson for the best we have to offer. Syrian baklava tends to be more nut-forward, whether pistachio, walnut, or a blend, than the honey-drenched phyllo baklava you can find at Pappoule's. When I came across Syrian-style baklava at Caravan Market, I knew I had hit gold.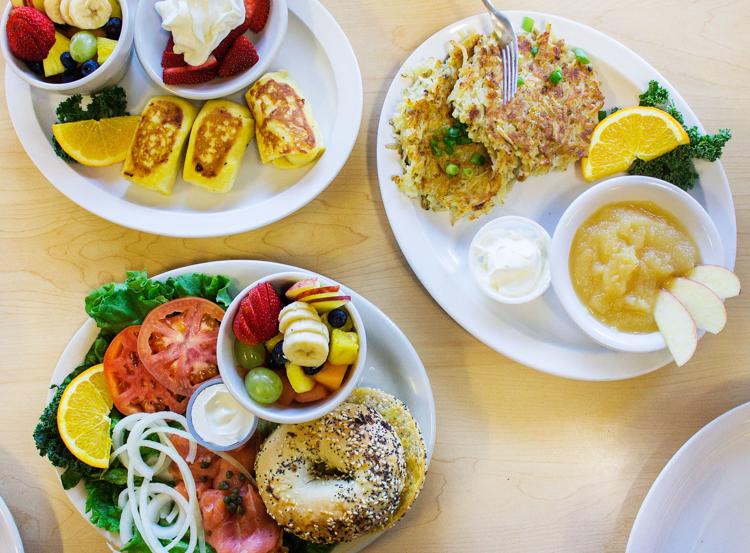 Claire's Cafe & Art Gallery
16140 N. Oracle Road, Phone: 520-825-2525
Chicago-native Claire Johnson is a commanding presence who makes some killer potato latkes. But Claire's also has a full breakfast menu of omelets, pancakes, French toast and more for the non-kosher kinda folks. During my latest visit, I split an order of the cheese blintzes, a bagel and lox platter with some spectacular buttery salmon, and the crispy latkes.
Dedicated.
4500 E. Speedway, Phone: 520-209-2872
Dedicated. is a celiac-friendly gluten-free bakery and cafe that makes specials like rugelach and honey cake for the High Holidays, sufganiyot for Hanukkah, cheesecake for Passover and hamantaschen for Purim. Every weekend, they bake gluten-free challah. They make bagels, too!
Meyer Avenue Cafe
353 S. Meyer Ave., Phone: 520-444-5243
Shakshuka is a Middle Eastern dish that has ties to the Jewish religion, and is just starting to get popular around these parts. The Coronet's sister restaurant, Meyer Avenue Cafe, has a version, available for breakfast and lunch, with a spicy tomato sauce, chickpeas, Feta cheese and an egg on top. I can't wait to taste it with some fresh flatbread.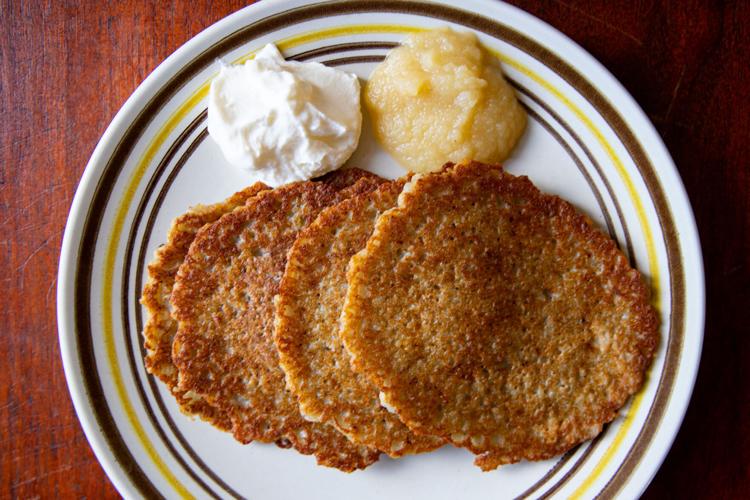 Polish Cottage
4520 E. Broadway, Phone: 520-777-5407
Much of the Jewish food we know derives from Eastern European countries like Russia and Poland. So it's no surprise that this midtown restaurant Polish Cottage serves a lot of familiar comfort foods, like stuffed cabbage (although it's made with pork). The menu also has potato pancakes, which they call Placki Ziemniazcane ... but the dish is the same. Perhaps a little thinner than regular latkes, but still paired with sour cream and apple sauce like your mom would do.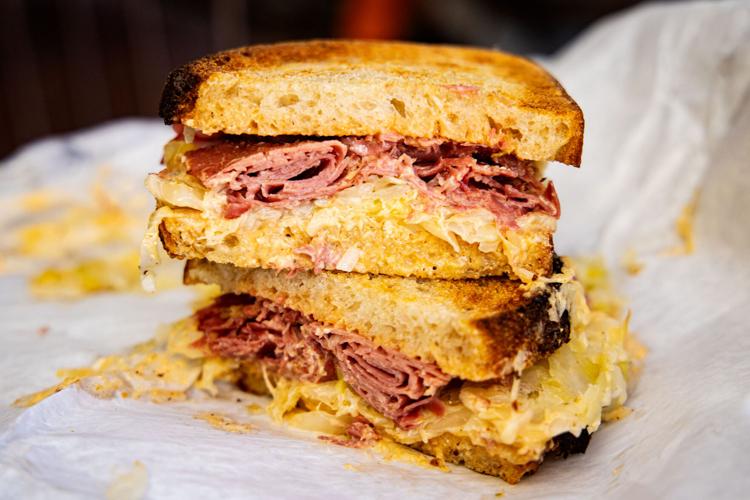 Time Market
444 E. University Blvd., Phone: 520-622-0761
Restaurants across Tucson serve this New York deli staple, but my favorite has always been the Classic Reuben at Time Market. Their housemade pain levain bread sets it apart from other versions, but I do love their sauerkraut, which is also housemade.