If you arrive at Janet & Ray's the minute it opens, you might enter a restaurant pulsing to reggaeton: getting tabletops set up for a reunion, wrapping up final meal prep, buzzing with the kind of energy usually found backstage at a concert venue. You'll be greeted with their rotating menu, written in chalk at the entrance, and struck by the warm, easygoing kind of purpose that comes with community.
You'll be asked to sit down, and handed a glass of lemon- and cucumber-infused ice water, as refreshing in a Tucson summer as in Atlanta or Kingston, Jamaica. Once you've broken the threshold, small crowds will immediately follow. We were all waiting for this moment.
The aim of the big performance is to make every customer feel welcome and at home — and especially Tucson's Black community.
"The vision was just for a space for Black people in Tucson to be able to go to," said Dollie Pearce, the owner of the new Caribbean-soul fusion spot Janet & Ray's on 22nd Street near Craycroft Road. After spending a lifetime out east, in cities like Atlanta and Detroit, Dollie came to Tucson a few years ago, when her husband (a Maltese Brit, Arsenal fan) got a job here.
"I'm an east coast girl," she said. "I came here and I didn't see a lot of people who looked like me. I was miserable for the first years I was here. Then we started meeting people, and I started liking Tucson."
With the restaurant, she hopes to create a gathering place, in part to make the process of building a network easier than when she moved here. She also aspires to provide employment for her community, hiring people who might not be given a chance in other positions, like those who were formerly incarcerated.
Above is Dollie Pearce, owner of Janet & Ray's.
The rotating menu at Janet & Ray's hints at the meticulousness of Dollie's vision. "It sometimes feels like there's nowhere that caters to Black people here. But there are some Black-owned restaurants like Ken's Hardwood across the street, and a couple Jamaican restaurants.
"I didn't want to take away from anyone's customer base. So Tuesday, Wednesday, Thursday, it's just a neighborhood restaurant you might go to on the corner of D.C. or Detroit, nothing super crazy. My favorite food ever is Jamaican food, which we do just on Saturdays. On Sundays, after church, we have collard greens and fried chicken. Ken's is closed on Sundays, so we're not taking business away from him. No one will suffer."
Dollie is kind to look out for her peers, because her food is excellent. Saturday's oxtail, a rare find in Tucson, is tender in its pleasantly gelatinous way, rich and warmly seasoned with allspice. It's food that can resolve a feud, uniting all parties in the reverie of a full belly.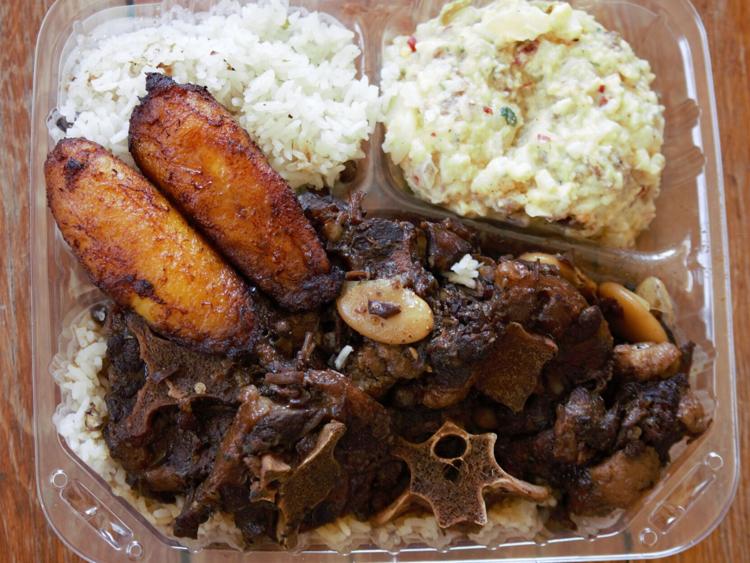 On Wednesdays, their macaroni and cheese is perfect in concert with the jerk chicken: though poultry-fatty, not pork-fatty, it's still hearty enough to easily carry the sweet, tangy, spice-rich marinade. While it can be hard to get big batch mac the right texture, Janet & Ray's keeps it from getting limp with a smoky spice profile that could revive even overcooked noodles, which these are not. They're just dry enough to sop up jerk sauce without losing their own sovereignty.
And Ting! How could I have lived this long without it: a fizzy drink like a grapefruit Orangina, carrying the real citrusy flavor and pulp that makes it more substantial than lemon-lime sodas.
Dollie grew up loving Jamaican food. "My grandfather was a chef who traveled between England and the States, bringing Jamaican food to these new audiences. In 1946, the New York Times did a write up about him. A Black man! In 1946!" she said.
While Janet is Dollie's mom's name, the eponymous Ray is her husband's grandfather. "My husband is a huge Arsenal fan, and he wanted to make a den here in Tucson," Dollie said.
Her husband played a role helping her get institutional support for Janet & Ray's, such as loans. "I would be having a great conversation over email with a banker or contractor, and then when we met in person, they'd see I was Black and change their minds," she said. "You run into so much opposition as a Black business owner. If it wasn't for my husband being a white British man, it would have been difficult to open."
Two days after finding a great contractor (Beau), and putting in their down payment, Dollie's husband was diagnosed with cancer. "He started chemo on his birthday, February 8th," Dollie said. "It's been a lot, trying to juggle all this. This is probably one of the most stressful things I have ever had to deal with."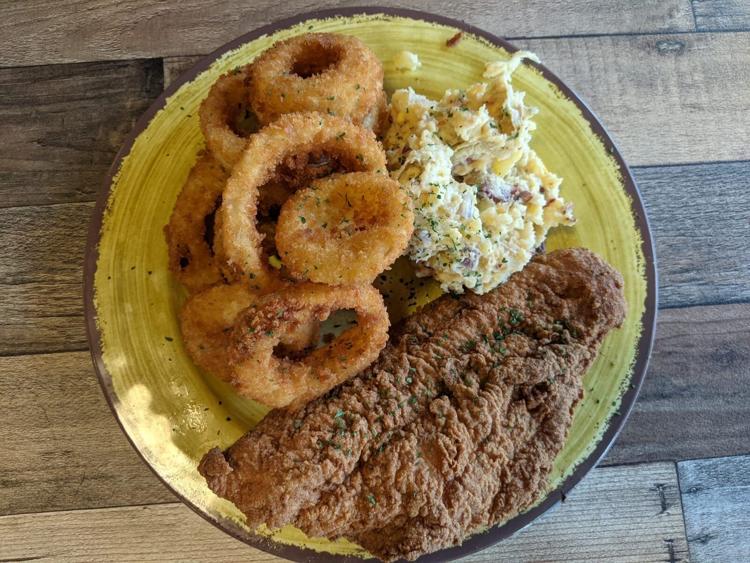 "We're doing OK," Dollie said. "I can't say we're not doing OK, but there's always room for advancement. I think we're giving out a good product, people feel comfortable when they come in, when anyone comes in they feel wanted and happy.
"But in terms of, what's the best time to open? Am I putting too much stress on my workers? Are my workers OK? When you're running a business, you're running so many people and the last person you're thinking of is yourself."
"But didn't you say you had to take this interview before your second job?" I asked. "How do you balance that? Who takes care of you?"
"My other job is a hairstylist. I don't do either job for money. It's my hobbies that I love to do," she said. "I got my hair license in high school, before I went to college. Hair makes me happy, that's my happy place. I can watch whatever I want to watch. I don't have to hear my kids talking and my husband talking. It's my oasis."
"I just love people," she said.
Janet & Ray's is located at 5443 E. 22nd St. Their most current hours and menu can be found on their Facebook page. As of writing, their hours are Tuesday-Thursday, 10:30 a.m. to 3 p.m. | Friday-Saturday, 12-7 p.m. | Sunday, 12-6 p.m.