As metro Tucson spreads into the foothills and valleys north of the city center, it has taken restaurants some time to catch up to the population trend. On social media, I most often see requests for food recommendations on the edges of the Tucson metro: east of Houghton, south to Sahuarita and north to Marana.
Chain restaurants are easy to find across the board. What's harder to find, and the point of this article, is to share locally-owned eateries and options you can't find anywhere else in Tucson. The geographical boundaries of this roundup are north of River Road and on or west of Oracle Road. 
If you live in the communities in northwest Tucson and beyond, where are your go-to local eateries? What do you wish you had more of? Let me know at elueders@tucson.com.
Oracle and Catalina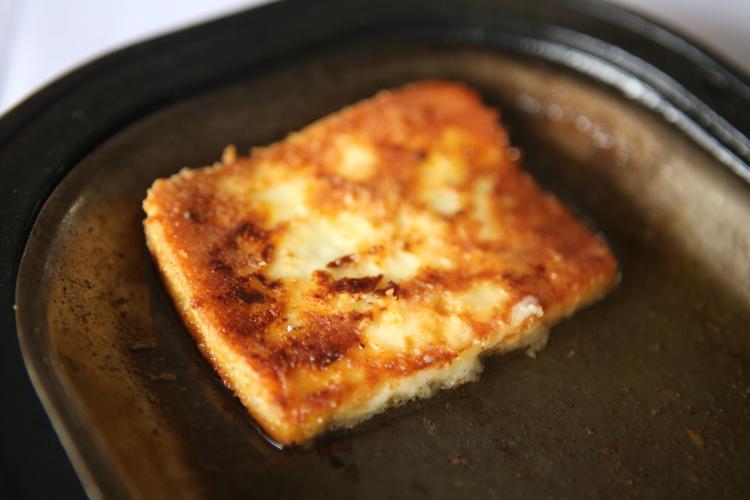 It's Greek to Me
If you live in midtown, you know the rotation: Opa's Best, Zayna's, Shish Kebab House … but if you live in Catalina, you can find stellar Greek food in your backyard. The menu shines toward seafood and imported wines.
Licks Ice Cream & Coffee
This homemade ice cream shop stands out not only with its inventive flavors, but a swirl machine that combines goodies from Cap'n Crunch to Famous Amos and their in-house hard-scoop into soft-serve ice cream or milkshakes.
Peppersauce Kitchen
The restaurant attached to Arizona Zipline Adventures is a destination in and of itself. Replete with stained glass and rustic charm, this burger joint also offers pizza, BYOB and a weekly special.
Claire's Cafe and Gallery
Claire's has long been featured in our roundup of local Jewish food. Claire's cheese blintzes, bagels, lox platters and crispy latkes left an impression on our former food writer Andi Berlin.
Orehouse Hilltop Tavern
When we released an article about an Oracle road trip last summer, locals protested that Orehouse wasn't in our roundup. With 16 beers on tap and an indulgent selection of burgers and fried baskets, it makes sense that this wild western spot would be a local hangout.
Oro Valley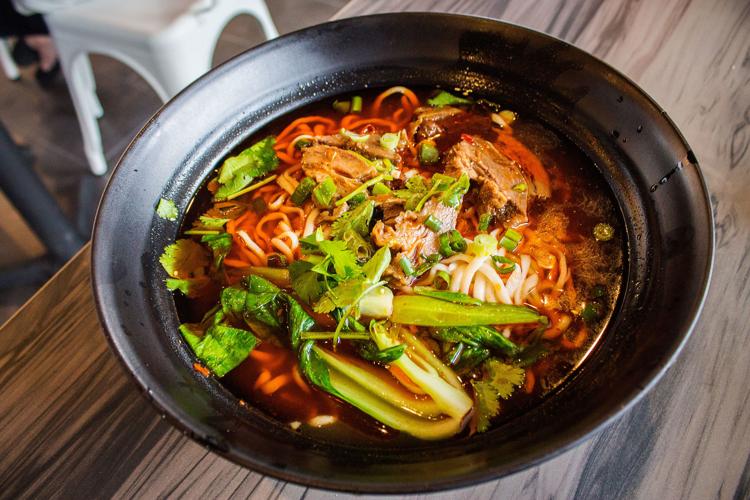 Noodleholics
Savvy restaurateurs from midtown expanded to Oro Valley with their second location. The OV has recently gained beloved Chinese noodle shop Noodleholics, as well as other cult classics Tuk Tuk Thai and Seis Kitchen.
Tuk Tuk Thai
Like Noodleholics, Tuk Tuk first rose to prominence in midtown. Its urban menu features the Bangkok street food hoy joh and the regional favorite chicken Khao Soi curry, alongside a menu of universal favorites like drunken noodles and pad thai.
Just Kabab
This no-frills kebab shop specializes in grilled meat skewer platters, though you can find other Persian specialties like gheyme and kashke-bademjoon on the menu.
Wow Wow Hawaiian Lemonade
Though this lemonade and smoothie chain started in Maui, the locally-owned franchise of the operation offers options beyond the typical: blue spirulina or pitaya smoothie bowls, color-changing butterfly pea flower lemonade and imported Kona coffee.
Seis Kitchen
This buzzy Mexican spot has been written up in a bevy of national publications. The line at its Mercado San Agustin location regularly spills out onto the sidewalk. But locals in Oro Valley get the same special menu with less of the hassle, since they expanded there in 2021.
Fruit Shack Smoothies & Yogurt
Fruit shack offers a unique combination of smoothies, frozen yogurt and baked empanadas.
Oro Valley Farmers Market
Farmers markets can be a hub of amazing informal vendors. The Heirloom Farmers Market at Steam Pump Ranch is no exception. I'm excited to try Duke's Delicious Pizza, which is only available at the Oro Valley market. They also host other favorites found elsewhere like Planet of the Crepes and Monsoon Chocolate.
Bottega Michelangelo
This Italian restaurant distinguishes itself with a generous, daily happy hour, including $4 drink specials and half-off appetizers.
Goyita's
Poco and Mom's isn't the only place you can find New Mexican cuisine in Tucson. Goyita's features hatch green chiles in many of its signature menu items, as well as savory stuffed sopapillas.
El Charro Cafe
El Charro's history is steeped in its original location downtown. But if you're just looking for Chef Carlotta's classic Sonoran food, like their signature carne seca, you can find a satellite of the iconic restaurant in Oro Valley, too.
Saffron Indian Bistro
The upscale sister restaurant to Main Gate Square's beloved Kebabeque Indian Grill, Saffron is an atmospheric fine-dining option for Indian food in north Tucson. You can find favorites like chicken tikka masala, but I tend to order their malai kofta (I don't think you can go wrong with their curries). They have also started offering their beloved buffet again, after a COVID hiatus.
Mama's Famous Pizza & Heroes
This nostalgia-soaked pizza restaurant looks like a classic fern bar out of the '70s or '80s — plants between booths, knockoff Tiffany lamps, an Italianate courtyard indoors. They have beer pitchers, pizzas and calzones.
Village Bakehouse
This brunch favorite inherited the cake recipes (and a server) from the iconic, now-closed, Tucson bakery Ilsa's Konditorei. While you might be tempted to try the pastries from their case, or their breakfast burrito, the best way to experience this bakery is to order one of their cakes for your next special occasion — it's been my go-to birthday cake spot for years. Come early if you want a spot on their patio during a weekend when snowbirds are in town.
Marana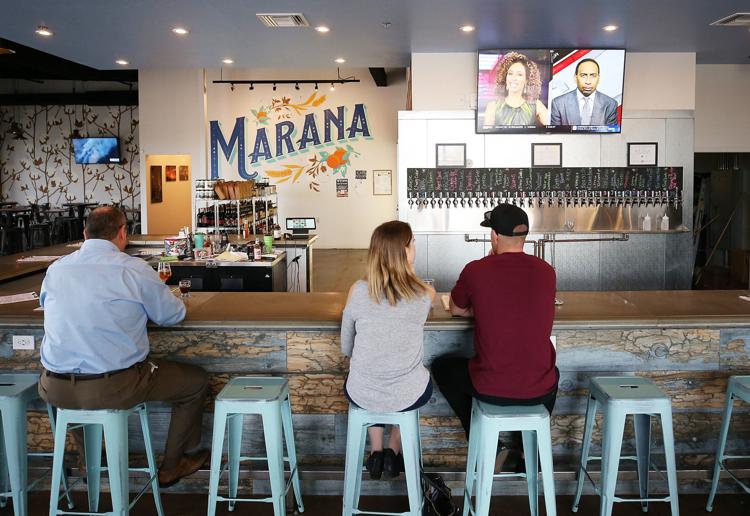 Casa Marana
Casa Video's sister brew house and bar distinguishes itself from similar spots in town with a Neapolitan pizza oven and quirky events.
Button Brew House
If you're ever looking for Tucson's best German food, you'll find it at Haus of Brats, a food truck that regularly pops up at Button Brew House. Their roundup also includes other buzzy food trucks like Under Pressure Grill, Fat Noodle and Muncheez.
Catalina Brewing Co.
Next door to Button Brew House, Catalina Brewing Co. distinguishes itself by connecting with the cycling community, and hosting active events like sip n' stretch Sunday yoga, Tipsy Picassos painting workshops and cycling events.
Lucky's Boba Tea
Buried deep in the Continental Ranch development, Lucky's Boba Tea feels like a suburban oasis. Its vast selection of milk teas, slushes, snows, popping and crystal boba, jellies and more rivals much more centrally-located boba shops.
Li'l Abner's Steakhouse
This old-west-style steakhouse has operated in Tucson since 1947. A time capsule from when Tucson was really a cowtown, you'll readily find country western atmosphere, strong cocktails and large servings of beef.
Mona's Frybread
This informal pop-up issues rave-worthy sweet and savory frybread. You can order it a variety of ways, from loaded with red chile beef to plain with powdered sugar.
Ritz-Carlton Dove Mountain restaurants
The Ritz-Carlton resort at Dove Mountain has a selection of restaurants: their flagship Core Kitchen and Wine Bar was one of my parents' go-tos for the most special occasions, but even less formal restaurants like the poolside Turquesa or golf club Cayton's Restaurant will feel worthy of celebration, with fine eats and even finer views.
Vero Amore 
Vero Amore is one of the few pizza restaurants in Tucson certified with the Associazione Verace Pizza Napoletana — the mark of authenticity certified by the original pizza makers of Naples, Italy.
Froyo Fresh
This frozen yogurt shop also does rolled ice cream. Fun!
Sushi Cortaro
This Japanese restaurant is mostly centered around its sushi menu — which offers half-price specials at lunchtime — but you can also find more obscure appetizers like hamachi kama (broiled yellowtail collar) as well as a limited selection of ramen, udon and yakisoba.
North Tucson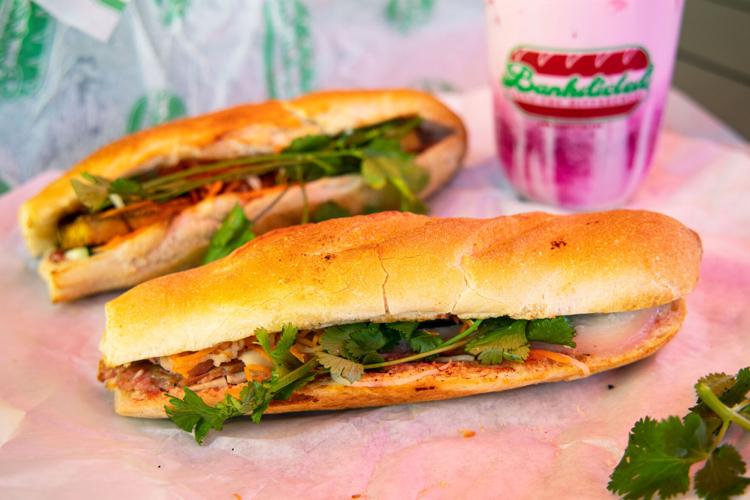 Banhdicted
Though you can now find Banhdicted at their food truck in Comida Park at the Tanque Verde Swap Meet, for a long time the only place to get their buzzy bánh mìs was at their flagship store, by Lee Lee's on Orange Grove. These sandwiches spin off of the traditional, including a pho-style sandwich with dipping jus and a breakfast bánh mì.
The Parish
This colorful, New Orleans-inspired restaurant, headed by chef Travis Peters, is a longtime neighborhood favorite. Their bestseller is the Drunken Angel, a creamy seafood pasta made with burgundy angel hair, but it's also one of very few places in town where you can get frog's legs.
CharroVida
El Charro's health-conscious spinoff offers classic Mexican dishes with an often plant-based twist. Their menu is literally centered around grain or salad bowls, but their trademark Hola Hemp tamales are also popular.
Frost Gelato
Tucson's popular gelato chain might have expanded as far as Kuwait, but it started here. One of its three original Tucson locations is in the same Casas Adobes Plaza as CharroVida, Wildflower and Teaspoon. They offer a rotating menu of special flavors, but I always regret not getting my favorite — coconut.
Teaspoon
This cute brunch spot has a fun menu, teasing the norm with special options like a croque madame or Dutch baby, and imminently Instagram-friendly Hong-Kong-style bubble waffles.
Sushi on Oracle
The combination of sushi chef Tommy Begay and owner Yoshinobu Shinatori make Sushi on Oracle a destination for eaters across town.
Tacos del Rancho
Though you can find amazing Sonoran food across town, Tacos del Rancho is one of the few options you can find north of River Road. Find classics like caramelos, carne asada, toritos and more on their traditional menu.
China Phoenix
China Phoenix is the only restaurant in town that offers a full service, trays-and-all dim sum banquet — though only on weekends. During the week, they offer a wide menu with crowd-pleasing favorites like orange chicken and mapo tofu.
Wildflower
You might be familiar with a Sam Fox restaurant concept: Blanco, Culinary Dropout, Zinburger. But it all started at Wildflower, an upscale American restaurant in Casas Adobes.
Tohono Chul Bistro
If you're looking for brunch in a gorgeous desert setting, Tohono Chul's bistro is one of the first recommendations you're going to receive. The restaurant's patio is set amid their botanical gardens. Their prickly pear margaritas are a favorite of many readers.
Persian Room
While you can get great Persian takeout at Food2Door, and Just Kabab has suitable takeout options, Tucson's only upscale Persian restaurant is Persian Room. You can get a range of shish kebabs as well as classic stews like ghormeh sabzi and gheymeh bademjan. The banquet-hall style venue is great for large gatherings, too.
Com Tam Thuan Kieu
This casual Vietnamese restaurant is found inside Lee Lee's International Supermarket (as close as we get in Tucson to an H Mart). It's on my short list of restaurants to try. The spot is named after com tam (broken rice), a dish where a variety of meats surround a serving of fragmented grains of rice — cheaper for the breaking, but no less delicious.
Pappoule's
I will drive all the way across town to Foothills Mall to get some avgolemono soup from Pappoule's and to loiter around Barnes and Noble. It's a perfect way to spend an afternoon, highlighted on my original budget eats roundup.
Monsoons Tap & Grill
This pub has a patio that readers suggested as one of the best places to watch monsoon storms. Other than the views, this bar has a well-liked, standard grill menu and a wide selection of beers on tap.
Ikkyu
This Japanese restaurant is more than its sushi: ramen and rice bowls figure high in what reviewers recommend at this hole-in-the-wall off of Orange Grove.
Grumpy's Grill
If you're part of the Take-Out In Tucson Facebook group, you've heard of Grumpy's. One of the organizers of the page, Rebecca Hartley, had incredible service here and talks it up at every opportunity. When I asked the group about their favorite servers in Tucson, Rebecca said they were here!
Serial Grillers
Serial Grillers is the success story every food truck hopes for: a massive following, enough to create a cult-classic chain of local restaurants, expanding into Detroit-style pizza and tacos, too. My order is always, always, the Suspect Zero V2 chicken cheesesteak with a side of fries — I like it too much to order any of their burgers, salads or pizzas.
Caps & Corks
If you have a favorite food truck, chances are they stop by Caps & Corks at some point. Local pizza kitchen Penelope Wood Fired Pizza gained a large following when they were a pizza truck, formerly known as Over The Counter, that often stationed at Caps & Corks. While they've since left for permanent digs at Cartel Coffee, you can still find favorite trucks and pop-ups like Muncheez, Family Joint Pizzeria and Fatboy Sandos, who all come here regularly.
Chef Alisah's
This Bosnian restaurant was featured on Diners, Drive Ins and Dives with Guy Fieri. He recommends their house-made sausages called cevapi.