Just as wildflowers are passing their colorful peak, another desert superstar — the palo verde tree — is coming into brilliant bloom.
The tree's abundant yellow flowers provide a sort of spring finale before the heat of summer.
The palo verde — with a name that means "green stick" in Spanish — is Arizona's official state tree and is revered for its beauty, especially during the spring blooming season.
But that beauty comes with a bite for people who are allergic to the tree's pollen. Symptoms can include itchy eyes, sneezing, nasal drip and congestion.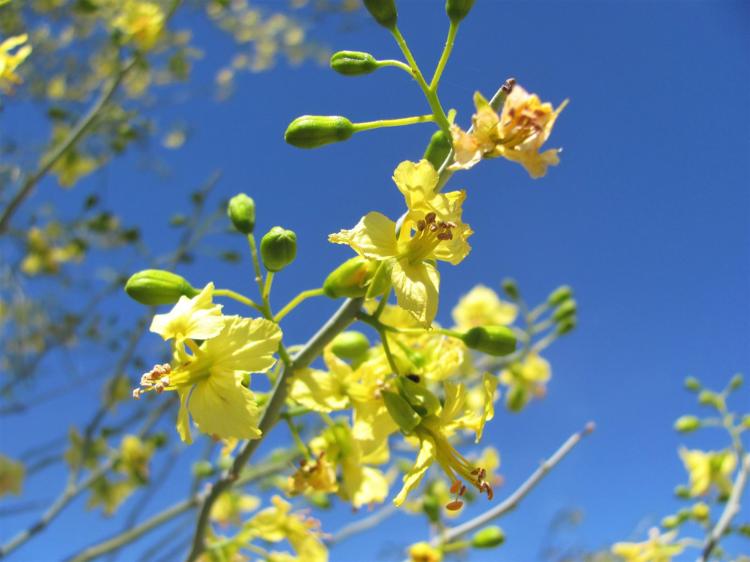 ABOUT THE BLOOMS
Two species — the foothills palo verde and blue palo verde — often account for much of the color show.
As you might have noticed, some of the trees are in brilliant bloom this week while others are showing few or no flowers so far.
Botanists note that palo verde trees in different parts of the Tucson area bloom at different times in the spring depending on rainfall, temperature and other factors.
For example, those on south slopes and in warmer spots will usually bloom sooner. And altitude can also play a role. At higher locations, temperatures can be lower — resulting in a later bloom.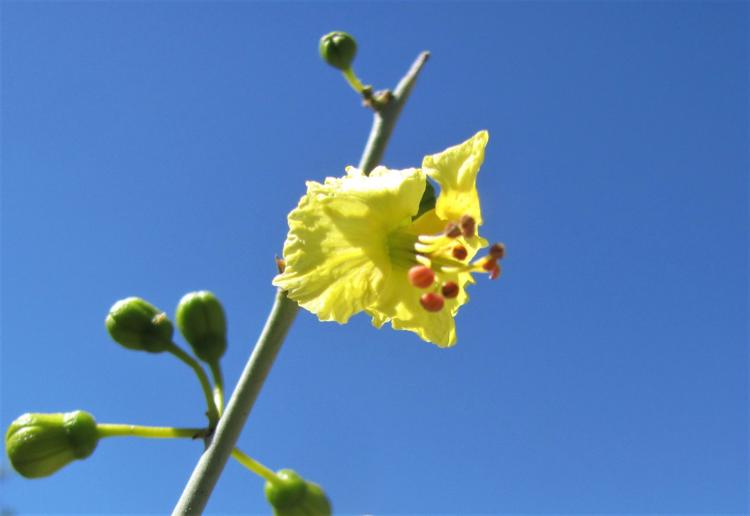 FASCINATING FACTS
A website called DesertUSA.com offers a wealth of information about desert plants.
An entry about the palo verde describes the tree's blooming behavior but also includes other fascinating facts.
Among them:
The trees can photosynthesize through their green bark, an important adaptation for a tree that drops its leaves during the warm season and in response to fall cooling.
Palo verdes also drop stems and branches to combat drought.
Palo verdes serve as nurse plants for saguaro cacti by providing a canopy — in effect, a microhabitat — which offers warmth in winter and shade in summer.
The slower-growing, longer-lived cactus will eventually replace its one-time protector.
Bighorn sheep, mule deer, feral burros and jackrabbits, as well as other small mammals, browse palo verdes.
Numerous birds forage, perch and/or nest in the abundant branches.
18 photos guaranteed to make you sneeze:
18 photos of palo verde trees guaranteed to make you sneeze
Palo verde trees
Updated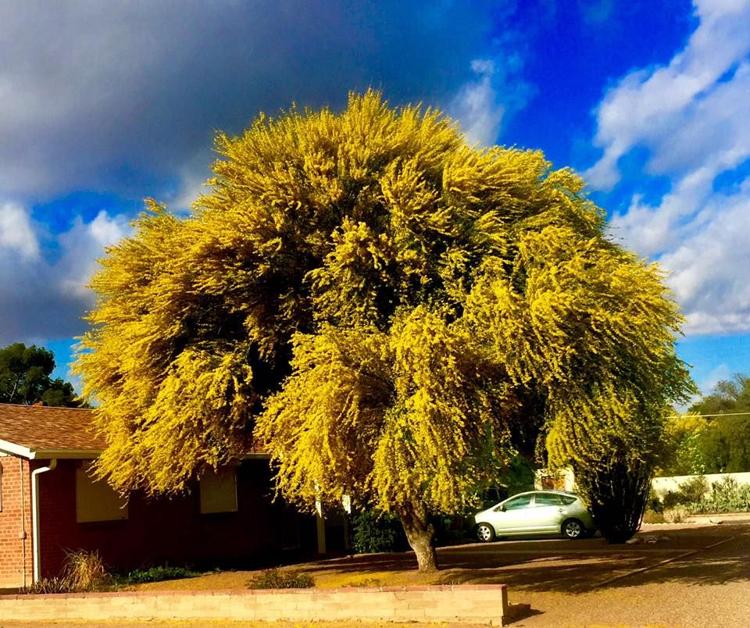 Palo verde trees
Updated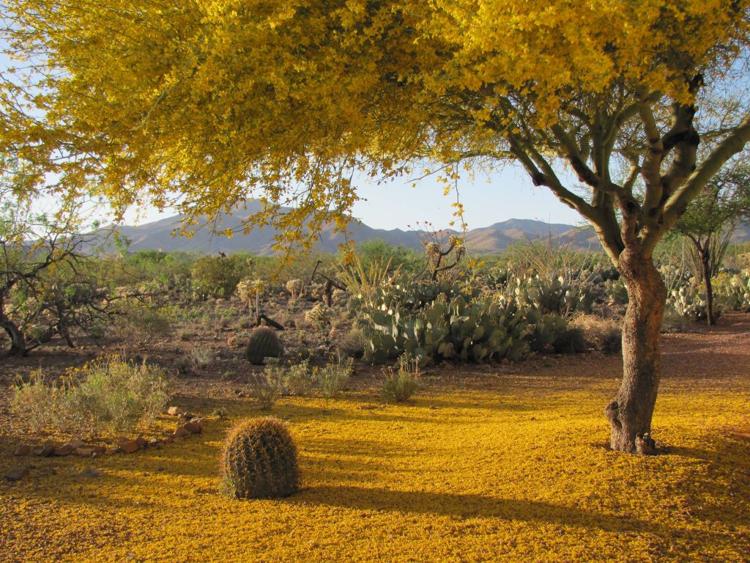 Palo verde trees
Updated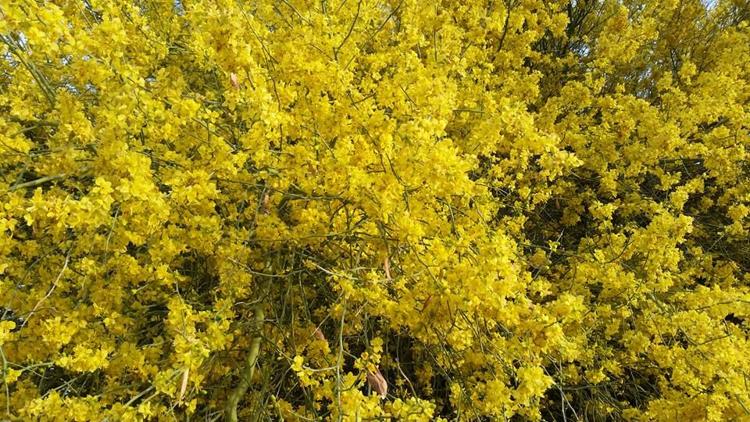 Palo verde trees
Updated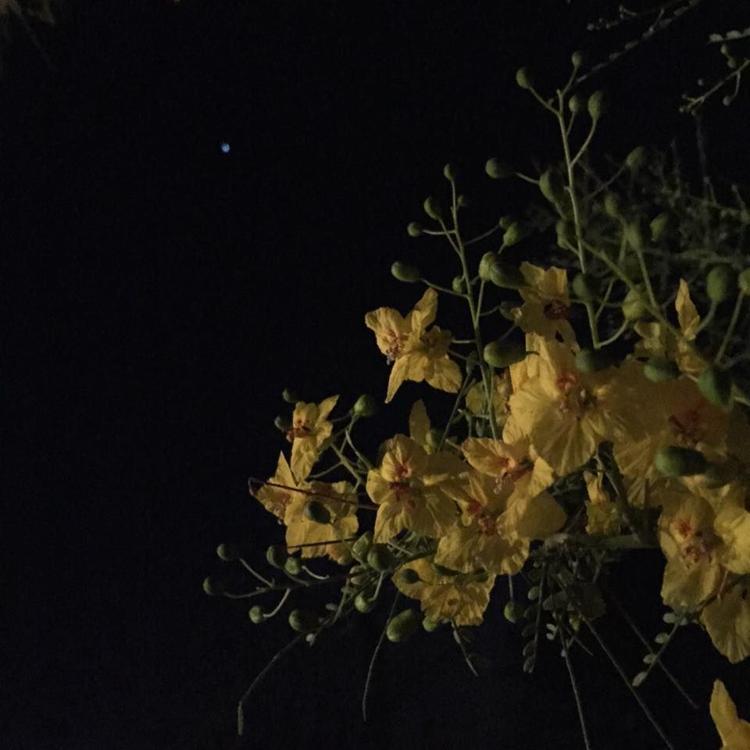 Palo verde trees
Updated
Palo verde trees
Updated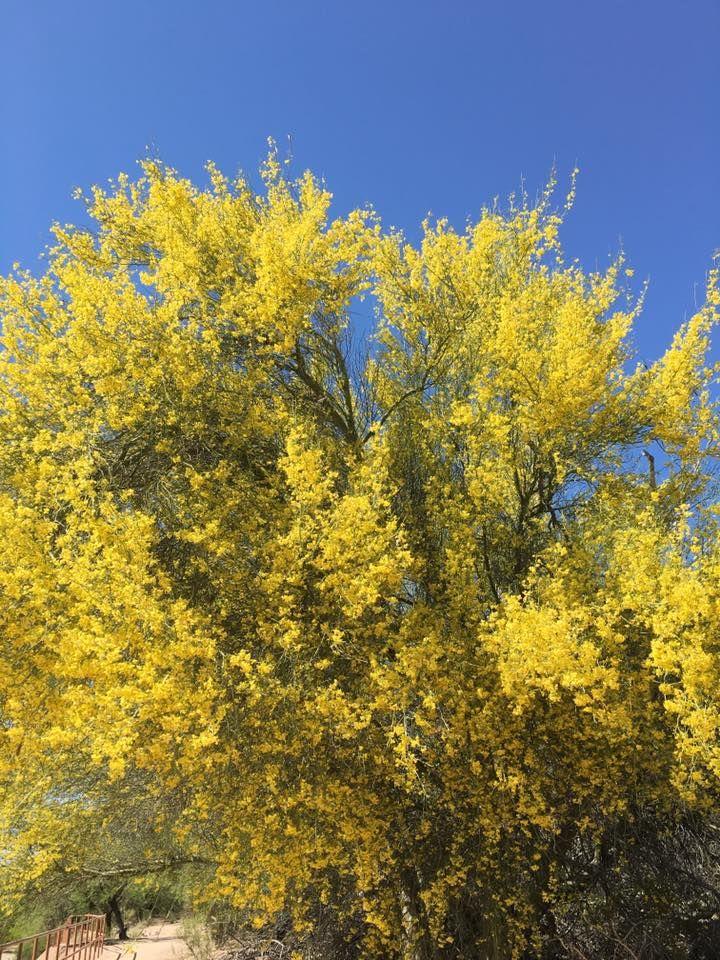 Palo verde trees
Updated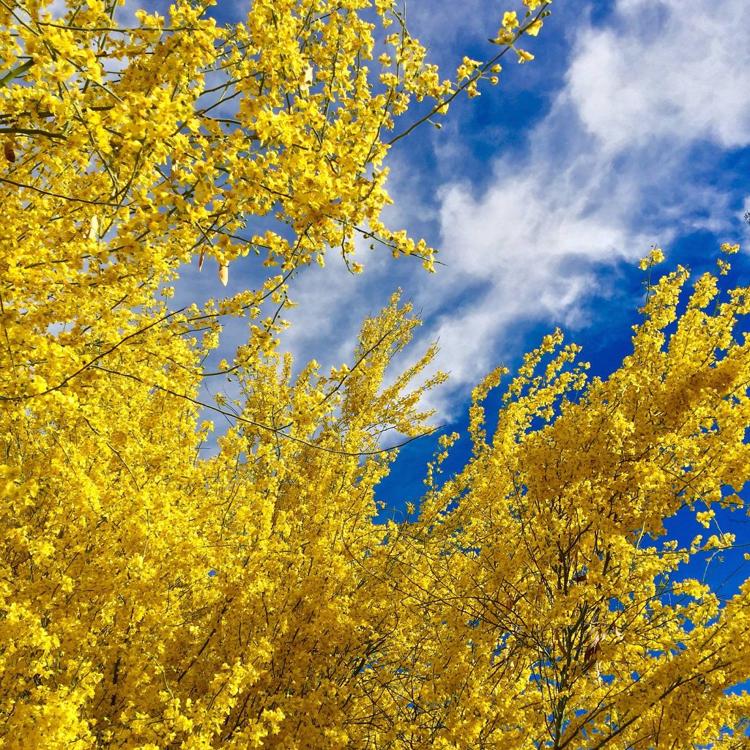 Palo verde trees
Updated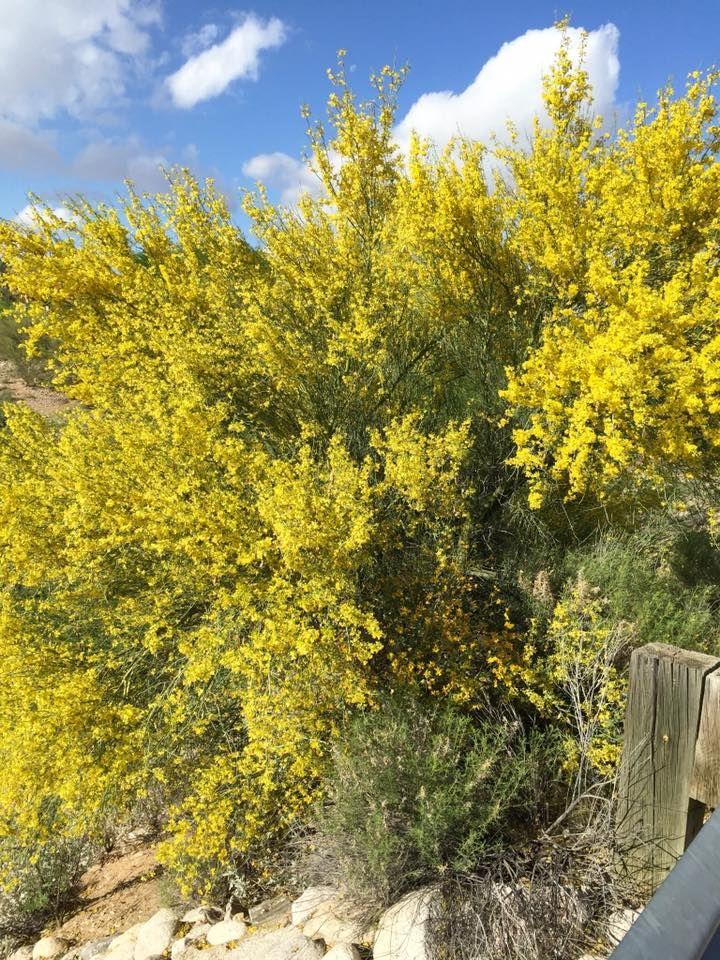 Palo verde trees
Updated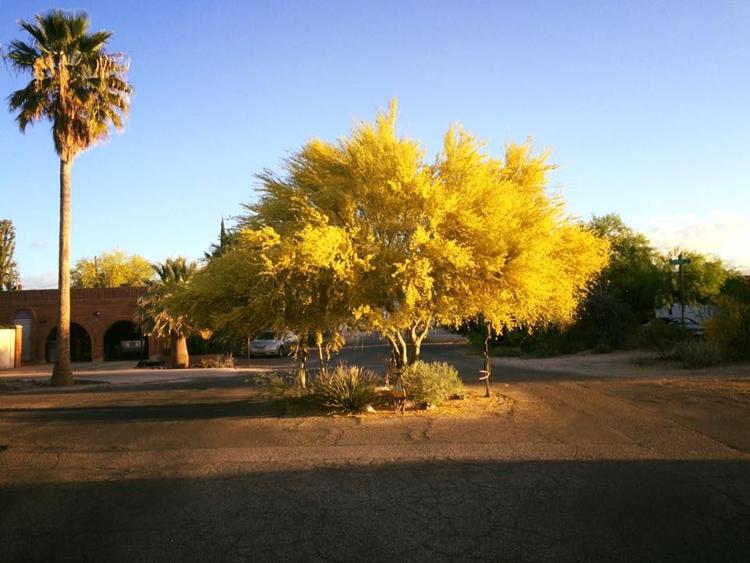 Palo verde trees
Updated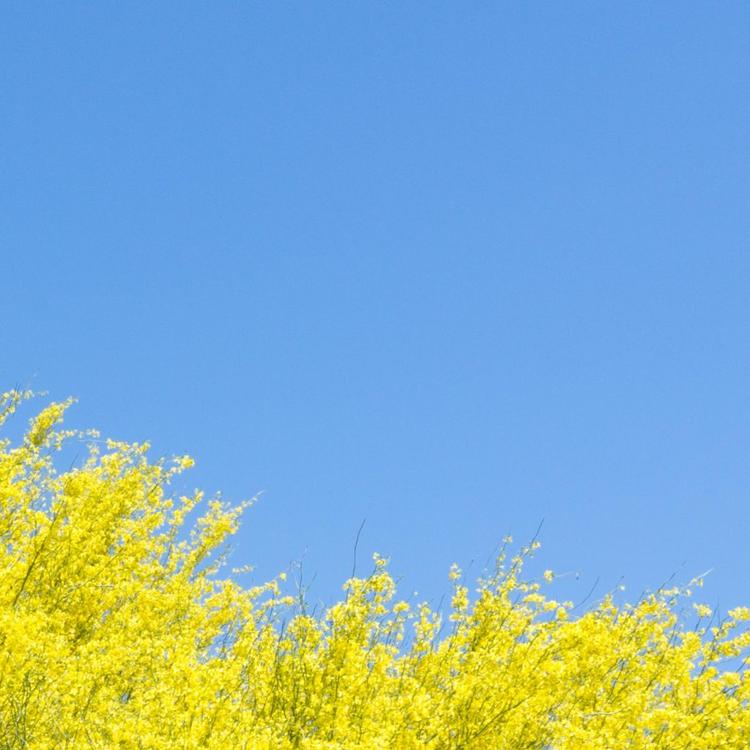 Palo verde trees
Updated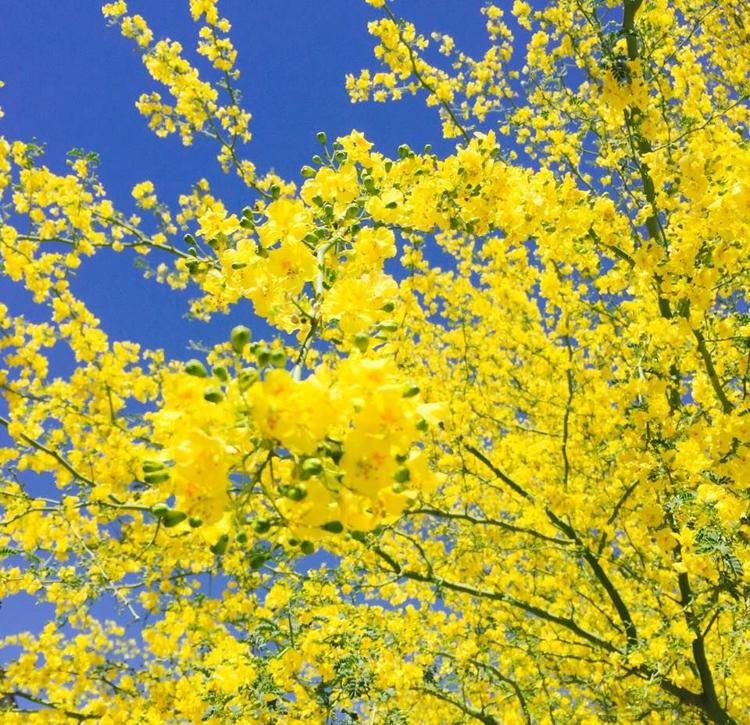 Palo verde trees
Updated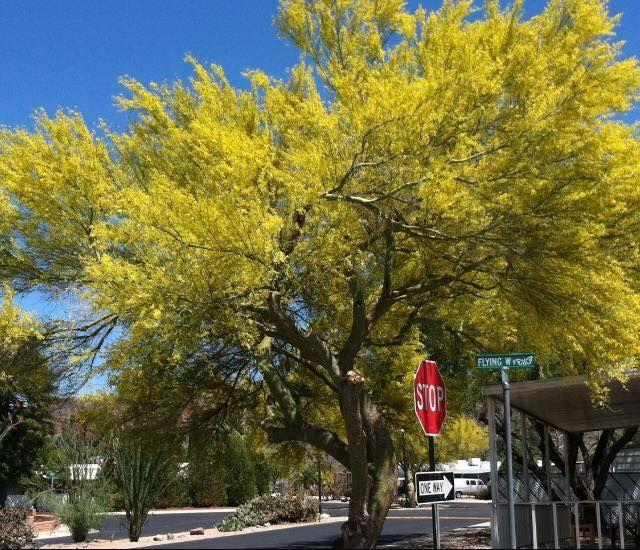 Palo verde trees
Updated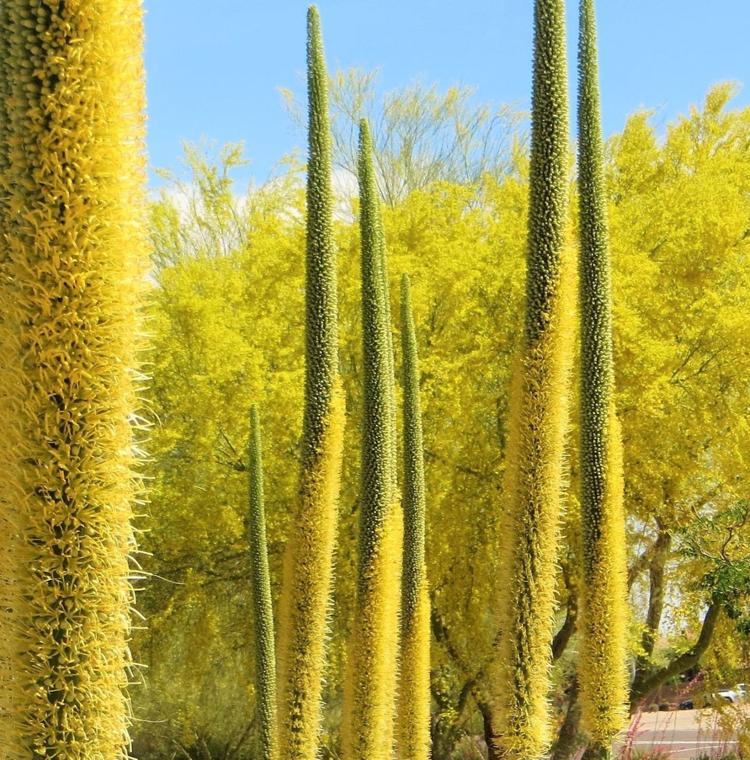 Palo verde trees
Updated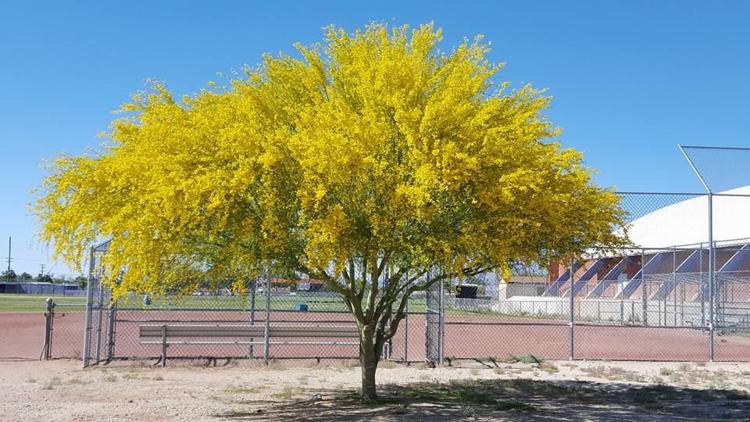 Palo verde trees
Updated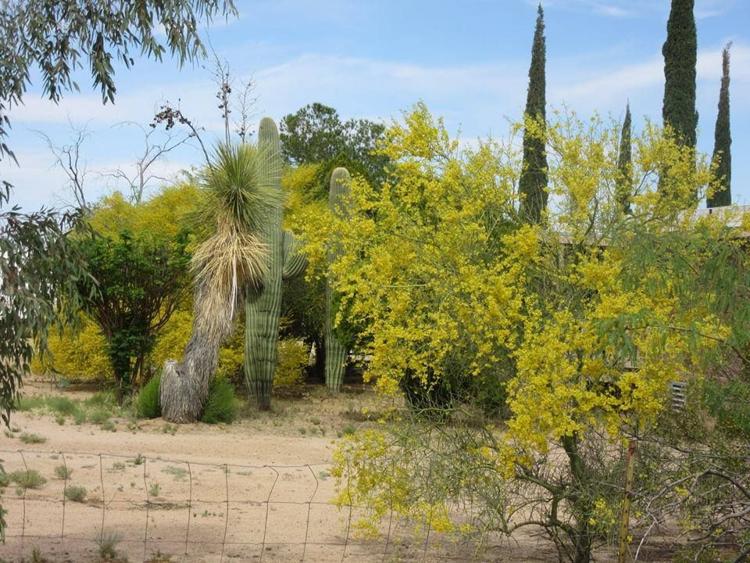 Palo verde trees
Updated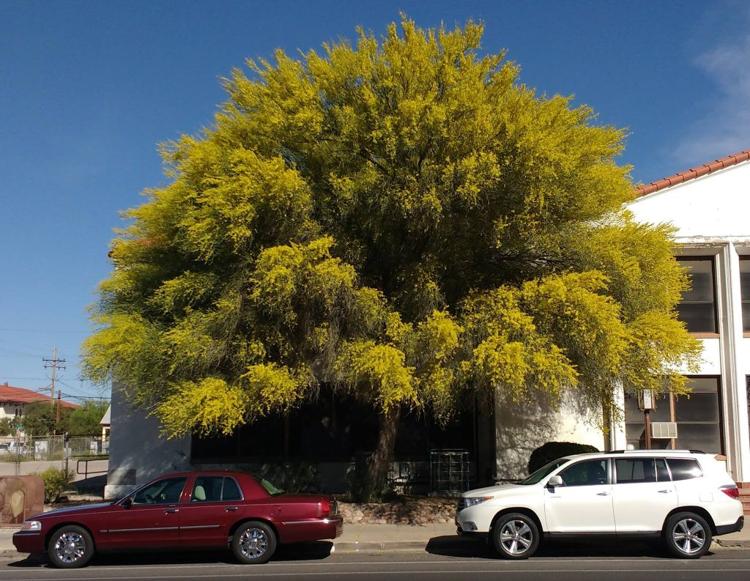 Palo verde trees
Updated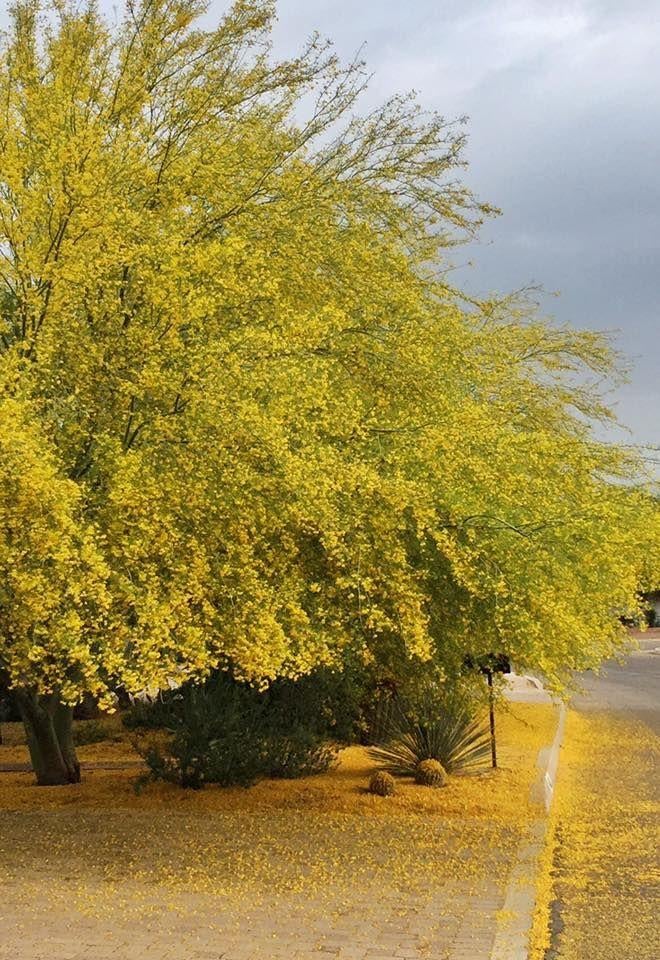 Palo Verde
Updated
Tim Steller's opinion: Weed trees could be key to Tucson's big planting effort
Updated
A few years ago, a thin, rust-colored trunk grew up in the shade between a lemon tree and a tangerine tree in our backyard.
It took me by surprise when I realized that trunk did not belong to the tangerine or lemon. It was a volunteer, a weed tree, thriving in the occasional gray-water flow from our kitchen that sates the citrus.
I decided to let it grow and see what it became. It hardly branched or leafed out at all until it rose above the 10-foot height of the citrus trees, but now it tops off around 20 feet, awkward and bending, with large brown seed pods. Apparently it is a mimosa, a tree that has been invading my neighborhood.
Now it's one of four weed trees that I've allowed to grow in our medium-sized backyard, plus a fifth one just outside the back wall in the alley.
I didn't know I was following a philosophy until I read a novel called "The Overstory" by Richard Powers. In it, a character who owns 1ƒ acres in the Midwest reads this in a book: "The best and easiest way to get a forest to return to any plot of cleared land is to do nothing — nothing at all, and do it for less time than you might think."
Most of Tucson is not naturally a woods, so the application of the idea isn't perfect here. But Tucson has plenty of native and nonnative trees that want to grow. You see them everywhere, probably without noticing. They are natives like the blue palo verdes, mesquites of various species, ironwoods and desert willows, as well as nonnatives like the notorious African sumac, tamarisk and my friend the mimosa.
This philosophy of "doing nothing" to help trees thrive might be helpful in one of the signature initiatives of Mayor Regina Romero. She proposed, during the campaign last year, planting one million trees by 2030 in Tucson.
The idea is to bring shade, especially to Tucson's poorer, more sun-blasted areas, as well as to limit the heat island effect, and to play a tiny part in absorbing our atmosphere's excess carbon dioxide.
It is an ambitious idea that comes with obvious risks. Planting a million trees in 10 years means planting an average of 274 per day. That could be hard to do without many of them dying, even if they are native and drought tolerant.
To guide the effort, the city is hiring an urban forestry program manager. Applications closed Aug. 20, and 31 people applied, with eight making the cut to be interviewed.
While the manager of the program hasn't been hired yet, the city has drawn out the contours of the program in a document titled "Tucson Million Trees." They have taken volunteer trees into consideration.
"In addition to nurturing trees that are growing naturally in our community, native, and drought-resilient trees will be planted, and passive stormwater harvesting infrastructure will be considered to capture, retain, and filter stormwater to irrigate and sustain desert shade trees," it says.
As laid out so far, the plan would actually involve planting about 810,000 trees and "facilitating natural regeneration" of about 190,000. That brings the plantings of trees like per day down to 222 — still a lot blue palo verdes, velvet mesquites, ironwoods, desert willows and other heat-tolerant natives.
The "facilitating natural regeneration," I'm increasingly convinced, is key to achieving the million-tree goal, or anything close to it. Follow the do-nothing philosophy, or the more wordy philosophy of: "Do just a little bit to ensure that the trees that want to grow, do grow."
In my backyard, there is an old African sumac that has died back and regrown at least once before. I'm keeping the main trunk, though it is a highly invasive, nonnative tree, but I'm cutting back the sprouts it puts up in my yard and the adjacent alley.
There's a Mexican palo verde that grew on its own under some utility wires in the corner of my yard. I've pruned it back quite a bit, but left it standing in part because I can tie a sun-shade to it. The mimosa is serving as a tie-up in the opposite direction.
Finally, at the base of a downspout, I have my favorite pair of weed trees: A spindly acacia with big thorns (species unclear to me) on my property, and a hybrid mesquite just the other side of the back wall in the alley.
I haven't done anything with the acacia, though I may tie it up to the downspout to keep it from poking people. I have pruned the mesquite to keep its branches out of the driving path and tied it to a stake to get it to stand straighter.
That's the benefit of nurturing weed trees — you shouldn't have to do much, if anything, for them. Watering when it doesn't rain for a while will help them grow, Katie Gannon, director of Tucson Clean and Beautiful, told me. Planted trees will need more careful planting and watering, especially for the first 18 months.
Once established, with a decent canopy, these native trees do a good job of watering themselves, by catching rain in their leaves and through their broad system of roots. Watering them too much leads to shallow roots.
"If you want trees to grow, water them," Gannon said. "Just be as strategic as possible."
Now, not every weed tree is going to be a keeper. I asked Bill Harlow, owner of Harlow Gardens, what he thought about caring for volunteer trees to help reforest Tucson. As he drove around over a week, he saw trees mostly near curbs and in washes, where the more vigorous volunteers stood.
"In so many cases these volunteer trees may be growing in an inappropriate place," he said. "The one growing at the curb, if it's allowed to grow up, wouldn't be an ideal spot."
But if neighborhood residents were to keep an eye out for trees in good spots, maybe put some rocks around them and water them if it's a really hot, dry period, that could help invigorate our urban forest. And it offsets the risks of planting hundreds of trees per day.