Editor's note: This story was originally published in 2021 and updated in 2023.
---
Anything cooler than Tucson's triple-digit temperatures sounds like a dream. 
Lucky for us, Mount Lemmon is just a drive away and is generally about 20 degrees cooler than the fiery summer temperatures in Tucson.
Of course, there are more reasons to visit Mount Lemmon than the nicer weather, though it's definitely a perk.
Jenni Zimmerman is involved in the mountain in more ways than one — she's an associate broker for Mt. Lemmon Realty, her family owns the Sawmill Run Restaurant and she's the president of the Mount Lemmon Business Economic Association. She says there's something for everyone in Mount Lemmon, whether it's hiking, fishing, climbing, cycling or simply walking around and supporting the local businesses. 
Before we get into things to do on the mountain, Zimmerman gave some tips and suggestions:
Wear sunscreen
Bring lots of water 
Pick up your trash and dog poop — don't leave it for others to find
If a hiking trail is closed, don't ignore the closure signs
1. Eat a mountain of ice cream (and other yummy foods)
Mount Lemmon is home to a handful of restaurants including the Mt. Lemmon Cookie Cabin, Sawmill Run Restaurant and Iron Door. 
The Cookie Cabin, known for its cookies and ice cream, was originally named Mount Lemmon Cabins & Cookies. In 2003, the restaurant went up in flames during the devastating Aspen Fire. The business was later rebuilt into what it is now. 
Sawmill also has history on the mountain, as it got its name from the Mount Lemmon Sawmill Co. & Restaurant (and is owned by the same family who ran the inn), which was destroyed by a fire in 1977. The current Sawmill Run Restaurant has a menu of burgers, sandwiches and appetizers like poutine.
Iron Door has been around since at least the late 1970s and serves up chili, soups, sandwiches and "mountain specials" such as green chile quiche and a bratwurst plate.
2. Shop knickknacks, souvenirs and art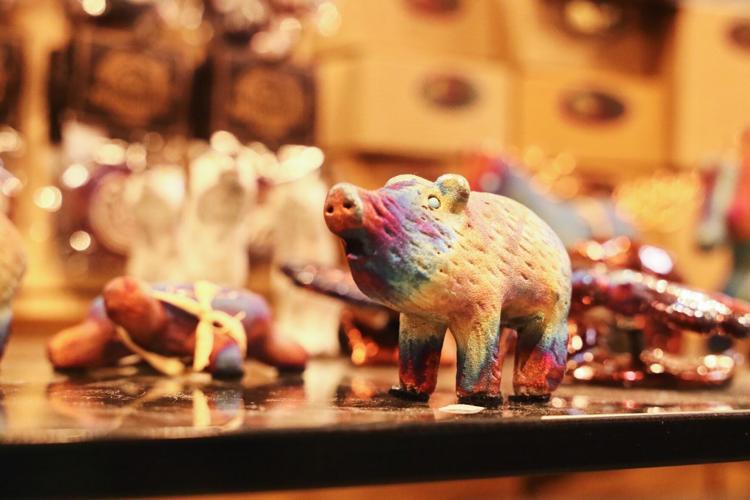 Since it's one of few stores in the area, you can imagine that the Mt. Lemmon General Store is packed with all the necessities — and the cutest knickknacks.
From souvenirs and T-shirts with "Mt. Lemmon" sprawled across them, the store also sells snacks, canned food, camping supplies and tools (and homemade fudge, but more on that later). 
Though the area has been home to some kind of store since the 1940s, the current store held its grand opening in 2000. 
Also in Summerhaven (the town near the top of the mountain) is the Living Rainbow Gift Shop, which is home to gift items such as wind chimes and coffee mugs. And in Ski Valley, there's The Motherlode Gift Shop, which feels a lot like a cozy gift shop you land in after getting off of a ride in Disneyland.
There's also Sky Island Trading Company, which sells clothing that's designed in-house, hand-poured candles, plus other local goodies.
3. Enjoy a bird's-eye view from a ski lift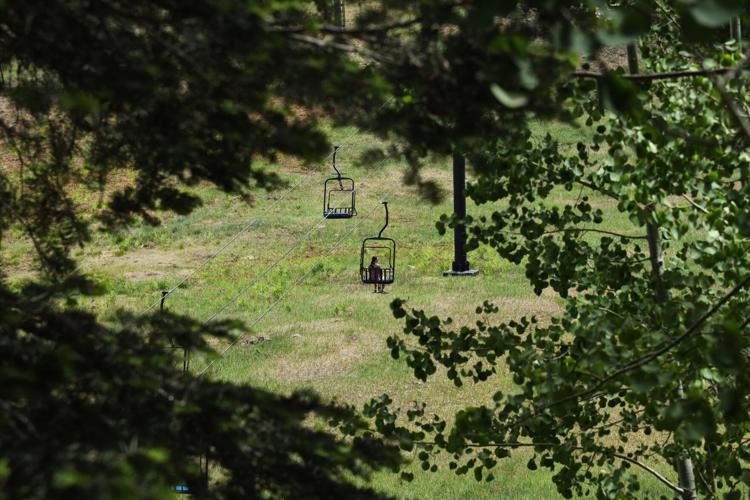 After you take a walk through The Motherlode Gift Shop, make sure to pick up tickets for the ski lift — which you can hop on even when it's not ski season.
The Sky Ride will give you the best 30-minute bird's-eye view of the bright green grass and fluffy trees.
"The chair lift is always super cool if you've never done it before and aren't afraid of heights," Zimmerman says.
4. Hike through the tall trees and cooler temperatures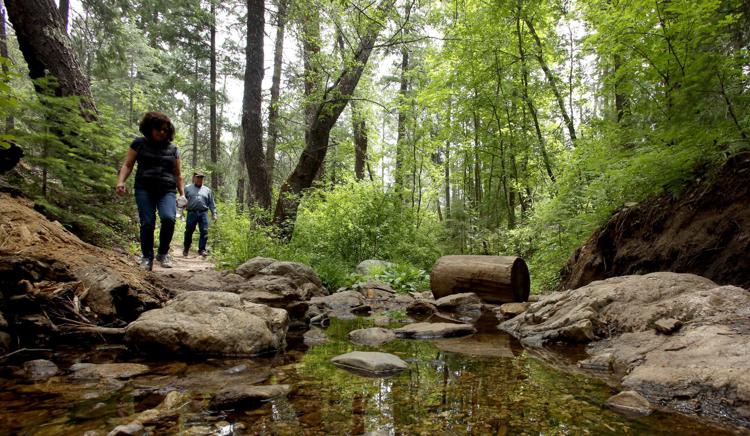 There are more than 1,000 miles of trails in Coronado National Forest for hikers, equestrians and cyclists. Zimmerman likes the Meadow Trail.
But if you stumble upon any trails that are closed, don't ignore the signs. The trails are closed for safety reasons and due to potential hazards, so don't risk it.
"The thing is, if you're going to go hiking, be prepared," Zimmerman says. "Don't just take one little bottle of water. Wear your sunscreen. People don't realize that you are higher and you will get sunburnt."  
You can find more information on hiking trails here.
5. Stay at the Mt. Lemmon Hotel (or any other cute cabin)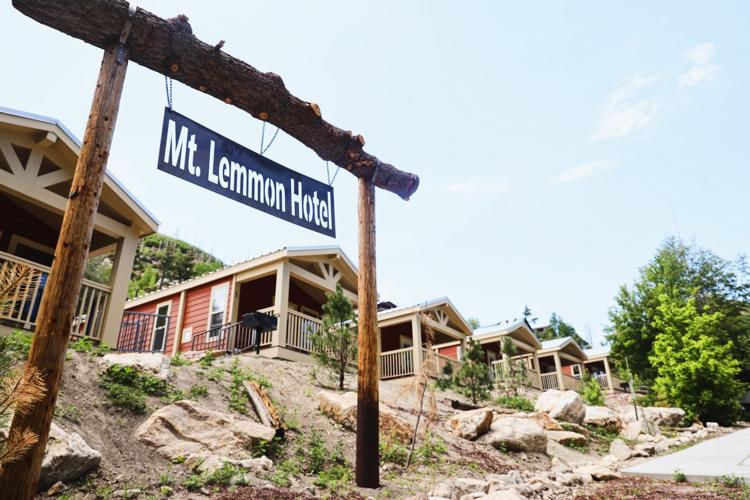 Sometimes you need more than a day in Mount Lemmon.
The Mt. Lemmon Hotel opened in 2021 and has individual cabins, some of which are pet-friendly. 
Soon, another Summerhaven hotel will also emerge — the Mount Lemmon Lodge. The hotel will sport 16 rooms and a Beyond Bread cafe.
Beyond the two hotels, there are lots of cabin rentals. 
6. Look up at the twinkling stars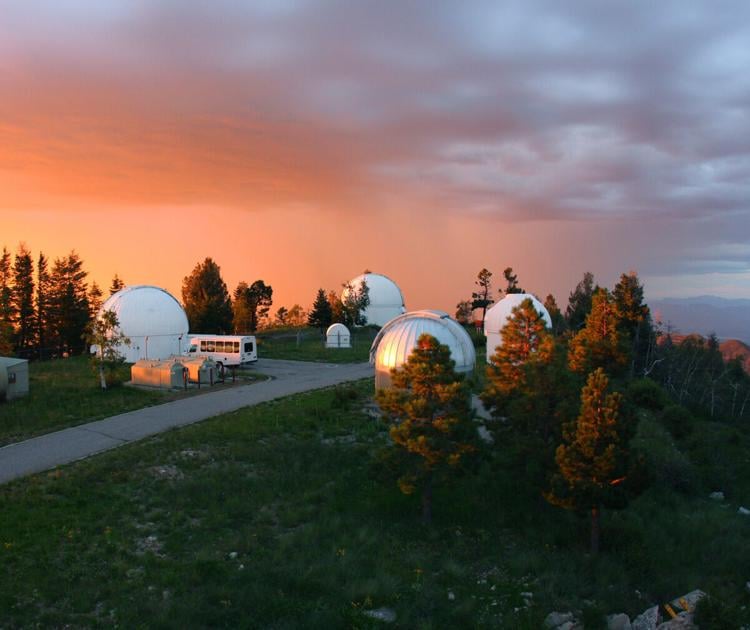 Stargazing is a go at University of Arizona's Mt. Lemmon SkyCenter ✨ The UA's Steward Observatory has had an astronomy facility on Mount Lemmon for more than 50 years.
The center offers a 5-hour SkyNights StarGazing Program that guides visitors through a complete stargazing experience. The program starts with binoculars and ends with views through two large telescopes.
There's limited capacity for the program, so book in advance if you're interested.
7. Try a fun flavor of homemade fudge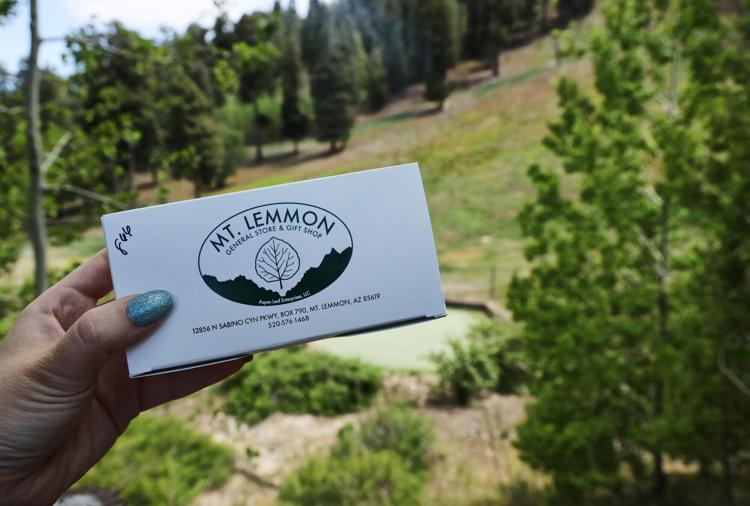 According to the Mt. Lemmon General Store, the very first customer who walked through the doors asked for fudge.
The scratchmade fudge comes in loads of flavors such as butter pecan, cookies and cream, mint chocolate, toffee, raspberry chocolate and pistachio. (You can also get the fudge shipped if you can't make it up to Summerhaven.)
And if the ski lift in Ski Valley makes you hungry, The Miner's Sweet Tooth also sells fudge. The shop has been making its fudge in 10 flavors like M&M and pink lemonade for more than a decade. 
8. Go fishing or picnic by the water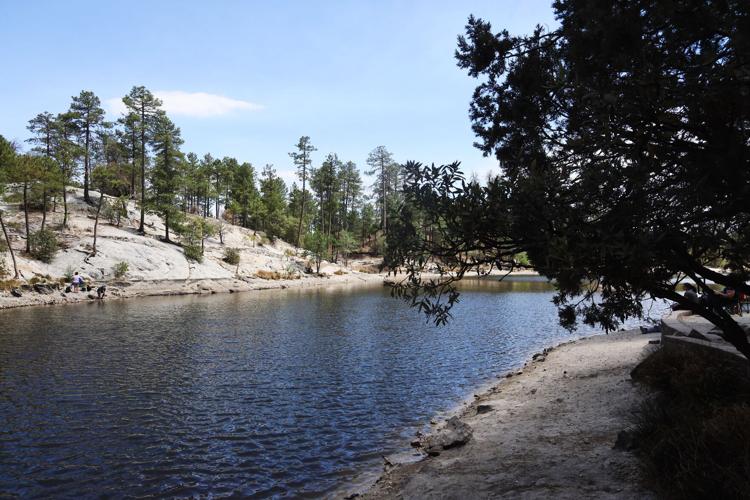 The Rose Canyon area is home to a lake, camping, hiking trails and lots of picnic areas (though there are also many other spots to picnic along the road up the mountain). 
Rose Canyon Lake is not only popular for fishing for trout, but we've also spotted people setting up easels and painting canvases of the sparkling lake. The Forest Service says the lake is 6 acres.
The fish stocking schedule for the lake is managed by the Arizona Game and Fish Department. Click here for the schedule.
9. Set up a tent and take in the fresh air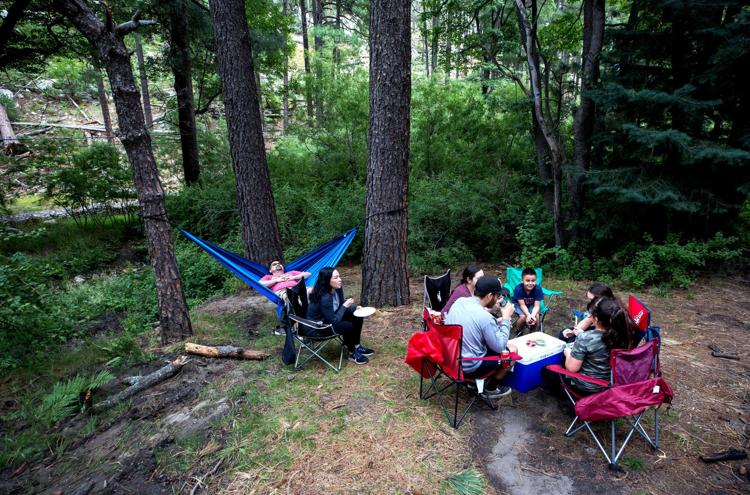 There's a hotel and cabins in Mount Lemmon, but maybe you're more of a camper.
If that's the case, there are plenty of campsites to choose from. Take in the scent of the pines, go birdwatching and look up at the starry sky after sunset. Just make sure to check the fire restrictions before you leave home.
And in case you forgot any camping supplies, the Mt. Lemmon General Store carries the necessities. Same with a small store in the Rose Canyon area.
10. Stare at the beautiful views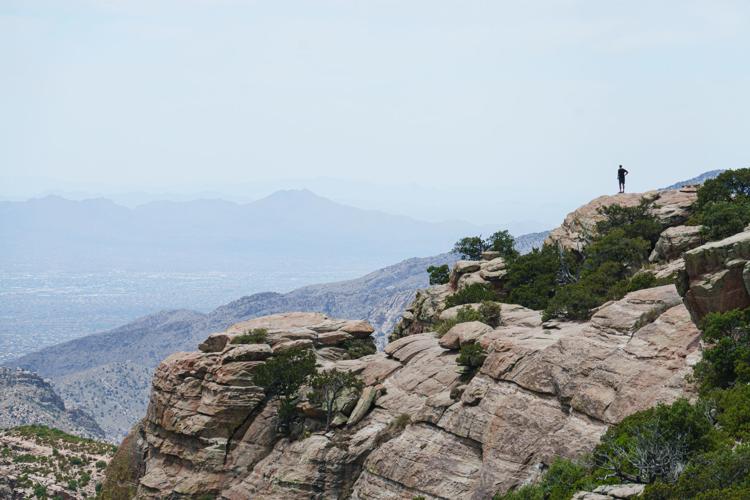 There are pullout spaces all along Catalina Highway (the road up the mountain), so you'll have countless chances to temporarily park your car and take in the scenic views.
Make sure you have your phone handy because I can almost guarantee you'll want to take photos of the view.
For a date night, Zimmerman recommends eating dinner at the Sawmill Run Restaurant, then heading south to Windy Point, which is a popular spot on the drive up the mountain, for views of Tucson's sparkling city lights.