---
Maybe you never do forget how to ride a bike. 
Around Tucson, people are dusting off old bikes and shopping for new ones in pursuit of physically distant exercise. 
Whether you're a new (or lapsed) Tucson cyclist or you could just use some helpful tips since all things are different during the time of coronavirus, here are a few things to keep in mind.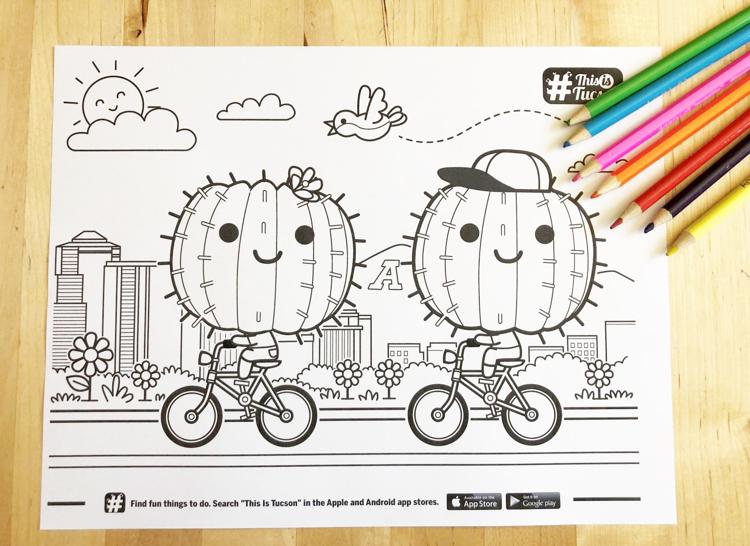 What to consider if you're bike shopping 
Almost everyone we talked to for this story said that before you go out there bike shopping, take a minute to imagine yourself riding your new bike. Are you successfully completing a trip to the store, hauling your groceries home? Are getting in shape with daily rides? Or bumping along desert trails? How you want to use the bike will influence what bike you should buy. 
"Although bikes, in some ways, have gotten more practical, there isn't one bike that is going to do everything," says Duncan Benning, the owner of Tucson bike shop Transit Cycles. 
Elliot DuMont, owner of Roadunner Bicycles, says his store carries a brand with more than 200 different models of bikes for men, women and children. Having an idea of how you want to use the bike can help you narrow down your choices and decide how to spend your money. 
"A good rule of thumb is anything below $1,500; the more you're able to spend, the better components and overall experience you're going to have," DuMont says. "You're going to get noticeable gains in the tech and quality of the bike the more you spend. After $1,500, it becomes pretty negligible differences that more advanced riders might notice." 
DuMont says he has seen an increase in first-time buyers, and Benning says his most popular price-points are totally sold out — and that happened pretty early in the pandemic. 
Both say they're seeing this trend around the nation. 
At BICAS, or Bicycle Inter Community Art and Salvage, program coordinator Ellie Kaszniak says the local nonprofit has had to pivot from its focus on bicycle recycling and education to a repairs and sales model. 
If you're in the market for a new-to-you bike, check out the BICAS Facebook page for regular posts with affordable, refurbished bikes available for purchase. 
"We have a team of folks trying to find the perfect bike for people via email," Kaszniak says. Email sales@bicas.org with information about the kind of bike you'd like and your height, and someone will go through the shop and send you photos of bikes that have yet to be fixed. 
Roadrunner Bicycles and Transit Cycles are both limiting the number of customers allowed in the store and BICAS is working with people at its roll-up door — not in the shop. 
There are also lots of other local bike shops you can support as you upgrade your wheels.
What to consider if you're pulling an old bike out of storage
Before the pandemic, BICAS offered classes on repairs and maintenance and a work-trade program that allowed people to earn a refurbished bike, among other things. They're still figuring out what all of that could look like now, Kaszniak says. 
In the shift to focusing on repairs, Kaszniak adds that the nonprofit uses a sliding scale that's based on what someone can pay. 
If you're pulling an old bike out of storage, there are a few things you should check to make sure it's still safe to ride. 
Benning points out that the longer a bike has been sitting in storage, the more repair work it may need — especially if it has been in a shed or garage. 
Both DuMont and Kaszniak say to check your ABCs when your checking out your bike — air, brakes and chains and cranks. 
"A is for air," Kaszniak says. "Check your tires to make sure they're holding air and have the right tire pressure." Also check to make sure your tires aren't cracked. 
"B is for brakes," she says. "Make sure the brakes are engaging and stopping your wheels. And then C is for chains, so look down at your chain to check that everything is engaging down there. The 'quick' part is that your quick releases are closed." 
DuMont suggests a quick ride down the street to check the brakes and make sure the gears change properly. 
"If you feel there are any noises, we offer free estimates, so you can bring your bike in and quickly check it over to see if you need repairs," he says. 
Benning also says that it's often worth it to put some money into repairing a bike, rather than buying a new one. 
"People oftentimes have these bikes sitting around that have an emotional attachment," he says. "Maybe it's a bike they bought in college or something. So we're never in a rush to tell people to get rid of a bike." 
He also points out that if you buy a used bike (like on Craigslist or Facebook Marketplace), it's important to plan on putting some money aside for repairs to make sure it's operating as it should be. 
If you do take your bike to a local shop for repairs, go with an attitude of patience. 
"We have had a massive influx of bike repair requests," Benning says, adding that the shop is backed up by about a week. "We're small. There are essentially two of us working here, and because it's such a small building we can't spend huge amounts of time here in an overlapping fashion." 
Where to ride
An obvious choice is the Loop, a car-free path that winds through and around the Tucson area for more than 100 miles. We love the Loop, but everyone agrees that in recent months, the Loop has been BUSY. 
"It's very crowded, so depending on people's level of comfort on passing people, there is a lot of huffing and puffing going on on the Loop," says Kylie Walzak, the director of open streets for Living Streets Alliance. 
Because there are no cars to worry about, the Loop is usually a good place for beginner cyclists to get comfortable, but you might want to be ready with a back-up plan if it's crowded when you go. If you do opt to ride there, definitely take a mask. And as always, the 6-feet-of-space social distancing rules apply. 
Walzak also suggests utilizing some of Tucson's bike boulevards. These are residential streets with slower traffic and intersection crossings to help you avoid a Frogger scenario. 
"Those will have far less traffic and it will be going far lower speeds," Walzak says.
DuMont says his bike shop has free Tucson-area bike maps that also include rules of the road. He says that's a pretty common thing to find in local shops. 
And there is, of course, your neighborhood. Walzak says one neighborhood was even able to temporarily close off through traffic to their street as part of a pilot program that Living Streets Alliance is working on with the city ⁠— Tucson Slow Streets. 
She also points out that 'A' Mountain is a fun bike option on Mondays, when the mountain is closed to cars.
Tips to stay safe
We'll talk about coronavirus in a minute, but we feel the need to remind everyone that summer is just about here. So talking about bike safety is about more than physical distancing. Remember, it's getting hot.
Please do not go ride your bike at noon. Make sure you stick to morning and evening hours when it cools down a bit. Also be aware that everyone else will be doing this too. 
Both DuMont and Benning say they have seen an increase in people buying lights so they can ride safely during those cooler hours. 
Pro tip from Walzak for riding through the summer: Wear a long-sleeved, button-down cotton shirt and neck handkerchief and then get both wet. And there you have it. You have created a mini swamp cooler that will go everywhere you go. 
Make sure to carry enough water for your ride and avoid using public restrooms if at all possible. Walzak says you want to make sure you're self sufficient so you can avoid public facilities. 
"We're just encouraging people to start small and expand how far you're going as you test your comfort level," Kaszniak says. 
Walzak points out that you want to avoid unnecessary hospital visits right now, so wear a helmet, plan your route, practice general safety and follow guidelines from the Centers for Disease Control and Prevention.  If possible, avoid crowded routes. 
"Now is not the greatest time to explore places you've never been," she says. "Stick to what you know and be super mindful of sharing the road with fast-moving traffic. There is not a guarantee, even with bike lanes, that anyone is looking out for you."  
And, as always, physical distance and bring a mask to wear around others. 🚴‍♀️
---