The University of Arizona Poetry Center has created a wonderland of words just for your kids. 
Each school year, the center's Brave Books program showcases stories, bookstores and libraries from different parts of the world, emphasizing community spaces that have survived challenges. 
It's a big idea expressed on a kid level — picture books, activity booklets and a play area with cozy reading nooks. Not to mention the monthly Kids Create day with writing workshops and music. The next one is Saturday, Nov. 17. 
This school year's theme is Brave Books: Bold Librarians, Readers and Booksellers of the Arab World. Each year, the theme spotlights a different resilient, bookish community. 
The emphasis on the Arab world this year is based on two picture books: "The Librarian of Basra: A True Story from Iraq" and "Hands Around the Library: Protecting Egypt's Treasured Books."
"The Librarian of Basra" tells the true story of an Iraqi librarian who organized an effort to save about 30,000 books during the Iraq War. "Hands Around the Library" takes place in Egypt during the Arab Spring and chronicles how people united around the Library of Alexandria to protect it.
Through the program, the center wants to tell little-known stories, says Wren Awry, the Poetry Center's K-12 education coordinator. 
"Libraries and book stores are so important as community gathering spaces and we wanted to create a space where kids from all different backgrounds feel welcome," Awry says, adding that they wanted to introduce children to a variety of cultures and places. 
The Brave Books program is specifically for kids and teens. The Kids Create events target infants through 10-year-olds. The play area has two playhouses styled as a library and restaurant. There's also a tiny table with colored pencils and a mural inspired by "Hands Around the Library" painted by the local group Alley Cat Murals. 
In partnership with the UA Center for Middle Eastern Studies, Brave Books has curated a collection of children's and young adult books and poetry connected to the theme. The center does not lend out books, but you're welcome to bring your kiddos for a morning of reading and imagining (there's also a reading list you can take home in case any of the titles strike your fancy).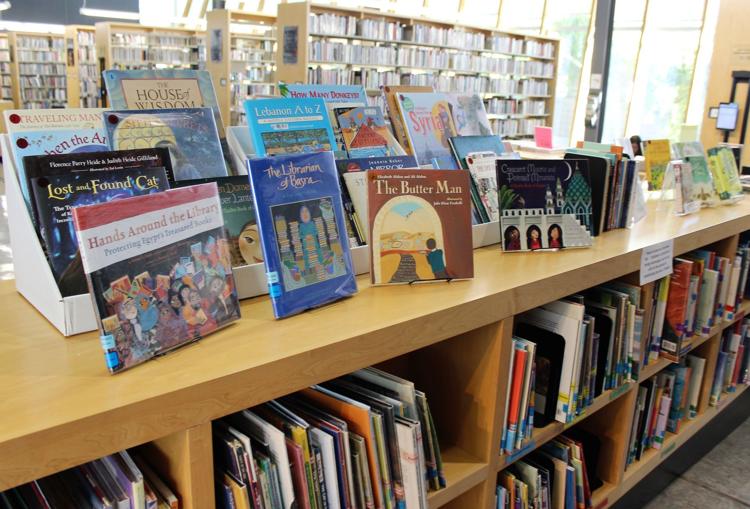 Last year, Brave Books celebrated the African National Memorial Bookstore in Harlem — a shop that served as a gathering space for leaders of the Civil Rights Movement. Two years ago — the program's first year — the center spotlighted Shakespeare and Company, a historic bookstore in Paris. 
"They're all spaces that have faced challenges and have done work that, like in this year's two stories, is about people standing up for books and learning in different situations," Awry says.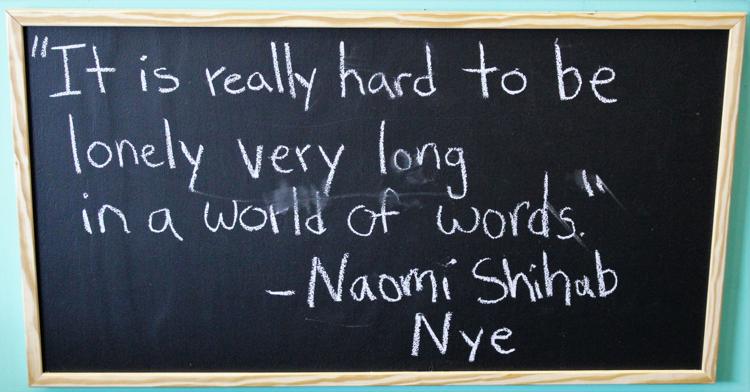 In April, the Palestinian-American children's author and poet Naomi Shihab Nye will present. The center has also incorporated the Brave Books theme into the field trips and classroom writing residencies it organizes. 
"We want children to be able to be in the space and experience these books and have the interactive experience with the play space and pretend that they're in these stories," Awry says. 
---
If you go
What: The Kids Create event this month for kids ages 0-10 will feature a drumming workshop (not connected to the Brave Books programming) and treats from the Syrian Sweets Exchange. Children must be supervised. 
When: Saturday, Nov. 17, 10 a.m. to 1 p.m. Age-appropriate writing workshops start at 10 a.m. Arrive a little early to sign up. 
The Kids Create event will feature writing workshops and treats from the Syrian Sweets Exchange.