When it snows on Mount Lemmon, the mountain becomes Tucson's personal winter wonderland. 
The trip up the mountain on Catalina Highway takes you from cactus-studded foothills upward until you reach a forest of sky-high pine trees. Because of the rapid elevation change as you go from desert floor to mountain summit, Mount Lemmon hosts tons of different habitats and ecosystems. 
It's also where you'll find Ski Valley and Summerhaven, a small community with several restaurants and gift shops for perusing.
Remember to take your mask and practice physical distancing, especially if you're headed up on a crowded day or have plans to visit one of the shops or restaurants. 
Also, trash is a huge issue, especially in the winter. Take your trash with you off the mountain or throw it away in a dumpster now set up next to the community center in Summerhaven, says Jenni Zimmerman, a Mount Lemmon Realty broker and president of the Mount Lemmon Business Economic Association.
"We just want people to be safe, and we want people to have fun, and take their trash," Zimmerman says. "Because this is always a huge issue." 
Play
The winter playground you expect to find on Mount Lemmon might look different this year, so hold your expectations loosely. 
For one, the Mt. Lemmon Hotel is currently under construction on the site of what had become a popular sledding hill off the main road in Summerhaven. And because of the dangerous nature of sledding, Coronado National Forest does not currently have recommended sledding areas nor is there a designated sledding hill on the mountain. 
"The topography is so steep, and there's not a long run with a flat area at the bottom," says Heidi Schewel, the public affairs officer for Coronado National Forest.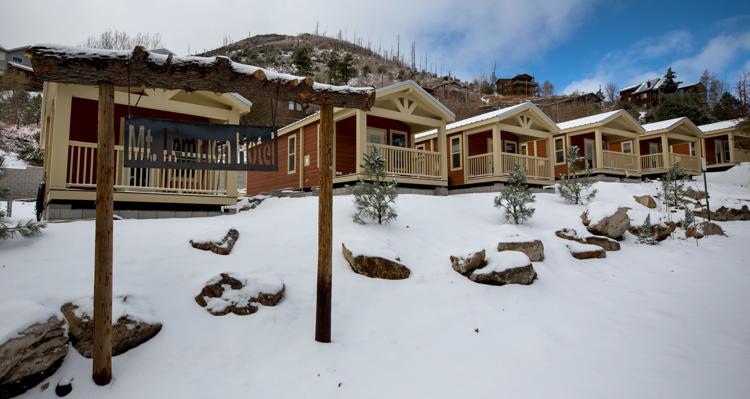 If you do go looking for a hill, avoid areas near roads or with rocks, trees or other hazardous obstructions, she adds. Plus, scout the area. The snow might not be as deep as you think. 
Picnic areas and overlooks along the highway are mostly open, but some recreation sites are still closed. Also, there are still penalties to include fines and imprisonment if you violate the closure order and enter a restricted area. 
"The two most obvious things are to look for signs and look for burned trees," Schewel says. "Those will be easy to spot, and where you see those burned trees, there could be a chance of something falling, and those trees could fall for years." 
Leanne Mack, the general manager of the Mt. Lemmon General Store, says that typically, picnic areas on the upper half of the mountain are popular places for snow play. 
"Anything in the top five miles between (Summerhaven) and Palisades," she says. 
Some other popular places to play in the snow include the Bigelow and Marshall's Gulch areas, although seasonal gates may be locked, requiring you to park and walk in. 
"If you want to go on a snow day, the earlier you can get up the better, because it does fill up fast, and they will shut down the road once enough people are up here," Mack says.  
The general store sells sleds, along with snow gloves, beanies and other wintertime play basics, Mack adds. You'll also be able to find beanies and sweatshirts at the Sky Island Trading Company, Zimmerman says. 
"Everyone wants to play in the snow and have a good day, but things do happen," Mack says. "Bring extra blankets and dry clothes." 
Ski
If the mountain gets enough snow, Mount Lemmon's very own ski resort, Ski Valley, has slopes for beginners and experts alike. 
The resort needs around 18 to 24 inches to open for skiing, says Nicholas Aldinger, the operations manager at Ski Valley. Typically, that's around late December through late February or early March, he says.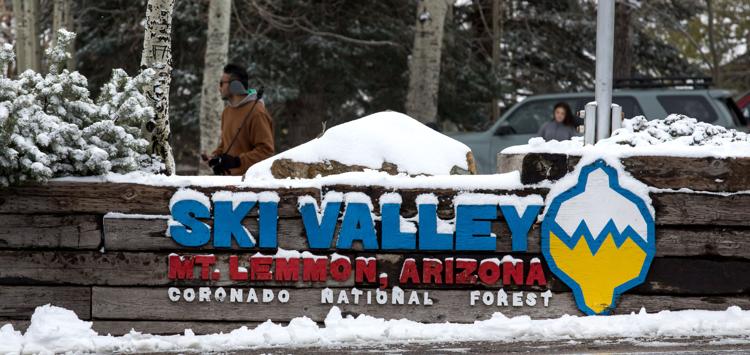 Newbies can also find lessons for both snowboarders and skiers. There are also lessons available for kids ages 7 and older, Aldinger says. 
Desert dwellers with no equipment to their name can also rent skis, poles, boots and snowboards. The gift shop also has gloves, beanies and sweaters for purchase if you find you need to layer up, Aldinger adds. 
When the slopes are closed, you can still ride the lift up and down the mountain for $15 to get some stunning views, weather permitting. It is closed to Sky Rides when the slopes are open. 
You should also know: There is no sledding at Ski Valley. 
Eat
Sawmill has limited seating with eight tables indoors, plus a patio with a fire for outdoor dining and takeout options, says Zimmerman, whose family owns the restaurant. Iron Door Restaurant has both indoor and outdoor dining and the possibility of takeout, depending on its busyness, says Aldinger with Ski Valley. (The restaurant is part of the resort.)
Then there's the Mt. Lemmon Cookie Cabin, which is currently serving a limited menu of pizza, ice cream and cookies, says Jessica Hulland with the Cookie Cabin. These cookies, by the way, are epic, plate-size creations you'll want to share. The seasonal pumpkin nut is available through the end of December. You can also get hot chocolate, hot cider and tea here. The restaurant does have some indoor dining options but far more outdoor seating.
If you just want to grab something to go, the general store is now selling sandwiches and snack packs from Sprouts Farmers Market.
Also, while you're there, you really should get some fudge. Peppermint bark is the flavor of the month.