If you've never checked out the Tucson Festival of Books, this is your year. 
We're firm believers that this festival (March 2-3) has something for everyone. Let us convince you. 
This is Year 11 for the Tucson Festival of Books (the Arizona Daily Star is one of the founding partners), a weekend of literary revelry that typically draws more than 100,000 people to the University of Arizona campus. 
You can expect more than 300 presenting authors, including winners of big-deal prizes such as the National Book Award, the Pulitzer Prize and the Newberry Medal. If you're an aspiring writer or illustrator, look for workshops dedicated just to helping you progress in your craft. If the scientific world captivates you, check out more than a dozen lectures in Science City. If you just love, love adding books to your collection, spend the day wandering mini bookstores set up all over campus. 
There's plenty for the kids, too. Check out our guide for giving your kids a literary day they'll love. 
Here are a few recommendations to help you get the most out of your book fest day. 
Find something to nerd out about.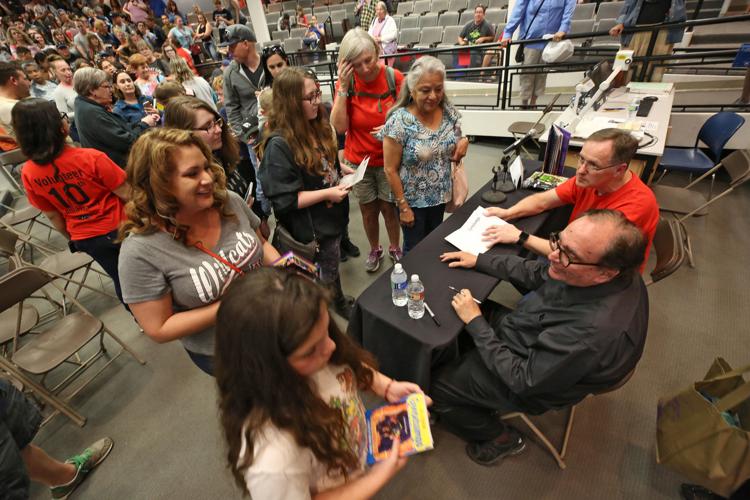 Perusing the lineup of authors this year has us excited. There are so many fantastic presentations and workshops to attend. It blows our mind that this is all free. 
Here are a few talks we're nerding out about: 
• "A Recipe for Reading" with speakers Amira Makansi, Rebecca Makkai and Amy Meyerson in Koffler Room 204, Saturday, March 2, 2:30 p.m. You need tickets for this one. As of Tuesday afternoon, there were still a few available to reserve online. 
• "Waste Not, Want Not: Cooking Scrappy" with speaker Joel Gamoran on the Culinary Stage Sunday, March 3, 10 a.m. 
• "Spaaaaaace!" with speakers Emily Devenport, Mary Robinette Kowal, Jessie Mihalik and Drew Williams in the Integrated Learning Center Room 150 Sunday March 3, 10 a.m. 
• "Poets at the Border" with speakers Margaree Little and Lawrence Welsh in the Student Union Kiva, Sunday, March 3, 11:30 a.m. 
And these are only five of 300+ presentations. Visit tucsonfestivalofbooks.org or download the Tucson Festival of Books app to begin crafting your personal, perfect book fest day. You can also click here to see the special section that ran in the Arizona Daily Star last weekend. 
Educators can get professional development credit.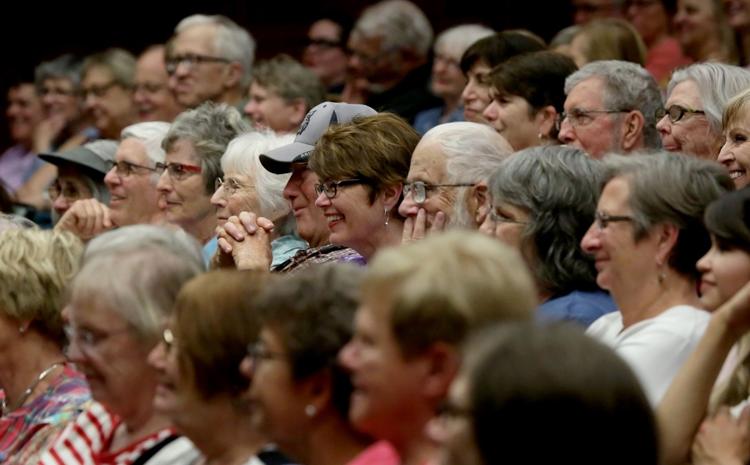 If you're a teacher, you can clock professional development hours by attending any of the sessions or workshops by children and teen authors or for parents and educators. These are all in the College of Education building, where you can pick up a form someone will stamp at the end of each qualifying session. At the end of the day, you'll return the form in the lobby and receive a certificate. 
No hangry festival-goers allowed.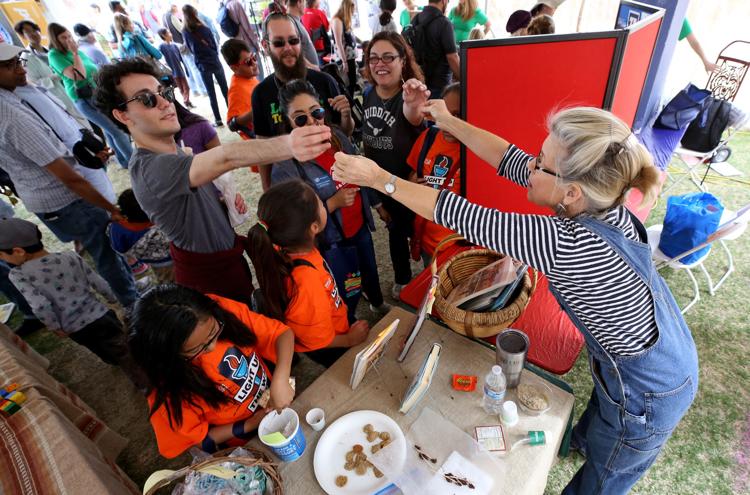 If hanging out at the Culinary Stage has you hungry, the festival has lots of food vendors, and actually, the prices posted aren't too bad (for festival food). You're looking at $6-$12 for a meal and $2-$5 for a snack. There are also lots of fair food favorites like roasted corn on the cob, cotton candy, kabobs, churros and Eegee's. 
Food options on campus include offerings from Beyond Bread, Frost and Renee's Organic Oven and Tucson Tamale Company, among others. Or pack in PB&J sandwiches and clementines. Also, a #ThisIsTucson tip learned the hard way: Make sure you bring water for your people. Temperatures are forecasted to rise into the 70's this weekend (Can we all agree that Tucson weather is just so weird? ❄️❄️❄️). Also wear sunscreen and a hat, don't let this be your first sunburn of the season.
Some events are ticketed. But don't panic if you didn't reserve any.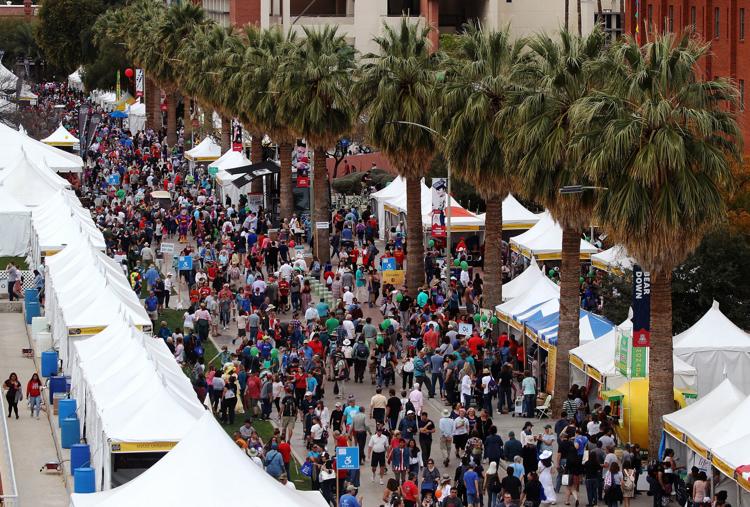 Certain presentations and workshops are super popular and no longer have tickets available for reservation online. If that's true of a presentation you want to go to, don't panic. A certain percentage of seats are reserved for walk-ins, you'll just need to get to the talk earlier. All other venues are first-come, first seated. 
The presentations at the following venues all require tickets. 
• Student Union North Ballroom
• Student Union Gallagher Theater
• Integrated Learning Center Room 120
• Modern Languages Room 350
• Two sessions in the Social Sciences Auditorium
A handful of ticketed presentations still have availability for online reservations. Until those tickets are claimed, you can make reservations up to noon on Friday, March 1. Do that here. 
Not a reader? There's plenty of other fun stuff to do.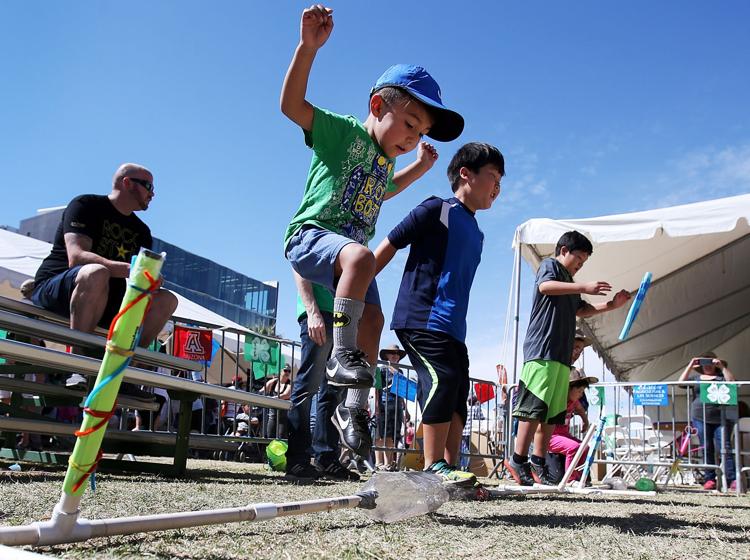 The University of Arizona has so many top-notch museums that will be open on Saturday — the Laboratory of Tree-Ring Research, the Museum of Natural History, the Richard F. Caris Mirror Laboratory and Flandrau Science Center and Planetarium, to name a few. The Mirror Lab and Flandrau will be open both days. Learn more and get tickets at the Science City Visitor Center. 
Or how about hula or the circus or ballet folklorico? A full lineup of entertainment on both days will cater to any taste. Catch the Storybook Character Parade Saturday March 2, 9:30 a.m. at The Canyon; Cirque de Aladdin Saturday, 11 a.m., 1:30 p.m. and 4 p.m. at the Circus Stage; Zin! Zin! Suzuki Violins and Friends Sunday, March 3, 11 a.m. at the Main Entertainment Stage or Illusionist Michael Howell Sunday, 3 p.m. at the East Entertainment Stage. 
Come say hi.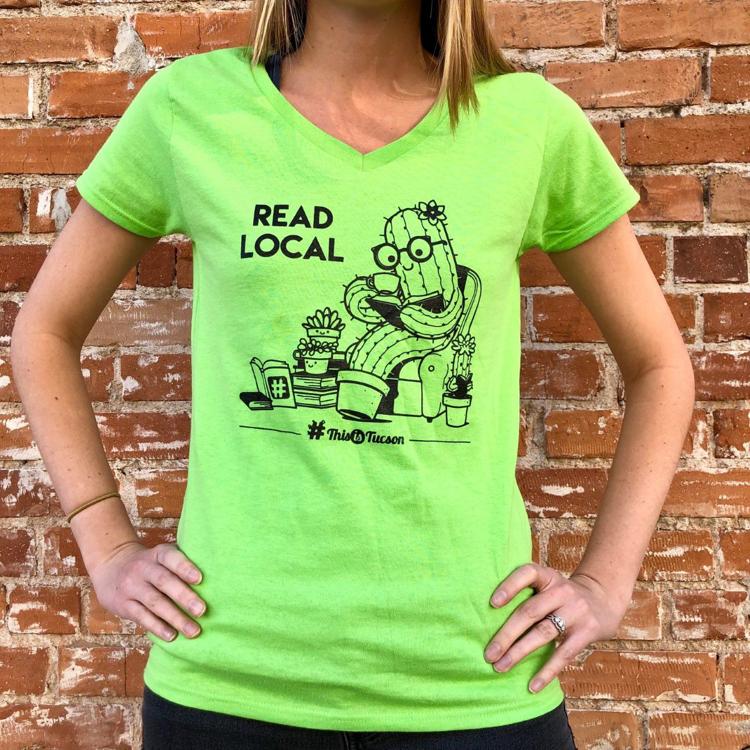 #ThisIsTucson will have a booth both days. We'll be selling "Read Local" shirts ($10) and totes ($20), plus you can spin our prize wheel to win stickers, buttons or a limited number of kids' Renaissance Festival tickets. We'll be set up in booth 466 by the circus, near where Cherry Avenue intersects the UA Mall. 
We're also hosting an IRL meetup for our #ThisIsTucson Book Club where we'll talk about books we've read by festival authors. If you're interested in joining us, we'll be at the UA turtle pond (along Park Avenue near Second Street) 11 a.m. on Saturday. Check out this Facebook event for more information.
If you go
What: The Tucson Festival of Books
When: March 2-3, Saturday-Sunday, 9:30 a.m. to 5:30 p.m. 
Where: University of Arizona campus
Parking: Park for free in Highland or Park Avenue garages north of Speedway or any Zone 1 lot around campus. Or pay $5 to park in Tyndall, Cherry, Main Gate, South Stadium and Sixth Street garages. Here's a detailed map of where to park and how much it will cost you.