Editor's note: This story was originally published before the gallery's open date. We updated the headline to reflect that the gallery is now open.
---
Tucson's art scene is getting a little bigger when a new small-scale ceramics gallery opens this weekend.
Mudroom Gallery at the Romero House, 102 W. Washington St., in the El Presidio Historic District opens at 6 p.m. this Saturday, Oct. 14.
The 83-square-foot gallery will open with its introductory exhibition "Tiny Wonders" on Saturday. The exhibit houses over 75 pieces of mini ceramic artwork from 38 artists. All of the ceramics measure around 4 inches or less in length, width and height. 
The exhibit runs from Oct. 14 to Dec. 10.
"Something that is unique is that we don't have many galleries (here) that offer ceramic only," said Ariel Buckley Fry, the director of Mudroom Gallery. "So it's a medium that I think people are really enjoying. … And the idea behind the small work is so that we can allow as many artists together to show their work side-by-side and have a size-connecting theme."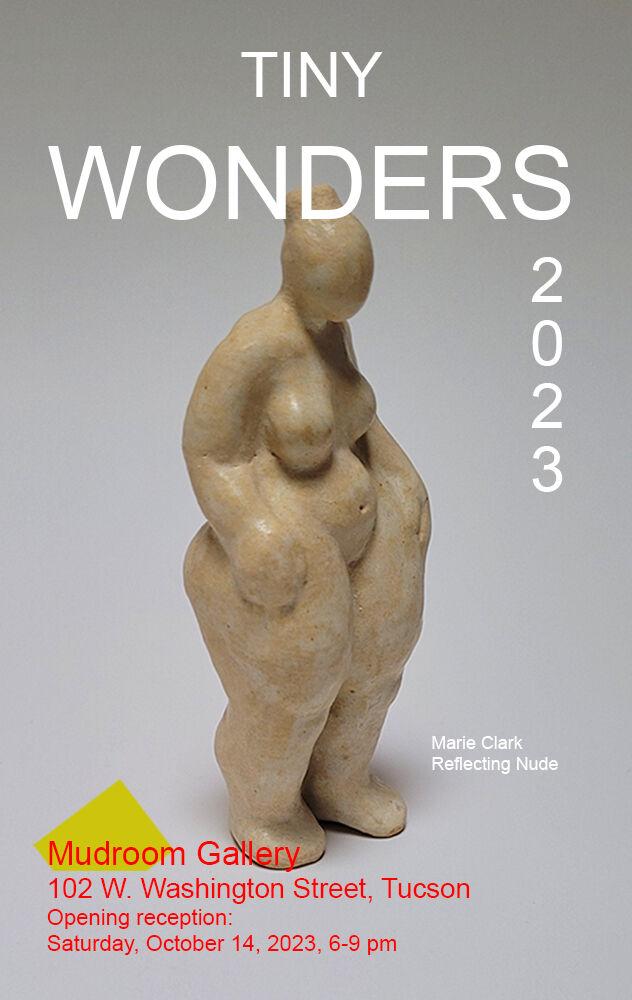 Fry hopes Mudroom Gallery can offer space for both established and emerging artists.
"I think with most galleries, there's usually a lot of barriers in the way of getting people into a setup and we want to make this a friendly, educational, inviting opportunity for people who say 'I've never been in a gallery,'" she said. "So the show is really a community show and we have artists who are showing their work in a gallery for the first time and then we have established artists who have been with our community for a long time. It's a great mix."
When the pottery studio at Romero House reopened after shutting down due to the pandemic, some of the space continued to sit empty.
So, Fry had an idea — "refresh the name and the concepts and create a more contemporary gallery," she said.
She shared the idea with the Romero House Potters board, who agreed with the concept.
"The first conversations about opening up the gallery started in January and a lot of conceptual planning happened for several months and then it wasn't until this summer in July that we started building the walls and (renovating the space)," she said. "Our opening is Oct. 14, so it's taken us 10 months to get it ready. It's all volunteer-based artists, so we've just been learning as we go."
The Mudroom Gallery is housed in the Romero House, which is one of the oldest houses in Tucson's El Presidio Historic District. The house itself was built in 1860 and was the home of local carpenter Leonardo Romero and his family, according to the Romero House Potters' website.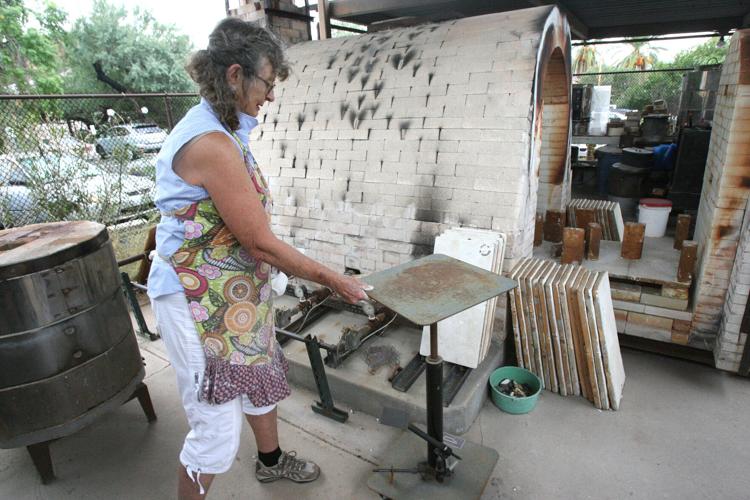 After the Tucson Museum of Art moved into the area in the mid-1970s, the house became part of the museum's education program.
"The Romero House was equipped with kilns and has become the longest-operating educational ceramics studio in the city," according to Romero House Potters' website.
Now, as a nonprofit, Romero House Potters is focused on keeping the house, including the new Mudroom Gallery, open to help spread the love of ceramic artistry.
What's next for Tucson's newest mini gallery? More exhibitions — including solo and group artist shows and an exhibition on ceramic mugs.
"Studios have so much opportunity for artists to make their work, but this gallery offers an endpoint — the end of the process when you're making art and to also talk about it and present it in a way that you want to see in its final form," Fry said. "I think it's so cool for the ceramic community and I think it's so special to be able to share that with the broader community."
For more information about Mudroom Gallery, visit their website.