After a year of virtual events, the community drummers of Odaiko Sonora are bringing back the heartbeat of the Tucson Meet Yourself folklife festival on Saturday, Oct. 9, by performing the art of traditional Japanese drumming called taiko.
Odaiko Sonora is one of more than 50 performances at the festival this year. Their booming, rhythmic drumming mimics a heartbeat that can be heard far and wide by local attendees.
"People jumping around hitting big drums, it's kind of hard to resist. We're loud, we have fun and you can tell we like the art form as well as each other and I think that is really appealing," said co-founder and director of Odaiko Sonora, Karen Falkenstrom.
Since its founding in 2002, Odaiko Sonora has performed at Tucson Meet Yourself annually and quickly became a crowd favorite at the festival.
Unlike other drumming styles, taiko incorporates high-energy drumming, vocalization and dancing into a performance that creates a lively experience for the audience. 
During Tucson Meet Yourself, Odaiko Sonora likes to have the community group perform instead of the ensemble because the community group displays the diversity of the greater Tucson area.
"It's Tucson Meet Yourself and it's great to see people of all shapes and sizes and ages play," Falkenstrom said. "We've had group members as young as 7 and as old as 71, all on stage at one time and it's cool to see an art form that can appeal to that broader age range."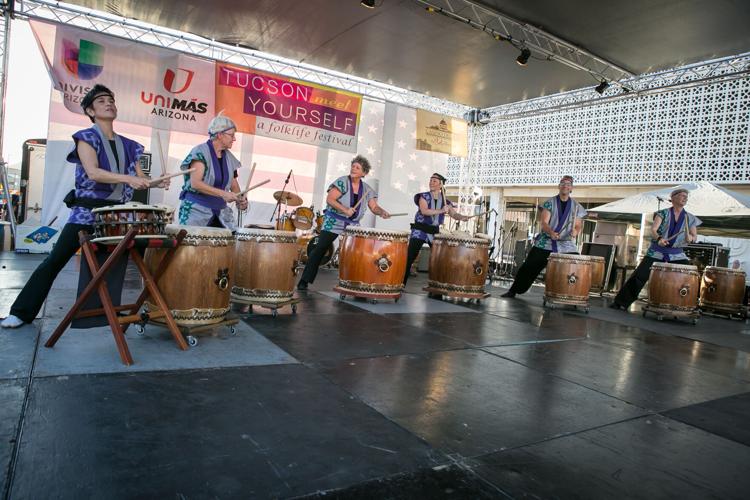 Due to COVID-19 restrictions last year, Tucson Meet Yourself took an online approach that featured virtual events of the performers, including Odaiko Sonora. But the virtual performance can't compare to an in-person experience because "an elaborate video doesn't capture the energy of a live performance," Falkenstrom said.
Prior to the pandemic, Odaiko Sonora's performance featured up to 30 drummers on the stage at once. However, due to safety concerns, this year's performance will only include 16 drummers total, with six drummers on stage and two drummers in front of the stage. The performers will also rotate after playing a couple of songs.
In addition, all drummers will be masked while performing, a choice made by Tucson Meet Yourself organizers to ensure that the performers and crew feel comfortable.
"We're asking people to sit there for a period of time and so it's part of our job to work diligently to make sure what we're offering is worth sitting there for," Falkenstrom said. "And so we're giving a gift (of performance) and the audience is giving back the gift of appreciation."
March to the beat of your own taiko
Music has played a vital role in Falkenstrom's life from the very beginning. She was born to a Korean opera singer and a Norwegian violinist in Virginia and grew up playing the piano and violin. She moved to Tucson as an adult in 1989 to attend the University of Arizona, where she obtained a Master of Fine Arts degree in creative writing.
After working in literature for 15 years, including directing the Tucson Poetry Festival, she found taiko in the early 2000s and says she never looked back.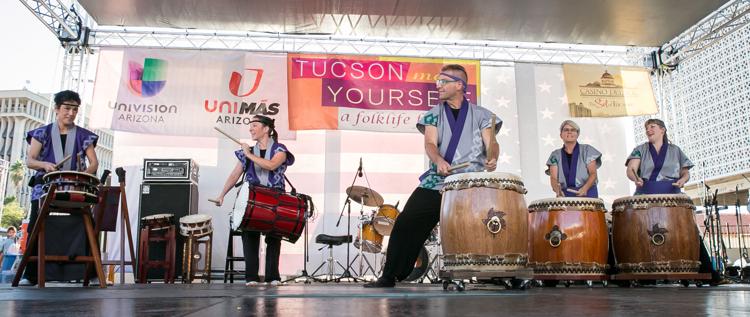 Taiko utilizes four principles while performing — sound, body, mind and spirit. These principles continued to draw Falkenstrom to the art of taiko.
"I founded (Odaiko Sonora) because I wanted to keep playing taiko, it was kind of that simple for me," she said. "But as I studied it more, I realized that it's this amazing way to build community and promote health, body, mind and spirit health."
Currently, the Odaiko Sonora drummers reach about 100,000 people per year through their performances, classes, team building workshops and school residencies.
Falkenstrom even hand-builds the taiko drums that Odaiko Sonora uses for practices and performances, including the drums for their Tucson Meet Yourself set.
As Odaiko Sonora looks forward to their 20th anniversary next year, Falkenstrom hopes that they will continue to perform at Tucson Meet Yourself for as long as possible, even as she works to find her successor in the next few years.
But for now, you can find Odaiko Sonora performing at Tucson Meet Yourself this weekend on Oct. 9 at 5 p.m.
"As long as Tucson Meet Yourself exists and they ask us and want us there, we will be there," Falkenstrom said.
If you go
When: Odaiko Sonora performs on Saturday, Oct. 9 at 5 p.m. The festival overall is Friday-Saturday, Oct. 8-9, 11 a.m. to 10 p.m.; Sunday, Oct. 10, 11 a.m. to 6 p.m.
Where: Find Odaiko Sonora on the Church Stage, between the historic Pima County courthouse and Jácome Plaza.
COVID-19 info: Tucson Meet Yourself has received permission from the City of Tucson and Pima County to proceed with this year's festival because it's an outdoor event with the "highest standards of mitigations," that complies with CDC and WHO guidelines. 
In addition, the festival is more scaled back this year, with fewer food vendors, performers and stages. As a result, there has been a 30-50% decrease in participation throughout all festival areas.
All performers, crew, staff, exhibitors and volunteers will be masked during the festival. Tucson Meet Yourself kindly asks that you mask up, too.
For more information about Tucson Meet Yourself and to see the complete list of performers, artists and food vendors, visit tucsonmeetyourself.org.