It's gem show season, friends. 
That means white tents, visitors everywhere and so much bling. 💍 
With more than 40 shows spread all over Tucson, there are so many Insta-worthy minerals, fossils, gemstones and meteorites to take in. It makes my dino-loving heart so happy. 🦕💙
To plan your gem show day, download Visit Tucson's "Official Tucson Gem Show Guide" app, where you'll find a list of shows, transportation options and a map. 
Some of the shows have their own parking (sometimes free, sometimes for a few bucks), or you can park at one of the shuttle hubs (on Linda Avenue, west of Interstate 10 and south of Congress Street and on Milber Street, west of Country Club Road and south of Ajo Way). Parking on Linda Avenue costs $5 and parking on Milber Street is free. Both give you access to the GemRide shuttle. 
If you plan to hit up multiple shows in a day, consider the shuttle. 
Those are the logistics. But now let's talk sparkly rocks and fierce fossils. We know that's what you're all about anyways. 
You can go to just about any show and have a lovely time, but we asked organizers with each show about some of the coolest things to expect from their show. Here are 10 specific things to check out to make your gem show experience rock (👈see what we did there!). 
Arizona's state mineral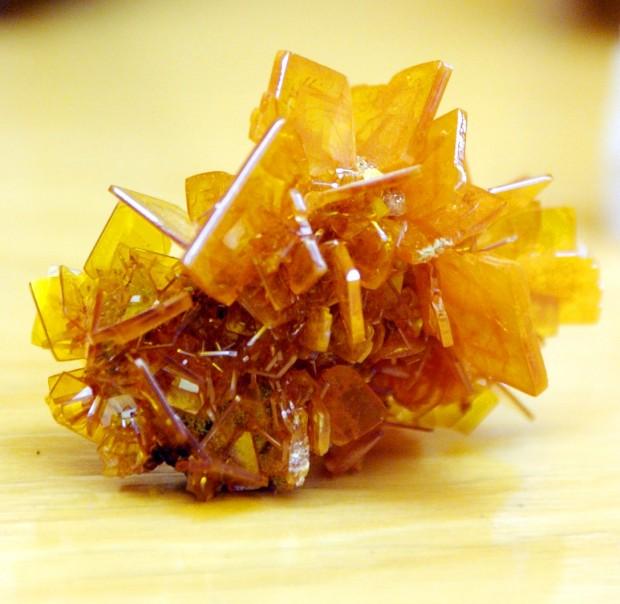 It's called Wulfenite, by the way, a mineral that ranges in color from red to orange. See dozens of cases of this beauty at the 65th Tucson Gem and Mineral Show. With its theme "Wulfenite is Loved," the show at the Tucson Convention Center, 260 S. Church Ave., runs Feb. 14-17. Admission is $13 for adults and free for kids 14 and younger. The junior education area has lots for kids, including a treasure hunt. Other highlights: A 450-pound boulder of opal from Australia and a 400-pound topaz crystal, says exhibit chair Peter Megaw.😮
Amethyst cathedrals
The Arizona Mineral and Fossil Marketplace, 1333 N. Oracle Road, has amethyst cathedrals, which is a fancy term for those tall, purple geodes that reflect the light in the most beautiful way. This show also has sea monster skeletons and other mounted skeletons. The show runs Feb. 2-16.
A giant Stegosaurus and dueling rhino skeletons. 
The Mineral and Fossil Co-op Show, 1635 N. Oracle Road, is where you go for an enormous woolly mammoth skeleton, dueling rhino skeletons and Ice Age fauna  — PLUS a 20-foot-long adult Stegosaurus skeleton that has several features never seen before, meaning it could very well be a species NEW TO SCIENCE, says Jane Roxbury, Visit Tucson's convention services director. The show runs Feb. 1-17.
A stone aquarium
If you can shell out some serious cash, you can have a fossilized aquarium to hang above your fireplace (imagine fish fossils embedded in a slab of stone). The Arizona Mineral and Fossil Show, 475 N. Granada Ave., also has huge amethyst geodes from Uruguay, giant quartz crystals from Brazil and massive gem ammonites, plus other artistic uses for gems and minerals, says Regina Aumente, the assistant show manager. The show runs Feb. 2-16. 
Young artists from Burkina Faso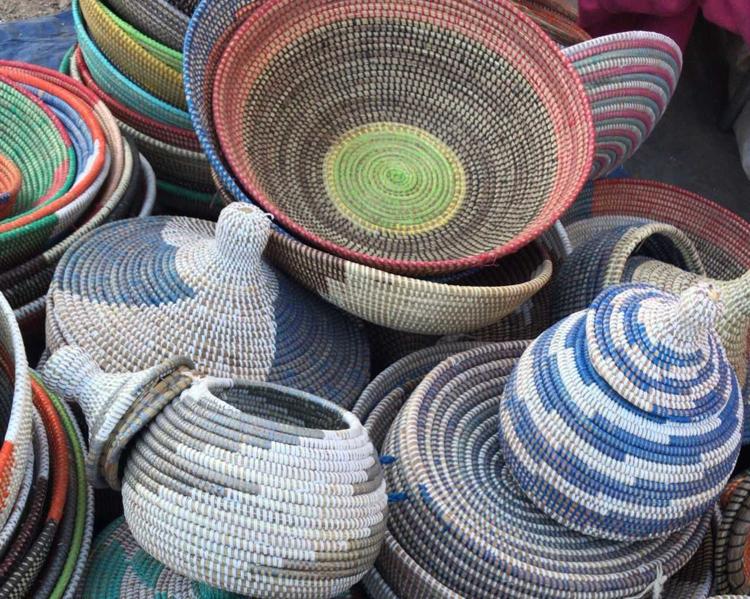 Cross continents at the African Art Village, at the corner South Linda Avenue and West Cushing Street. The dozens of exhibitors here are showcasing everything from masks to jewelry to wood carvings and drums. Plus, a group of young artists from Burkina Faso will be selling their paintings and hanging out to share with visitors about their work and inspiration. The show runs Feb. 2-17. Also have lunch here. 🤤
Bill the T-rex
We met Bill, the 41-foot-long and 12-foot-tall Tyrannosaurus rex skeleton cast at the 22nd Street Mineral and Fossil Gem Show, and were thoroughly impressed. 🦖Bill is part of an enormous exhibit hosted by Dinosaur Brokers and Aerolite Meteorites (which is run by a Tucson lady, by the way). You can hold moon rocks and learn about meteorite hunting. The show runs Jan. 31 to Feb. 17. Parking here, 600 W. 22nd Street, is $3 on weekdays and $5 on weekends. 
500 crafty workshops 
This is crafting at the next level. Head over to Casino Del Sol Resort, 5655 W. Valencia Road, for three bead shows (Colors of the Stone, To Bead True Blue and Tucson Bead and Design Show) with jewelry, gemstones and other handicrafts. Workshop prices range from $0-$5 for jewelry-making demonstrations and simple make-and-take projects to hundreds of dollars for all-day classes. Workshops cover a whole range of jewelry-making skills. These shows run Feb. 2-9.
A Mosasaur skeleton
The Tucson Showplace, 1530 S. Freeway Road, will have a 9-foot-long mosasaur skeleton, says Veronica Woods, the show manager. You might remember the super-sized mosasaur from "Jurassic World." The show runs Feb. 2-17.
A glassblowing demonstration
Tucson's very own Sonoran Glass School, 633 W. 18th Street, is holding an art show with glass artists from around the country and the world, says the school's associate director Nick Letson. In the school next-door to the show, you can watch live glassblowing. The show is Feb. 6-9.
Fancy specimens from LA
Go to the Westward Look Mineral Show, 245 E. Ina Road, on Saturday, Feb. 9 to see some beautiful minerals from the Natural History Museum of Los Angeles County. Plus, it doesn't hurt that you're in a ritzy resort environment. The full show runs Feb. 8-11.